Major college football coaching searches are weeks-long endeavors complete with snooping reporters, clandestine meetings and midnight flights.
They're arduous undertakings, rife with roadblocks, intense negotiations and sometimes unsettling results. They shape the future of multi-million dollar programs, and they don't always end as expected.
They're wild. They're crazy. And they're pivotal.
Just ask Skip Bertman, who hired Les Miles in 2005 — a move, he admitted, that may overshadow his 870 wins and five national titles as LSU's baseball coach.
"I said to Les Miles on the telephone when I hired him that, even though I won some championships in baseball, I'll be remembered more for my football hire," Bertman said this week. "That's how important this is."
Nearly 12 years later, LSU again is searching for a football coach, but this situation is different. Bertman no longer is in charge, and there's no six-person search committee or five-day deadline, as there was then.
Athletic director Joe Alleva is "the search," as he announced during a radio spot last month. LSU President F. King Alexander has handed Alleva full authority. The athletic director said he's using a group of "advisers," but he won't have a formal committee or use a search firm.
Feelers have gone out to a handful of candidates, and Alexander specifically named Houston coach Tom Herman in an Oct. 6 interview with The Advocate.
Florida State coach Jimbo Fisher, a former LSU offensive coordinator, was the leading candidate to replace Miles last season if the school had fired him. He's a natural candidate this time, despite his lofty salary ($5.2 million) and buyout ($3 million to $5 million) with the Seminoles.
Other names on Alleva's list are not so obvious, aside from one: Ed Orgeron, the interim head coach who has led LSU (5-2, 3-1 Southeastern Conference) to a 3-0 record heading into a matchup with top-ranked Alabama (8-0, 5-0) next Saturday night in Tiger Stadium.
Alleva sees this as Orgeron's audition for the full-time job, and he's off to a roaring start — on and off the field. With each week, his odds of replacing Miles permanently grow stronger.
"I personally like him. I think Joe likes him," Bertman said. "I think he's a contender. I think Joe is fair. I think Joe is wise."
A head start
The decision to fire Miles in September gave LSU a head start on all of the other schools that will be aiming to land a superstar in December, said Pete Boone, the former Ole Miss athletic director who conducted three football coaching hires during his time in Oxford.
That head start is "huge," said Larry Templeton, the former Mississippi State athletic director who hired two football coaches during his time in Starkville.
LSU was the first major program to fire its coach this season. Purdue joined the group two weeks ago, canning Darrell Hazell. Baylor may also be in the market. Several more could join the mix over the next few weeks, including Oregon, Texas and Southern California.
"You never can tell what other jobs are going to be available out there," said Boone, who's now retired. "Coaches are humans, too. He may have a dream job, but if someone offers him a job first … I do think you need to use that time to be prepared and execute as soon as possible."
Alleva may be doing just that, positioning himself to make a quick move if Orgeron stumbles during the Tigers' brutal November stretch run.
"Calls are being made," Alexander told The Advocate this month.
But who's making the calls? Not Alleva, Bertman said.
In his search for Nick Saban's replacement in December 2004, Bertman used what he called a "headhunter" to contact candidates at other schools.
"He had a Rolodex full of coaches' private numbers and agents' private numbers," Bertman said of the headhunter. "This guy came back and gave me lots of people available for the money being offered who wanted to come to LSU.
"Joe can't talk to these people at other schools. You have to speak to the athletic director before you talk to the guy."
It's too early for much of that. It's not too early, though, to gauge the interest of other coaches.
"There's the right way, and then there's the way," Boone said of contacting prospective candidates at other programs. "The right way is, if you're interested in talking to a coach, you're supposed to call the athletic director. That's an NCAA rule.
"However, with agents, there are all sorts of behind-the-scenes conversations that go on with people that aren't ADs. Agents have a role to play."
The first steps
Alleva is "the search" — Bertman has no doubt about that — but Alleva also has bosses.
They include Alexander and 16 members of the school's Board of Supervisors. Alexander said he plans to mostly stay out of the process, but he did not rule out recruiting a coach if needed.
"The way I see it happening is a recommendation will be made (by Alleva) to myself and a number of my board members that are in the leadership, and we will make the decision when we need to make a decision," he said.
The board members "in leadership" Alexander referred to likely include Blake Chatelain, chairman of the board's athletic committee; Scott Ballard, chairman of the board's executive committee; and Stephen Perry, the executive committee chair-elect.
"Whoever he picks, the board will support 100 percent," Bertman said. "Nobody's going to tell Joe Alleva who to hire. They might suggest. Joe's his own man, and he'll make the choice himself."
Dwayne Thomas is fired up with good reason.
The choice is never easy. Bertman, Templeton and Boone can attest to that.
It begins with a list, a group of five to 10 top candidates that most athletic directors carefully craft and continuously update, said Templeton, who hired Jackie Sherrill in 1991 and Sylvester Croom in 2004 before retiring and serving as a consultant for the SEC.
The next step is deciding what kind of coach you want.
Templeton was focused on Croom, then an assistant for the NFL's Green Bay Packers. He took three trips to Wisconsin, finally convincing Croom to return with him to visit campus on his third trip.
"Once I finally got him to visit the campus, he was sold," Templeton said.
Boone sought a different guy during each of his three searches, and they all unfolded differently, resulting in the hirings of Tommy Tuberville (1995), Orgeron (2005) and Houston Nutt (2008).
When hiring Tuberville, he sought a "CEO type," which Tuberville fit perfectly. Tuberville, who went on to coach at Auburn and Texas Tech and is now at Cincinnati, won the interview, too. That was an important part for Boone, who came from the corporate banking world.
He interviewed two other candidates during that search: then-Auburn offensive coordinator Tommy Bowden and then-Ohio State offensive coordinator Joe Hollis.
Nearly a decade later, during his second stint as athletic director at Ole Miss, Boone gunned for a different style of coach, one who could re-energize the program after he fired David Cutcliffe following the 2004 season.
"You do have a lot of names who come across your desk from various sources, especially when we hired (Orgeron)," he said. "There were tons of names. Some agents are looking to get their clients' names in the hat so they can get a raise."
Boone said Ole Miss officially interviewed three coaches that go-around: Orgeron, then-San Francisco 49ers coach and ex-Miami coach Dennis Erickson and Randy Shannon, then defensive coordinator at Miami.
Ole Miss might have hired Erickson, but there was a snag.
"He didn't want to take this job and lose his buyout clause with the 49ers," Boone said. "He was reluctant in committing."
Inexperience hurt Shannon, so Ole Miss turned to Orgeron, who went 10-25 in three seasons before he was fired. His replacement, then-Arkansas coach Nutt, was hired within a week of Orgeron's ouster — a far different search from Boone's first two.
"(Former Arkansas coach and AD) Frank Broyles called me and told me Houston was going to leave," Boone said. "I had always thought the world of Houston."
'Closing the deal'
Finding a coach is one thing.
Contacting him and completing the deal is another.
During his search for Croom, Templeton could not get approval from one particular athletic director to speak with an assistant coach at his school. That assistant later became a head coach, Templeton said; he wouldn't divulge additional details.
During LSU's search for Miles, one candidate — then-Jacksonville Jaguars coach Jack Del Rio — never showed up for his interview. Afraid the Jaguars would void his contract, he did not enter the restaurant in Daytona Beach, Florida, where committee members were waiting. They could see Del Rio in his car in the parking lot, talking to his agent on the phone.
"I think LSU is one of the top 10 programs in the country, but the caliber of guy LSU wants, they're going to have to do some selling," Templeton said. "Now, there's a lot of coaches knocking on the door. Identifying the right person is one thing. Closing the deal is another."
Dodging the media presents another challenge.
Templeton arrived at a Mississippi airport at midnight one night for a trip to Green Bay to visit Croom. A reporter who had tracked the school plane was there to greet him.
"I told him, 'If you tell anybody where this airplane is going, I'll never talk to you again,' " Templeton said.
During LSU's search that ended with Miles, Nutt sneaked into the team hotel in Orlando, Florida, to interview with some committee members three days before the Capital One Bowl. One candidate — it's unclear who — met board members in the city in which his daughter was playing a basketball game.
"We did anything to avoid the media," said Verge Ausberry, LSU's deputy director of athletics, for a story published in 2013.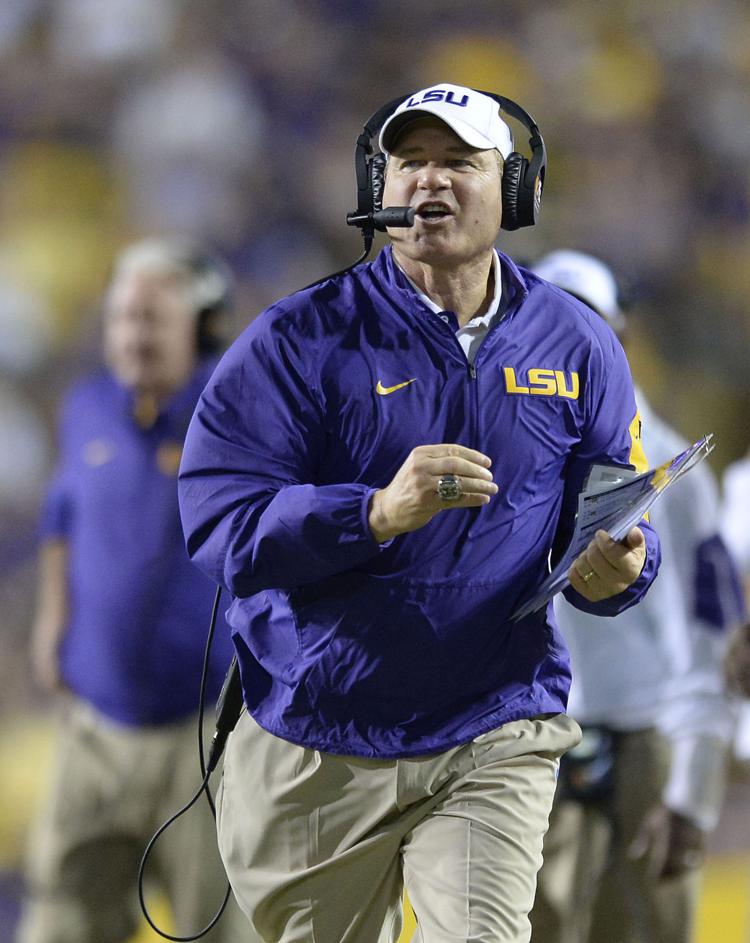 Ausberry was one of six people on an LSU committee that took more than a dozen flights and visited at least five cities during a five-day search preceding the Capital One Bowl at the end of the 2004 season, Saban's final game with the Tigers.
Six face-to-face interviews were conducted in that search: then-LSU assistants Bobby Williams and Fisher, Nutt, former Texas A&M coach R.C. Slocum, Louisville coach Bobby Petrino and Miles.
Steve Spurrier and Urban Meyer were Bertman's top choices, he admitted, but they were spoken for. Petrino and Miles moved to the top, but Petrino's two interviews fell flat, committee members said. Fisher wasn't a serious candidate, committee members said, because of his age (39).
"He might have been too young at that time," Bertman said. "But not now. My God, he's one of the top coaches in the United States."
With each search come phone calls — at all hours of the night. Boone got a call from longtime NFL coach Dick Vermeil once, recommending he hire one of Vermeil's former assistants. Vermeil had fired the assistant he was recommending.
"That was the funniest one," Boone said.
The agent for then-Virginia Tech coach Frank Beamer called Ausberry's hotel room at 3 a.m. the day of the Capital One Bowl, well after the decision to hire Miles had been made.
"Frank Beamer wanted the job," a separate committee member told The Advocate. "We kind of scrambled around and talked about that a little bit."
The weirdest call of all went to Bertman. He received a call one night that woke up him and his wife, Sandy. The person on the other end of the phone encouraged Bertman to interview Slocum before making his decision.
"It was George Bush," Bertman laughed, referring to former President George H.W. Bush.
"OK, Mr. President," he responded.