LITTLE ROCK, Ark. — The top assistant coach in college football stepped off the ballroom stage, closed his eyes and shook his head with a whispered laugh.
That's the title Joe Brady had earned just moments before — college football's top assistant coach — when the LSU passing game coordinator's name was read from an envelope as the winner of the Frank Broyles Award.
No assistant coach had ever won the award in his first season with a team.
Heck, each of the previous 23 winners were all coordinators. They'd all been fully responsible directors for either the offensive or defensive side of the ball.
So why wouldn't Brady shake his head?
In his eyes, he was just the 30-year-old wide receiver coach, the guy who only a year ago was "an assistant to an assistant with the New Orleans Saints," the man in the shadows who'd really only been a graduate assistant at the college level.
Now he was the owner of the most prestigious award given to college assistants, one of the masterminds behind a record-breaking LSU offense that vaulted the No. 1 Tigers to an SEC championship and the program's first berth in the College Football Playoff.
"Honestly," Brady told a group of reporters near the stage, "it's tough to put into words."
He'd crafted his Broyles Award speech carefully, telling the hundreds of people slicing their pork tenderloins inside the Little Rock Marriott Tuesday afternoon that "God had a plan for me this year that was bigger than my dreams."
Remember how this all started?
Back in the summer of 2018, Brady tagged along with Saints offensive coordinator Pete Carmichael to do a presentation in front of the LSU coaching staff.
Brady "took over" the meeting at one point, LSU coach Ed Orgeron said, impressing the entire Tigers staff with his command of scheme.
So, when former passing game coordinator Jerry Sullivan retired in January, Orgeron had his replacement in mind, and after a few formalities, the unknown assistant from New Orleans was introduced as the guy who was going to bring LSU's offense into the modern era with West Coast and run-pass option schemes.
And in just one season's time, the Tigers have put up final scores and statistics that once never seemed possible in Baton Rouge:
LSU ranks third nationally, scoring 47.8 points per game — more than two touchdowns more than what the Tigers averaged in 2018 (32.4).
The Tigers are first nationally in total offense (554.3 yards per game) and third in yards per play (7.79).
Quarterback Joe Burrow is a front-runner to win the program's first Heisman Trophy since Billy Cannon in 1959, running back Clyde Edwards-Helaire is up for the Hornung Award and wide receiver Ja'Marr Chase could win the Biletnikoff Award.
So, it seems fitting that the voice-over at the Broyles Award announced Brady as the "boy wonder."
"If he was a stock, he'd be like Tesla," Hall of Fame offensive guard and ESPN analyst Mark May said, introducing Brady at the ceremony. "You'd go out and buy it today."
Brady's stock has soared, and LSU will likely have to reinvest at a higher price than its initial contract with the "boy wonder."
The athletic department is already in negotiations with Brady, who signed a three-year deal in February that paid him an average of $435,000 per year — a deal that made him the seventh-highest-paid assistant on Orgeron's 10-member staff.
Orgeron has said LSU is a "step ahead" of other programs trying to lure Brady away from Louisiana, and Brady said after LSU's 37-10 victory over Georgia in the SEC title he "absolutely" sees his future being in Baton Rouge.
Brady told The Advocate in a sitdown interview Tuesday morning "nothing's been done in my eyes," regarding a new contract.
"I don't know what the future holds," Brady said. "I think it's, I'd love to be at LSU, and when I say, 'Absolutely,' it's because I absolutely love being there. I don't think of another job. I never have no matter what."
Part of the love, Brady said, is working in tandem with offensive coordinator Steve Ensminger — a 61-year-old former LSU quarterback who said he encouraged Orgeron to bring someone in to improve the offense's transition to the spread after the Tigers went 10-3 in 2018.
Ensminger is the coach who is constantly forgotten and undervalued, Brady said, a humble coordinator who should be receiving just as much credit.
"This should just say, 'Steve Ensminger,'" Brady said, standing close to the Broyles Trophy. "But if it says, 'Joe Brady,' it says, 'Joe Brady/Steve Ensminger,' next to it."
The friendship that stretches across generations was clear.
Ensminger, who had only posted on Twitter eight times since 2016, tweeted toward Brady on Tuesday: "Congratulations. You earned this."
Both sit in the coaches booth on game day, and from the very beginning of the 2019 season, there was a root question in the offensive coaches' working relationship: Just who exactly calls the plays?
Brady said it's more nuanced than that, a fluid relationship, changing game-to-game, that still gives Ensminger the ultimate responsibility.
"Steve's the play-caller," Brady said. "It's just my job up there to, if I have any ideas, for him to take them and run with it if he wants. If not, keep doing what he's doing, and we've had a lot of success this year with Steve being a great play-caller."
There will be times, Brady said, when Ensminger will say during a game, "Hey look, you've got it," or, "Hey, whatever you want to do here, you've got it," and Brady is always prepared with a play to call.
Brady said he spends Wednesday nights studying every touchdown that was scored in the NFL the previous weekend — a routine that produced the in-game moment he was most proud of this season.
LSU led Alabama 26-13 when the Tigers had the ball at the Crimson Tide 13 with 11 seconds left in the first half. Burrow threw a touchdown to Edwards-Helaire near the pylon, which provided the winning points in a historic 46-41 victory in Tuscaloosa.
That's the fulfilling part, Brady said, to see what was working for the Oakland Raiders and the Houston Texans "to come full circle" and have his players "execute it just like they're seeing some of their favorite players do."
Brady said if you watch Justin Jefferson's touchdown reception in the third quarter of the SEC championship game, you'll see that Saints receiver Mike Thomas scored the exact same touchdown against the Tampa Bay Buccaneers.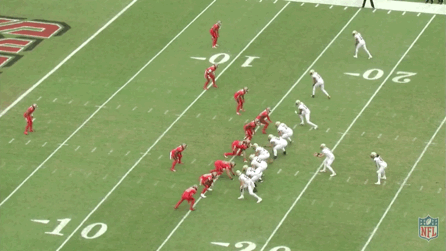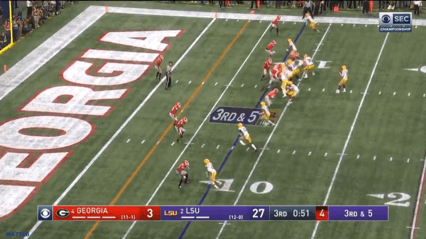 Brady's only just beginning to reflect on what's been a whirlwind of a year.
It's only been six years since he began his coaching career as a linebackers coach at William & Mary, his two-year stop before leaving to be a graduate assistant under former Penn State offensive coordinator Joe Moorhead, who taught Brady the RPO scheme.
It's enough to make the walk down from the ballroom stage overwhelming.
Enough to make someone close their eyes and shake their head.
"I'm just so grateful, so thankful to just be a part of this Broyles family," Brady said, "and I can't wait to just think about this experience and how much it's going to impact my future."