His first season as LSU's head coach went quickly, Ed Orgeron says, but that doesn't mean he didn't learn from the journey.
That 9-4 season has brought about changes. Orgeron detailed those in an hour-long sitdown with The Advocate on Thursday, three days ahead of LSU's start to spring practice Sunday.
More than anything, he discussed the primary change: an increase in his support staff. LSU has 10 analysts on staff, doubling the number the team employed in the past, a development the coach sought from athletic director Joe Alleva during the offseason.
The 56-year-old coach also discussed his offense under new coordinator Steve Ensminger, as coaches continue to create and build what is now a vast system. They're adding a "wide array" of formations and plays to a scheme that will be trimmed by the time the season rolls around, Orgeron said. Offensive staff members plan to visit the San Diego Chargers and have been studying "a lot of what the Saints are doing," he said.
The coach acknowledged the team wasn't "running on all cylinders" last season like, he says, it was during his interim stint in 2016. That incited change to run an "offense I felt comfortable with," he said.
He also touched on LSU's three-man competition at quarterback, the depth on both sides of the line, the battle at running back and his harshest critics.
"They want to win a championship every year. I get that. I understand that. That doesn't bother me at all," Orgeron said. "When you do good, everybody's fired up. When you do bad, everybody's (upset). I know that, but I'm not going to live like that. I know what we're doing on a daily basis. I know we're building a championship program, and I know they're finally going to be happy when we win a championship. Up until then, we've got a challenge.
"Obviously," he said, "I know you have to win here. I know next year is critical for us in building this program."
Many would describe this as Orgeron's team. LSU's roster is expected to include just three players who started a game under former coach Les Miles: receiver Dee Anderson, tight end Foster Moreau and safety Ed Paris. Only one of those, Moreau, is considered an every-down starter.
Fourteen 2018 signees are expected to join the 67 scholarship players participating in spring. Of those estimated 81 scholarship players, just 24 (or 29 percent) are classified as juniors or seniors.
The Tigers are young, inexperienced and have a lot of holes to fill. They lost 15 players who saw significant playing time from a year ago, and they return just 10 of those such players. Spring practice never felt so important.
Myles Brennan will get the first snap when spring practice begins Sunday, but LSU coaches plan to evenly spread the reps in a three-man starti…
---
You've been permanent coach for more than a year now. You talked extensively about a culture change when you took over in the interim for Les Miles. What do you feel like you changed and what do you want to change still?
No. 1, I do believe we have more linemen in our program that we can develop. Look at a player like (junior college transfer offensive guard) Damien Lewis, relatively an unknown. He's a guy that's really impressed everybody. For us to go to New York and get (junior college transfer offensive tackle) Badara Traore. We identified the holes we have. I feel like we're at least two-deep on the offensive and defensive line. We can use a rotation.
I feel like we've added to the receivers, with Terrace (Marshall) and Ja'Marr (Chase) in there, also with Kenan Jones and Jaray Jenkins. I feel like we've brought in four good receivers. We've got more linebackers on our team, longer and bigger, than (in the past).
We have more analysts than we've ever had. I think we have a larger staff that can contribute to advance scouting, to information. We've gone to visit, just this offseason, the Dallas Cowboys, Seattle Seahawks, got the New Orleans Saints coming in. We have guys more open to suggestions. I know we're putting in our offense collectively as a staff, relying on each other's strengths. That's one of the things that Steve is doing well. We're relying on (offensive line coach) James Cregg's background, (pass game coordinator) Jerry Sullivan's background, analysts like (former UL-Lafayette assistant) Jorge Munoz who's contributing. Kevin Faulk is around, director of player personnel. We have more people around for our players to talk to on a daily basis.
Alabama has poured resources into their support staff, hiring big-name coaches. You've doubled your number of analysts on staff, now having 10 total. Do you feel like you're closing in on Alabama in that category, and why are these analysts so important?
It's important. We're light years ahead of where we were last year. The amount of information we're able to give to our players … these guys are not only working on what we're doing now, but they're breaking down the opponents this season. We get more information to our players. It's good.
This is a 12-part daily series counting down the days until LSU football begins spring practice on Sunday. 
What do these guys do exactly?
More into advance scouting (of opponents) and more in research and development (of other programs' strengths). So, let's go and (study) the No. 1 red zone in the country, let's (study) the No. 1 red zone offense in the country. Studying other people. Researching who's No. 1 in turnovers, who was No. 1 in shots down the field. We can have that, have the film. Let's research the Philadelphia Eagles.
Is it surprising it took this long in college football for support staffs to grow? The NCAA does not put a limit on support staff members a school can have.
Note: Support staff members are restricted to off-the-field roles. They are prohibited from coaching or instructing players.
Things change. You know what? One of the biggest things that has changed is information. When I started coaching, there was 16-millimeter film. Everybody sat in there and watched the reel of film together. Now, there are computers, and the film is ready like that (snaps fingers). The film was never ready after practice. You had to wait. There's more information and more film quicker. You need more people to process it.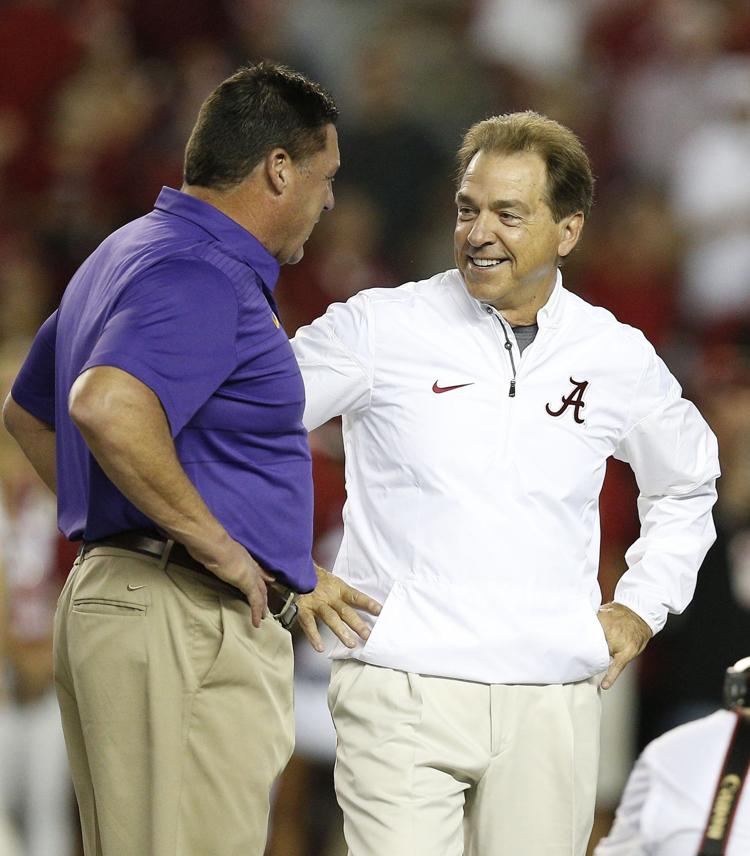 Back then, you had to trade film. Back then, to get somebody's drill tape, (it was tough). You can get somebody's drill tape on YouTube nowadays.
You mentioned your staff traveled to Seattle …
Defensive staff went to Seattle. Defense went to Dallas. Offensively, they're going to the Chargers this summer. We're studying a lot of what the Saints are doing. (Saints offensive coordinator) Pete Carmichael is going to come in and speak to us, which is important to us.
Our staff is more open-minded to what's working now, let's see if we can implement in our offense. That's the way we're going.
From a discipline standpoint, how have you changed things in the program?
We have a disciplinary run every Wednesday morning. We monitor class misses, missed tutorials, (tardies) and stuff like that. If your name is on the list, you run. Every assistant coach makes their position accountable. If a guy is on a list with an inexcusable absence (or others), they run at 5 a.m. on Wednesday morning with their coach. And the head coach is there, too.
The whole deal going into this spring is accountability and make them accountable for all their actions and hold them accountable if they make a mistake. The class misses have dropped. Guys are doing well in the classroom right now, doing the things we ask them to do.
As a coach, what did you learn from last season?
LSU is a great place to coach. I knew that from the beginning. The SEC is a great place to be every Saturday. It passed very fast for me. On a daily basis, it seems like you can't find enough time in the day. Throughout the year, I learned a lot about what we're doing, and I really feel I have the offensive coordinator I always wanted here in Steve Ensminger. I really feel like I have the staff equipped well enough with analysts and knowledge to compete with anybody in the SEC, as far as knowledge-wise and information.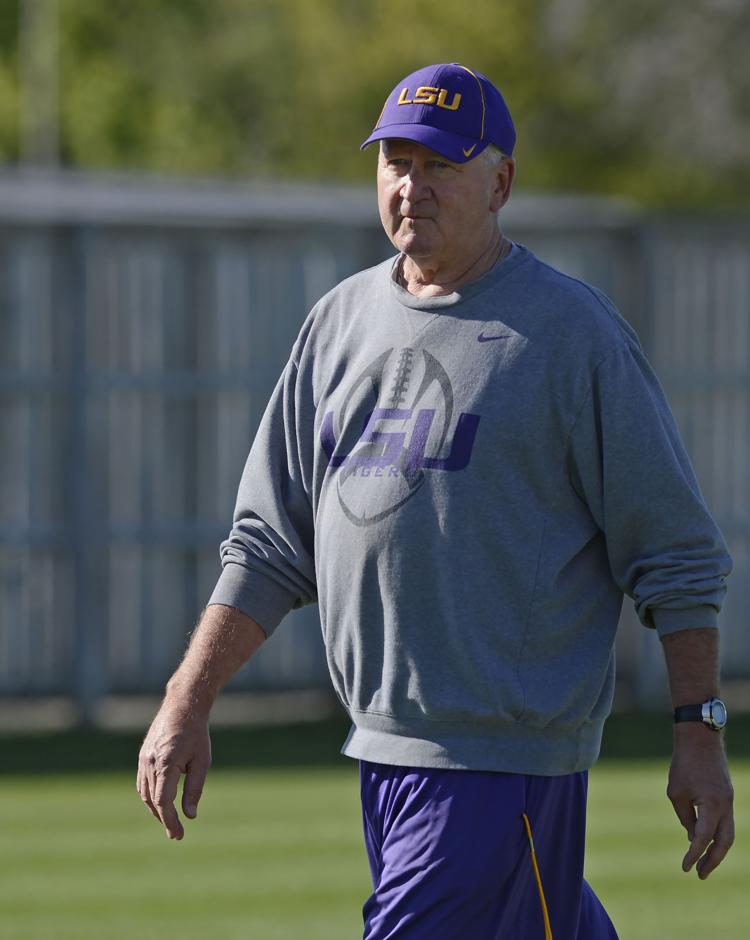 I feel that we're giving our players the best advantage to win on a daily basis. They understand me. I understand them.
What was it about last season where you knew you needed more support staff?
When I watch the coaches work, I saw coaches still gathering information (about the opponent) on Tuesday and Wednesday — information that should have been covered in the summer, could have been given to them on Sunday night.
To me, on Sunday night in the NFL, we have a meeting and everything is done. It is done. I'm talking about breakdowns, fit drills (plans). All the manual work that needs to be done is given to the coordinators, and they go over it. Instead of that, we're just starting on the next opponent. By the time we get there, it's Wednesday night. It's too late.
The manpower that we have now to generate the information to give to the coordinators on Sunday is night and day.
How would you evaluate your coaching job in 2017?
Let me start off with the interim coaching (stint). I knew I was ready. I felt the flow, the good vibe that year, really good.
Last year, we weren't clicking on all cylinders. I knew that, knew that in the office. I felt the flow wasn't the same. So we changed some things. I knew I had to give my team a better chance by getting them more information, by running an offense I felt comfortable running with and people agreed with me.
I think the addition of (pass game coordinator) Jerry Sullivan has been huge. Last year, he was an analyst. His ability to coach on the field … you can see the development he did with DJ Chark. Getting James Cregg — Jeff Grimes was fantastic — but James Cregg and I have known each other for a long time. Me being a line coach, we get along well. Fantastic addition.
I know one of the huge additions was getting Bill Busch (as safeties coach). Think about this: During practice, Corey Raymond had to coach five different positions — right corner, left corner, strong safety, free safety and nickel. It's not enough. There are teams with cornerbacks coaches, safeties coaches and nickel coaches. We were short-handed back there.
Looking over the program and going through it, I could see where we were short. (Athletic director) Joe Alleva's been great to me. Been giving me the opportunity to get all these (analysts and assistants), adding the 10th coach. Having a full-time special teams coach last year put a strain on everybody else. I wanted Coach (Greg) McMahon to be our special teams coach. I was disappointed in some parts of the kicking game. Some of it we had to get fixed by getting another kicker.
Other things we had to get fixed, too, the nuts and bolts of it. I wanted to tackle better on defense, cause more turnovers on defense. I think that's all things we're able to do in coaching.
Did you go to Joe Alleva over the offseason to request the increase in support staff?
Yeah, and he was good about it. I told him why. I explained on Sunday night what I want to get done. I want the information given to these guys (by analysts). Again, you look at some of the teams that play us. They work on us all summer. I need the manpower while our guys are out recruiting. I need the manpower to be evaluating what we're doing here, researching and also be ready to give me the information on other teams.
You finish 9-4 your first season and reach the top-tier non-New Year's Six bowl game. Do you think the fan reaction was unfair?
You know, fan reaction is going to be what it's going to be. I don't react to that at all. It's the Tigers, man. They want to win a championship every year. I get that. I understand that. That doesn't bother me at all.
It doesn't affect us. Doesn't bother me. When you do good, everybody's fired up. When you do bad, everybody's pissed. I know that, but I'm not going to live like that. I know what we're doing on a daily basis. I know we're building a championship program, and I know they're finally going to be happy when we win a championship. Up until then, we've got a challenge.
Some say you enter Year 2 on the hot seat already. What's your reaction to that?
Obviously, I know you have to win here. I know next year is critical for us in building this program.
The new signing limit rule prevents coaches using methods to sign more than 25 players in each signing class, unless you did not fill completely your previous class. In your case, that means that you will have, at most, 81 players on scholarship this summer after all other 2018 signees enroll. We see attrition each year, with three to five players transferring after spring practice. The NCAA maximum of scholarship football players is 85. How much of a disadvantage are you at right now?
It is what it is. It is what it is. Roster management is critical. I think we've done a great job with roster management. First year (with the new early signing period), I thought we did fantastic. Obviously, missing out and not signing those guys at the end, we should have had a better plan, but I do believe we're going to get a graduate cornerback.
There will be another scholarship available if we need a graduate quarterback (or that scholarship can be used in 2019 on a mid-year enrollee). We're fine.
What are your biggest objectives for spring practice?
Obviously, giving all three quarterbacks an equal opportunity to show us what they got. All three of them have different skills. Steve (Ensminger) and I talked. We're going to do what they can do best.
Obviously, implementing the type of offense we want. Going to take a while to get the execution down.
On defense, letting Dave (Aranda) run his total package. You know, he's been limited in some of the things he's done. In Year 3, I think you're going to see a Dave Aranda package that's going to be fantastic.
On special teams, being more efficient, kicking field goals. I do believe we have the answer to that (with the signing of Division II transfer kicker Cole Tracy). And being more effective in the return game.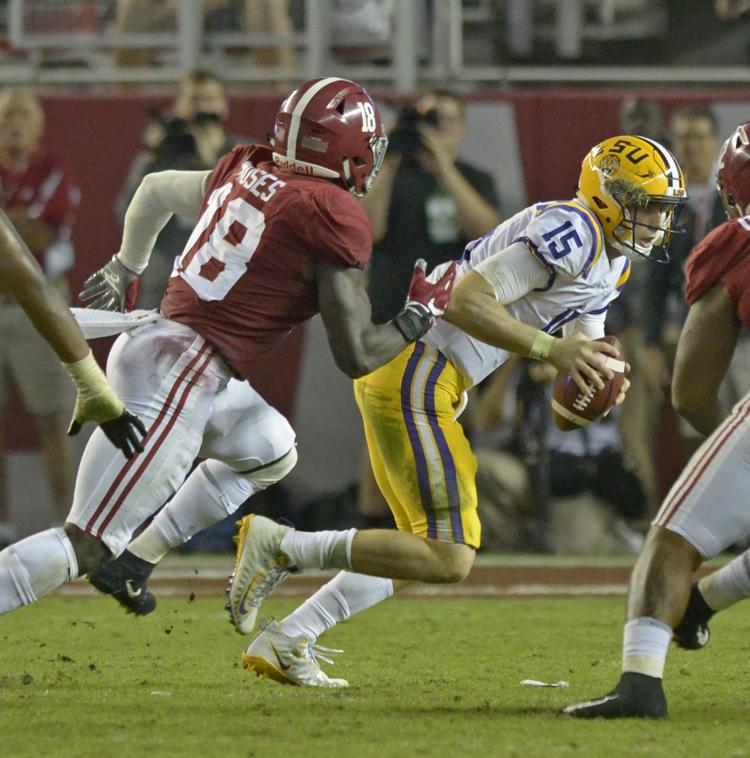 You mentioned the different skills of the three quarterbacks in the competition. Can you break each of them down?
First of all, Myles (Brennan) can throw the ball. That's his strength. Now, he can extend plays with his feet, but Myles is more of a drop-back passer, can get out of trouble, but you don't want to do a lot of quarterback runs with Myles. That's not his strength. As far as his awareness on the field, his leadership, his character, all those are A-plus.
Justin McMillan has tremendous leadership skills. Justin can be a dual-threat quarterback. He can do all the quarterback runs you want, can throw the football, has a very strong arm. He's won a state championship. He's got a lot of skills.
Lowell Narcisse, his strength right now would be running the football. He can really run the football. He's bigger and more physical. He had a great 15 bowl practices. The accuracy in which he threw the ball was 10 times better from when he came. He's healthier now and has tremendous arm strength. It's going to be a battle between those three guys.
You said earlier that Nick Brossette will start off No. 1 at running back. He's never scored a rushing touchdown in three years at LSU. How will not having a proven returning running back impact or change what you do on offense?
I do believe our offensive linemen — with having those three freshmen starting last year — are going to be one of the strong parts of our football team. I do see a lot of positives. When Nick (Brossette) went in the game, he did a good job, especially as a zone runner.
Clyde Edwards-Helaire shocked everybody last fall. He might have been the surprise of camp. We knew he was a good player. We didn't know he was that explosive. He's got a chance to show us what he's got.
Then we have Lanard Fournette, who's going to be healthy. And then we've got the two young running backs (Tae Provens and Chris Curry), and they're going to be really good.
I believe not having Leonard Fournette or Derrius Guice is going to force us to be a more well-rounded offense, throwing the football and taking advantage of (other) things we can do.
Can't see video below? Click here.
With Dennis Johnson moving down to coach the defensive line, who's coaching the outside linebackers?
(Graduate assistant) Mike Caputo. I'll do a lot of the B-OLBs. Mike is very smart in coverages. We let him do that part, and I do the run/pass. We all kind of do it together.
Can you provide an update on that B-OLB position (the edge rushing position, a hybrid outside linebacker/defensive end spot)? You won't have Arden Key, but you signed a highly rated junior college player in Travez Moore and return K'Lavon Chaisson, Ray Thornton and Andre Anthony, who missed last season with injury.
K'Lavon Chaisson has had an excellent offseason. In fact, (Wednesday) was his best day. You have Ray Thornton, who can play B (OLB) or F (OLB). You have Travez Moore. He has 35-inch arms, 10¼ hands and is strong and quick. I believe those three guys can play in a rotation. We're going to be very strong there.
Andre Anthony is coming off an injury and had to get a couple of things tweaked this spring, but he's going to compete for a starting job. He'll participate in spring.
You mentioned this year seeing the "Dave Aranda package" more than in any other year. What does that mean?
Dave can be very multiple and very creative in doing the things he's doing. We were very basic his first two years here. He wanted to get the fundamentals down. Dave is an excellent game caller and calls defenses by protection and blitzes and being more multiple. The more help we have on defense, the more he's able to do that stuff.
How will the $23 million expansion of the football operations facility help the program?
This is a nice place as it is, but I think the nutrition center is going to help. The additions to my office, for recruiting purposes — I house all the parents in here — are going to be very helpful. The new equipment we're going to have, modernized, is going to be very good. The recruiting room, players' lounge, the additions to the brand new lockers we're going to have are going to be state of the art and match the weight room stuff. I think it's going to help with recruiting.
You seem to be having recruits in each weekend year-around. Why is that?
The more they're on campus, the more they get to know us and more we get to know them, get an early jump on them. This is a time where we have time to sit down and eat with them, time to talk to them. I can go to the academics (facility) with them. I can go walk them through the stadium. I can meet every individual family member. I can sit here and take as long as we want and talk. During the season, we don't have time to do that. It's more personal time with them.
Terrace Marshall is not full speed just yet, but that doesn't mean he's not impressing head coach Ed Orgeron.