In less than a week, a fleet of Aramark trucks will chug toward Tiger Stadium carrying a payload of more than 80 tons of ice.
Packed inside, cold enough to quench the summer heat, will be the brand new cargo: tens of thousands of cans of beer, which will be sold stadium-wide at LSU for the first time.
It will be Aug. 31, the Tigers' season-opener against Georgia Southern, and more than 200 extra hired staff will open the trucks, carry the beer to the stands and the 40 new portable concession locations, remove the empties from the 150 new trash cans once the beers have been cracked open and poured, and then dump the carted contents into several two-yard and six-yard wide dumpsters hidden inside and outside Tiger Stadium.
This vast undertaking is giving the majority of people in south Louisiana something they've wanted for years: the chance to freely sip suds from the stands while the Tigers play ball.
Yes, those fabled stories of flasks taped under bleacher seats are almost as old as Tiger Stadium itself, and there's no need for the bootlegging anymore, now that LSU is one of the six schools in the Southeastern Conference that will sell beer and wine stadium-wide after the league lifted its alcohol ban in May.
The conference in the heart of the Bible Belt has joined the rest of the FBS leagues that have permitted alcohol sales in football stadiums for decades.
But even with such freedom, the number of schools that actually sell beer and wine in stadiums are few: Out of the 64 programs in Power 5 conferences, 18 schools sold alcohol stadium-wide in 2018. 
That number is increasing, even with schools outside the SEC. Programs like Oklahoma, Texas Tech and Illinois are unfurling their first stadium-wide sales in 2019, and there is enough data from recent years to justify why some universities see alcohol expansion as a positive trend.
The sexiest of the reasons is revenue: Of the 10 schools that provided budget reports to The Advocate (some schools were private institutions and therefore exempt from open records law), an athletic department made an average of $862,000 in revenue on alcohol sales during the 2018 season.
Ohio State, which led the schools with $1.24 million in alcohol revenue, pulled in $274,665 during its home game against Michigan alone.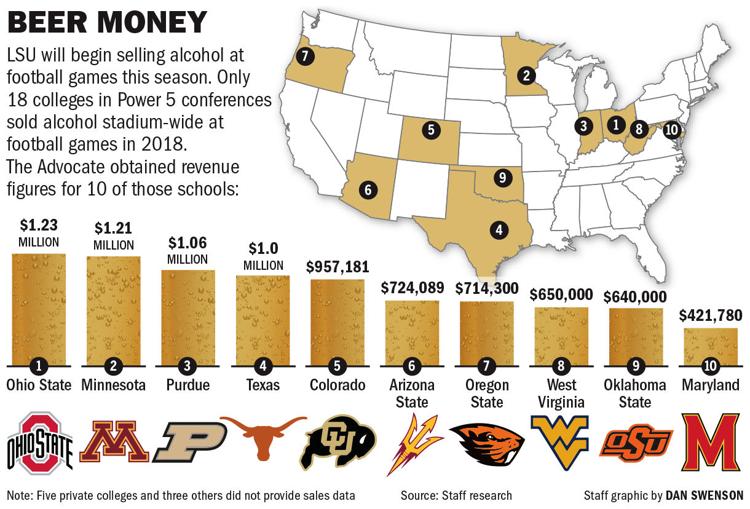 Another reason, although some school officials admitted it sounds counter-intuitive, is that an increase of alcohol sales inside stadiums will actually decrease the amount of alcohol-related arrests and incidents that occur on game day.
The University of Texas began selling beer and wine stadium-wide in 2015, and a school official said its alcohol-related arrests have steadily declined from 24 in 2015, to 11 in 2016, all the way down to three arrests in 2017.
Why?
The schools have added no-reentry policies, so fans couldn't retreat to tailgates to binge drink and return belligerent after halftime (as they were once able), and the relatively high beer prices at concession stands kept patrons mostly drinking in moderation.
"From a security standpoint," Oklahoma State spokesman Gavin Lang said, "that's where we saw the big change."
And thirdly, several school officials said, it's just enjoyable as a fan to take in a game while responsibly drinking a beer — something people have been able to do at professional sporting events for more than a century.
These are the major reasons why the LSU athletic department has pushed for the expansion of alcohol sales in stadiums, first under former athletic director Joe Alleva, and again under his successor, Scott Woodward.
"It's something the fans have told us they wanted for quite some time," LSU senior associate athletic director Robert Munson said, "and we think it'll add to the experience."
Strange brew
LSU's introduction of stadium-wide beer and wine sales includes several major logistical obstacles.
First, Munson said, Tiger Stadium itself does not have substantial enough cold storage, particularly frozen storage, to hold and keep cool the tens of thousands of beer cans that will arrive on game day.
LSU is leaning on its vendor, Aramark, which provides similar services to 38 professional teams, to solve the issue. That's where the trucks full of more than 80 tons of ice come in.
As the number of beer cans run low in the ice tubs at concessions stands, Aramark employees will be restocking with beers retrieved from the ice trucks.
Beverage temperature is even more of a priority because of the SEC's policy that all beer and wine must be poured into a cup upon purchase. The policy is a safety measure, a prevention from potentially harmful objects being hurled onto the field (which, among others, happened in the infamous "BottleGate" game between the Cleveland Browns and Jacksonville Jaguars in 2001).
Because employees will have to crack open cans and pour them into cups, the wait for a purchased beer is also longer.
Believe it or not, Munson said, the LSU athletic department studied "probably a dozen" different ways to pour a beer to be as efficient as possible.
Just how is it done?
"Tip the angle of the can to the angle of the cup," Munson said. "Temperature of the beer has a lot to do with that sud-to-fluid ratio."
Certain concession stands are also smaller than others inside Tiger Stadium, which means there won't be as many beer options at the smaller stands.
LSU's full beer and wine list for the 2019 season is as follows:
Michelob Ultra
Bud Light
Miller Lite
Bon & Viv spiked seltzer
Stella Artois
Karbach Love Street
Abita Strawberry Lager
Cabernet
Pinot Grigio
The list is "not written in stone," Munson said, and is based on the responses LSU received on surveys it sent out shortly after announcing in late July it was selling beer stadium-wide. Additions or retractions could be made based on data from the first few games.
The prices — $8 for domestic beer, $9 for premium beer (both 16 oz.) and wine — were also based on the survey, and Munson said most expectations were set from $10 to $14, which reflect prices at other schools and pro events.
"We felt like this is a good place to land price-wise for our fans and our facility," Munson said. "So we're pretty happy with it, and I think our fans are going to be happy with our price-point too."
LSU is also keeping open "The Chute," the ground-level, premium area that opened in 2018, which will continue to have a full bar.
Patrons 21 and older must pay a $5 entry fee, which enables the space to be a premium area that can sell liquor. The fee is less than the $20 price from last season, but the ticket no longer includes a voucher for two beverages. 
As for the trash?
Those extra employees will be hauling the empty cans out to the recycling bins throughout and after the game. 
Munson said LSU is expecting to improve its efficiency over the course of its first season, and part of the process includes scanning the 65 to 75 pages of fan feedback it receives each game from the surveys sent to all ticket holders.
"We're asking people to be patient with us as we endeavor upon this," Munson said. "Here's the reality: We're going to learn a lot in the first two games, which means we're going to have some missteps here and there. Some things may surprise us a little bit. We've got a great plan in place and we have people who've done this all over the country, but it is new to Tiger Stadium."
Drinking buddies
Oliver Luck still remembers the bunches of LSU fans who happily approached him on Sept. 24, 2011, when the Tigers played West Virginia in Morgantown.
Luck, then in his second season as West Virginia's athletic director, was watching his department carry out its third game of selling beer and wine throughout Milan Puskar Stadium, and purple and gold-clad visitors kept telling him: This is awesome. We can drink beer here?
LSU won the game 47-21, but West Virginia may have won on the budget sheet.
"I think for a number of years, that may have been the record sales for a Mountaineer home game," said Luck, now league commissioner and CEO for the start-up XFL.
Luck wasn't the first athletic director to expand alcohol sales in the old Big East Conference (which still functions in sports other than football). Louisville has been selling alcohol in its stadiums since 1998. But West Virginia became a model program for the schools that followed it, and several of its policies will also be used at Tiger Stadium in 2019.
Among them is a designated driver program. West Virginia set up booths around its stadium, where one person could register as the group's designated driver and get rewarded with a coupon for free concessions.
"We need to reward people for having a designated driver," Luck said, "because people are driving relatively long distances very often on game day."
LSU will debut its similar "Safe Driver Tiger" program Saturday. Designated drivers can identify themselves at two locations in Tiger Stadium, and they'll receive a voucher for free concessions and a stamp on their hand, which identifies them to concession workers who are selling alcohol.
As for LSU's new alcohol policy's impact on alcohol-related incidents and arrests, Munson says the school was encouraged by the results of "The Chute," which didn't have an incident throughout the 2018 season.
"We're very deliberate in how we've gone about this," Munson said. "We haven't brushed into it by any stretch of the imagination, and we want to make sure this is something that adds to the fan experience for everyone."