SHREVEPORT — The snaggletooth kid peered through the black iron fence.
"Pootball," the 5-year-old said to his mother.
Without those missing teeth, Greedy Williams could not pronounce the first letter of the word that described the activity he witnessed on the other side of that fence, the sport he now plays at LSU.
He pointed to the action in the adjacent park, crying to his mother from the parking lot of their home, a row of low-income apartments on Illinois Street in southwest Shreveport.
"People call it the projects," Lakesha Williams says.
There, in that parking lot some 15 years ago, Lakesha Williams' life changed. Subsequently, so did the lives of Greedy and her other three children, all of them within five years of one another, reared by grandma, aunts and a single mother who, at that time, was the age of a college senior.
"Pootball," little Greedy repeated. "Pootball."
The game of football does not often save a family. Sure, an NFL player's multimillion dollar signing bonus can give a poverty-stricken group a palatial lifestyle, but this isn't that.
A 5-year-old's interest in the game pulled this family out of the "hood," they say, and compelled Lakesha to slow and then cease her partying ways, she admits.
"It changed me a lot," she says on a sunny Wednesday afternoon from her kitchen table. "It changed my life."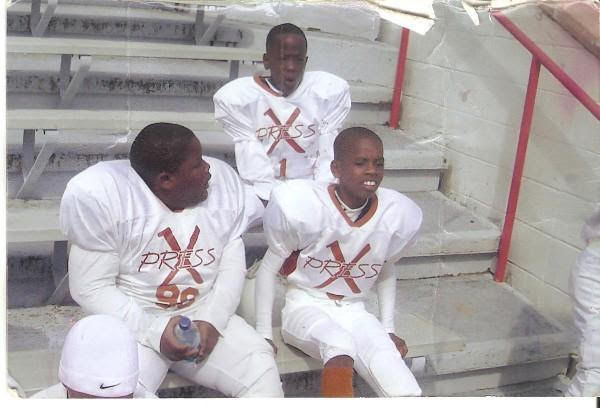 This is a story of fate and football, how a child's decision set off a chain of events that altered the lives of so many others.
Greedy soon joined that football team he watched through the fence, and his brother, Rodarius, began playing, too. His mother, Lakesha, started dating their youth league coach, Lonnie Bryant, the man behind this family's reformation, a guy who worked two jobs, coached his stepsons and mentored his stepdaughters.
"He was a lifesaver. That's what he was," says Andrea Williams, one of Greedy's two older sisters. "We went from the projects to the suburbs."
Now, here they all are, one big, happy family removed from the seedy streets of Shreveport neighborhoods like Allendale and Cooper Road and accomplishing firsts.
Keandre Williams, Greedy's oldest sister, became the first person in a family of dozens to graduate high school. Greedy Williams and his brother became the first males in the family to advance to college. Greedy is a starting cornerback at LSU, and Rodarius is a starting cornerback at Oklahoma State.
Football is still, very much, producing life-changing moments for this family.
Greedy leads the Southeastern Conference with three interceptions through four games, bursting onto the scene as LSU's next great defensive back from the Shreveport area — Morris Claiborne, Tre'Davious White and, now, Greedy Williams.
He has a long way still to reach the pinnacle of those standouts, but he's off to a rocking start. It's so early in this career of his that he's only known in Baton Rouge as a long, rangy redshirt freshman with a cool nickname and a nose for interceptions.
He is much more than that. He is a kid who has already accomplished a first in his family — out of the hood, he says, and into the spotlight, his family and home always on his mind.
"I play for the people back at home, the 318," he said referring to the northwest Louisiana area code. "It's where I was born and raised. It's, like, a lot of people up there rooting for me. Every time I do something, it's done for them. That's my hometown.
"It's a love thing, ya know?" he continued. "You have a platform to put on for the 318."
No Fly Zone
When John Bachman Jr. left Evangel Christian in 2010 to join Calvary Baptist's football staff, coaches at Evangel warned him about the future star 7 miles down the road at his new school.
"Look out," they told him, "for a kid named Greedy."
Greedy?
"I didn't know what to expect from a kid named Greedy," Bachman laughs Wednesday, just minutes removed from Calvary's latest football practice, chatting in one of the portable mobile home units used as coaches' offices.
"I popped my head into one of the rooms here," he says, continuing the story from years ago. "I said, 'Hey, you Greedy? I heard you can play.' He said, 'Yeah, I can play.' "
Seven years later, Greedy's full name — Andraez Williams — is hung at Calvary's football complex, listed with the others who were a part of the school's first two football state championship teams in 2013 and 2014.
Greedy was a member of such a heralded secondary in 2014 that it was dubbed the "No Fly Zone." Four of its five members are now playing at the Football Bowl Subdivision level: Greedy, his brother, Arizona receiver Shun Brown and Oklahoma safety Chance Sylvie.
Bachman's secondary — he served as the DBs coach — rolled up more than 25 interceptions, including six from the emotional and physical leader of the group, Greedy. He's a talker, an outgoing guy unafraid, Bachman says, to grow heated on the field.
Of those five members of the 2014 secondary, he is the only one who started as a freshman.
Even before he arrived at Calvary, Greedy Williams was a known name in these parts. He excelled at running back, receiver, returner and defensive back for Lonnie Bryant's youth football team. He played on the same squad as current LSU linebacker Devin White.
With a stepdad as a coach, Greedy learned zone coverages and man-to-man techniques at a young age. Bryant likes to joke that "he was a shutdown corner at 5 years old."
Greedy couples a mental game — that football intelligence, competitive nature and brash style — with physical skills. Coaches clocked him at a 4.2-second 40-yard dash in June, his mother said. Also, he stands 6-foot-2.
"Greedy is a tall corner with speed," coach Ed Orgeron said earlier this season. "It's hard to find."
Things did not translate immediately to college, something that had Greedy "mad," Bryant says. Coaches redshirted him in 2016 with such a deep secondary that included two NFL first-round draft picks in April: Tre'Davious White and Jamal Adams.
LSU's 2016 signing class included Greedy and two other cornerbacks, Kristian Fulton and Saivion Smith. Fulton and Smith, ranked in the top five among cornerbacks nationally, played.
Greedy, a top-20 cornerback, did not.
"He was the odd person out," Lakesha says. "He wasn't a five-star like them."
Greedy spent last season on scout team working against LSU's best receiver, Malachi Dupre, and having technique "forced on him" by guys like White, says fellow cornerback Donte Jackson.
Things worked out. Those around him fell off. Smith transferred in the spring to a Mississippi junior college, and Fulton has not dressed out for a game this season for undisclosed reasons. Kevin Toliver, a partial starter at Greedy's position last season, missed the season opener, presumably while suspended.
"Greedy waited his turn," Orgeron says. "Someone blinked. He moved in."
The best way to describe the start of the LSU football season, at least in Donte Jackson's o…
'Shootouts and fights'
Lakesha Williams did not reveal to her children that she had cancer until after successful surgery.
Doctors removed a cancerous tumor from her body about 10 years ago. She gets checkups every three months, never sure if it will "ever come back," she says quietly. The diagnosis, she first thought, was "a death sentence." She fell into depression, hiding her constant tears from her four children.
Lakesha was 28 years old.
"'How can this happen to me?'" she asks herself.
Well before the cancer, this family faced hardships.
The Williamses are originally from Allendale, a Shreveport neighborhood of about 4,000 people full of abandoned buildings that now serve as sanctuaries for drug activity. The family moved around during Greedy's childhood, from Allendale to those projects on Illinois Street and then to Cooper Road, a crime-heavy neighborhood where it's a "big deal," Tre'Davious White said, to have graduated high school. White is from Cooper Road.
Andrea Williams, the second-oldest of Lakesha's children, describes a neighborhood of "shootouts and fistfights."
"People would shoot, and we'd have to run in the house," says Keandre Williams, at 24 the eldest child.
"It's tough for a kid to grow up in, I can tell you that," Greedy Williams says. "Seeing weed and drugs. Bad neighborhood, but I had my mom keep me on the right track and not let me get caught up. She kept me into sports and all that stuff to help my mind focus on that type of stuff and not the other stuff."
Lakesha Williams had her first child at about 15 years of age. Her last, Greedy, came at age 20. Greedy's biological father is currently in jail, she says.
About four years ago, Lakesha became a 34-year old grandmother, when Keandre had son Braylon. She's now a 38-year-old grandmother of three, including Khloe, Greedy's 7-month old daughter.
"That's what my grandmother says," Lakesha says with a smile. "I started early."
Irma Williams is the matriarch, still nestled in Allendale and "never leaving," her family members say. The 79-year-old just recently beat small cell cancer, Keandre says.
Irma helped care for Greedy at a young age. Lakesha needed help, a 20-year-old single mother of four moving from one "hood," she describes it, to the other.
She remembers loading a cart with the family's dirty clothes and pushing it to and from the laundry mat. She remembers standing in the rain or snow and waiting for the bus to take her downtown to her job as a hospitality worker at the Holiday Inn.
She was paid $180 a week. She was on food stamps and other avenues of welfare. The family's low-income housing was so low that, at times, the rent was as little as $8 a month, she says.
In his iPhone, Greedy's name for his mother is three words: My First Lady.
"He says he does everything for me," Lakesha says. "He doesn't owe me anything."
"Growing up in my family, we didn't really have much. All I had was my sisters, mom and stepdad, people like that," Greedy says. "We all made it work."
"I ask myself, 'How?' " Andrea Williams says aloud. "My mom made something out of nothing."
She had help from Lonnie Bryant, a former Louisiana-Monroe running back who never completed his football career. Bryant paid for Greedy and Rodarius' fees in the youth football and basketball program he began nearly 30 years ago, Xpress Sports.
Bryant is this family's hero, working the graveyard shift as a dispatcher at CenterPoint Energy while also running the youth league. When Greedy was in ninth grade, Bryant moved the family out of Cooper Road and into a new housing development near Northwood High.
"After (the cancer), mom had to stop working. I'm glad we had our stepdad sit right there, comfort us and take us in and put a roof over our head," Greedy says. "My stepdad stepped up to the plate and became the man."
Greedy returns to the 318 as often as he can. He drops by Allendale to visit his grandmother.
Those running the streets there tell him to leave.
"I always tell people, the people back home who didn't make it, they're, like, the biggest motivators," Greedy said. "You come back home and they're like, 'Go do something else, bro. You don't need to be in the hood.' That's why I salute my neighborhood like that."
For LSU's group of wide receivers, the most telling offensive play of last week's game again…
Leelee and Greedy
Lakesha Williams glanced at her smart phone and began screaming.
The text messages were pouring in about her youngest son's game-opening interception against Syracuse. There she was, outside of Boone Pickens Stadium in Stillwater, Oklahoma, cheering loudly in the wake of the Cowboys' minutes-old loss to TCU.
"Those people were probably like, 'What is she doing?'" Lakesha says.
Lakesha and Lonnie Bryant are driving cross country nearly every weekend, splitting their time between watching one son's game at LSU and the other's at Oklahoma State. So far, they've missed only one LSU game, that win last Saturday against Syracuse.
They've been lucky. The Cowboys played on a Thursday and Friday already this season, allowing the duo to catch the Tigers on those Saturdays.
"I don't know how they do it," Andrea Williams says.
This is nothing new for the Williams family.
Rodarius, nicknamed Leelee, and Greedy shared similar paths in their young athletic careers. They played on the same defense for three seasons at Calvary Baptist, each a starting cornerback. They played basketball there, too.
They graduated together as well, despite Leelee being a year older. Lakesha held him back a grade.
They each have those quirky nicknames. Leelee comes from Rodarius' middle name, Lee. Greedy is a nickname his aunt handed to him as an infant when, while babysitting him one day, little Andraez sucked down three full bottles of baby formula in about two hours.
"Greedy Deedy," she told his mother upon her picking him up.
The nickname stuck.
The two brothers have their differences.
Greedy is the faster of the two, a more rangy kid at 6-2, 185 pounds. Leelee is thicker at 6-0, 190. Greedy is the more vocal of the pair, a guy with confidence oozing from every pore. Leelee is reserved, a quiet kid, who is more laid-back.
Greedy eats everything, a lover of soul food and country cooking, gumbo and etouffee. For Lee, it's "pizza, and humburgers," Lakesha says.
The two brothers were often recruited together. Lakesha, at one point, thought her sons would both end up at Oklahoma State or Texas A&M. LSU did not offer a scholarship to Leelee, Lakesha says.
Bryant warned his stepsons about attending the same college.
"How are you going to feel if one is playing," he told them, "and the other is not?"
Now, they're both playing.
Leelee has started all four games, making 10 solo tackles, 12 overall and making a pass breakup. Greedy is a four-game starter as well. He's got 12 solo tackles, 19 overall, those three interceptions and eight pass breakups, second-most in the SEC.
Syracuse picked at Greedy. The Orange targeted him nearly twice as much as any other LSU defensive back — 12 times. Receivers caught seven passes against him but only for a 7-yard average. The biggest of those was a 22-yard touchdown in the fourth quarter.
Greedy heard from Bryant about that one. He grades his two stepsons in their games each week, watching them employ the technique that he taught them since age 5.
"I told him on that touchdown, 'You relaxed,'" Bryant says.
Bryant has promised to pay Greedy $500 for every interception he returns for a touchdown at LSU. He was 3 feet away last week, returning his game-opening pick to the 1-yard line.
Bryant laughs.
"He wanted that TD," he says.
Lonnie and Lakesha will continue to commute to the boys' games, but there is a quandary they foresee unfolding in about five weeks. LSU plays at Alabama in what's always the biggest clash of the year for the Tigers. Oklahoma State hosts Oklahoma in the Cowboys' annual in-state rivalry showdown.
Says Bryant: "We'll have to split up."
Christian LaCouture and the rest of LSU's defensive linemen are used to it by now.
'Look, it's Greedy's mom!'
Clubbing, that's how Lakesha Williams describes it.
She was a party girl as a teenager and as a young mother, slipping into a nightly routine of so many around this area.
She needed her son to yank her out of it.
Lakesha signed up Greedy Williams for the Xtreme Sports youth football league on the last day of registration, finally giving in to his cries to play the game. She picked him up after his first day to glares from all of the parents.
"That's Greedy's mom," they whispered.
"You're Greedy's mom!" they told her.
On Day 1, her son's football skills had wowed players, coaches and parents.
"I had to stop clubbing," she says. "I was Greedy's mom."
Leelee joined the league only after Greedy's success, their mother says. The Williams brothers became stars in Bryant's program. Xtreme Sports provides about 150 Shreveport-area children a low-priced league in which to learn football and basketball.
Former LSU defensive end Jermauria Rasco, now with the Green Bay Packers, is an alum. Devin White played in the league despite living in Springhill, about 40 minutes north of Shreveport.
White and Greedy have been two of the most impressive defensive players through the first four games, as the 25th-ranked Tigers (3-1) gear up for a homecoming game against Troy (3-1) on Saturday.
Bryant is not surprised.
"He was an animal," he says of White, "when I first met him."
The entire Williams family will be in Baton Rouge this weekend for that game: Lakesha, Lonnie, Keandre and Andrea.
The 318 is coming to the 225.
"All day … 318 is going to come out of his mouth at least five times a sentence," LSU junior cornerback Donte Jackson says.
"Him, too, Devin White," Jackson points to the giggling inside linebacker during interviews earlier this week. "Three one eight this and 318 that."
The 318 is the driving force for Greedy. If he ever needs fuel for his game, he just visits his grandmother's home and walks the streets of her neighborhood.
"It's motivation," Andrea says, "seeing where your family is from."
He is already a quasi-hero here.
Greedy's aunt died recently. The family gathered at the hospital to see her final moments. Greedy Face-Timed from Baton Rouge through Keandre's phone. A nurse saw his face and heard his name.
"She came over to me," Keandre says. " 'That's your brother!?.' "