Welcome to Film Room, where we'll break down significant portions from LSU's last football game.
(Click to enlarge photos)
LSU 42, Utah State 6
How It Happened
Committing to the run: Utah State was prepared for a shootout. LSU coach Ed Orgeron said after the game, the Tigers coaching staff expected the Aggies would be. Why wouldn't they be? LSU had the nation's highest scoring offense and the nation's second-ranked passing offense. But Utah State also had a potent offense, one that entered the game scoring 38 points a game. That's why most over/under lines in sports books had this game pegged at a combined score of 73 points, the highest predicted total of the weekend.
As interesting as a fire fight between two potential future NFL quarterbacks (Joe Burrow, Jordan Love) would have been, it may not have been very beneficial for LSU. The Tigers more than likely had enough firepower to outscore the Aggies. But there are future opponents in SEC play with just as high-powered offenses (i.e. Alabama) when LSU may not be able to win a game simply by just trading haymakers.
So a new gameplan emerged: "We ran the football like we wanted to run it," Orgeron said. "We controlled the clock. We kept the ball away from the (Utah State) offense."
LSU dominated time of possession 41:03 to 18:57, cutting down Utah State's number of plays to a season low of 52. It was a similar game plan to what LSU used in its 40-32 Fiesta Bowl win last season over Central Florida, another up-tempo, high-play rate offense. LSU held the ball 44:31 to 15:29 in that game, too.
OK, the theory's great. But why did it work?
LSU starting center Lloyd Cushenberry said when he walked up to the football on the first play of the game, he could tell the run-the-ball game plan was going to be effective. Utah State was only committing six defenders to the box (pictured right), and the Aggie defensive backs were backed up, prepared to play the pass. "We figured they would try and probably do that," Cushenberry said. But at that point, Burrow said, the Tigers still weren't certain exactly how Utah State was going to play them. That uncertainty is played out in LSU's first play call of the game: a run-pass option play. By reading the defense's reaction to a play, Burrow and the offensive brain trust in the press box (offensive coordinator Steve Ensminger, passing game coordinator Joe Brady) can figure out what Utah State's tendencies are going into the rest of the game.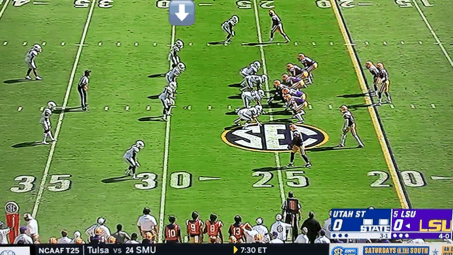 On first-and-10 at the LSU 25 (pictured right), wide receiver Justin Jefferson crosses the backfield in motion (more on that later), and Burrow runs a zone read handoff with starting running back Clyde Edwards-Helaire. Without going into a full crash course on the run-pass option offense (you can read that here), Burrow appears to be reading Utah State nickel safety Andre Grayson (pointed out with arrow). Grayson is what the RPO philosophy would call "the dangerous seventh defender" — the extra defender brought near the other six in the box, who can disrupt an offense with his proximity to the football. Grayson hangs back and covers Jefferson instead of pursuing the backfield, so Burrow hands off to Edwards-Helaire, who picks up five yards on the run.
Utah State continued to commit to the pass, and LSU's rushers had eight carries for 50 yards on the first drive of the game. True freshman running back John Emery even had a 12-yard touchdown run that was called back on a holding penalty. "Their game plan was to drop eight defenders in coverage," Burrow said, "and when teams do that, you're going to have to be able to run the ball."
This appears to be RPO (although the pulling linemen make it interesting).Utah State was playing the pass, with just 4 guys in the box (though others are close) and dropping eight in coverage.Joe Burrow: "When teams do that, you're going to have to be able to run the ball." pic.twitter.com/UXuZ8Vpywt

— Brooks Kubena (@BKubena) October 6, 2019
LSU recorded 248 total rushing yards against Utah State, which was the largest total for the Tigers since they beat Georgia last season. For one of the few times this season, the run opened the pass in a game.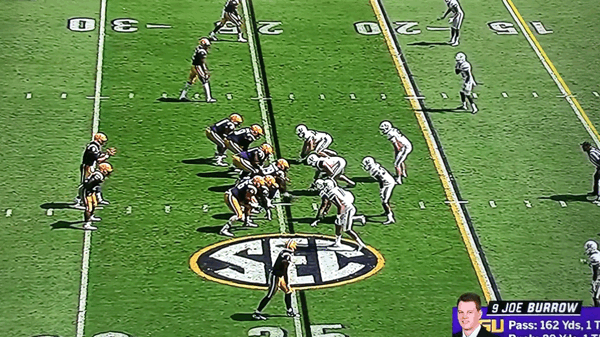 On LSU's 13-play, 99-yard touchdown drive in the second quarter, Burrow faked a handoff to Edwards-Helaire, which drew Utah State safety Troy Lefeged toward the line of scrimmage (pictured right). That left LSU wide receiver Ja'Marr Chase one-on-one with cornerback DJ Williams, and Chase makes the athletic catch on a jump ball for a 25-yard touchdown. "Once we're running the ball, then defense comes down, we're gonna throw the ball," Jefferson said. Even with LSU's commitment to the run game, Burrow threw for 344 yards, five touchdowns and an interception. With 22 touchdown passes this season, Burrow is only six scores away from the single-season school record held by JaMarcus Russell (2006) and Matt Mauch (2003). 
Improved tackling: Since the start of preseason camp, Orgeron said that tackling was something he wanted the LSU defense to improve on. The issue became clear when Orgeron said the Tigers missed 18 tackles for 148 yards in LSU's 66-38 win at Vanderbilt, in which running back Ke'Shawn Vaughn had 20 carries for 130 yards rushing and two touchdowns.
LSU had an open date following the Vanderbilt game, and for two weeks, the Tigers devoted 30 minutes of practice per day to tackling drills.
The dedication produced dividends against Utah State.
It appears that LSU surrendered only one broken tackle against the Aggies: a six-yard run on Utah State's first drive of the game, in which running back Gerold Bright snuck through a high attempt by defensive lineman Breiden Fehoko near the line of scrimmage.
That was it.
LSU's defense dominated the rest of the game, swarming Utah State's ball carriers and holding the Aggies to 159 total yards. A Utah State offense that entered the weekend averaging 38 points per game did not score a touchdown, and LSU held the Aggies to 19 rushing yards on 22 attempts.
What was the difference?
"Coach O was basically (saying) take shots," LSU linebacker Jacob Phillips said. "Make or miss, take shots. I think everybody was playing more aggressive."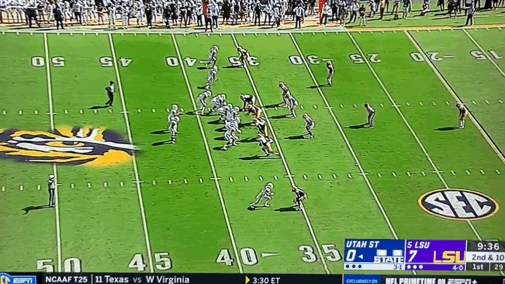 LSU defenders played aggressively all game, taking their shots at will. On second-and-10 at the LSU 37, Utah State attempted a screen pass on its first drive (pictured right), which was immediately stuffed by hawking linebacker Patrick Queen. The 6-foot-1, 227-pound Ventress native recorded three tackles for loss against Utah State, and Orgeron said it was Queen's best game yet. Nickel safety Kary Vincent recorded a tackle for loss on a similar screen pass later in the game. "Guys flying around the ball," Cushenberry said. "Just like we're accustomed to seeing from the LSU defense."
Vincent, true freshman corner Derek Stingley and unanimous All-American safety Grant Delpit each recorded interceptions, and Delpit made a thudding tackle on a third-and-1 at the Utah State 46. "I just had the edge," Delpit said. "Running back bounced outside, and I just took his legs."
Tackling was an issue for #LSU going into the Utah State game.They spent two weeks fixing it (@whalexander_'s story on that: https://t.co/lvOfwiwNag)Grant Delpit with a big third down tackle on the edge."Running back bounced outside, and I just took out his legs." pic.twitter.com/oHDpRviwKs

— Brooks Kubena (@BKubena) October 6, 2019
Lagniappe: Oh, you thought the jet-sweep was gone forever? Gone with former LSU offensive coordinator Matt Canada? Banished to the island of playbooks past?
Not so much.
It's a new look only in the sense that LSU hasn't used it this year. Not with offensive coordinator Steve Ensminger and passing game coordinator Joe Brady.
It was hinted on the first play of the game against Utah State with Jefferson (told you we'd get there), and the jet-sweep package is used, fittingly, with a guy nicknamed "Jets."
Then, on LSU's fourth drive of the game, Burrow flipped the ball to Jefferson in motion, and the junior wideout sprinted down the left sideline for a 38-yard gain to the Utah State 36. "I loved it," Jefferson said. "Just having that play in. We've been working it this whole year, but we never had the chance to run it."
This is a new look that #LSU showed against Utah State.It's the return of the jet sweep, and they use it, fittingly, with a guy nicknamed "Jets." pic.twitter.com/JxJnocZ8Lz

— Brooks Kubena (@BKubena) October 6, 2019
The explosive play led to a 1-yard touchdown run by Burrow, which set LSU ahead 14-6 with 13:57 left in the second quarter. LSU used the jet-sweep again two drives later; but that time, Utah State was in the backfield, and Jefferson reversed field and eventually lost seven yards.
The success of the jet-sweep can open up LSU's potent offense in multiple ways. Safeties eventually have to respect Jefferson, and if a defender is dedicated to tracking him across the field, that could leave more one-on-one opportunities open downfield. Or create a hole for something else entirely. "That's just going to open our offense up even more," Jefferson said.