ORLANDO, Fla. — Darrel Williams came just about as close to leaving LSU as one can.
So close that his high school position coach, Shawn Galmore, reached out to a handful of Division I programs to gauge their interest in the then-sophomore tailback in 2015.
"I lined something up. I called a couple schools," Galmore said. "They were definitely going to take him."
Williams' suitors aren't as important as his ultimate decision. He remained with a program for which he served as a backup and still does two years later.
Meet LSU's career No. 2 or, in some cases, No. 3. He's a rarity these days in college football, a top high school prospect who, in a sense, agreed to be a four-year backup. He is maybe the most undervalued member of LSU's football team — a hard-running, burly back with enough versatility to rank second this season in receptions, with 22.
He's the New Orleans-area running back from the other side of the river. He was overshadowed and outshined by St. Augustine's Leonard Fournette during his high school days at John Ehret, drowned out by Fournette again in college at LSU and then surpassed by a young Baton Rouge star, Derrius Guice.
This year, he finally peaked from the shadows of two of the most productive tailbacks in school history, handed an opportunity because of a knee injury to Guice.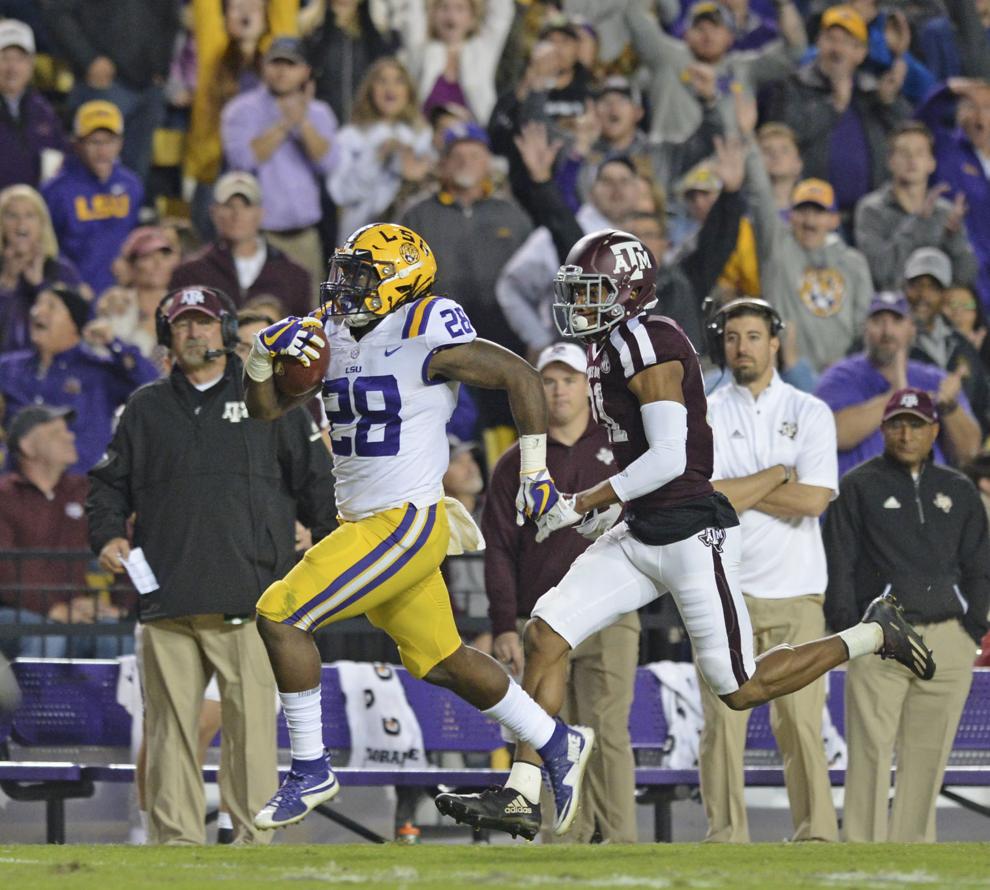 "That gave Darrel a chance to show what he had," tight end Foster Moreau said.
The senior from Marrero enters his final college game, still, as a No. 2 after a season fit for a No. 1. He averaged 5.7 yards per carry, scored nine touchdowns and became the first LSU player in school history to have 100 yards receiving and 100 rushing in the same game.
With a solid outing Monday in the Citrus Bowl against No. 14 Notre Dame (9-3), Williams may eclipse his rushing total from his first three seasons (851) this year (776), flashing the "2" in this program's most recent 1-2 punch at running back.
Just ask the "1."
"It's the same stuff people were saying about me and Leonard last year," Guice said earlier this fall. "I could say the same this year about me and Darrel: great 1-2 punch.
"That's my brother."
It is not easy being the "2" or the "3" when you've spent a large portion of your life as the "1" — those parkball days at PardPark to those high school years at Ehret, when Williams' senior season surged him up recruiting rankings.
"It's hard to be in the city when you're the No. 10 running back in the country," Galmore said, "and a guy across the river is a phenomenon."
Moving from the front to the back seat is a big ask, but Williams knew the facts: He signed with the same school as Fournette in the same class as Fournette.
It was hard for Williams, said his mother, Karen, and his coach, Galmore. It was hard enough that he toyed with transferring during his sophomore year, unhappy and placed in the "doghouse," Galmore said, by then-coach Les Miles over Williams fighting against a potential move to fullback.
LSU plans to split with Matt Canada after the Citrus Bowl.
The divorce between Ed Orgeron and Matt Canada has been like a lot of splits.
Even now, Williams refused to speak about his early time at LSU.
Asked if those first two years were frustrating, he declined to answer, saying, "I have no comment" during a brief interview in November.
Williams is not the talkative type, something his mother said he acquired from his father, Darrel Sr. They both do their talking on the field, Karen Williams laughed.
Like the father, the son is somewhat reluctant to be the focus of an interview. When he is, the words are few and sentences short. He has spoken to reporters less than a half-dozen times during this banner senior season of his.
One of them occurred in the bowels of Neyland Stadium after a 68-yard, two-touchdown performance in the pouring rain and driving wind at Tennessee.
"Love doing what I'm doing and making the most of my senior year," he said.
But he could have gone to another university — he was briefly committed to Arizona State — and started, right?
"Correct," Williams responded.
Does he regret his college choice?
"I think I made the right decision," he said. "I had to live with my decision. I felt like it was the best fit. It was home. At the end of the day, I'm glad I made this decision."
That's mom and dad talking through their son.
Karen and Darrel Sr. pushed their son to remain in Baton Rouge during the toughest of times, but they, too, had to adjust to their son's backup role and the fact that his production decreased from Year 1 (64 carries, 302 yards) to Year 2 (60, 296) to Year 3 (52, 233).
"He could have easily left and went to another school. He would have been the main man," Karen said. "A lot of people would have done that. They would have left. He didn't run from the challenge. He faced the challenge. 
"His daddy always told him when he makes a decision as a man," she continued, "you have to stand behind your decision like a man."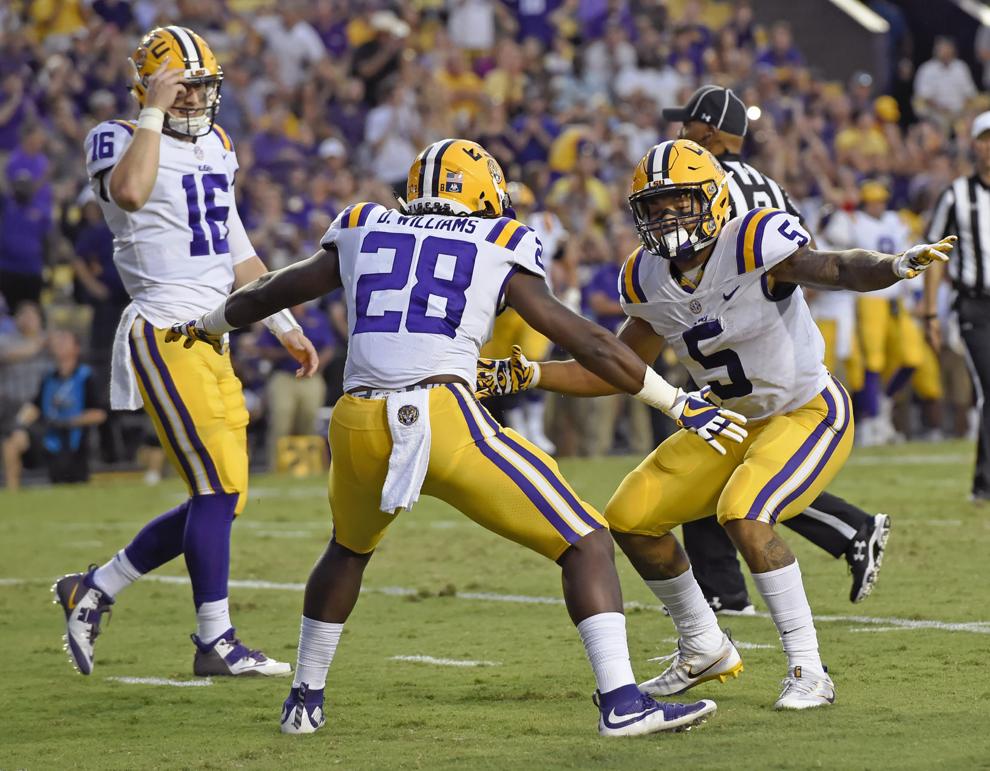 His success in Year 4 isn't only tied to Guice's knee injury. Offensive coordinator Matt Canada and coach Ed Orgeron were "instrumental," Galmore said, in involving Williams in the offense — but only after some serious weight loss.
Williams dropped from 245 pounds to as light as 221, the coach said. He replaced late-night snacks from Raising Cane's and Taco Bell with grilled chicken and baked fish. The result? His 158 touches this season are second on the squad and trail only Guice, who is projected as a first-round pick if he elects to enter the NFL draft this spring.
Ah, yes, No. 2. It's nothing new.
His days in that position date back to high school, too — at least briefly. He played his freshman and sophomore seasons at L.W. Higgins High before transferring as a junior to Ehret. Galmore recalls playing against Higgins and spotting a young teen on the sideline.
"He was 187 pounds, and I remember playing against him," said Galmore, now the offensive coordinator and assistant head coach at West St. John, winner of the Class 1A state title earlier this month. "'Lord, they give this kid the ball, and they're going to beat us.'"
Said Galmore: "They never gave him the ball."
Coaches at Ehret did. In fact, Karen Williams can recite by heart the numbers from his senior season: 2,201 yards rushing, 32 touchdowns and 306 yards receiving. He was "a man on a mission" during that 2013 fall, Galmore said.
The mission: attain an LSU scholarship offer.
Finally, late in his senior season and just a few weeks before signing day, that came.
"He was on a mission because LSU was checking in but they required more of him his senior year," Karen Williams said. "He'd already proven himself, but he felt like he had to come out and go harder to get their attention. He was going to leave it to the numbers."
In his last regular season game, Ehret beat West Jefferson 61-28 behind this stat line from Darrel: 41 carries, 294 yards, seven touchdowns.
He's never really gotten an opportunity for such a line in college. Remember, he's No. 2. That doesn't mean he hasn't left his mark on this program.
"I can't tell you how much Darrel has meant to our football team as far as a leader, as far as a guy that can catch the ball in the backfield," Orgeron said. "Last year, when Leonard couldn't play, obviously we're going to miss Leonard, but we had Derrius. This year when Derrius couldn't play, we had Darrell. And although they're two different players, at times Darrell was just as effective."
ORLANDO, Fla. — Notre Dame's football team will be without some key options in an already-inconsistent passing offense.
---
THE CAREER BACKUP
Darrel Williams might forever be known at LSU as the guy who backed up Leonard Fournette and Derrius Guice, but Williams is just one of 22 players in LSU history to crack 1,600 yards for his career. And he did it, mostly, as a four-year backup.
2014
| | | | | |
| --- | --- | --- | --- | --- |
| Runner | Carries | Yards | TDs | Avg. per carry |
| Leonard Fournette | 187 | 1,034 | 10 | 5.5 |
| Darrel Williams | 64 | 302 | 3 | 4.7 |
2015
| | | | | |
| --- | --- | --- | --- | --- |
| Leonard Fournette | 300 | 1,953 | 22 | 6.5 |
| Derrius Guice | 51 | 436 | 3 | 8.5 |
| Darrel Williams | 60 | 296 | 4 | 4.9 |
2016
| | | | | |
| --- | --- | --- | --- | --- |
| Derrius Guice | 183 | 1,387 | 15 | 7.6 |
| Leonard Fournette | 129 | 843 | 8 | 6.5 |
| Darrel Williams | 52 | 233 | 3 | 4.5 |
2017
| | | | | |
| --- | --- | --- | --- | --- |
| Derrius Guice | 216 | 1,153 | 11 | 5.3 |
| Darrel Williams | 136 | 776 | 9 | 5.7 |