There was little secret that LSU defensive coordinator Bo Pelini favored man-to-man coverage from the beginning of what has become a disaster recovery plan of a season for a defensive unit that prides in calling itself "DBU."
In fact, Pelini was so dedicated to press man coverage in the season opener that it surprised Mississippi State coach Mike Leach, who expected the Tigers secondary would play looser against his Air Raid offense.
You remember what happened next: a partially depleted LSU secondary surrendered a Southeastern Conference single-game record 623 passing yards in a 44-34 loss.
The struggles continued even when All-American cornerback Derek Stingley returned after missing the first weekend of Southeastern Conference football because of an illness that hospitalized him. The yards and points still piled on even as a trio of young cornerbacks — true freshman Eli Ricks, sophomores Cordale Flott and Jay Ward — gained experience.
Ward, as Orgeron said earlier this season, was thrust into the lineup against Mississippi State despite missing most of the preseason because of a meniscus tear. Ward told reporters Tuesday that he didn't practice at all that week and it was still hard for him to run at the time.
Still, it's not a huge surprise that Pelini would favor man coverage. LSU has favored it plenty in the 13 years before Pelini coordinated the Tigers defense his first time around.
But youth, inexperience and a pandemic-plagued offseason seemed to stir up the perfect storm for a secondary that lost starting nickel safety Kary Vincent to an opt-out. Vincent, a three-year starter, could also play cornerback and could have helped solidify what's become the team's most rocky unit.
The secondary made its most significant step forward in LSU's 27-24 win at Arkansas. Save for one long touchdown pass in the first quarter, the Tigers defensive backs limited the Razorback receivers until things began to unravel after Ricks was ejected for targeting and Stingley exited with an injury.
Before Ricks was ejected, Arkansas quarterback Feleipe Franks was 4 of 8 passing for 110 yards — most of the yardage coming on a 65-yard touchdown pass to Treylon Burks in the first quarter.
That's why LSU coach Ed Orgeron said he was pleased with how the defense played for "most" of the game.
"I thought we had our cleats in the grass," Orgeron told reporters Monday. "We had a great plan for the hurry-up offense. But I'm still not pleased with the deep balls. I'm still not pleased with the rub routes. I'm still not pleased with the explosive plays. I'm definitely not pleased by the way we played most of the season. We need to improve to be a championship defense, and everybody knows that."
Ah yes, those pesky rub routes. If you have followed any of our Sunday film studies online, you are familiar with how these routes have hurt LSU since the Mississippi State game.
If not, here's the gist: A rub route is essentially like setting a pick in basketball. Generally a pair of receivers line up near each other, and Receiver 1 crosses over and runs into Receiver 2's defender. Receiver 2 runs underneath, and, the offense hopes, Receiver 1's defender gets tied up in the confusion and doesn't recover in time, leaving Receiver 2 wide open.
When a defense runs man coverage, there is a risk of being hit with a rub route. But since LSU has particularly struggled against it, every opponent this season has used some variation multiple times.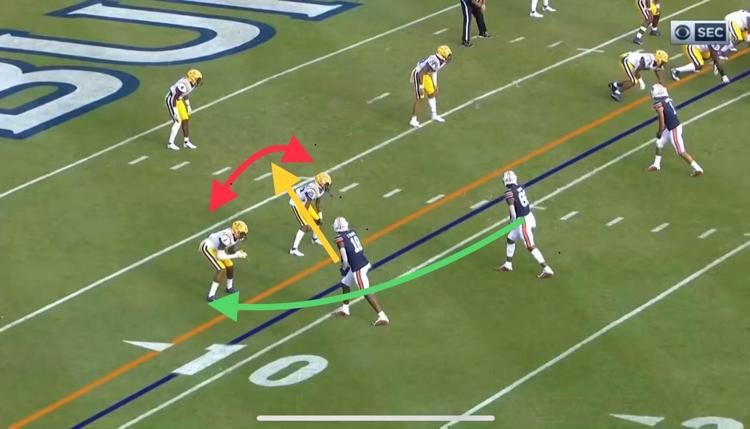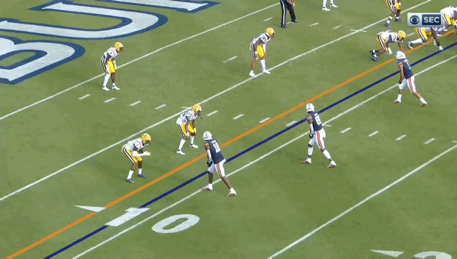 Auburn used a rub route to score its third touchdown, 40 seconds before halftime, in a play that broke open what became LSU's biggest loss since 1996.
Alignment was an issue on Bo Nix's 9-yard pass to Ze'Vian Capers. Auburn spreads Seth Williams wide to the left sideline, and Capers is lined up off the ball to the right of Williams. Ricks (on Williams) and Flott (on Capers) both are pressing almost right at the line of scrimmage, but they are lined up side by side at the same depth.
That becomes the problem. When Williams runs at Flott, he's not far back enough to run over the top of Ricks. He can't run underneath either. He collides with Williams, and Capers catches the touchdown wide open in the left corner of the end zone.
The defensive backs have to be on different levels so they can possibly avoid the pick, Orgeron said.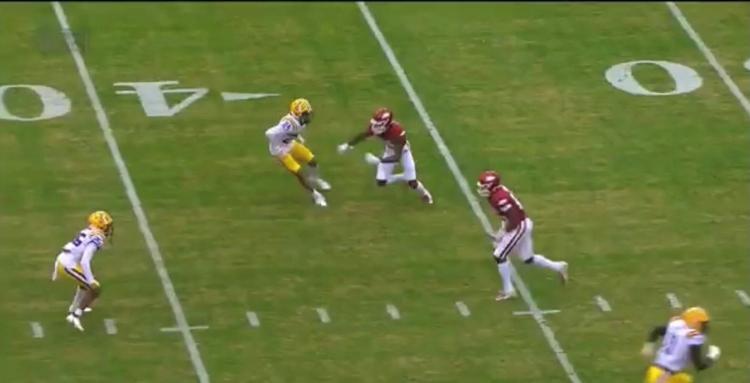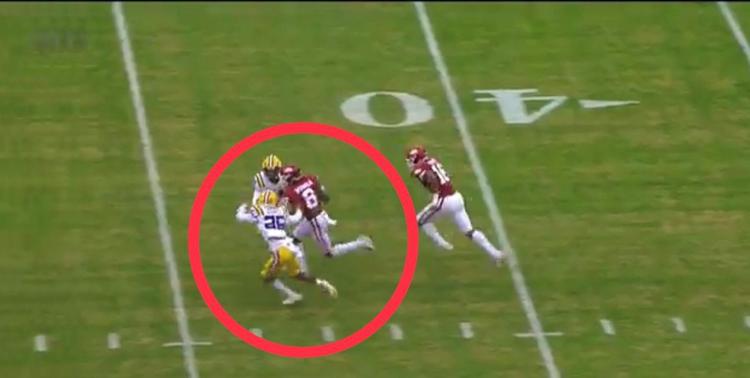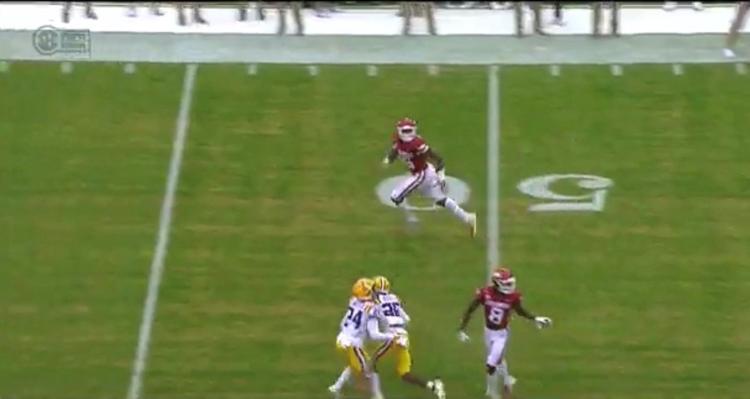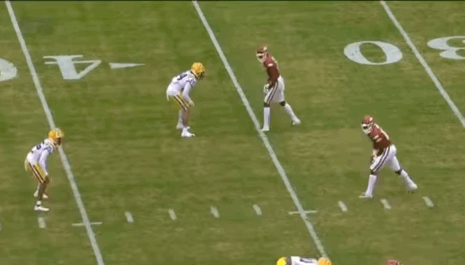 Still, offenses have been successful even when LSU does have its defenders on different levels.
Arkansas used a rub route on its 65-yard touchdown against LSU. The Razorbacks split Mike Woods toward the right sideline, and Burks lined up off the ball to the left of Woods at the slot. Stingley pressed Woods near the line of scrimmage, and Flott was backed up 5 yards in front of Burks.
Still, Arkansas designed their routes in a way to pick Flott. Burks ran vertically for about 3 yards, which kept Flott positioned on the left hash mark long enough for Woods to run somewhat of a post directly into him. Burks cut quickly toward the sideline, Flott and Stingley collided, and Franks found Burks wide open.
Orgeron said Pelini "has worked very hard" on solving LSU's problems against rub routes. Although the defensive scheme has been simplified after the struggles, Orgeron said sometimes a defensive play call is part man coverage, part zone coverage. 
Ward said he's noticed that teams don't use the route as often as they did at the beginning of the season. LSU's defensive backs can see when a rub route is coming, Ward said. It's tipped off when two wide receivers are bunched together tight.
"We're improving on it better," Ward said.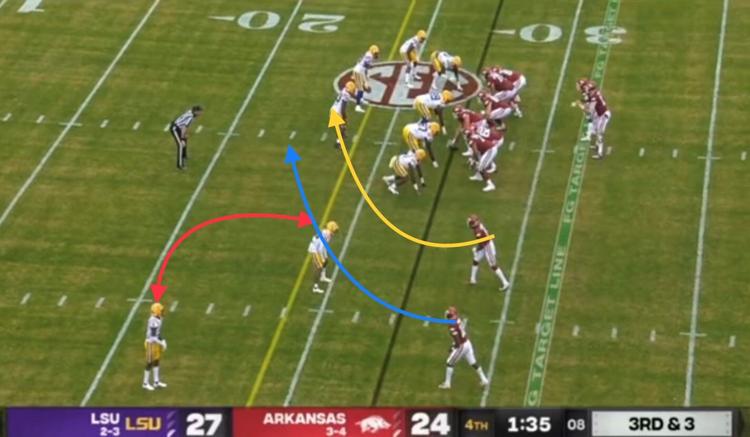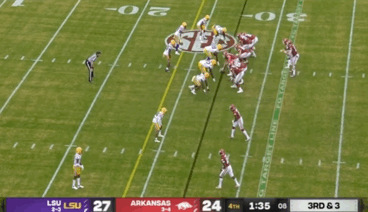 LSU's opponents have also used rub routes to attack Tiger linebackers to free up routes for running backs on wheel routes and swing passes. Confusion led to Kylin Hill's 75-yard touchdown reception on a wheel route in the Mississippi State game.
LSU linebacker Jabril Cox said that the linebackers have learned that against rub routes and anticipating these running back routes, "it's all about leverage, knowing where our help is."
"All that can be avoided if we just stick to our technique," he told reporters Tuesday.
LSU stuck to its technique and salvaged its victory against Arkansas on the Razorbacks' final offensive drive.
LSU led 27-24 with 1:35 remaining in the game, and Arkansas was facing third-and-3 at the LSU 27. The Razorbacks lined three wide receivers to the left side of the field and attempted to pick linebacker Micah Baskerville to free up running back Trelon Smith on a swing pass.
Ward was lined up about 5 yards off the ball from Burks, who was in the slot, and Ward flowed inside briefly before he spotted Smith running his way. Ward charged toward Smith as Franks threw the ball, and Ward collided with Smith just as the pass arrived, knocking the ball loose and forcing fourth down.
On the next play, Ward partially blocked a 44-yard field goal that would have tied the game.
Orgeron said LSU was prepared for that exact play. They had seen Arkansas run it out of that formation before.
"We had showed them that on tape," Orgeron said in a Tuesday morning interview with WNXX-FM 104.5's "Off the Bench." "We showed them that on paper, and we practiced it three times. And I'll be darned, when they came to run it, Jay Ward was prepared. ... He knew exactly what play was coming and made the play."