Welcome to Film Room, our weekly analysis of LSU's last football game.
Have a seat. No talking. No tweeting. No texting. Pay attention.
(Editor's note: Click the images to enlarge)
How They Happened (big-play analysis)
Rub route: On second-and-13 on the opening series, LSU QB Danny Etling hits DJ Chark for a 67-yard touchdown pass, but the play is negated by offensive pass interference.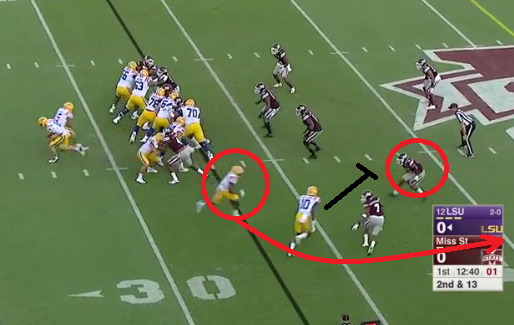 This is what's called a "rub route." Some would call it a "pick play." It's designed for a receiver to, as discretely as possible, disrupt a defensive back's path in covering another receiver. That receiver here is Stephen Sullivan (black line). That DB is Mississippi State's Mark McLaurin (red circle) and that other receiver is Chark (red circle).
The play works to perfection. McLaurin picks up Chark, in motion from left to right before the snap, in man coverage. Sullivan effects the route, tangling up two defensive backs, McLaurin and his own man, Tolando Cleveland, to leave Chark wide open. Almost every college football team in America runs some sort of a rub play. Clemson's game-winning TD pass against Alabama in last year's national championship game is a good example. Sometimes it's called for offensive pass interference and sometimes it's not.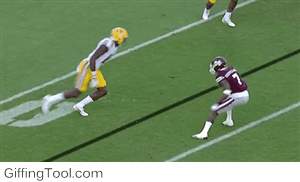 ESPN analyst Todd Blackledge, calling the game, insists on the television broadcast that it's McLaurin's job to avoid the contact from Sullivan. "(Sullivan) didn't turn to block the guy. He just got caught up," Blackledge said. "I don't think that's a penalty. I think it's a bad call."
His postgame interview session complete, Danny Etling slowly rose from the metal chair in wh…
---
'They got outside': Mississippi State's first offensive play from scrimmage was a sign of things to come. QB Nick Fitzgerald ripped off a 16-yard run to the outside.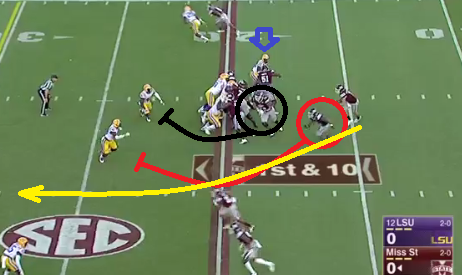 This is a QB power run the whole way, and it's blocked to perfection by the Bulldogs. State center Elgton Jenkins (black circle) pulls around left end to get ILB Devin White, and RB Aeris Williams (red circle) gets ILB Donnie Alexander. Fitzgerald basically splits the blocks, running free for a game-opening play that set the tone.
After the game, defensive lineman Greg Gilmore explained LSU's defensive woes (State had 285 yards rushing) by using five words: "They got outside on us," he said. The Tigers struggled all night in what's termed "setting the edge," football lingo for containing rushing plays to the inside. In the first half alone, State ran for 101 yards on 14 attempts on rushes outside of the tackles.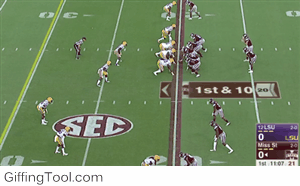 You see the blue arrow? That's Arden Key, LSU's All-American junior edge rusher. State ran away from his side for much of the night, rendering him helpless on many rushing plays. State ran or passed away from Key's side on 10 of its first 11 plays. In Key's 43 total snaps, the Bulldogs ran at him or passed to his side just nine times.
LSU tumbled 12 and spots in the two major college football polls after Saturday's 37-7 loss …
---
Play-action bust: On third-and-1 in the second quarter, State QB Nick Fitzgerald finds a wide open WR Keith Mixon for a 45-yard touchdown pass to all but secure the win.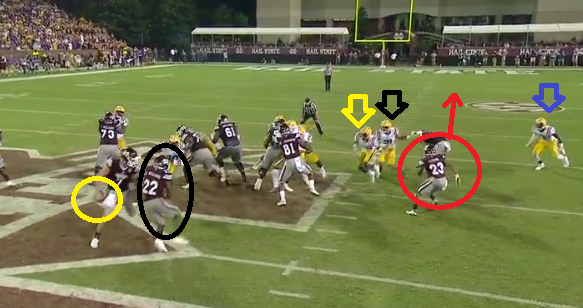 We spent time last week on Danny Etling's strong ability to hide the ball on play-action and how it forces the safeties to bite on the run, leaving receivers open down the field. Here, Fitzgerald does this same thing to LSU's defense, as three defensive backs have their eyes in the backfield watching for the run on a third-and-1 snap.
Two things happen here to sell the run. First, Fitzgerald hides the ball well (yellow circle) on the play-action to RB Aeris Williams (black circle). Then, Mixon (red circle) cuts inside, acting as if he were run blocking on the edge before ripping down field. "Mixon really sells it. He comes in like he's blocking and LSU's defense was thinking run all the way," Blackledge said on the call.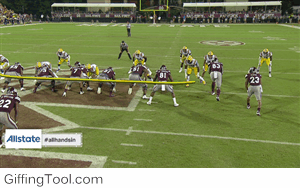 The three LSU defensive backs have an arrow above their heads: Kevin Toliver (blue), John Battle (yellow) and Ed Paris (black). We do not know the defensive playcall or assignments so putting blame on specific players is not appropriate. However, it appears that Battle is on a run blitz call, while the other two are hovering on the perimeter. 
LSU players repeat the mantra: Next man up.
---
POSITION ANALYSIS
Big Ugly Blips And Booms (OL analysis) 
Ed Orgeron's main concern was realized Saturday night in Starkville: pass blocking. The Tigers struggled in that area during preseason camp. The issues have not gone away. QB Danny Etling was pressured on eight of his first 22 dropbacks against State. Check out each of those eight pressures:
| | | | | | |
| --- | --- | --- | --- | --- | --- |
|  Down |  LSU blockers |  State rushers |  Closest LSU blocker |  Pressure from |  Play result |
|  3rd-17 |  5 |  4 |  Ingram |  Right side |  Etling scramble +11 |
|  1st-10 |  7 |  5 |  Moore |  Right side |  INC |
|  3rd-10 |  6 |  5 |  Malone |  Left side |  INC |
|  3rd-3 |  6 |  5 |  Ingram |  Right side |  INC |
|  1st-10 |  6 |  5 |  Clapp |  Center |  INC |
|  3rd-15 |  5 |  4 |  Ingram |  Left side |  Completion +2 yds |
|  3rd-7 |  6 |  4 |  Charles,Weathersby |  Right side |  INC |
|  3rd-5 |  5 |  4 |  Malone |  Right side |  INC |
The miscues weren't only about losing one-on-one matchups. There was miscommunication as well. Blackledge points that out below during a second-and-short rushing play that became a third-and-medium. There was a communication bust on the right side of the line, as both Toby Weathersby and Ed Ingram headed to block a linebacker.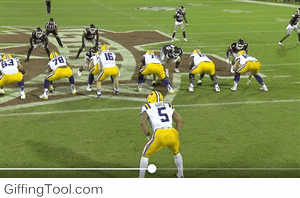 The line leads the team in penalties by position with eight. The big guys had two more Saturday to go with six in the first two games. The Tigers have 30 penalties overall through three games. Just three FBS teams have more.
STARKVILLE, Miss. — The bells tolled for LSU here Saturday night.
Penalties by phase of game
Offense: 16
Defense: 9
Special teams: 5
Penalties by position
O-line: 8
Receiver/Backfield: 8
Defensive backs: 5
Linebackers: 4
Defensive line: 4
Penalties by foul
Holding: 6
False start: 4
Offsides: 4
Unsportsmanlike conduct: 2
Illegal block: 2
Targeting: 2
Illegal shift: 2
Roughing kicker: 1
Personal foul: 1
Roughing passer: 1
Offensive PI: 1
Delay of game: 1
Intentional grounding: 1
Hands to face: 1
Defensive PI: 1
Monday Morning Quarterback (QB analysis)
One thing is becoming clear: Etling struggles when under duress in the pocket, as many quarterbacks do. His passes on the run or with a hand in his face are just not accurate. He misfired on nine of his first 14 passes. Why, how? We have them all below. You'll see some obvious similarities with many of them: pressure.
| | | | |
| --- | --- | --- | --- |
|  Down |  Intended receiver |  Length |  Why missed |
|  3rd-3 |  Stephen Sullivan |  Short |  Deflected at line |
|  1st-10 |  DJ Chark |  Long |  Underthrown under pressure |
|  3rd-10 |  DJ Chark |  Intermediate |  Thrown out of bounds under pressure |
|  3rd-3 |  Foster Moreau |  Intermediate |  Thrown high under pressure |
|  1st-10 |  DJ Chark |  Long |  Thrown high under pressure |
|  3rd-5 |  Russell Gage |  Intermediate |  Dropped pass |
|  2nd-7 |  DJ Chark |  Long |  Dropped pass |
|  3rd-7 |  DJ Chark |  Intermediate |  Thrown out of bounds under pressure |
|  3rd-5 |  Russell Gage |  Short |  Thrown low while scrambling |
What did not help Etling was the third-down yardage to gain. Five of LSU's first nine third downs were 5 yards of more. Three of those were in double digits: 17, 15 and 10 yards.
Front 7 (DL/LB analysis)
As mentioned above in Big Play Breakdowns, LSU failed to do something called "setting the edge," football lingo for containing rushing plays to the inside. The final numbers on State's outside rushing will have your jaw dropping.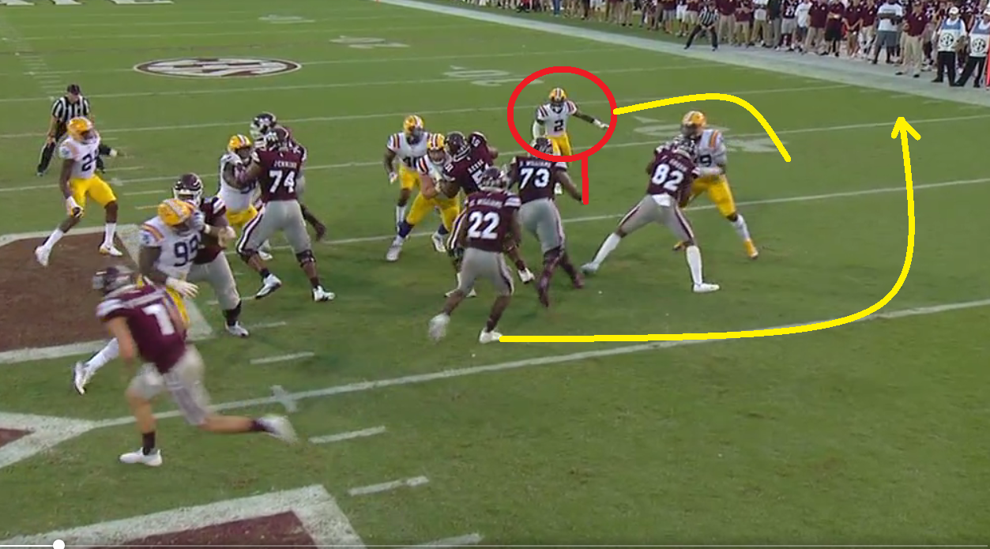 Rushing outside of tackles
Rushes: 20
Yards: 177
Average: 8.85
Rushing inside of tackles
Rushes: 18
Yards: 62
Average: 3.4
So who was supposed to be setting all these edges? It's a different guy on different plays. Without knowing the defensive playcalls and assignments, it's tough to point fingers, but it's not only relegated to linebackers and defensive ends. Defensive backs are in charge of setting edges, too, and Blackledge highlights one of these instances. In the above shot. You see CB Kevin Toliver in red. He darts to the inside lane (red line), leaving the outside free. He's supposed to have "outside contain," says Blackledge (yellow line). With no one outside, Williams bounces the run toward the sideline for a big gain (yellow line).
We'll now spend a few more minutes on Arden Key and just how Mississippi State and coach Dan Mullen took him out of the game. To put it quite simply, the Bulldogs ran and passed away from Key. Here are the numbers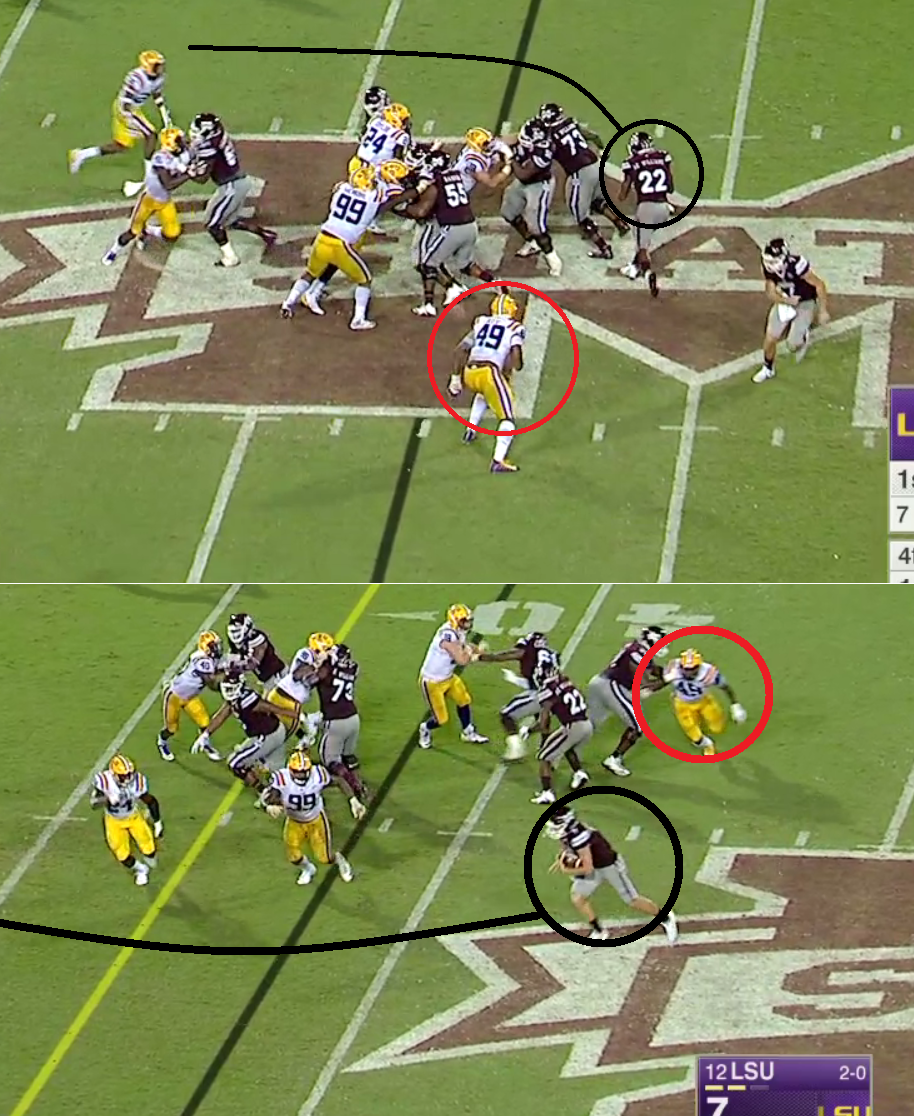 Key snaps: 43
Plays to Key's side: 9
Rushing to Key's side: 7 for 16 yards
Passing to Key's side: 1 for 2, 28 yards (1 Key pressure)
LSU moved Key around, but that didn't help, something made clear on back-to-back plays in the third quarter (screen shots are to the right). On the first, Key aligned on the left side (red), only to have Fitzgerald hand off to RB Aeris Williams (black) on a run to the right. On the next, Key (red) aligned on the right side, only to have Fitzgerald (black), on the same play, keep the ball for a run left. 
Despite State's scheming, Key did get his sack. It came late in the second quarter and in true Key fashion. DC Dave Aranda has said in the past that he's never seen a player able to run around an offensive tackle like Key can. Check it out to the left.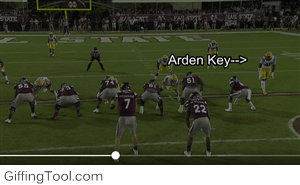 Ed Alexander injured the same hand in which he hurt last season at some point early in the game. He played with a fractured bone in his right hand for much of last season, participating with a club-type apparatus on his right hand. Medical staff members re-applied the club to his right hand during the first half. According to the ESPN broadcast, he also tweaked a hamstring along with the hand injury. He was cleared to return, ESPN sideline reporter Holly Rowe said, but never did. Check that club out: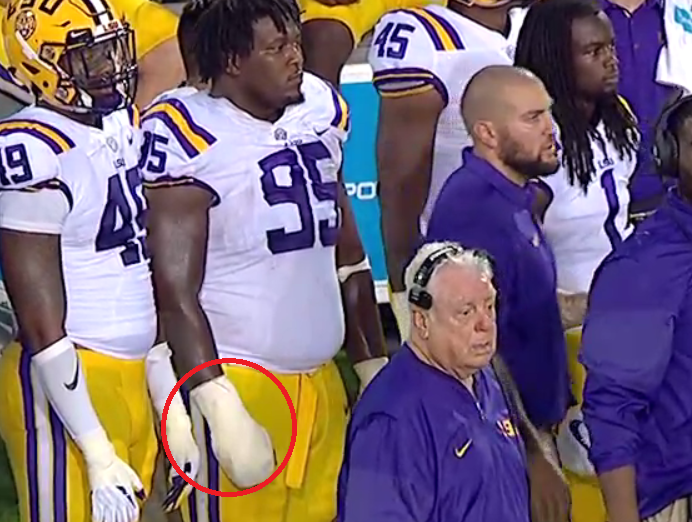 Break It Up (DB analysis) 
First off, Kary Vincent injured his left arm or hand in the third quarter and, we don't think, ever returned. Xavier Lewis replaced him, and State picked on Lewis, throwing to a receiver in his area four times for three completions for 34 yards. Vincent's status is unknown.
Greedy Williams continues to excel. He did not allow a completion in two targets through the first three quarters of the game.
State QB Nick Fitzgerald thrived in hitting the short to intermediate passing, picking on Lewis, as we mentioned, LSU's linebackers and safeties and Kevin Toliver (three completions for 22 yards). Sometimes it's tough to tell who should be covering what man, but outside of Williams, everyone made their share of mistakes and allowed at least one completion. 
We saw Aranda play mostly his five-DB nickel package on Saturday. He didn't use much 3-4 base and only employed the two DL-linemen Cheetah package a handful of times. We did not see K'Lavon Chaisson and Key on the field at the same time in the Cheetah. OLB Corey Thompson kept his role in the Cheetah, playing opposite Key.
All photos courtesy of ESPN.