FAYETTEVILLE, Ark. — Welcome to Film Room, where we'll break down significant portions from LSU's last football game.
(Click to enlarge photos)
LSU 27, Arkansas 24
How It Happened
Third down stops: Sometimes numbers have a way of repeating. A crucial number repeated Saturday in Razorback Stadium. Remember when LSU failed to convert a single third down in its 45-41 loss at Missouri? LSU went 0-for-10 on third down opportunities, including a failed run during Missouri's game-winning goal line stand at the end of the game.
Fast forward three games, and an LSU defense that badly needed to improve held Arkansas to an 0-for-10 showing on its third down opportunities. The stops got the Razorbacks and their up-tempo spread offense off the field quickly, giving the ball back to LSU so it could execute its clock-draining game plan in which it more than doubled Arkansas' time of possession.
LSU forced six three-and-outs, and senior punter Zach Von Rosenberg had one of his finest performances with five punts inside the Arkansas 10.
How did LSU's defense make its improvement?
Some fortune was involved. Some luck, too. But defensive coordinator Bo Pelini's 4-3 defensive scheme mostly thrived at full strength in a simplified scheme. They stuck with basic plays. They didn't have many checks. Aside from one long touchdown pass, the defense didn't make many blatant blunders, which LSU coach Ed Orgeron thought was "the biggest factor" in the game.
"We probably had less mental errors than we had all year," Orgeron said. "I thought that was the biggest factor."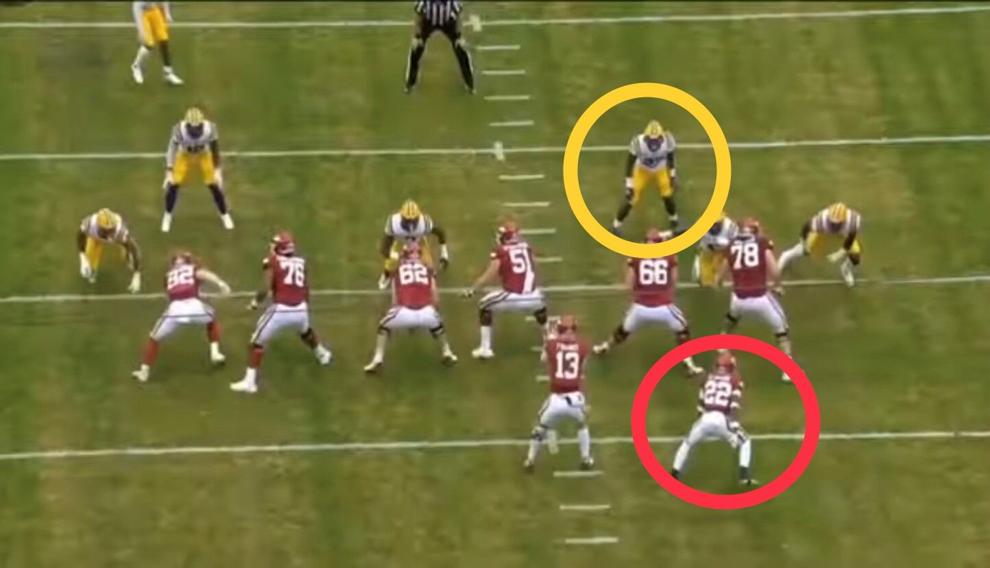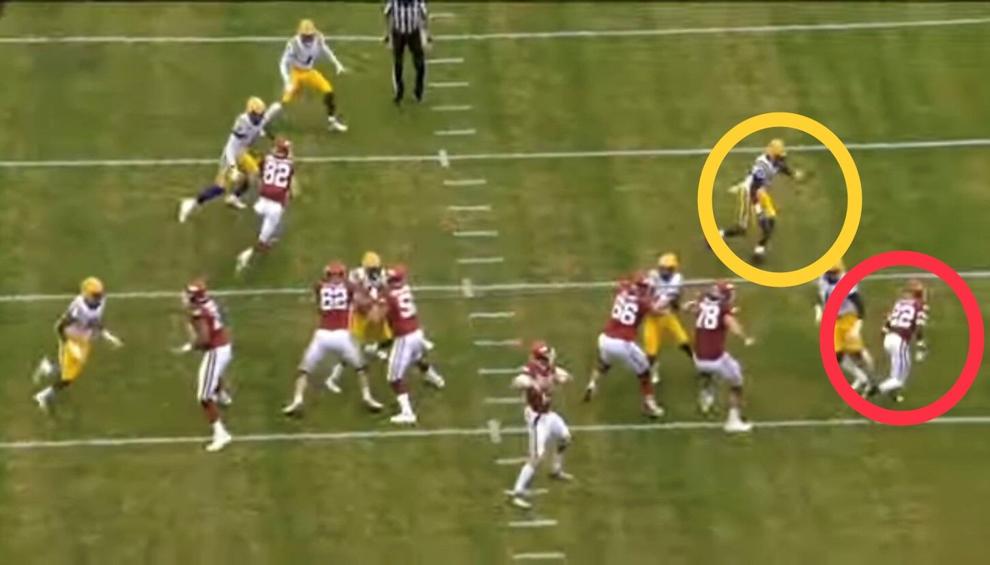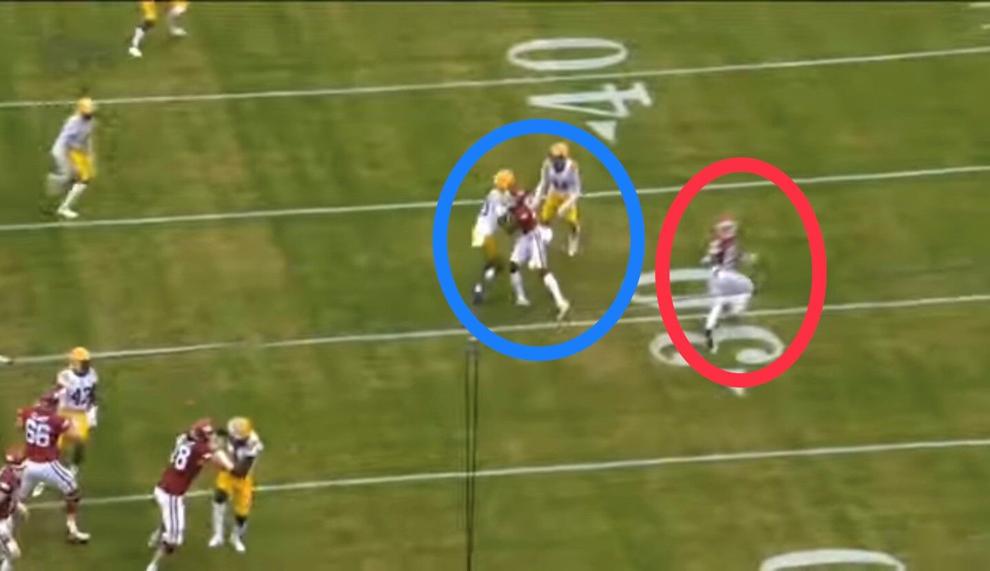 Arkansas started the game with a three-and-out. A short pass. A short rush. Then, on third-and-6 at its 29, LSU's 6-foot-6, 262-pound defensive end Ali Gaye swatted a pass at the line of scrimmage. Helps to have a lineman the size of a power forward, especially when it saves a big play like it did here. It was pretty clear from the beginning that Arkansas offensive coordinator Kendal Briles wanted to test LSU's proven weaknesses in the flats, and, on third down, he paired it with LSU's struggles against rub routes. The first play was a swing pass to Treylon Burks out of the backfield, challenging LSU linebacker Micah Baskerville, who, in his second start in place of Damone Clark, helped chase Burks out of bounds. On third down (sequence shown right), Arkansas runs a wheel route with running back Trelon Smith (circled red). As Smith moves right, it's clear that Baskerville (circled yellow) is matched with him in coverage. Meanwhile, wide receiver Mike Woods (circled blue) runs a slant route with the intention to pick Baskerville. The two players collide and Smith is open on the sideline with space to run. Instead, Gaye blocks the pass. LSU was in its third-down "Cheetah" defensive package, which included Ray Thornton, Andre Anthony and BJ Ojulari on this play, plus Gaye, who has been involved in the package for most of the season. His length and his ability to make plays like these are part of the reason why he's included.
Nickel safety Cordale Flott made an impressive pass breakup on Arkansas' second third down opportunity of the day. On third-and-7, LSU used its Cheetah package again. This time, LSU's two linebackers, Baskerville and Jabril Cox, were overloaded to the left, paired with Arkansas tight end Hudson Henry and Smith. Quarterback Feleipe Franks goes left, where there's space in the middle of the field for a slant route intended for Burks. Flott covers tightly and breaks up the pass from behind.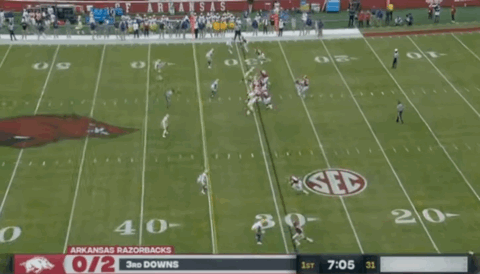 Arkansas missed on another opportunity on its third drive. On third-and-5 at its 30 (shown right), the Razorbacks call a well-timed screen pass that Smith drops with first-down yardage ahead. Smith is Arkansas' fifth-leading receiver, with 10 more catches than Rakeem Boyd, who wasn't available Saturday along with a large bulk of players who got caught up in the team's contact tracing. Arkansas spreads out LSU's defensive backs with two receivers split to either side of the field, and, toward the weak side, Cox is lined up against a tight end in the slot. This leaves Baskerville in the middle, guarding Smith. Baskerville gets caught up in the middle of the charging Arkansas offensive line, and it's fortunate for LSU that Smith dropped this one. It's possible Franks flipped the pass too quickly, forced into a throw by the LSU rush. Either way, the Tigers wind up with another stop.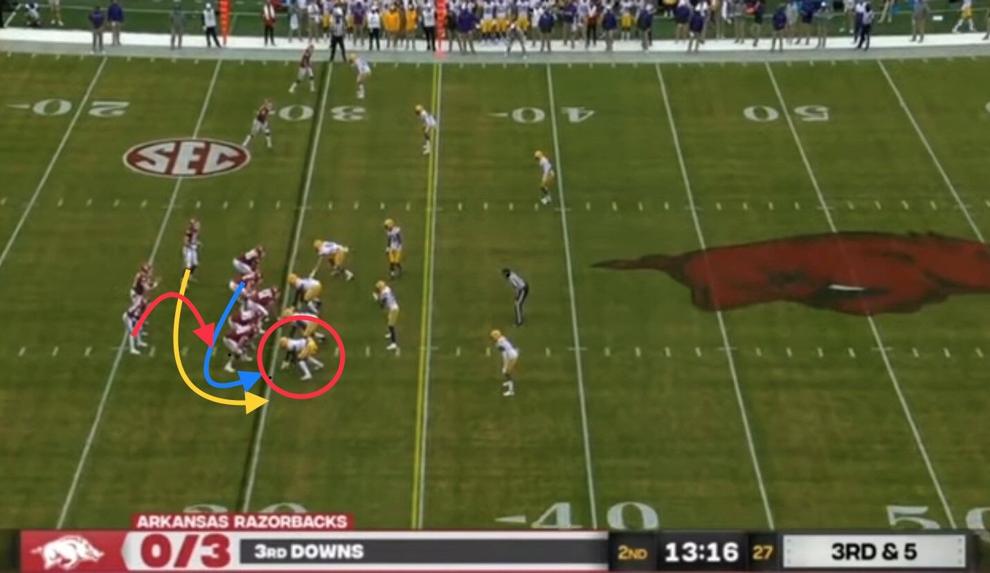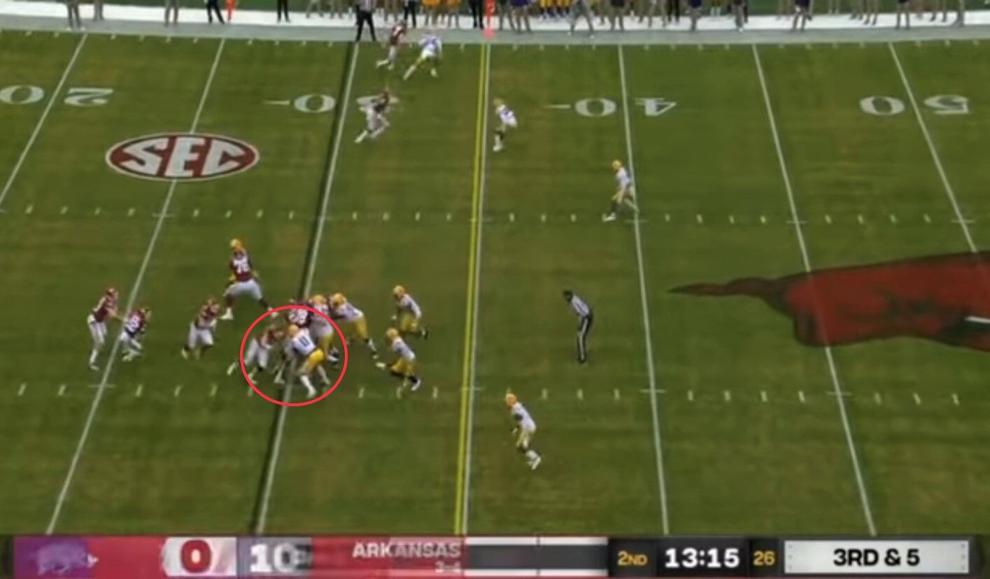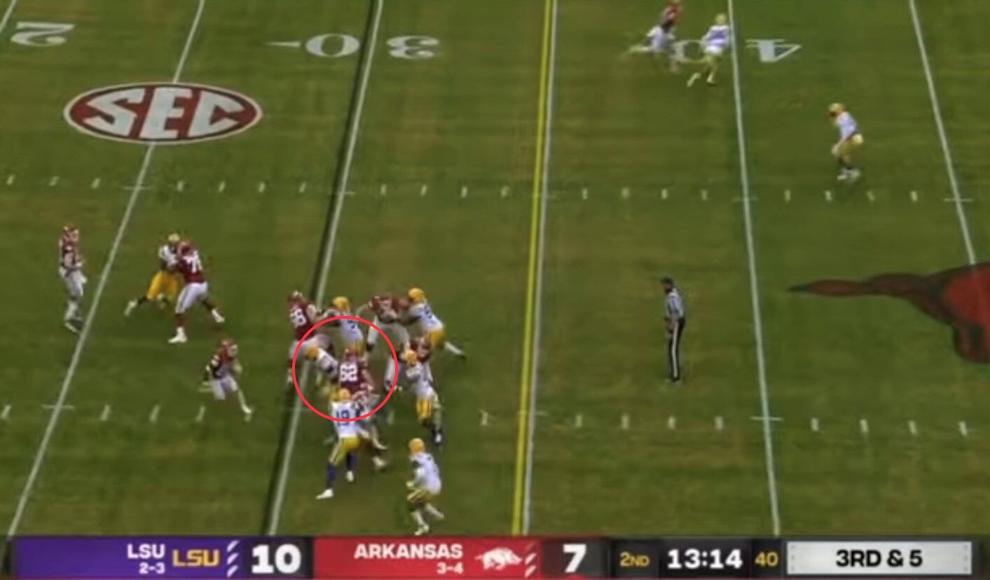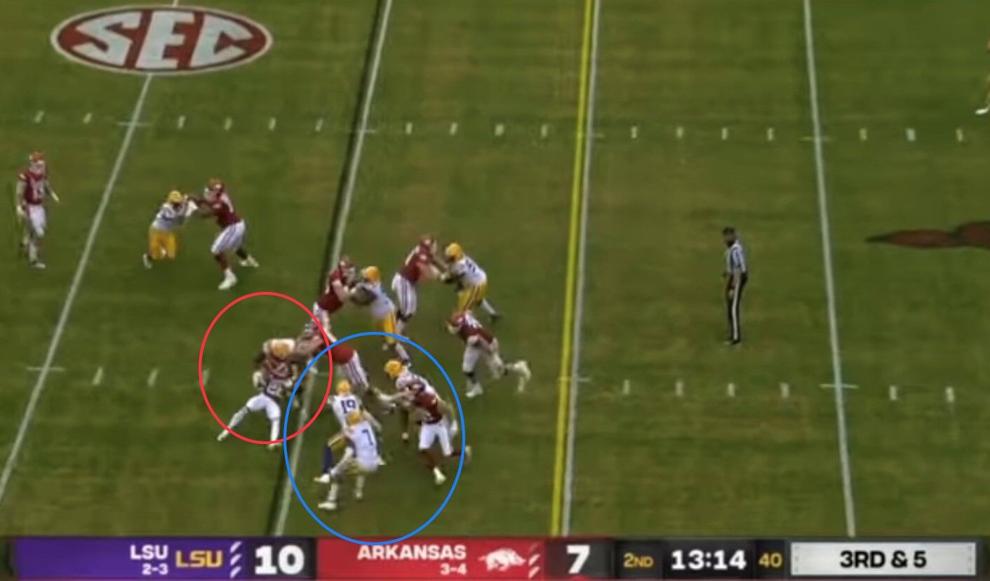 LSU led 10-7 at the beginning of the second quarter, and the defense helped build a two-score lead with some sound fundamental play. Here on third-and-5 at the Arkansas 30, the Razorbacks run a counter with Smith that is stopped for no gain (sequence shown right). The Razorbacks motioned Henry (yellow arrow) into the backfield, and he, plus left guard Brady Latham (blue arrow), pull to the left side of the line to help clear a path. Gaye (circled red) makes an exceptional play here. He shifts inside when he senses right tackle Dalton Wagner crashing down. Gaye then pushes off Latham, and tackles Smith for no gain. By shifting inward, Gaye is taking responsibility for the inside hole that develops, which allows Cox and safety JaCoby Stevens (circled blue) to worry about the edge. Perhaps they'd make the tackle as well, but Gaye adds another play to his highlight reel for the year so far.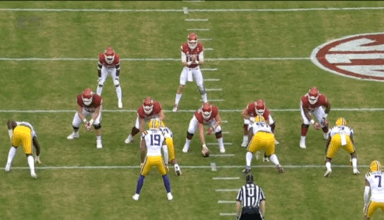 When LSU can pressure the quarterback with just its front four, the defense is at its most dangerous level. Tigers defensive end Andre Anthony flat out sweeps past left tackle Myron Cunningham here on third-and-5 at the Razorbacks 34 (shown right). It's too short of yardage for LSU to deploy its Cheetah package, and Cox and Clark have to account for the running back and tight end in coverage. Anthony swallows Franks from behind in just over two seconds — not enough time for much of any route to develop. Anthony is now tied with Ojulari for the team lead with four sacks, and LSU ranks 41st nationally with 2.67 sacks per game.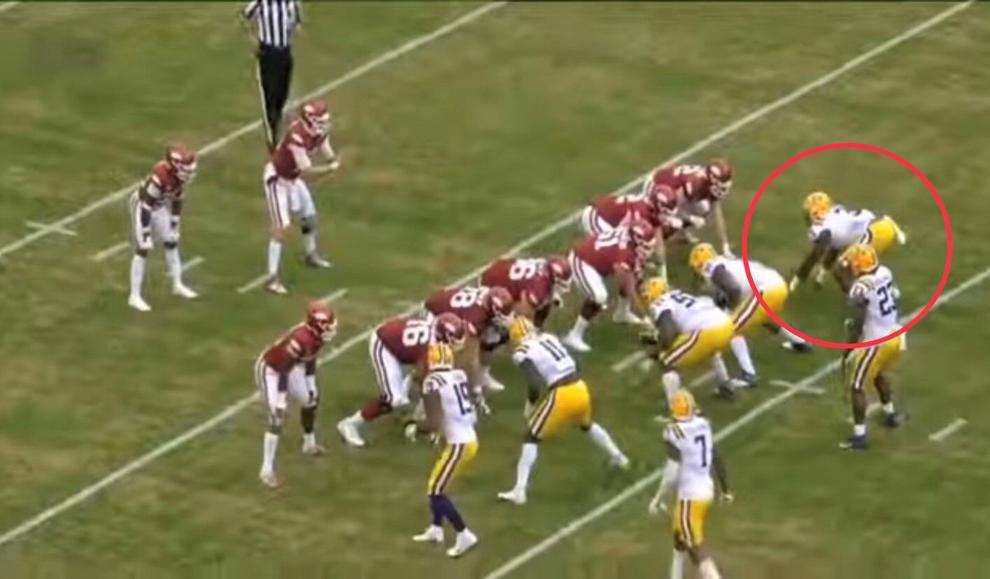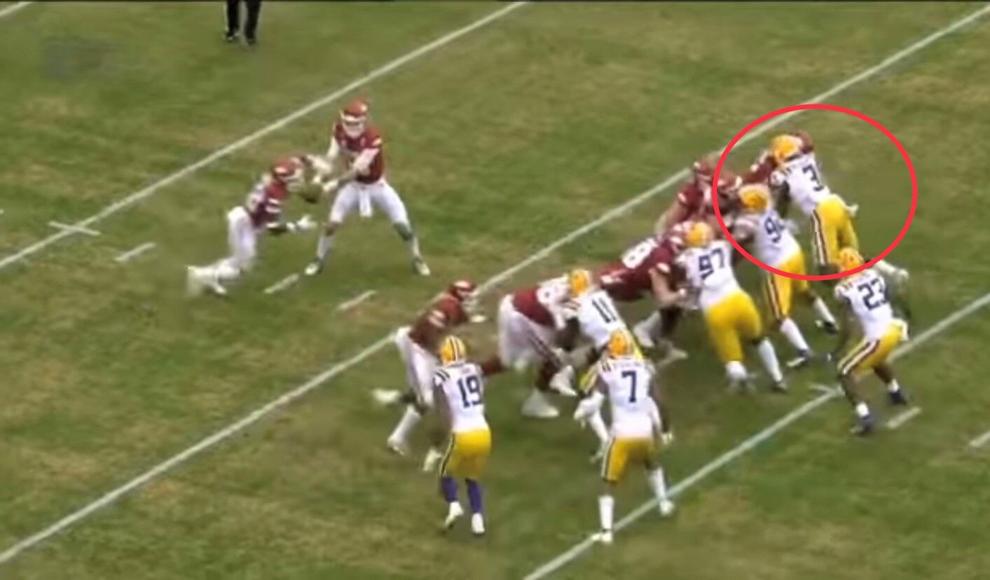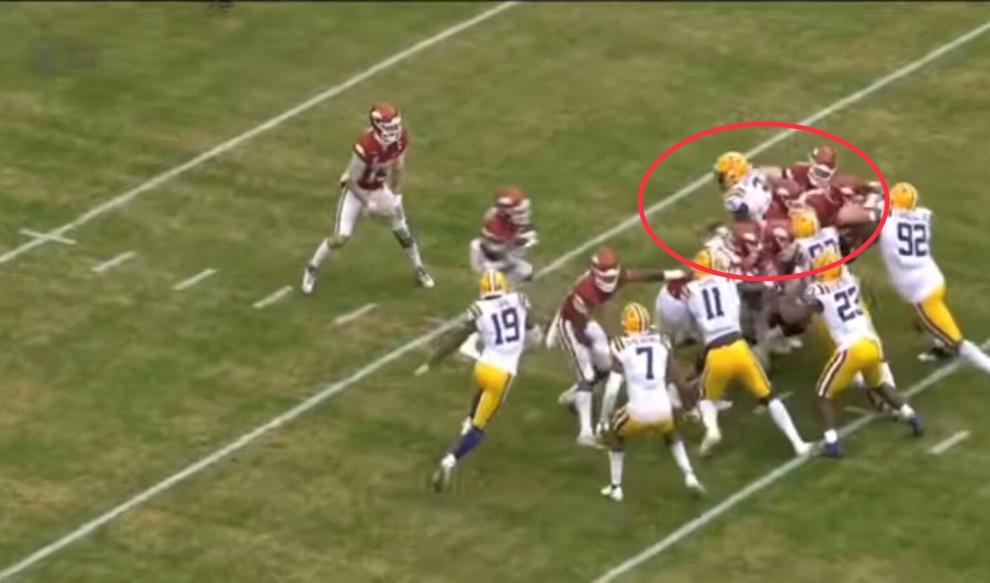 LSU's defensive line was one of the many units that needed to improve in the wake of LSU's 48-11 loss at Auburn, which recorded 206 yards rushing with 4.7 yards per carry. Gaye and Anthony were the spotlight of improvement against Arkansas, especially in short-yardage situation. Here on third-and-1 at the Arkansas 18 (sequence shown right), Anthony breaks through a block to stop Smith for no gain and force a punt. Anthony is the player who makes the tackle, but defensive tackles Neil Farrell and Glen Logan hold firm in the middle, and Gaye and Cox close off the left edge. LSU limited Arkansas to 104 yards rushing with 3.9 yards per carry. It was the fewest rushing yards Arkansas produced in six games. It was also the fewest yards on the ground LSU's given up all season, save for the season opener against Mississippi State, which focused nearly entirely on its passing game that produced an SEC single game record 623 yards. One good performance against Arkansas doesn't absolve the defense of its past problems, but the Tigers made a step forward this weekend. "Our guys played with their cleats in the grass," Orgeron said. "They played well. Arkansas had a good run game. We stopped the run game. We made them one-dimensional."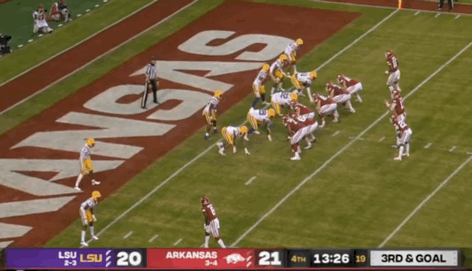 The weather just may have been on LSU's side. Arkansas had the LSU defense on its heels in the fourth quarter. The Razorbacks attacked a secondary that was missing both cornerbacks. Eli Ricks was ejected for targeting. Derek Stingley left with an injury after taking a blow to the helmet. Suddenly, Arkansas was leading 21-20 and stood at third-and-goals at the LSU 2. During this drive, the sky opened up and rain inundated the field. Franks pulls the football on what appears to be an option play, and he slips as he tries to cut toward the middle of the field. A.J. Reed kicked a 22-yard try to give the Razorbacks a 24-20 lead.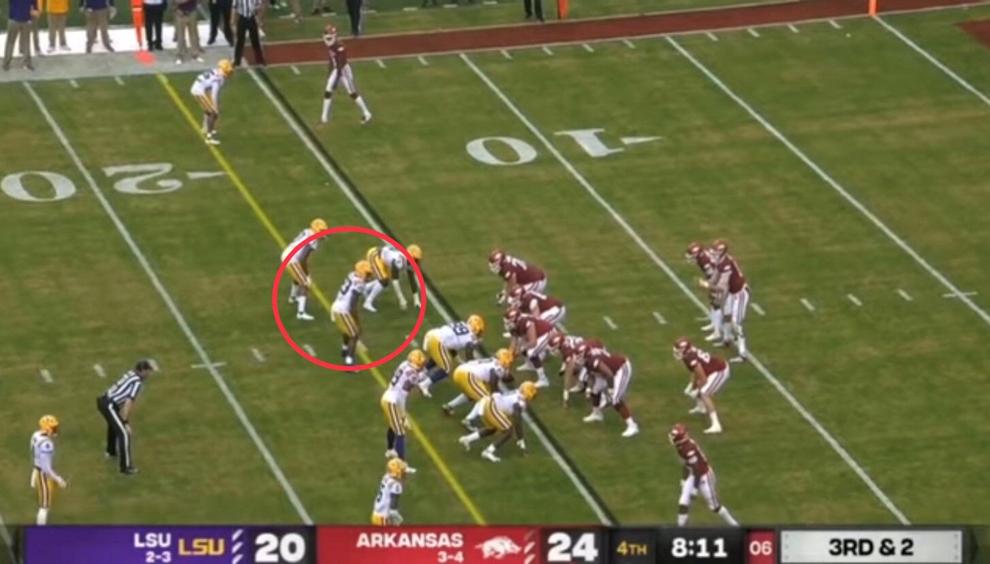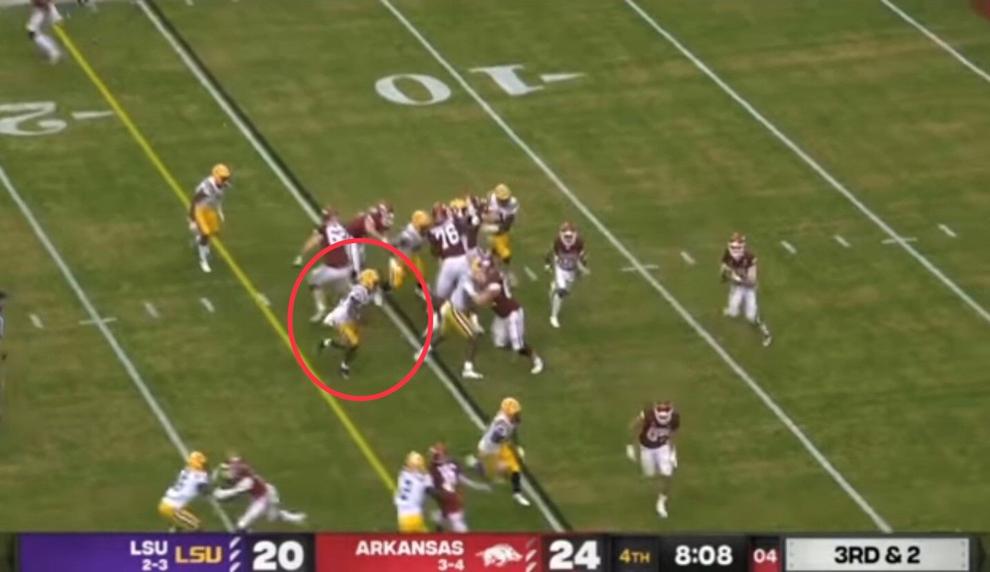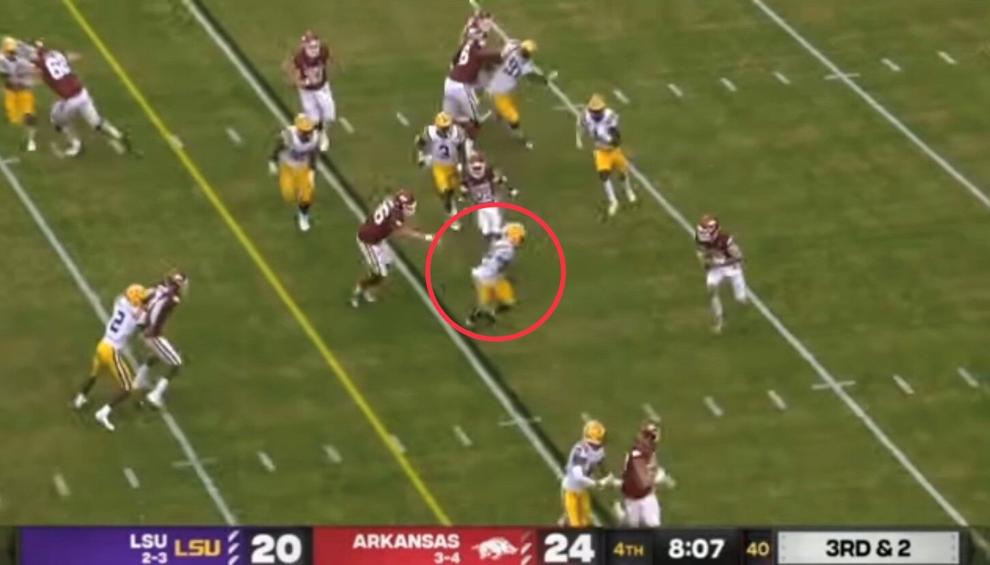 Baskerville may have proven he can be the week-to-week starter at inside linebacker. He showed good fundamentals and instincts against Arkansas. When the Razorbacks led 24-20 with 9:20 left in the game, LSU needed a quick stop. On third-and-2 at the Arkansas 15, Baskerville tackled a scrambling Franks short of the first down (sequence shown right). It's unclear if this was Baskerville's run fit, whether this was the hole he was supposed to fill. Or if he's running free based on the flow of the ball. Bo Pelini's defense can do both. In our dive into his philosophy before the beginning of the season, we showed how Pelini blends one-gap and two-gap schemes in ways that, among others, can free a linebacker from any gap responsibilities to chase down a play. With how simplified Orgeron says they've made their defensive scheme, this may be unlikely. Either way, Baskerville comes up with the stop that produces TJ Finley's game-winning drive.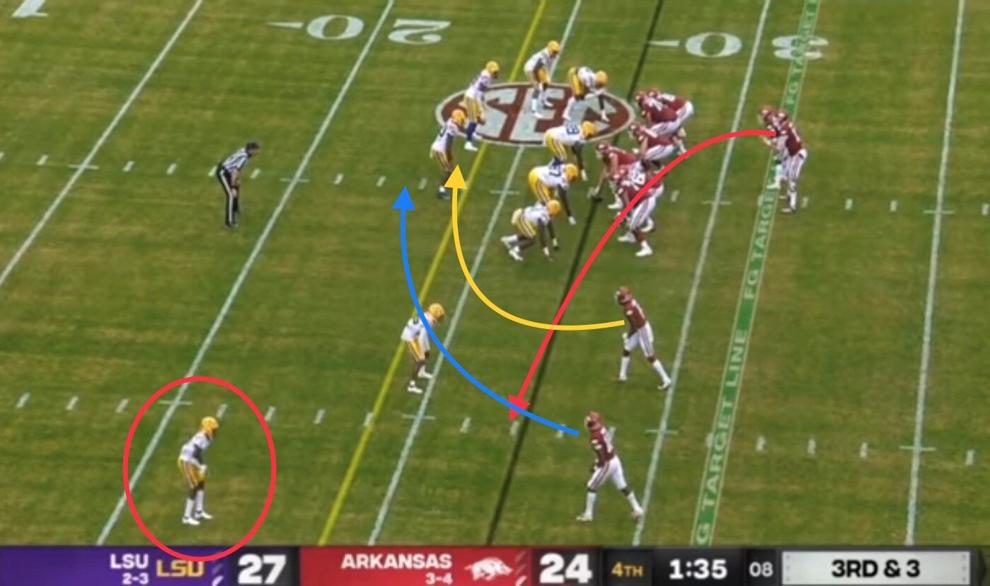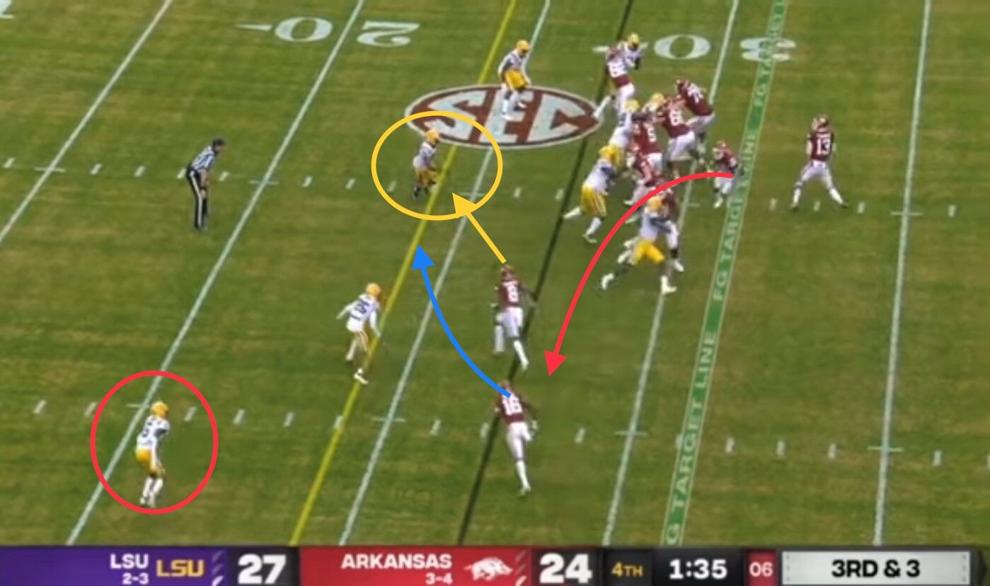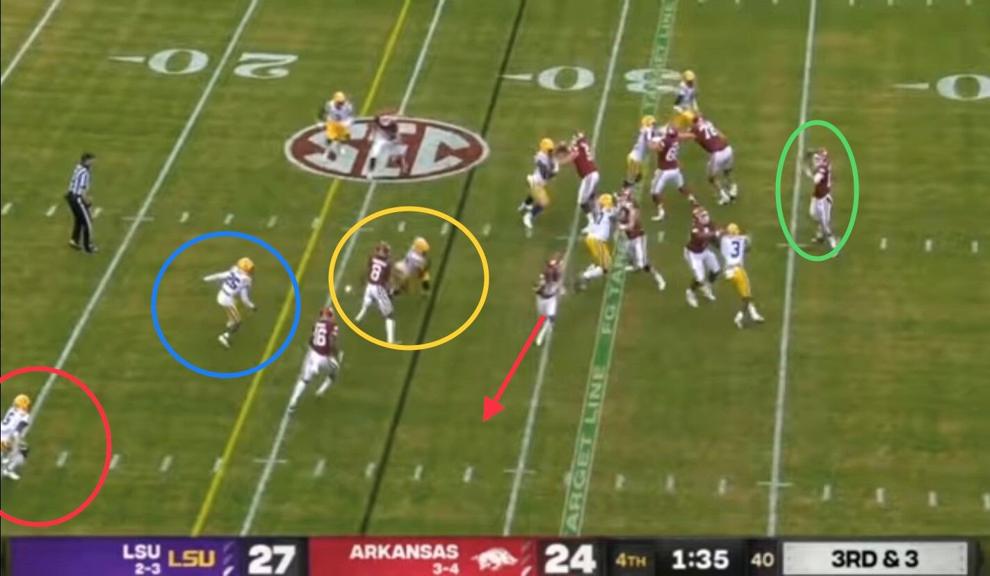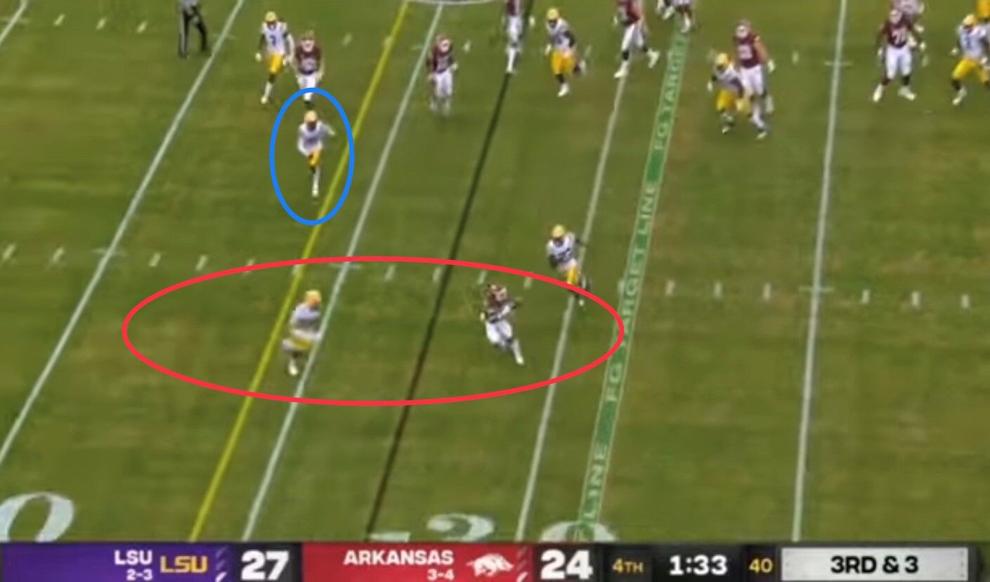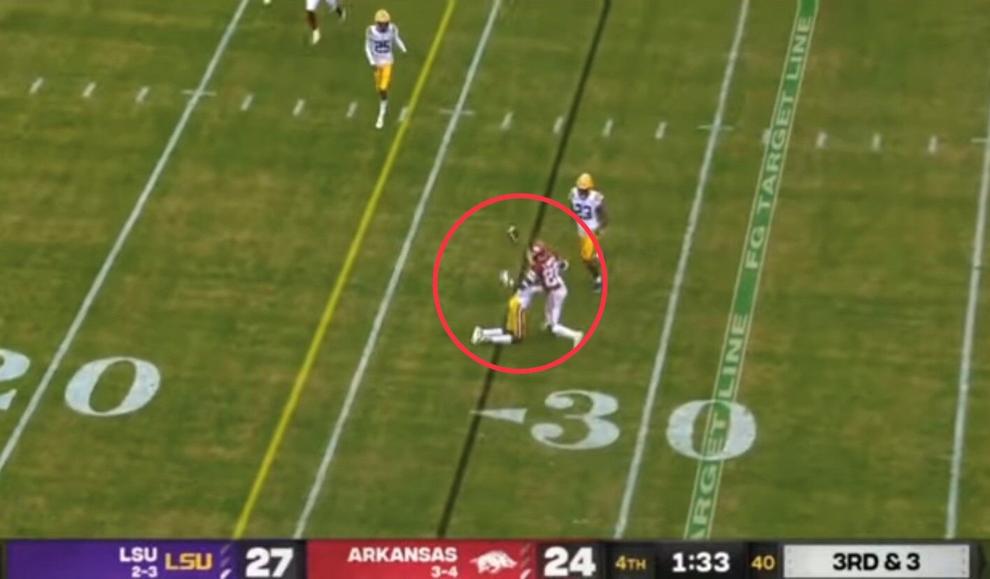 On Arkansas' last third down opportunity of the game, the Razorbacks run a play that may have worked in any game before Auburn. It's the same style of route-in-the-flats, rub-route combo that confounded this LSU defense for explosive plays. But cornerback Jay Ward redeems both the defense and himself on this third-and-3 play at the LSU 27 (sequence shown right). Ward replaced Ricks in the second quarter and surrendered some big pass plays that let Arkansas back in the game. But here, Ward sniffs this play out and pops the ball loose on a pass breakup that helps LSU win the game. Smith (red arrow) runs his horizontal route through the offensive line, while Woods (yellow arrow) runs a slant inside intended to obstruct Baskerville (circled yellow) while drawing his defender, Flott, along with him. Burks (blue arrow) also slants inward, hoping to draw Ward inside and free the sideline for Smith. But Ward recognizes the play quickly. As soon as Franks sets his feet to throw (circles green), Ward visibly halts and runs straight toward Smith. Ward collides with Smith as soon as the ball arrives, knocking it loose and incomplete. On the next play, Ward partially blocks a 44-yard field goal attempt that would have tied the game. "He hung in there," Orgeron said of Ward. "Jay's a tough young man."