Welcome to Film Room, where we'll break down significant portions from LSU's last football game.
(Click to the enlarge photos below.)
Alabama 55, LSU 17
How It Happened
Couldn't stop DeVonta Smith: When No. 1 Alabama arrived in Baton Rouge, most of the Heisman Trophy talk centered around quarterback Mac Jones. The Crimson Tide signal caller did indeed complete his first 11 passes, three of which were touchdowns; but by the end of Alabama's dominant victory, it was clear that DeVonta Smith was the player who broke the game open.
What made the Amite native's 231-yard, three-touchdown performance even more impressive? LSU built an entire game plan around stopping Smith and the Tigers still couldn't contain him.
"We went into the game to stop No. 6," LSU coach Ed Orgeron said.
No, that plan didn't work out, and Smith now has 35 catches for 749 yards and 11 touchdowns in his last four games. That's enough to make him a frontrunner for the Biletnikoff Award (for nation's top receiver), if not the Heisman itself.
What was LSU's plan? How did it go wrong?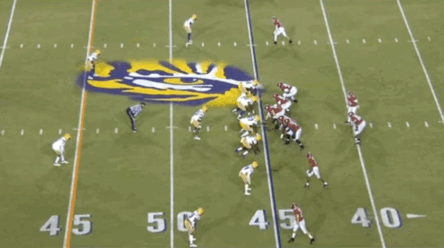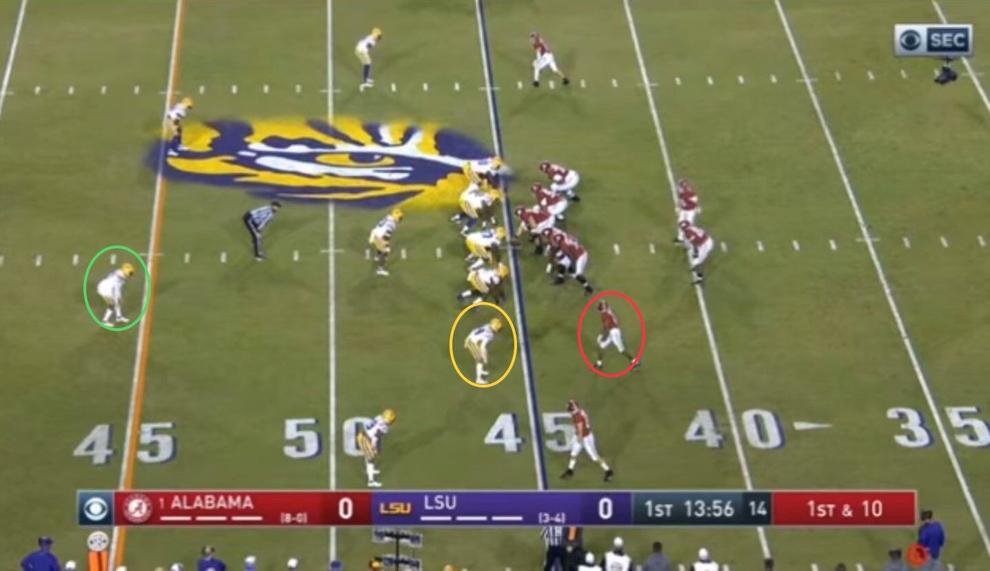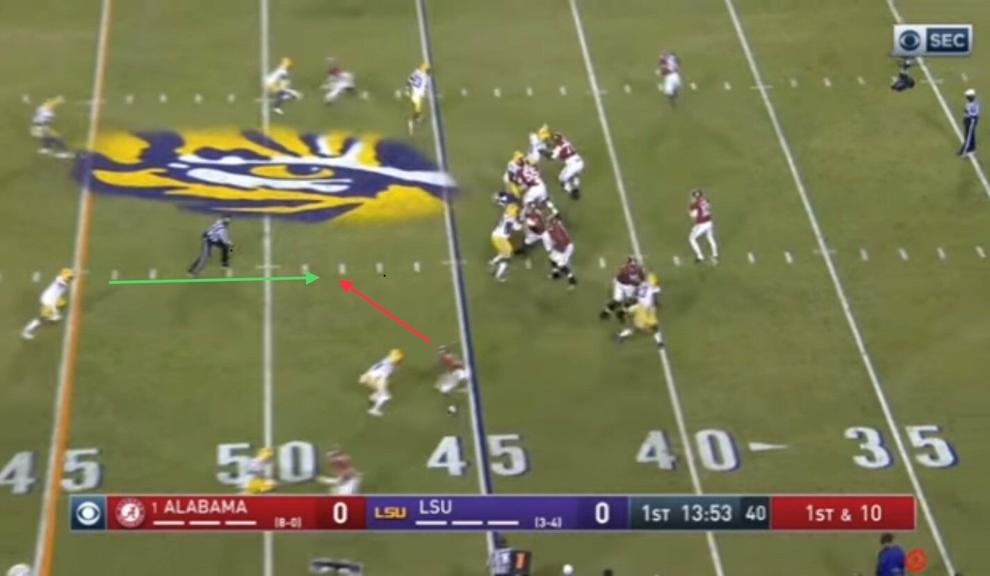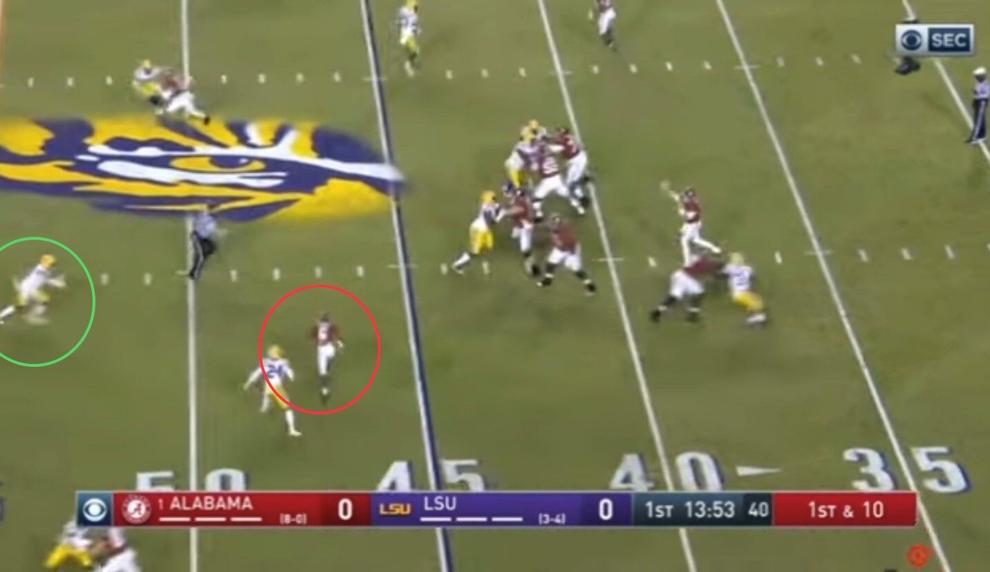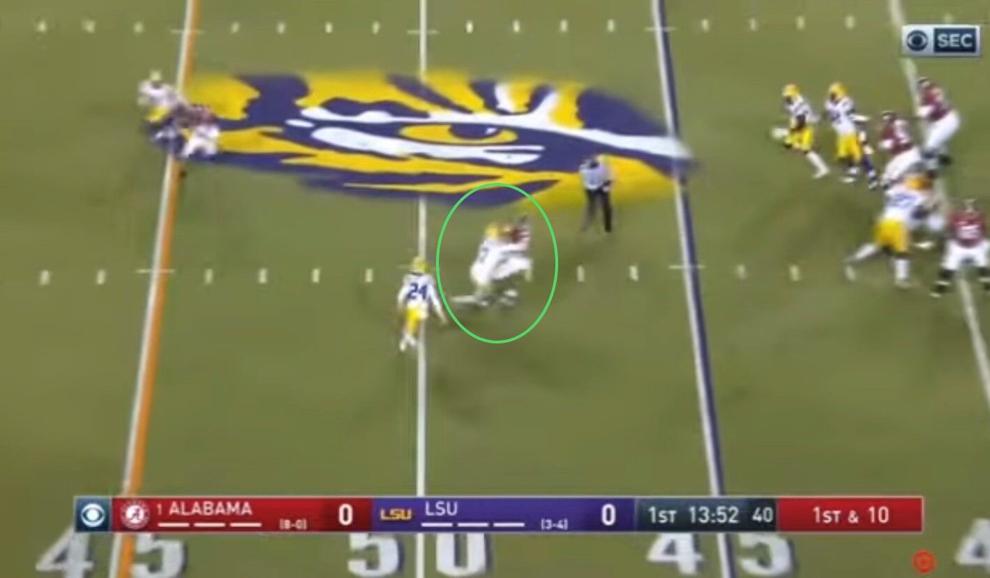 Well, here's how it was supposed to work: Orgeron said LSU's plan was to double-team Smith for most of the game. After reviewing the tape, usually this meant LSU placed a cornerback man up with Smith while a safety gave support from up top. We actually got a look at this plan working successfully on the third play of the game (shown right). On first-and-10 at the Alabama 45, Smith (circled red) is lined up in the slot on the left side of the field. LSU cornerback Derek Stingley (circled yellow), is pressed in man coverage against Smith, and safety JaCoby Stevens (circled green) is supporting 10 yards off the ball. Smith runs a slant to the inside, and Stevens breaks quickly. Stevens collides with Smith and knocks him down for a five-yard gain. This kind of combo coverage can be effective against a star receiver like Smith. But with an Alabama offense that has plenty of weapons, it can also put a defense at a disadvantage.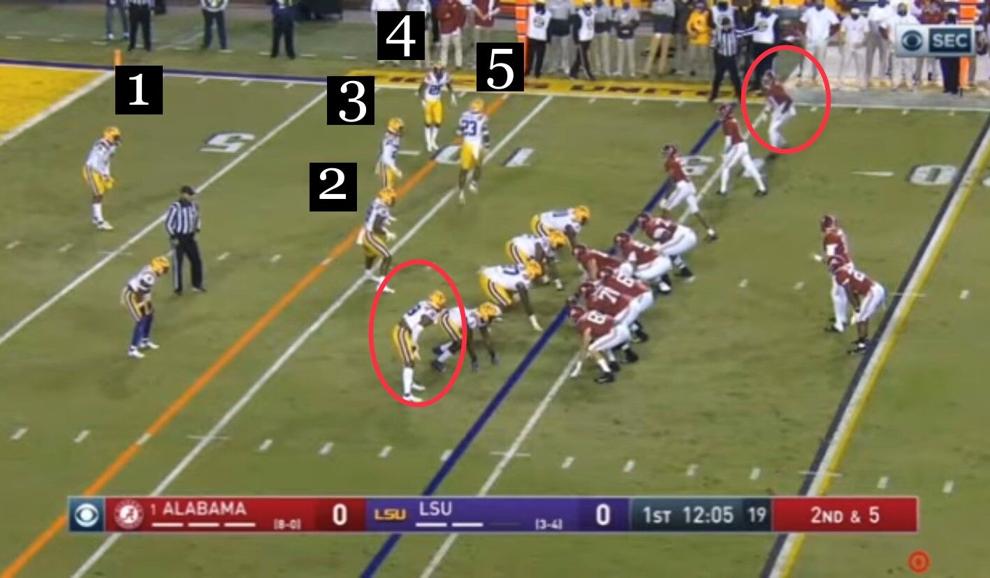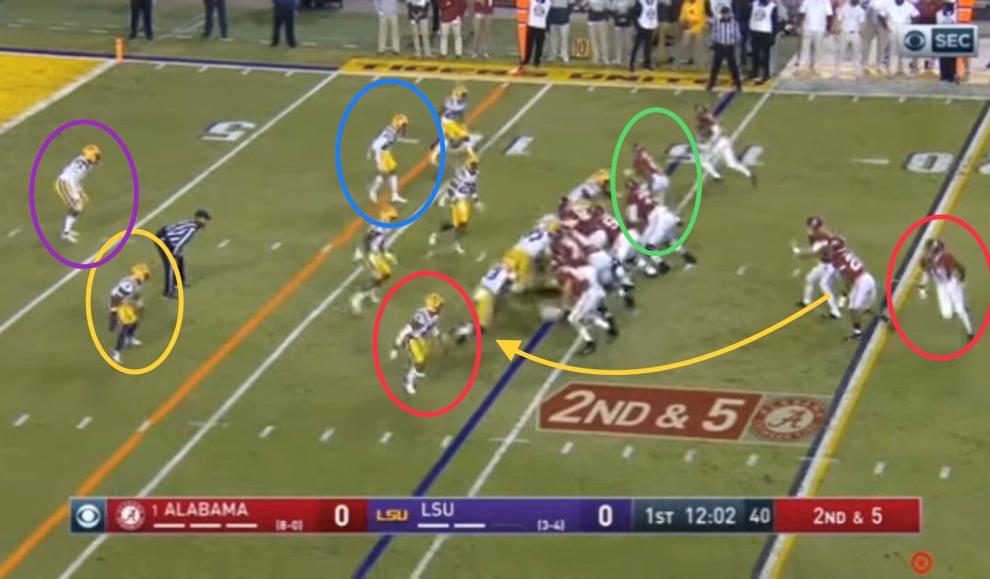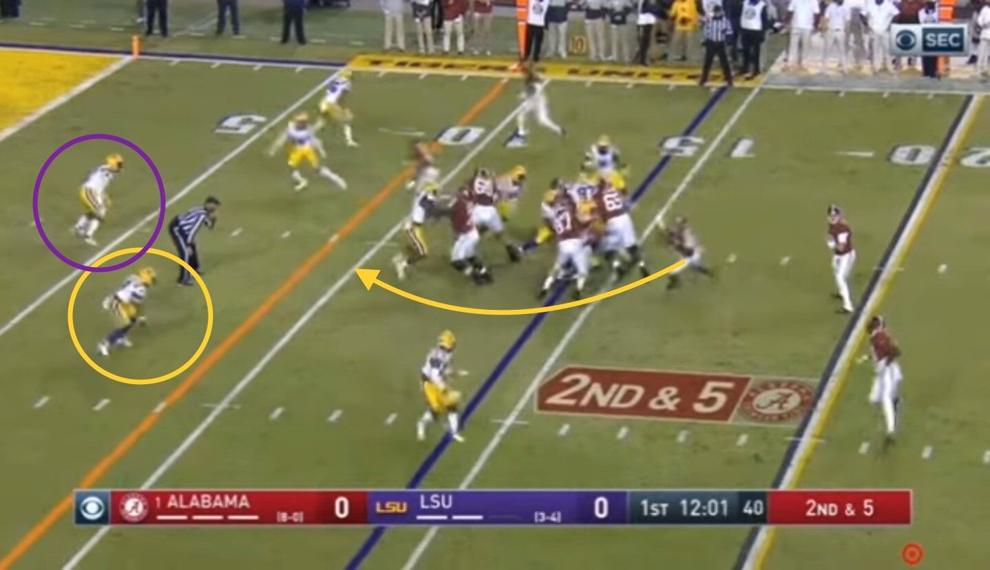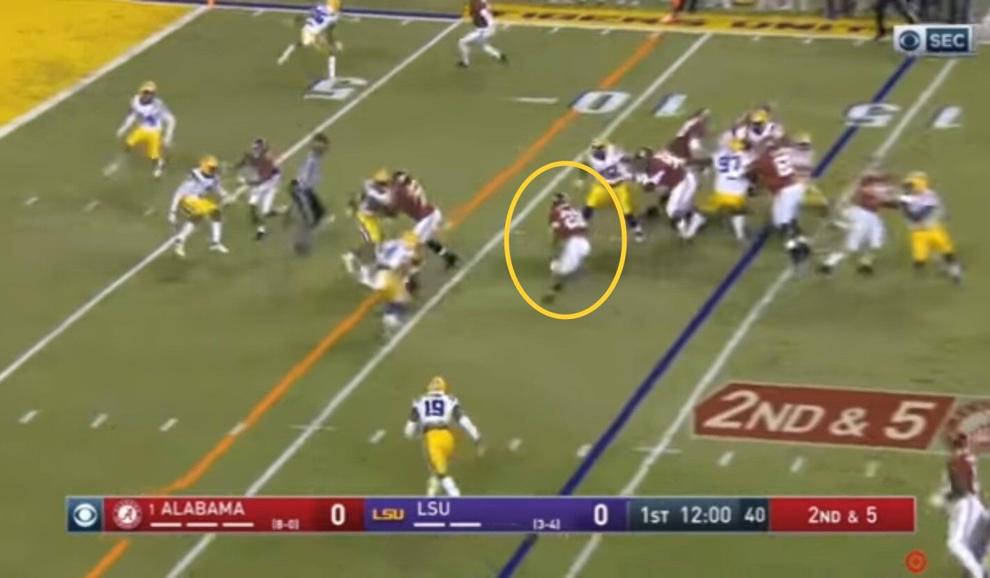 On the same drive, LSU's defense overloads to the right side of the field in its commitment to double-team Smith (sequence shown right). On second-and-5 at the LSU 14, five second-level defenders are tilted to the far side of the field. Once again, Stingley (circled blue) and Stevens (circled purple) are combining to cover Smith (circled green). Alabama offensive coordinator Steve Sarkisian creatively uses motion to open up the left side of the field for a clear running lane. Tight end Jahleel Billingsley (circled red) motions from the far right toward the left sideline, drawing linebacker Jabril Cox (circled red) out with him. LSU defensive coordinator Bo Pelini calls an untimely stunt with defensive end Andre Anthony, who, after curling inside, leaves an open running lane for Najee Harris (yellow arrow). LSU safety Todd Harris (circled yellow) is too far back to recover, and the hard-running Harris easily weaves through the LSU defense for a 14-yard touchdown to go up 7-0 with 11:56 left in the first quarter.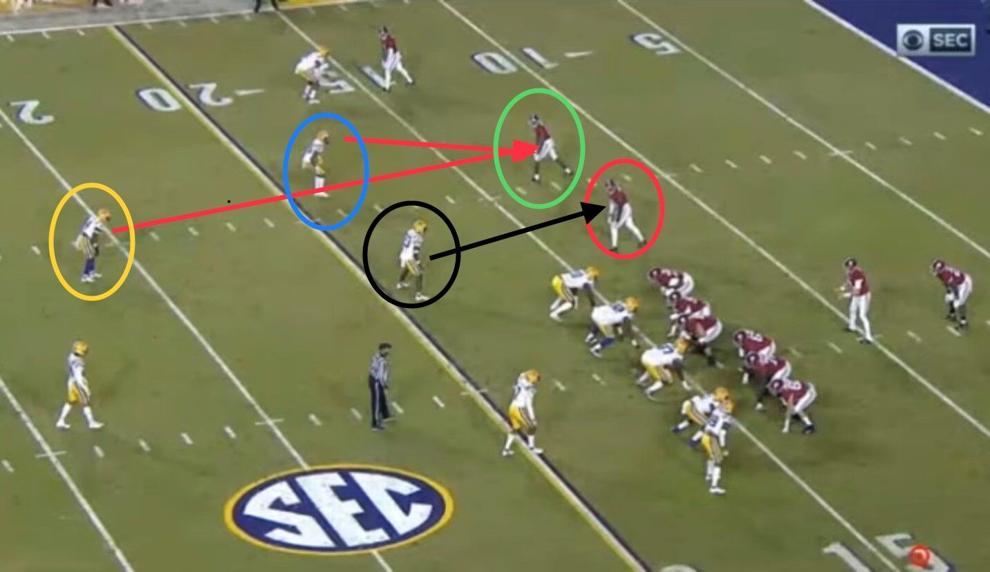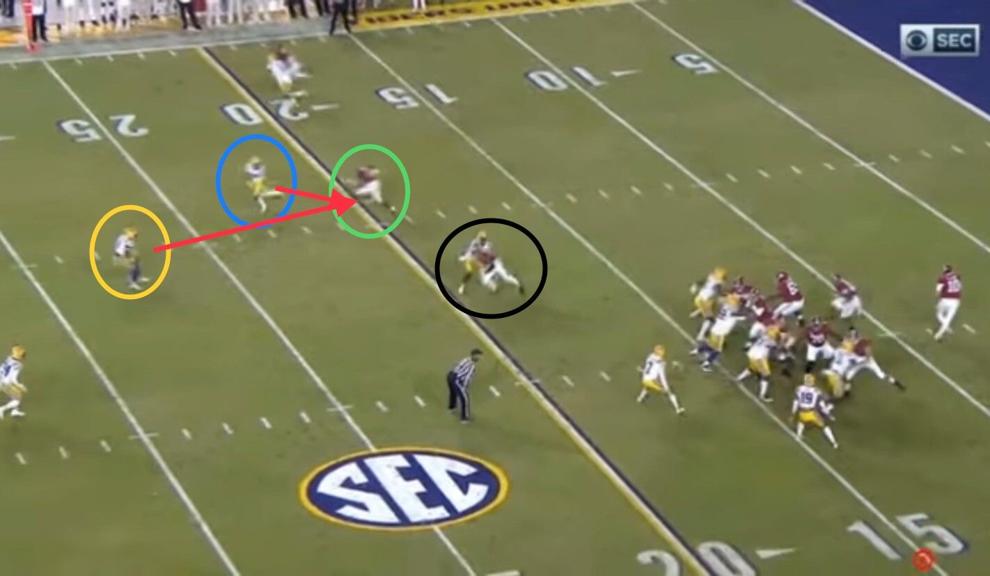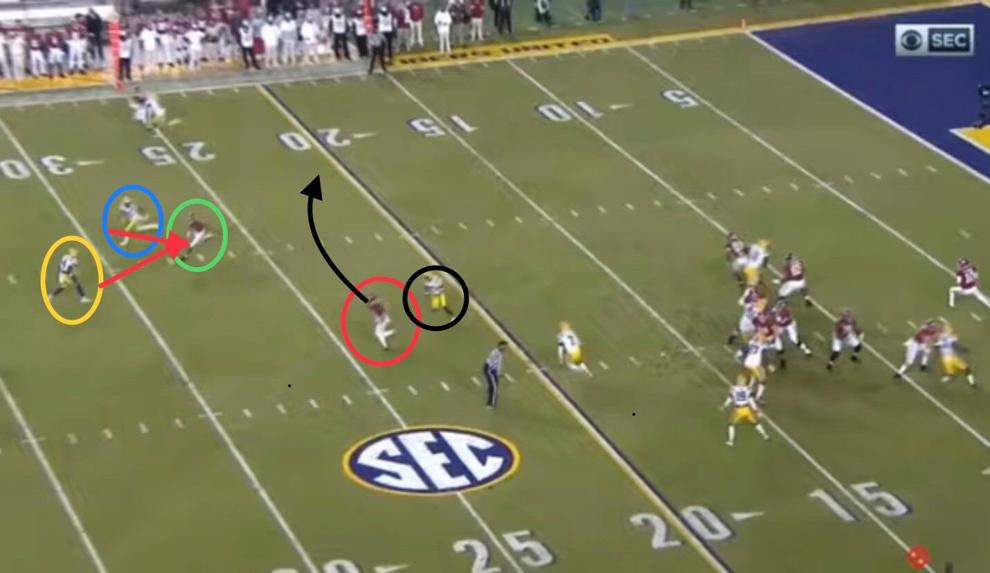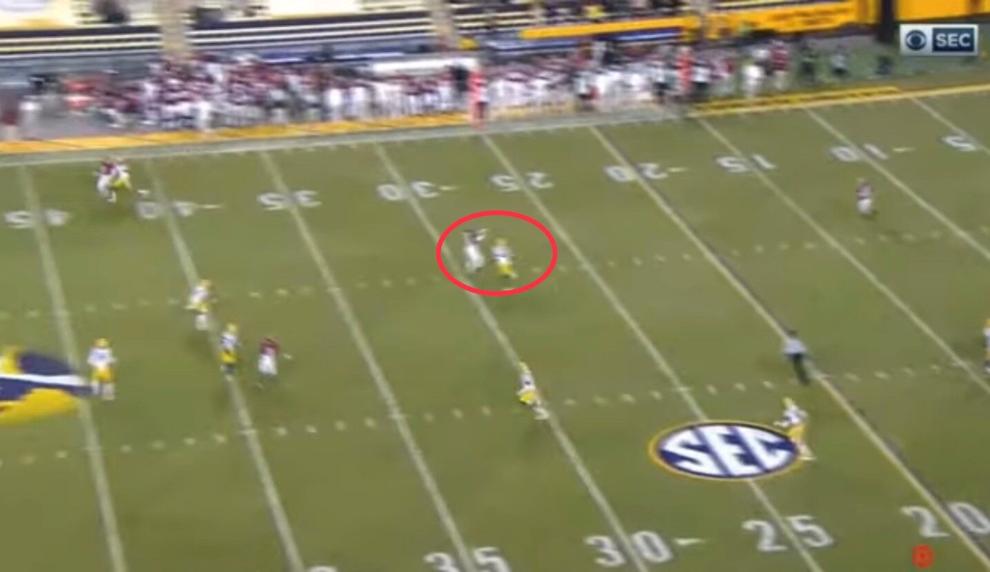 By Alabama's second drive, it appears Sarkisian has caught on to Pelini's plan to double-team Smith. On the very first play, a well-designed play opens up a large space in the field for a 27-yard pass from Mac Jones to Jahleel Billingsley (sequence shown right). Stingley (circled blue) and Harris (circled yellow) double-team Smith (circled green), and linebacker Micah Baskerville (circled black) covers Billingsley (circled red). Smith runs vertically up the seam of the field, taking both Stingley and Harris with him. Even further down, Alabama receiver John Metchie runs a vertical down the sideline,  taking cornerback Eli Ricks with him. This opens up the right half of the field for almost 10 yards. Baskerville guards Billingsley tightly, but Jones has plenty of room to deliver a throw that's just out of reach. A play later, Najee Harris rushes for 28 yards and a late-hit moves the ball to the LSU 15.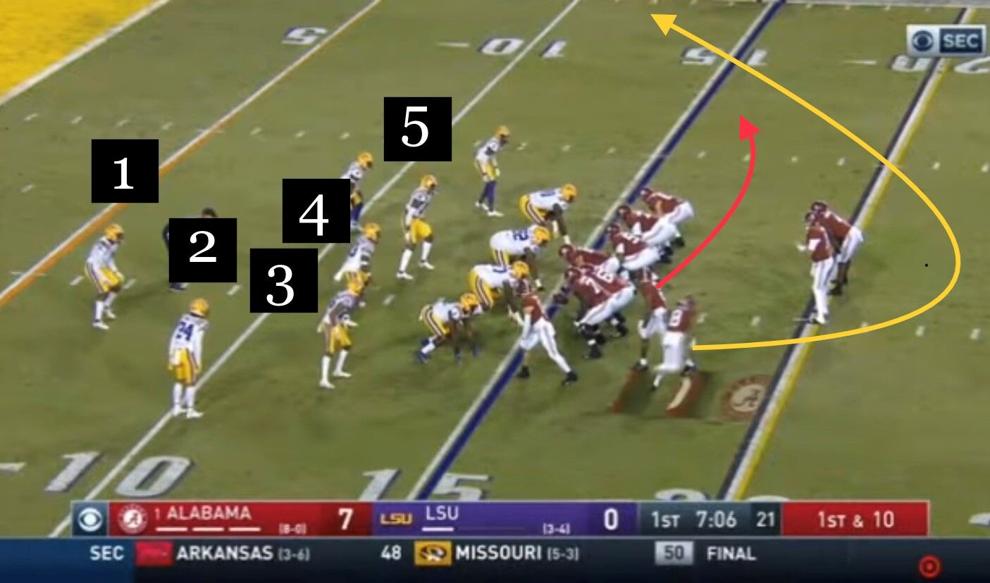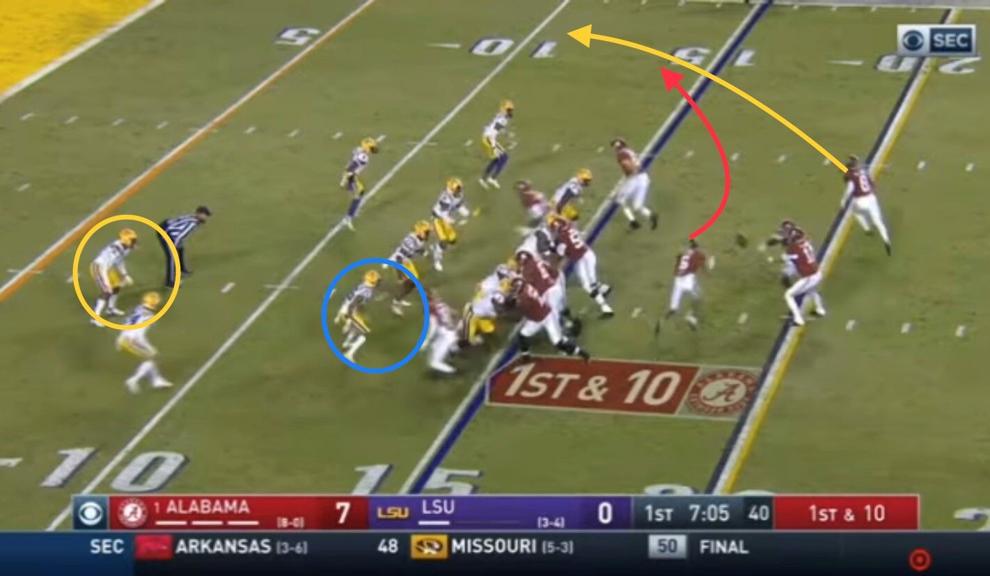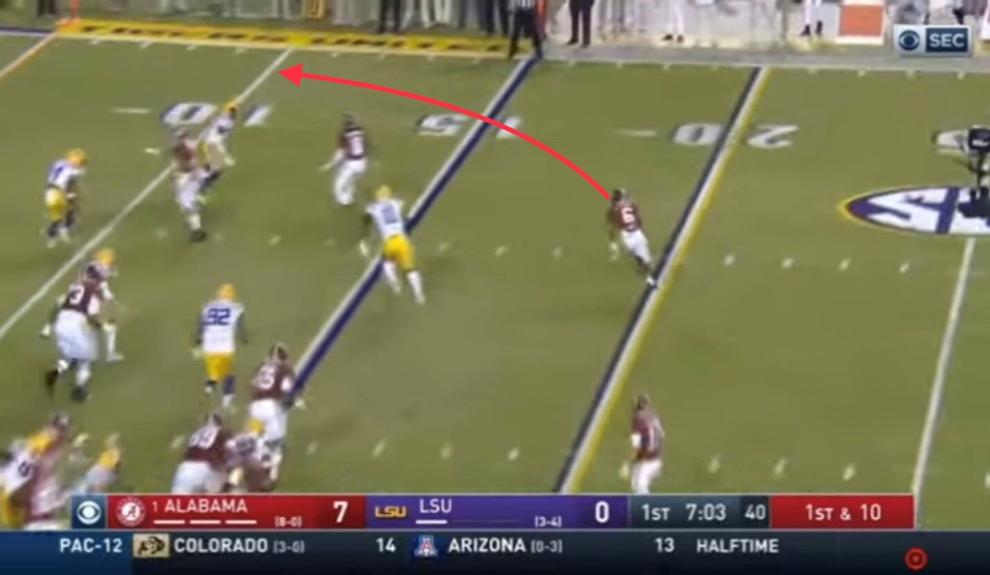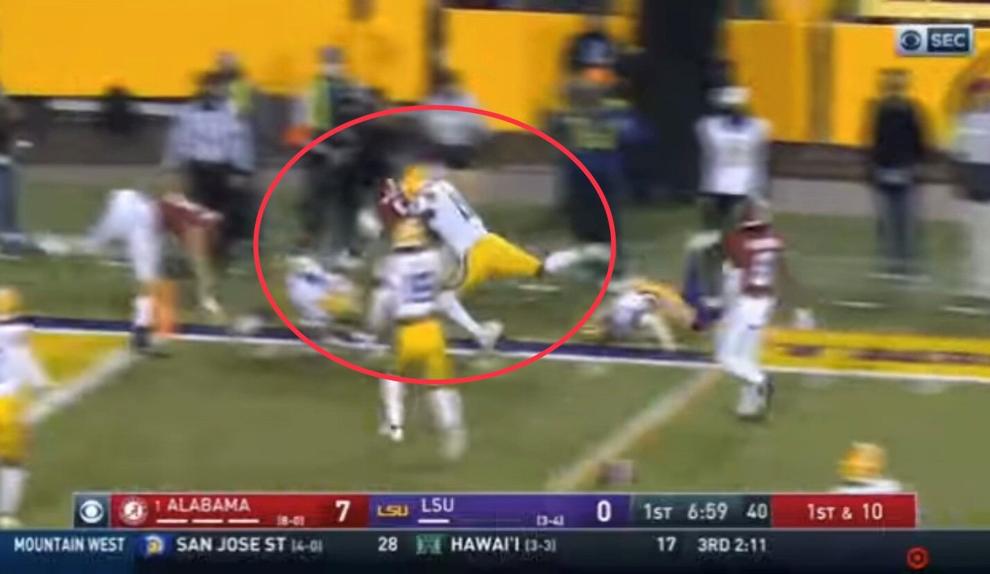 Alabama uses LSU's alignment against itself once again near on first-and-10 at the LSU 15 (sequence shown right). Once again, LSU matches Alabama's personnel on the near side of the field, and it appears Stevens (circled yellow) and Stingley (circled blue) are double-teaming Smith (red arrow) again. Alabama runs the opposite direction. John Metchie (yellow arrow) motions around the backfield as a lead blocker, and Smith takes a short pitch pass from Jones around the right edge for a 12-yard gain to the LSU 3. Two plays later, Najee Harris runs for a 1-yard touchdown to set Alabama ahead 14-0 with 5:50 left in the first quarter. "Early on they hit us with some big plays," Cox said, "and we didn't adjust to them well as a whole defense. We were getting our eyes caught in the backfield a lot."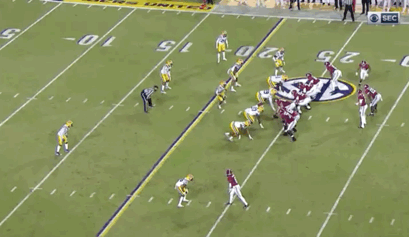 On Alabama's next drive, we start to see LSU break away from its original double-team game plan. Instead, we see an LSU defensive package Cox called "Peso." Named after the Mexican currency, the scheme is a Pelini staple and dates back to his Nebraska days. Essentially, LSU goes with a base 4-3 defense, but one of the outside linebackers acts as a hybrid and can play nickel when the offense spreads the field. It helps LSU defend the kind of big runs it was giving up at the beginning of the game, but it requires a linebacker that can keep up with speedy slot receivers, running backs and tight ends. Orgeron has said Cox has the speed and awareness to play nickel, and we saw him split out in coverage to the boundary often against Alabama. But there's a defensive breakdown in "Peso" that leads to a wide open 24-yard touchdown reception by Jahleel Billingsley. On first-and-10 at the LSU 24 (sequence shown right), Cox (circled yellow) is lined up as a hybrid nickel in front of Smith (circled red). It's unclear if Cox and Stingley (circled blue) are double-teaming Smith. We don't find out. Smith motions to the left side of the field, and Cox and Stingley both position themselves in front of Billingsley (circled green). When the ball's snapped, it appears Cox and Stingley both settle into zone coverages. Stingley backs up deep. Cox settles in the middle. Safety JaCoby Stevens (circled purple) appears to settle in the upper middle, while safety Mo Hampton (circled black) backpedals deep. Meanwhile, nickel safety Cordale Flott is locked in man coverage with Metchie. It isn't clear if Flott is the only defensive back playing man. Sometimes Pelini's coverages blend zone and man schemes. But no player picks up Billingsley crossing the field. The tight end sneaks behind Stevens, slips beneath Flott-Metchie and fits wide open under Hampton. Jones tosses an easy 24-yard touchdown pass to give Alabama a 21-0 lead with 2:26 left in the first quarter. So far, we're seeing how an effective game plan can be built around a dynamic player like DeVonta Smith, who hasn't even scored yet. "You've got to give them credit," Orgeron said. "They had an excellent scheme."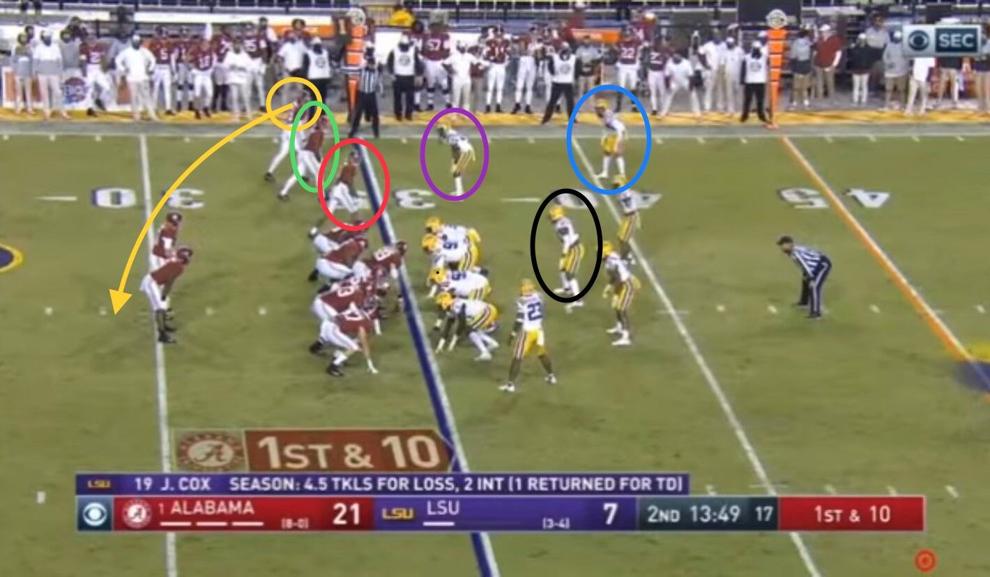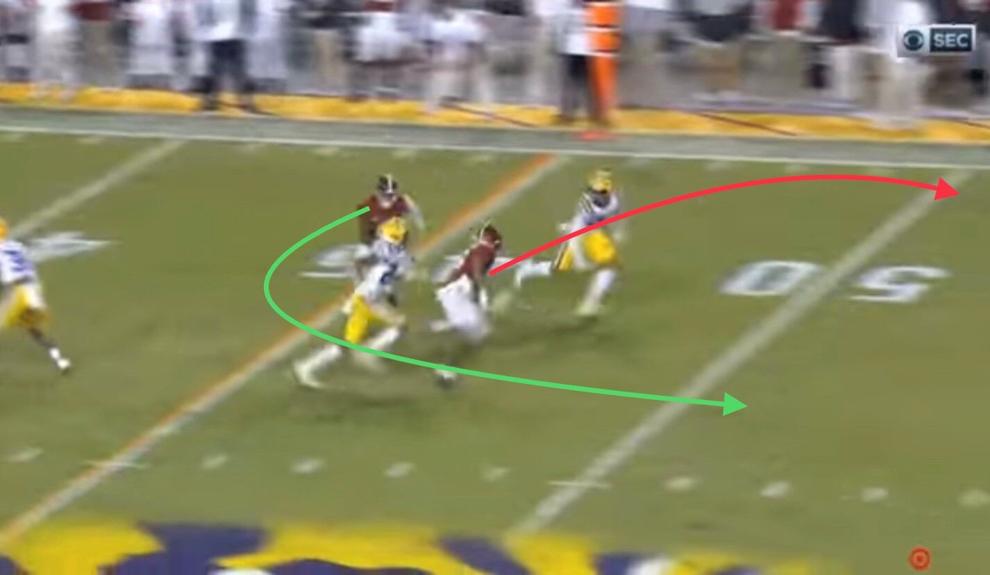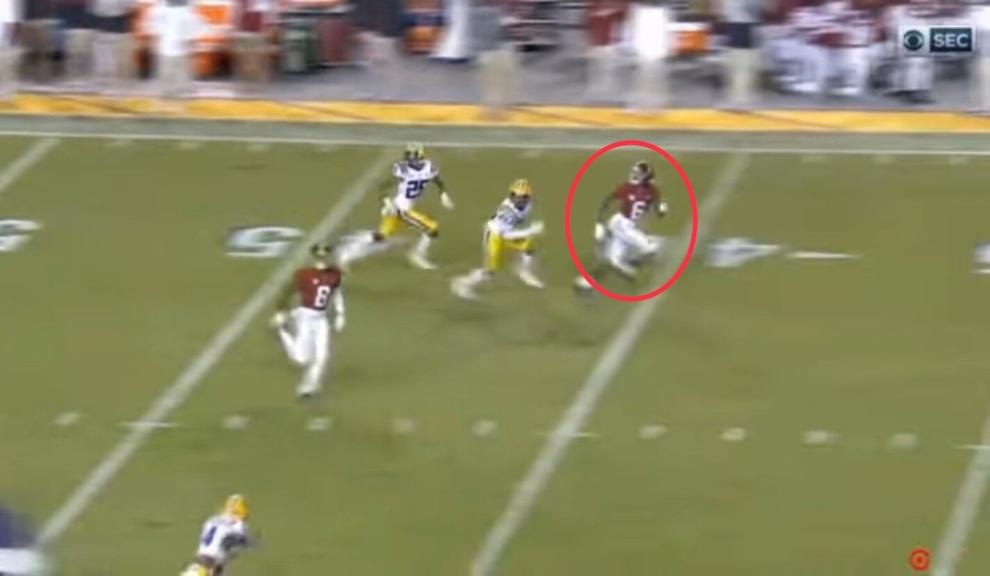 LSU stuck with "Peso" on Alabama's next drive, which eventually forced them to cover DeVonta Smith man-on-man. On first-and-10 at the Alabama 35, the Crimson Tide begin with three receivers split to the left side. It appears Cox may have begun the play out of place. Billingsley (circled yellow) is covered by Stingley (circled blue) on the far sideline. Metchie (circled green) is covered by Flott (circled purple). Smith (circled red) is alone in the slot. The players appear to be motioning for Cox (circled black) to move outward, but Billingsley motions to the right, and Cox returns to his original position. Micah Baskerville picks up Billingsley on the opposite side, and Cox takes the running back. Billingsley's motion forces Stingley to bump down to Metchie and Flott to bump down to Smith. Then, Smith and Metchie run a switch route. Smith crosses over the top, Metchie fits underneath. LSU has had trouble with rub route/crossing combos all season. Stingley appears to try and switch to pick up Smith, but he's already behind. Flott continues to follow Smith. Metchie is open, too, but Jones hits Smith in stride for a back-breaking 65-yard touchdown that set Alabama up 28-7 with 13:28 left in the first half. Why was Flott manned up against Smith instead of Stingley? Perhaps Stingley began the play across from Billingsley because he was covering up for Cox. But Flott had earned recent praise from Orgeron and was perhaps trusted in this situation.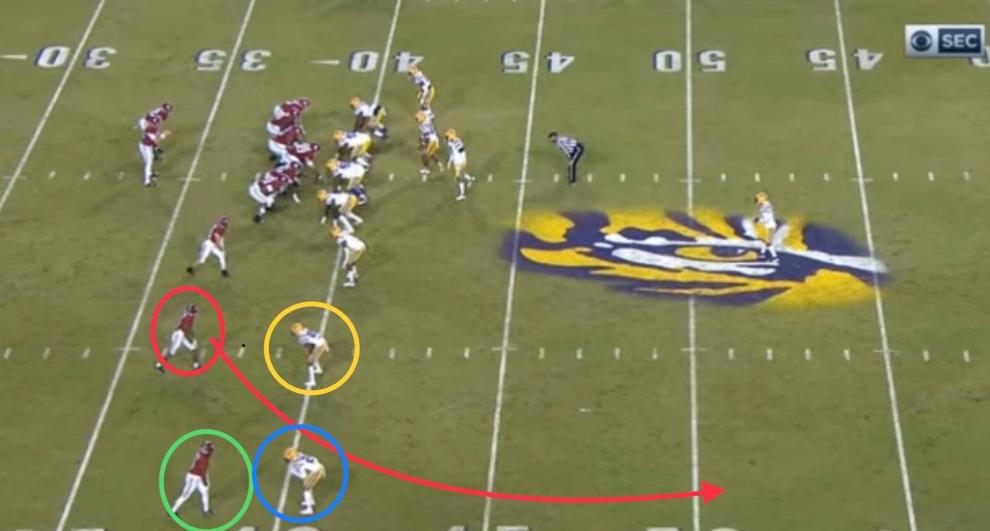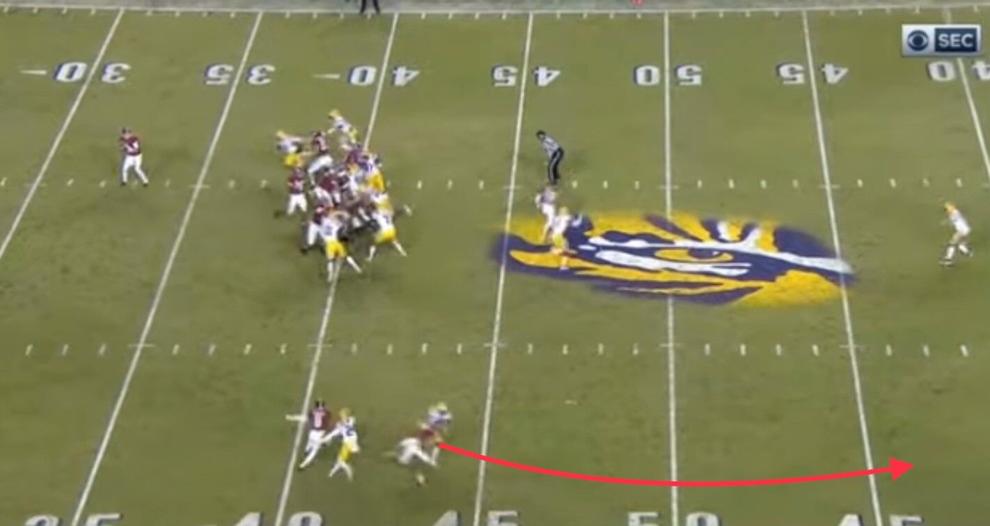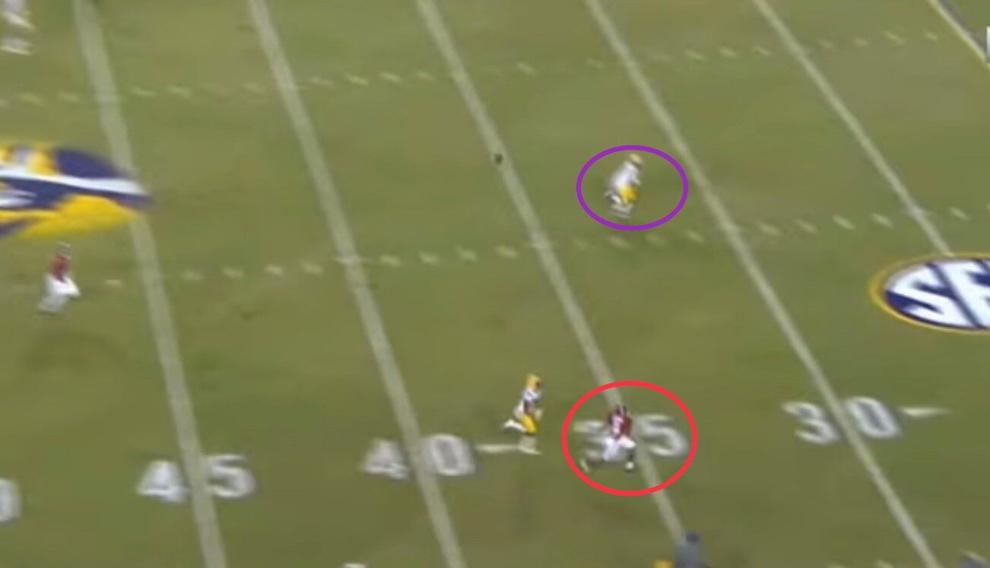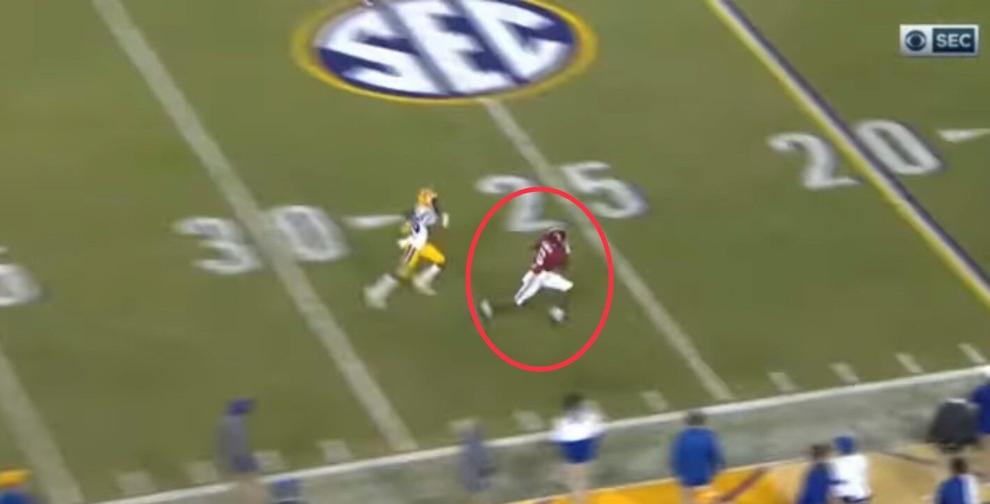 LSU returned to its regular nickel package on Alabama's next drive, but, unlike before, it didn't appear the Tigers were double-teaming Smith. On first-and-10 at the Alabama 39 (sequence shown right), Flott (circled yellow) is one-on-one with Smith (circled red). Stingley (circled blue) is one-on-one with Metchie (circled green). Given that this is only four plays after the previous Alabama touchdown, when Flott also started out covering Smith, it appears that it must be that Flott was assigned to cover Smith. It's a curious arrangement. Stingley was an All-American last season and Ricks (lined up in the slot) was a five-star signee last year. Smith runs a wheel route, veering upward along the sideline and is wide open. Hampton (circled purple) cannot close in time. Smith scores a 61-yard touchdown that gives Alabama a 35-14 lead with 11:14 left in the first half and provokes Orgeron to slam his headset on the sideline. CBS analyst Gary Danielson asks a fair question: "Why is Stingley not inside playing against DeVonta?" Play-by-play announcer Brad Nessler agrees: "Yeah, Bo Pelini told us we'll try to match 24 (Stingley) with 6 (Smith) as much as we can." Orgeron said the coaching staff talked about the arrangement during halftime. "That's what we talked about at the half," Orgeron said. "Let's put Derek — our best cover guy — let's put him on DeVonta Smith."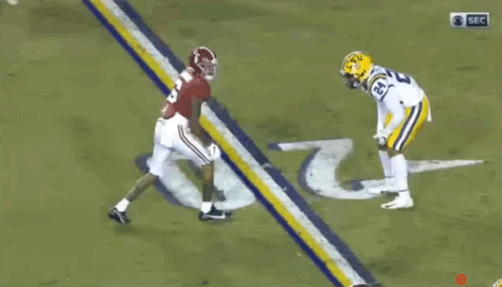 At that point, the game was too far out of reach for LSU. And Smith showed it didn't matter if Stingley was the one who matched up one-on-one with him. Just before halftime, on third-and-10 at the LSU 20, Smith leaped over Stingley in the end zone and snagged a touchdown reception with one hand. At that point, what else could you do? "That No. 6 is one of the best players I've seen," Orgeron said.