LSU's pursuit of Ohio State transferring quarterback Joe Burrow took another stride Wednesday: Burrow plans to visit the Baton Rouge campus this weekend, a source confirmed to The Advocate. 
This raises a rather large question: Why are the Tigers pursuing him?
LSU has three quarterbacks on its roster, including two former hotly recruited young guys who many believe are the future of the program — Myles Brennan and Lowell Narcisse, both entering their second year in 2018. There is also the more versatile and experienced option in Justin McMillan, a redshirt junior who was the most productive of the trio in the spring game.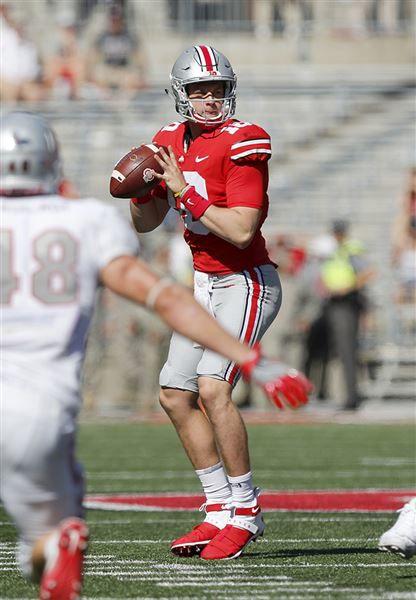 Despite those three options, the Tigers and coach Ed Orgeron are chasing a graduate transfer quarterback who is eligible immediately and has two years of eligibility.
This courtship between Burrow and LSU is serious. The Tigers and Cincinnati were, as of late Tuesday, the only two schools granted permission by Ohio State to speak with Burrow, according to a source.
Schools must request and obtain permission to speak with athletes at other programs to avoid the NCAA's tampering bylaws. The athlete's existing school has the right to deny him from transferring or speaking with any school — an NCAA bylaw that might actually be changed soon.
You should keep in mind during all of this that Orgeron, unlike former coach Les Miles, has shown no restraint in adding transfers. He's been the coach for less than two full recruiting cycles, and he's signed four major college transfers and three junior college players.
So, let's get back to that question: Why is LSU pursuing a transfer quarterback?
Why does any coach court a transfer? They believe he's better than their current players. They believe he'll add depth. Or they believe he will, at least eventually, replace their current players.
Let's break down those three things as it relates to Burrow and LSU's quarterback competition.
LSU is not immune to the attendance decline sweeping college football, but school officials and those from its fundraising arm are pleased wit…
He's better than the other three
LSU coaches should, by now, know what they have in their three quarterbacks.
The quarterbacks have spent a combined 68 months on campus. McMillan and Narcisse enrolled early in January 2015 and January 2017, respectively. Brennan arrived last summer.
As for the competition, they participated in summer workouts together last year, competed in preseason camp, battled behind Danny Etling throughout last season and dueled in spring practice. Coaches should have more than an idea of (A) their skills and (B) who is better.
The latter is the real issue. Orgeron has made it clear that the competition is "even" and no quarterback has separated himself.
1. Does that mean they're all really great?
2. Does that mean they're all really pedestrian?
Ask yourself this question: If LSU is pursuing another quarterback, could the answer really be No.1? 
LSU is spending a combined $595,000 on the 10 analysts — many of them new — on coach Ed Orgeron's staff.
He's a dependable backup who adds competition
This is the Danny Etling Move.
We might never know the exact reason Miles and Cam Cameron brought in Danny Etling in 2015, but we can make some good guesses as to why. Etling was an experienced and dependable player who added competition and provided coaches with an option in case Brandon Harris (1) suffered an injury or (2) failed as a starter.
We all know how that turned out. Etling replaced Harris in Game 2 of the 2016 season and kept the job for the next two years, proving he was more than just a backup QB (but he only got the shot because Option 1 did not pan out).
The 6-foot-3, 215-pound Burrow does not necessarily seem like an Etling. Etling was a more lightly recruited player who signed with Purdue and lost the job there (though, it sounds like, he did not necessarily deserve to lose it as you may have read here).
Either way, Burrow was a top-10 quarterback out of high school and signed with Purdue's much older and bigger brother, Ohio State. And he didn't necessarily lose out on the Buckeyes starting job in typical fashion.
While competing to backup J.T. Barrett last season, Burrow broke his thumb in camp, giving way to Dwayne Haskins. Haskins filled in for an injured Barrett, helping lead the Buckeyes to a win over Michigan and giving him a leg up on the 2018 battle with a now-healthy Burrow.
To get a really good gauge on Burrow's standing in the competition, we turn to Bill Landis, Ohio State beat reporter for Cleveland.com.
"Burrow leaves Ohio State leaving no doubt that he was good enough to start for the Buckeyes," Landis wrote in his story posted Tuesday. "The issue was Ohio State had two quarterbacks ready to start, and someone leaving once he felt like he hadn't won the job seemed inevitable."
Can't see video below? Click here.
He's a replacement for a transfer(s)
If one current quarterback transfers this summer, LSU will be left with two scholarship quarterbacks on the roster.
No coach wants to enter the season with so few. Orgeron made that clear at a speaking engagement in Houston last week.
"If a quarterback would leave, we'd need another quarterback with only two quarterbacks on the roster," Orgeron said. "As far as I know, no one is planning on leaving. They're all competing for the starting job. I think everybody's happy."
Are quarterbacks ever really happy, though? Maybe the one who has or hasn't been promised the starting job, but that has not happened in this case.
Quarterbacks transfer more than any other position in football. The Tuscaloosa News in 2016 published a study finding that 37.2 percent of the 121 quarterbacks who signed with SEC teams in the previous 10 classes closed their career at the school where they originally signed.
LSU's number, as of 2016, was even lower: 3 of 13 or 23 percent.
In fact, six quarterbacks have transferred from LSU in the past four years, and the school's most successful quarterbacks recently have been — yes — players who have transferred into the program. Zach Mettenberger, a Georgia signee who went the junior college route, and Etling are the only two LSU quarterbacks drafted since Matt Flynn in 2008.
According to those within the program, none of the three current quarterbacks have officially asked for a release. The thing to keep in mind here is that McMillan is set to graduate in July. He's a fourth-year player who could leave and be immediately eligible with two years of eligibility — just like another guy by the name of Joe Burrow.
All eyes this spring were on LSU's quarterback competition, and rightfully so.