As a youngster, Caleb Gilbert's signature look on a baseball field was pure imitation. His favorite big-time ballplayer routinely wore his socks high, meeting hiked-up pant legs just below his knees, and so little Caleb began doing it, too.
By the end of his two-year T-ball career, 6 years old and loving life, Caleb was easily identified by two impossible-to-miss features: his low-hanging bowl cut of light-brown hair — so low that it covered his eyebrows — and those high-rising socks.
The bowl cut is long gone. His socks have always stayed up.
This is not a fashion statement. It is a life statement.
With Gilbert about to begin his third season as an LSU pitcher — his first as a high-profile weekend starter — his socks say so much on his behalf.
They say: No matter how much I've grown, the little boy in me is still here.
They say: I'm right where I've always wanted to be.
And they silently broadcast a belief he firmly embraces: I'm not doing any of this alone. I'm doing it all with Wally … always with Wally.
***
There was nothing natural about an Alabama boy being raised as a fan of the LSU Tigers. But Caleb's mom and dad had both graduated from LSU before settling in enemy territory — and so his childhood was defiantly draped in purple and gold.
One of his earliest memories, blurred by time but nonetheless an indelible slice of serendipity, places 4-year-old Caleb at an LSU-Alabama baseball game in Tuscaloosa.
Caleb is with his dad, Paul, who works in management at a steel plant. They are in from their hometown of Hoover, about an hour away, to watch the final game of a weekend series. It is April 29, 2001 — a Sunday afternoon late in Skip Bertman's last season coaching LSU — and the Tigers are ranked as high as third in the nation.
The weather forecast is not ideal — rain is coming — but Caleb is thrilled just to be here: the grand theater of LSU baseball unfolding right in front of him, his big, brown eyes excitedly taking in the wonderment of it all.
As the game progresses, the Gilberts speak with a man seated by them in Sewell-Thomas Stadium. He, too, is pulling for LSU. He made the trip from Louisiana because one of his nephews is playing third base for the Tigers.
The man is amazed by how much Caleb knows about the game. He is also impressed by how the boy handles himself — so young and small but also so polite and composed talking to an adult.
Caleb does not fidget. He watches the game with great interest. Unusually focused for a boy his age, the man thinks.
The most spectacular moment of the day — for Caleb anyway — comes when a foul ball is hit in his direction. The man from Louisiana hauls in the ball, and then he gives it to Caleb.
"Thank you," Caleb says.
And the man offers more kindness: "If you want, we can get Wally to sign that for you after the game."
Yes, Caleb would like that.
Alas, the rain finally comes. Lightning, too.
The game is temporarily stopped in the eighth inning — and the rain keeps falling. With LSU holding a dominant 8-1 lead and the weather delay dragging on, Paul Gilbert finally decides he ought to get his son home.
The chance for a postgame autograph on Caleb's game ball is lost. But Caleb now has a new hero: that friendly man's nephew … the third baseman with two well-hit singles today … No. 31 for the Tigers … the guy with his purple socks pulled up high.
His name is Wally Pontiff.
***
A few days later, Paul Gilbert wrote a letter to thank Larry Pontiff, then a 59-year-old investigator in the Jefferson Parish District Attorney's Office, for giving that baseball to Caleb.
"The ball has not left his hand for three days," Paul wrote. "He even brings it to bed with him at night."
Paul also repeated an invitation he had extended at the ballpark. With the LSU baseball team soon returning to Alabama for the Southeastern Conference tournament in Hoover, the Gilberts wanted Larry and anyone with him to stop by a crawfish boil their church would be hosting near the stadium.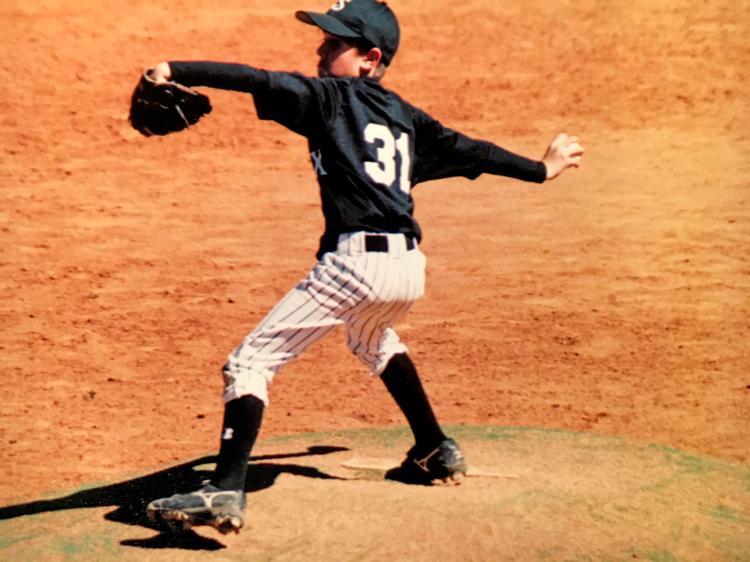 The letter closed with two promises: The crawfish will be hot. And the beer will be cold!
Two-and-a-half weeks later, the Gilberts were thrilled when a trio of Pontiffs showed up at the Saturday afternoon get-together: Larry along with his brother and sister-in-law, Wally Sr. and Terry, parents of the LSU third baseman.
Caleb could hardly believe his good fortune when Wally Sr. surprised him with a gift: another baseball … and this one already autographed by Wally Jr.
The Pontiffs knew how disappointed Caleb had been when the rain delay kept him from getting that other ball signed. His disappointment was now replaced by joy.
Caleb studied that signed ball as if he had just been entrusted with a rare treasure, clutched it as if he would never let go.
In a sense, he never has.
***
Caleb could not have known it at the time, not as a 4-year-old, but he had lucked into having a remarkable young man as his hero.
Baseball had long been an integral part of life for the Pontiff family.
Wally Sr. had enjoyed a short time in professional ball, pitching as a minor leaguer, and he later coached for nine years at Archbishop Rummel High in Metairie.
The first of three children, Wally Jr. got an early introduction to his dad's favorite sport and quickly took it on as his own. As a third-grader, he chose professional baseball player Cal Ripken Jr. as his subject for a biography assignment — even dressing as the longtime Baltimore Orioles star for his oral report.
Baseball was not everything, though. Wally Sr. constantly stressed that life should be built around three priorities — what he called his three F's: faith, family, and friends.
Faith, specifically his Catholic upbringing, became a major focal point for Wally Jr. He was an altar boy for five years. Later, as a student at Jesuit High in New Orleans, he usually got to school early for an optional Mass before classes started.
Studying was important, too. Granted, Wally's .429 high school batting average was the statistic that garnered the most public attention, making him an all-state baseball player. Equally outstanding, though, was the overall measure of his classroom performance: a 4.2 grade-point average.
Wally graduated summa cum laude from Jesuit and received the school's 1999 President's Award for Spiritual Leadership. People could not say enough good things about him. Wally was humble. He was kind. His smile and energy lit a path for others.
Things were much the same when Wally got to LSU. He wrote Bible verses on the inside of his baseball cap. He continued to excel as a student. As a hard-working, always appreciative member of the baseball team, he quickly became both a fan favorite and a go-to guy for local media folks.
As a freshman, Wally hit a sizzling .615 (8 for 13) in the 2000 SEC tournament and was named Most Outstanding Player after blasting a decisive grand slam in the championship game. Overall that year, Wally hit .347 for the team that won Bertman's fifth and final national championship at LSU.
In 2001, Wally again hit .347 — and this time he was named first-team All-SEC for the whole of the season.
On and off the field, the young man who once dressed as Cal Ripken was clearly chasing some greatness of his own.
***
Baseball was big in the Gilbert family, too.
It started with Caleb's paternal grandfather, Bill Gilbert, a chemical engineer who spent most of his career with Exxon and much of his free time following professional ball.
Bill did not follow only as a fan. He also wrote about baseball; catalogued statistics as a member of the Society for American Baseball Research; and ultimately parlayed his passion into side work, helping the Houston Astros front office prepare for arbitration hearings when contract negotiations with players went that route.
Of course, no such business details mattered to young Caleb. All he needed to know was that his "PopPop" loved baseball and was always eager to share that love with him.
Whenever Caleb and family visited his grandparents in Baytown, Texas, baseball quickly became a primary focus. Caleb routinely rushed straight to the garage and pulled out his grandfather's equipment — bats, balls, gloves, even bases — for a "game" in the yard.
"Hitting is what he always wanted to do," recalls Bill Gilbert, now 82. "It was obvious he enjoyed the game, and he really understood it for a kid his age."
Once indoors, Caleb would happily take a break for a slice of his grandmother's sweet potato pie. Then it was often right back to his favorite sport — Caleb and his grandfather settling on the living-room floor and playing an old-school board game called All-Star Baseball.
"He was always completely into it," Bill Gilbert says of his grandson.
And so baseball became a comfortable glue of their bond. As Caleb now says of his PopPop: "He loves baseball more than anyone I've ever met."
***
Bill Gilbert's attachment to the Astros meant that Caleb also became a fan of the team, and one of its biggest stars, first baseman Jeff Bagwell, became his first sports hero. Little Caleb began his T-ball career wearing Bagwell's uniform No. 5.
But that was before meeting the Pontiffs. Once Wally Pontiff was in his life, Caleb wanted to be just like him. Wearing his socks up high was Caleb's first act of imitation. Then he switched to Wally's uniform No. 31.
Nobody outside his family knew why Caleb did those things. He was too reserved to offer up such information, never wanting to needlessly draw attention to himself. But the boy was locked in. Whatever Caleb could do to be like Wally, that's what he wanted to do.
Following LSU baseball from afar, Caleb always wanted to know how Wally was doing.
Wally kept doing well. In 2002, as a junior, he hit .339 – bringing his three-year batting average to .344. It was during that season that Caleb first told his father of another way he wanted to be like Wally. He someday wanted to play baseball for LSU.
"He was very clear about it," Paul Gilbert says. "It wasn't that he wanted to play Major League Baseball. He wanted to play for the LSU Tigers. That's what Wally did, so that's what Caleb wanted to do."
***
On June 4, 2002, the Oakland Athletics selected Wally Pontiff in the 21st round of the annual Major League Baseball draft. With a year of college eligibility remaining, Wally had a big decision to make.
Should he return to LSU for his senior year, allowing him to complete his premed biological sciences degree and to play one more year for his beloved Tigers? Or should he sign a professional contract and start chasing his dream of being a big leaguer?
At LSU, he had the comfort of familiarity. He had teammates who were like brothers and a longtime girlfriend — LSU volleyball player Katie Kubena — with whom he shared so much.
Wally also had a chance to become LSU's all-time hit leader. With 254 hits in three years, he would need 99 more as a senior to surpass the school record — also the SEC record — held by Eddy Furniss.
Wally thought about that. He also contemplated what pro ball would be like. Either way he went, he saw only great things to come.
No decision was final yet. No announcement was made. But Wally leaned heavily toward returning to LSU.
Then came the morning of Wednesday, July 24, 2002.
Wally was staying at his childhood home in Metairie. He and his brother, Nick, five years younger and also a ballplayer, had planned an early workout at a neighborhood playground. But Wally didn't get up on schedule.
His mother heard his alarm beeping — repeatedly, annoyingly — but without any sign of Wally. Terry Pontiff called for Nick to go wake his brother. Nick went. And then their lives were forever changed.
Nick called out to Wally … but without any response.
He shook his brother … still nothing in return.
That's when Nick knew something was seriously wrong.
Wally never moved again. He never took another breath.
At 9:36 that morning, Wallace Victor Sebastian Pontiff — Wally Jr. — was pronounced dead by the Jefferson Parish Coroner's Office. An autopsy would later reveal a previously undetected heart abnormality that led to cardiac failure.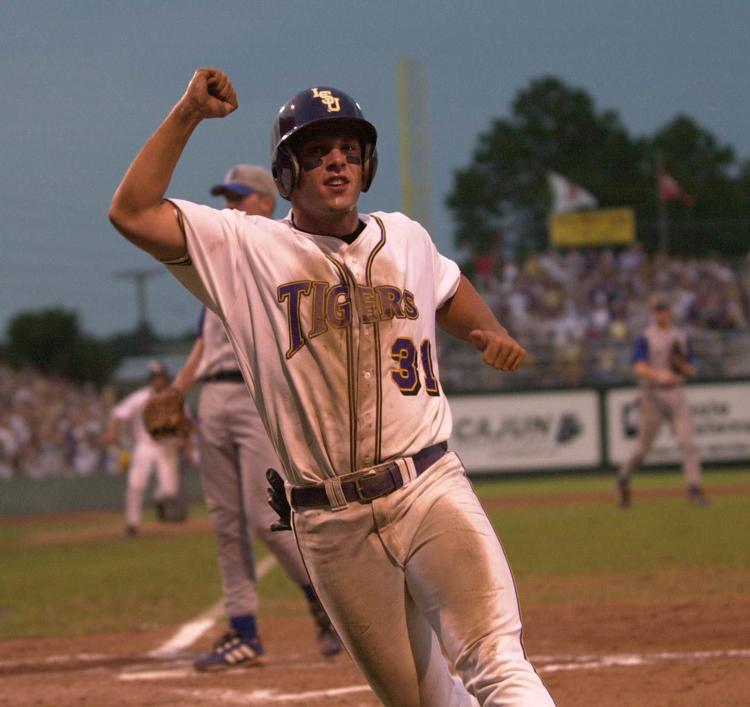 The Pontiff family was crushed.
Friends and teammates could hardly believe what they were hearing.
LSU fans were shocked and saddened.
"Everybody's All-American" — that's how Skip Bertman had come to define Wally. He had gone to sleep a young man who had it all: athletics; academics; unwavering faith; a deep-rooted desire to serve others, especially children, his long-term vision set on being a pediatrician.
And now he was forever gone — dead at 21 — his boundless promise irrevocably extinguished in the quiet of an otherwise routine morning on Dorrington Boulevard.
"Only once in a coach's life will he be blessed with the perfect personification of the student-athlete," Bertman would later say in his eulogy. "To me, in my 43 years of coaching, that single player, once in a lifetime, was Wally Pontiff Jr."
In Alabama, Paul and Lynda Gilbert felt deep pain and sympathy for the Pontiff family. They also knew they had to tell their son what had happened.
This was no easy undertaking. How does one tell a 5-year-old that his hero has died? How does a parent even define death for such a young child?
Paul and Lynda explained as best they could.
They told Caleb that dying was like going to sleep but without ever waking up again — a description that even had the benefit of accuracy in this case.
Sad and confused, Caleb needed clarification about what this meant for Wally: "So he's not going to play baseball anymore?"
"No," Paul said. "We won't get to watch him play anymore."
Lynda, then a preschool teacher, looked into Caleb's eyes and they were as big as she had ever seen them. They were glassy and starting to leak.
How could she somehow soften the blow?
Lynda's exact words have been lost to the passage of time, but she and Paul recall them going something like this: "Wally doesn't get to play here anymore. But don't worry — God is watching over him. He still gets to play baseball up in heaven."
***
Caleb never forgot about Wally.
Whenever the LSU baseball team played in the SEC tournament, the Gilberts tried to go, and it was virtually impossible for Caleb to be in Hoover Metropolitan Stadium without thinking of his favorite player.
Caleb enjoyed doing almost anything outdoors: hunting, fishing, both watching and playing a variety of sports. But playing baseball remained his favorite activity — his dad always coaching his youth teams, his uniform always carrying that No. 31, his socks always pulled high.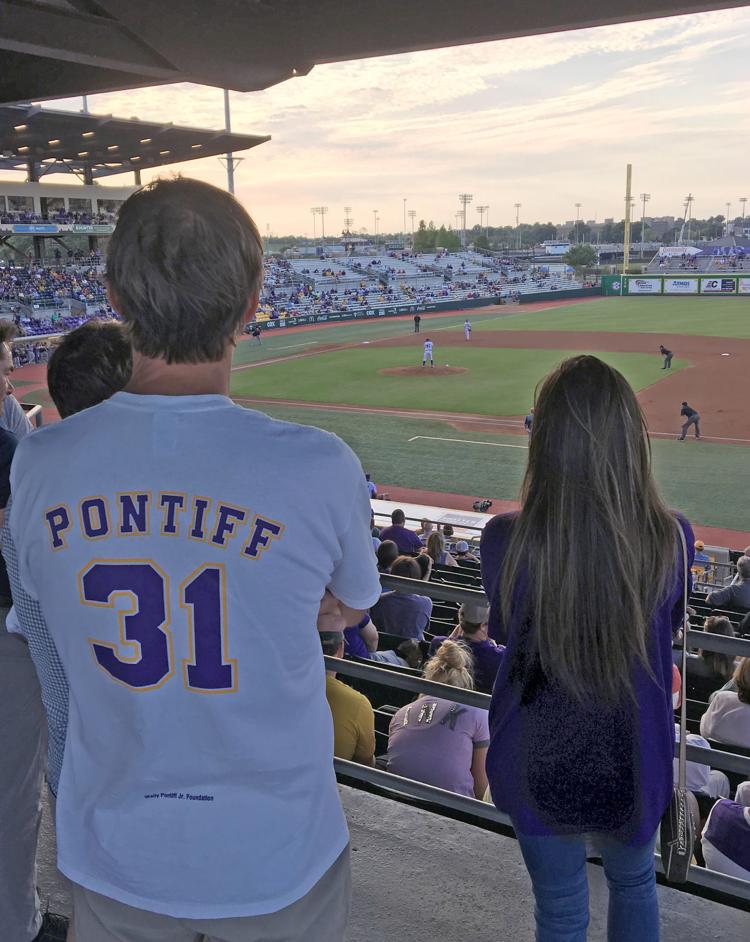 One change took hold when Caleb was in middle school. Wanting to learn more about his childhood hero — someone he had watched only as such a young boy — he found some old stories on the Internet and started reading about Wally Pontiff.
Caleb learned about Wally's faith … his work ethic … how he enjoyed doing things for children … the way he routinely put team before self … his commitment to schoolwork (twice a member of the SEC Academic Honor Roll). Caleb also read about the details of Wally's death and the outpouring of love that followed.
He finally had a sense of who Wally really was. As Caleb now says: "He did everything the right way, every facet of life, and that appealed to me."
Caleb no longer wanted only to be like Wally. He also wanted to honor Wally in all that he did.
Caleb did not announce this to anyone. He just started living it.
***
At Hoover High, Caleb enjoyed math and science more than anything that required a lot of reading. No matter what the subject, though, he always excelled. Nobody was surprised when he ended up a member of the National Honor Society with a 4.0 GPA.
As a sophomore on the varsity baseball team, Caleb's pitching numbers — a record of 8-2 with a 1.54 ERA and 84 strikeouts in 68 innings — also drew significant attention.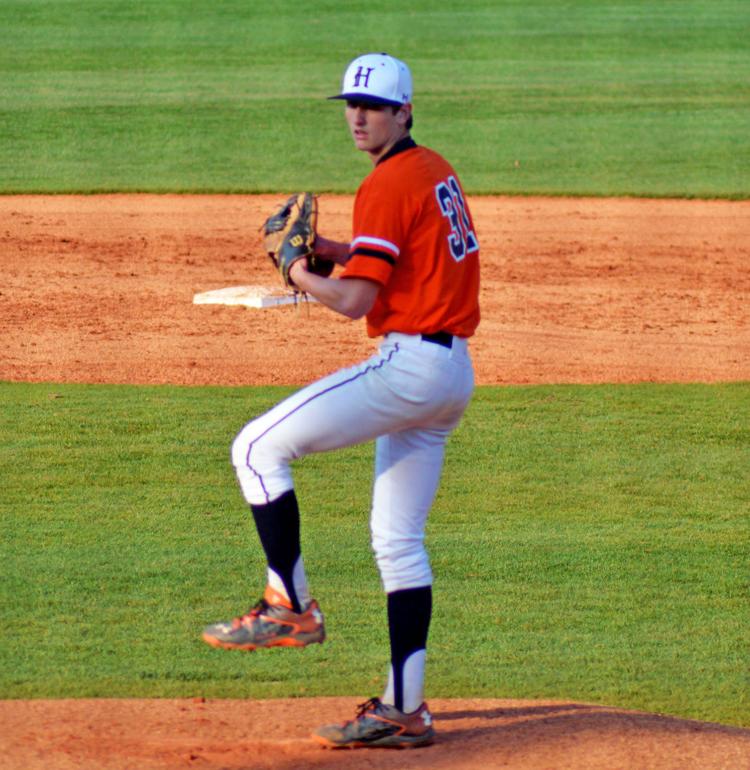 Three SEC schools — Alabama, Arkansas and Mississippi State — made early scholarship offers. Then LSU offered one, and that was all Caleb needed to hear. During the summer of 2013, before the start of his junior year at Hoover High, Caleb committed to coach Paul Mainieri and LSU.
A bad elbow injury and Tommy John surgery followed, forcing Caleb to miss his junior season. But LSU stuck with him.
Paul Gilbert could hardly wait to see his son pitch for the Tigers. He reminisced about the times he first took Caleb to watch them play — in Tuscaloosa and Hoover — and that made him think about the Pontiffs.
Thirteen years after meeting Wally Pontiff Sr. and his wife, Terry, at that crawfish boil — the one at which they gave Caleb the ball signed by their son — Paul wanted them to know Caleb would soon be following in the footsteps of Wally Jr.
He decided to write the Pontiffs a letter.
On June 13, 2014, Paul sat at his computer and — speaking for Lynda as well — typed an attention-grabbing opener: "This is a thank you letter for the blessing and amazing impact your son Wally has had on our son for the past 13 years."
Paul reminded the Pontiffs of the background: how he and Caleb first sat with Larry Pontiff at a game in Tuscaloosa and later met them in Hoover.
He also shared a story the Pontiffs could not have known: how Wally Jr. had become Caleb's "role model and hero … his idol," always inspiring his passion for baseball, eventually leading to the point that Caleb would soon be signing to play for LSU.
Paul included details about Caleb's baseball journey. He also enclosed a contribution to the Wally Pontiff Jr. Foundation, a nonprofit organization the Pontiffs had established after Wally's death to benefit a variety of Louisiana charities.
The Gilberts soon received a response from the Pontiffs — hand-written by Terry — thanking them for both the donation and "the wonderful story" they had shared.
"It will be 12 years this July that Wally has left us," Terry wrote, "but it is touching stories like this that help us to ease the pain that constantly lives with us. We are so excited for Caleb (and family) about coming to LSU as a pitcher. He doesn't know it, but the Pontiff Family will be his biggest fans!"
***
With college coming, Caleb embraced one more step in his Wally-related progression. He had already wanted to be like him … had already wanted to honor him. Now he also wanted to complete what Wally had started.
As Caleb would later put it: "Wally never got to finish what he set out to do. So I'm hoping to finish for him."
Caleb would have loved to keep wearing No. 31 while doing that. He also knew that would not be possible. The LSU baseball program had not officially retired the number, but it had never again been used after Wally's death.
Caleb had no idea what number he would get. He just walked into Alex Box Stadium soon after his arrival as a freshman, looked in his locker, and saw a jersey hanging there. It was No. 41.
"Close enough," Caleb says now. "Looking at it, knowing I couldn't get 31, it actually looked like 31 to me. It was just destiny, I guess."
Or perhaps it was a Wally wink.
That is the Pontiff family's personalized version of what some people call a "God wink" — an event or experience so "coincidental" that only divine intervention could explain it. Whenever such a "coincidence" has something to do with Wally Jr. — often related to the number 31 — the Pontiffs call it a Wally wink.
The Gilberts have experienced a few of them, too.
The most powerful one came last season during a game that already had special meaning to them, the annual Wally Pontiff Jr. Foundation Classic, a game used to promote the foundation and raise money for it.
Paul Gilbert was at the Shrine on Airline in Metairie for the April 11 game against UL-Lafayette. He got to visit with several members of the Pontiff family, including Wally Sr. and his brother Larry. The Gilbert-Pontiff reunion alone made for a special evening.
Then Caleb got to pitch.
With LSU leading 3-2 midway through the seventh inning, Mainieri sent Caleb to get loose in the home team's bullpen down the right-field line. Once there, Caleb did not throw right away, though, because he knew what was coming: a special seventh-inning stretch that would include the singing of "God Bless America" and a video tribute to Wally Pontiff Jr.
Can't see video below? Click here.
Caleb was locked in as the video was introduced, standing still, staring at the stadium scoreboard beyond the left-field wall, and then his eyes drifted down … down to the time of night showing in big, bright numbers low on the board: 9:31. To Caleb, those 31 minutes after the hour immediately registered as Wally's 31.
"Surreal" is the way Caleb would later describe the moment.
The minutes moved to 32, 33, 34, 35, as the video played — Wally in full color and so full of life, vibrant, smiling, hitting and running and fielding, celebrating with teammates and fans — but Caleb saw only the number 31.
When the seventh inning ended, Caleb entered the game with his usual routine — approaching the mound with his head down, picking a spot behind the pitching rubber, and using his right foot to scratch a cross into the dirt.
Then he went to work.
Caleb pitched a scoreless top of the eighth — striking out two of three batters.
Sitting in a suite with family and friends, Wally Pontiff Sr. said: "Man, I'm just so proud of Caleb, so happy for him and his family."
LSU closer Hunter Newman took over for Caleb in the ninth inning. The Tigers held on for a one-run win. And Caleb had a memory he would long cherish.
"Really special night," he said while gathering his belongings in the dugout. "I felt blessed and honored to be part of continuing Wally's tradition — and I know he was with me tonight. He's always with me."
Always with me. It is a remarkable thing to say about someone he never even met, a young man who left this world so long ago. But Caleb feels it with matter-of-fact certainty … feels it and clings to it.
***
If Wally is winking from above, then Caleb is winking right back at him.
On the baseball field, he winks with his selfless approach. "The ultimate team guy," LSU pitching coach Alan Dunn says of him. "Caleb always plays more for the name on the front of his jersey — LSU — than he does for his own name on the back."
In the classroom, Caleb winks with his lofty 3.65 GPA while navigating the rigorous demands of his civil engineering major. He is a fixture on the SEC Academic Honor Roll.
But the most poignant winks come away from school. They come on Wednesday evenings at a YMCA in a tough area known as the Bottom — a few square miles of mostly broken-down housing and hopes between the LSU campus and downtown Baton Rouge.
It is there that Caleb regularly volunteers for a nonprofit organization called Live 2 Serve and specifically for its Live 2 Play youth program. It is there that he has developed a special friendship with a 7-year-old boy who carries both the weight of hardship and the carefree exuberance of youth.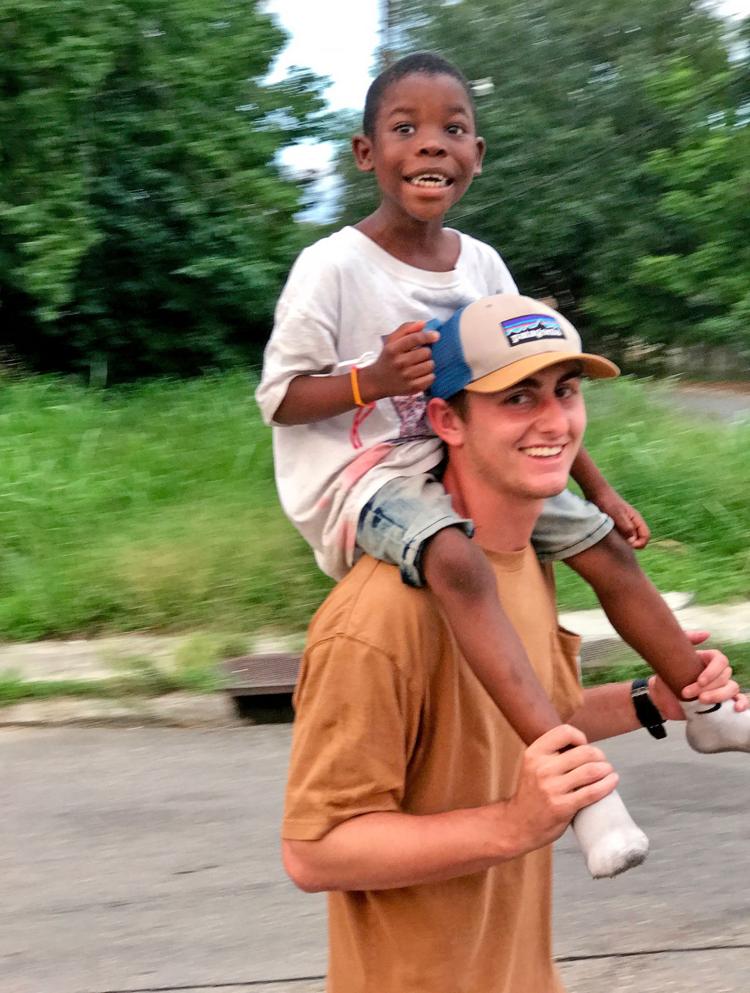 La'Darius Briggs is one of four children being raised by a single mom. His speech is difficult to understand because — after a neurological complication at birth — he lives with a condition known as childhood apraxia.
But challenges alone do not define La'Darius. He is an active and friendly kid who loves playing with his second-grade classmates. In the gym at the YMCA, he is a bundle of energy punctuated by an endless supply of smiles.
La'Darius could easily be a poster child for Live 2 Play. The program's mission is to provide children living in poverty with the opportunity to play in safety. Each Wednesday, volunteers depart from the YMCA on Thomas H. Delpit Drive and walk the streets to pick up children who want to play.
Whenever Caleb can make it — usually two or three times a month — he is among the volunteers. He started doing this as a freshman.
"It's awesome," Caleb says. "I'm not an LSU baseball player there. I'm just a guy hanging out with kids who don't necessarily get that attention every day. And the learning goes in both directions. They're learning from me, and I'm learning from them."
Twenty-five to 50 kids might attend each week, but Caleb and La'Darius quickly gravitated to each other — and always do.
They play basketball. They play catch with a football. Caleb picks up La'Darius, spins him in circles through the air, and the boy is temporarily transformed into a giggle machine. No matter how many times they spin, La'Darius wants more.
They also run around the gym with no particular aim, La'Darius leading and Caleb following. It is never really a matter of what they are doing — it is just that they are doing.
Sometimes they'll talk about school, or about something that happened with La'Darius that day, or about nothing at all.
"He always be nice to me," La'Darius says of Caleb. "He's happy, and he makes me happy."
They long ago started an end-of-evening routine: La'Darius climbing onto Caleb's shoulders and sitting there — king of the neighborhood — for Caleb to carry him home.
One night last spring stands out: June 14. Caleb and his teammates would be leaving the next morning for the College World Series in Omaha, Nebraska. It was a hectic time for the baseball team.
It was also a Wednesday. Caleb went to the YMCA, wanting to be with those kids, and he ended the evening the same way he usually did. Shortly before 8 o'clock, Caleb lifted La'Darius to his shoulders — picking him up both literally and figuratively — and they headed down the street.
King La'Darius was on top of the world.
***
With his junior season approaching, things have changed dramatically for Caleb. That's what happens after a year in which you went 7-1 with a team-leading 2.16 ERA — after a College World Series in which you pitched a masterpiece to knock out top-ranked Oregon State and lead your team to the championship round.
Expectations are way up. Caleb has been announced as the starting pitcher for the season opener. D1 Baseball has ranked him 61st on its list of the top 100 draft-eligible college prospects for the 2018 MLB draft.
But one thing certainly has not changed. Caleb's signature look is the same as always: socks up. His purple socks meet white uniform pants just below the knees as he steps to the mound at Alex Box Stadium.
It is late in the afternoon of Friday, Jan. 26, the first day of full-squad preseason practice for the 2018 LSU Tigers, three weeks before the home opener against Notre Dame. The team is about to scrimmage, and Caleb will be first to pitch.
He scratches a cross into the dirt behind the pitching rubber. Then he starts throwing.
After pitching three innings, three scoreless innings, Caleb is done for the day. In the dugout, he grabs a cup of water and removes his cleats. He sits by himself to cool down.
Watching as the scrimmage continues, Caleb is alone with his thoughts but not on his mission, never alone on his mission, always with Wally.
Looking out onto the field, Caleb sees the same things anyone else would: his teammates throwing, catching, hitting, running — the opening steps of a group journey.
He also sees something that is his alone: the promise of another season to honor his silent hero, another step toward finishing for Wally.
Meanwhile, back in Alabama, a signed baseball sits in a plastic cube displayed on a shelf in Caleb's childhood bedroom. Seventeen years after Wally Pontiff Jr. wrote his name between the red stitches on that ball, the blue ink has faded to almost nothing.
Who needs the clarity of bold ink, though? The story of that ball only gets stronger with time. It continues to echo through the years, still taking on new scenes and even whole chapters, Caleb never knowing what additional beauty it will bring or how it will eventually end.
Pulitzer Prize winner Jeffrey Marx is the author of "Walking with Tigers: A Collection of LSU Sports Stories" and five other books. You can follow him on Twitter, @LSUTigersBook.