These events usually begin with a high-pitched squeal or loud scream.
This is followed by finger-pointing gestures and jaw-dropping glances.
Then, out come the smart phones.
Everyone has to get a photo, maybe a selfie even, with two of the most recognizable high school sports stars of Baton Rouge. The final act is normally an autograph request.
That's when Ja'Vonte Smart and Kelvin Joseph scribble their names on something — anything, whatever is around — for that teenage girl, that 10-year-old boy or that father of two in a purple-and-gold hat.
"You can't go to the corner store without somebody stopping us. It's bad," said Latoria Stewart, Kelvin's mother. "When they're not at school, you see one and you see the other. They stick together like glue."
This relationship is not changing, only relocating about 12 miles down I-110, from Scotlandville Magnet to LSU.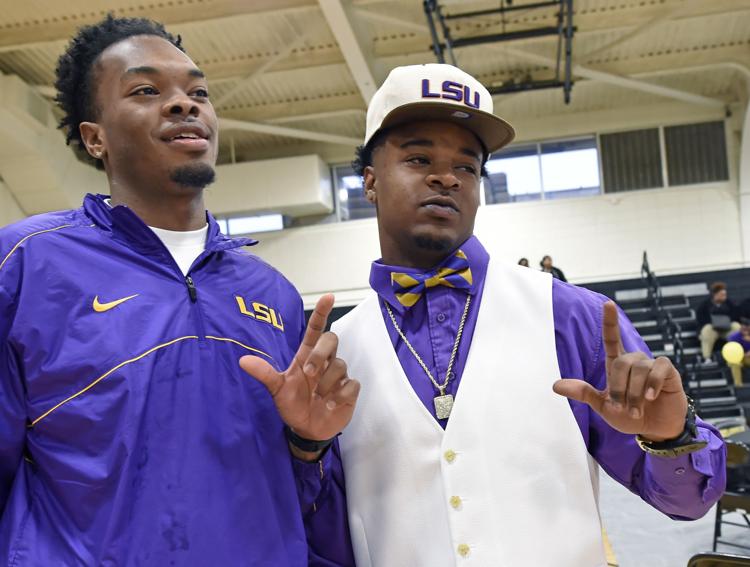 Joseph, the fifth-ranked safety prospect in the 2018 class, solidified that bond Wednesday during a signing ceremony, scribbling his name — this time not for fans but coaches — on a National Letter of Intent. Smart, the fifth-ranked combo guard prospect in the 2018 class, signed with coach Will Wade and the Tigers in the fall.
Here they are, two Scotlandville Hornets and best friends, two of the most sought-after players in their respective sport, highly ranked and highly touted, bound for their hometown college.
"All of our blood, sweat and tears happened in Baton Rouge," an emotional Joseph said Wednesday after signing. "Everybody did so much for us. It's time to give back."
Joseph is the first football player from Scotlandville to sign with LSU, school officials say.
"There's going to be a whole lot of Scotlandville fans in the stands at LSU," said Kris Peters, the Scotlandville football team's offensive coordinator. "It's a testament to what they think about the city. They've stressed they want to do it for their city. That was a big deal for both of them."
Can't see video below? Click here. 
On this morning of national signing day, things at Scotlandville are, as you might imagine, abuzz. More than 300 students, teachers, family members, administrators and media are gathered in the Scotlandville gymnasium to watch a group of football players sign letters with various schools. Many are heading the junior college route, and one of them, running back Trenton Charles, is securing his future at the Ivy League school Yale.
The brightest of the spotlights shines on a kid nicknamed "Fat" who is heading to a Southeastern Conference program just down the road. Joseph is not fat, of course. He's 6-foot-1, 190 pounds, a trimly built speed demon who returned a combined 13 kicks, punts and interceptions in his high school career.
He was fat, however, when Latoria pushed him out about 18 years and 3 months ago.
"I weighed 10 pounds," Joseph said with a smile.
The question begs: How'd that pregnancy go?
"It didn't go so well," Latoria laughed. "I was in labor for, like, two weeks. They kept on sending me home. He wouldn't come down."
LSU already has 21 signees from prospects who signed during the early period in December. Wednesday's signing day should bring four more. Foll…
So began the delayed, journey of Kelvin "Fat" Joseph.
Some 15 years later, LaVanta Davis, then Scotlandville's special teams coordinator and eventually its head coach, noticed the kid named Fat at practice doing things on kickoff and punt teams that other players — some much older — were not doing.
"He would go down there and would be the first one down there and make a big hit," said Davis, now an assistant at St. James. "You can't coach that."
A sophomore season that included five non-offensive touchdowns caught the eye of coaches from Jackson State. They offered him a scholarship. His next offer: LSU.
A move from cornerback to safety was made after that season, an attempt at coaches to more involve their prized defensive back. At corner, opponents were solving their Joseph problem by throwing to the opposite side of the field.
He played centerfield as a safety, integral in the running game and able to slide from one side of the field to the other in pass coverage. It produced last season 119 tackles.
"He plays the game real angry," Davis said.
And fast. The coach said he's still never seen a player catch Joseph from behind.
Through this all, Peters held the job in practice of scheming around a track sprinter who runs a sub-4.4 second 40-yard dash, possesses sure-handed ball skills and lowers vicious hits whenever he can.
"He'd terrorize us in practice," the coach said. "I tried not to run too many slants. Couldn't be losing too many receivers."
And now here he is, a self-proclaimed "baller," oozing with confidence about his extended future in Baton Rouge playing for a program that has deemed itself the best defensive back-producing college in the land.
"I see myself coming in," he said, "and competing and winning a starting role."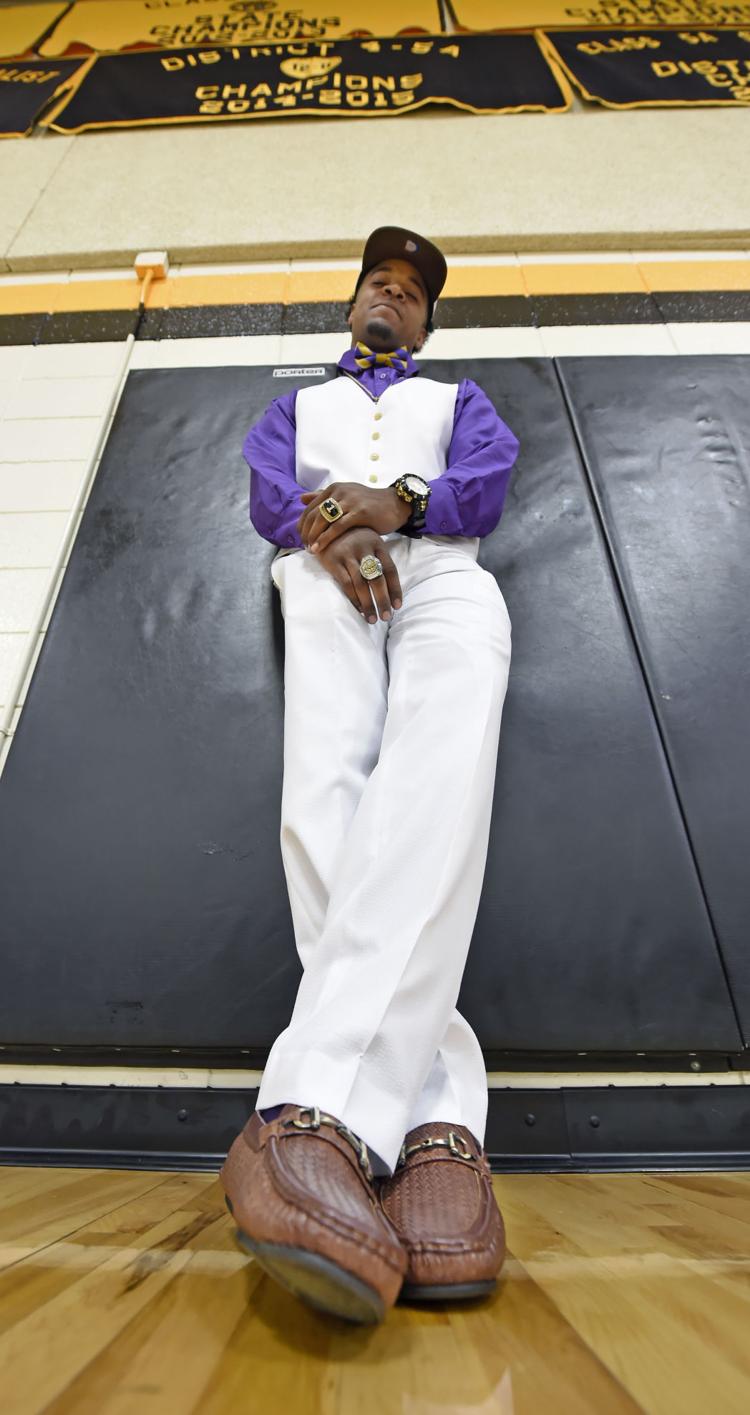 Joseph was first supposed to begin training at nickelback and then learn safety, but plans changed after the Tigers did not sign a cornerback on Wednesday, missing on highly touted Florida cornerback Patrick Surtain and their backup plan, Mario Goodrich of Missouri. 
Joseph will now play cornerback, coach Ed Orgeron said Wednesday afternoon. The team has four scholarship cornerbacks on the roster, and just one of those (Greedy Williams) has seen significant playing time.
Joseph's high school coaches believe he can play anywhere on the field, and they do mean anywhere: cornerback, nickelback, safety, punt returner, kick returner and, sure, running back, too.
That's how he got his start.
At age 8, Joseph met a kid named Ja'Vonte Smart — 'J' for short — in a youth football league. J was the quarterback and Fat was the running back. Years later in middle school, they played one another, J still throwing passes, but Fat, by that time, working in the defensive secondary.
The result?
"He threw picks," laughed Joseph, a finger pointed toward a lip-pursing Smart as the two sat in Scotlandville's basketball locker room recently.
These two are tight, and for the past 18 months, they've "split the big man on campus title," smiled boys basketball coach Carlos Sample.
Smart and Joseph bond through a shared motivation, they say: a family member's death. They lost someone within the same year while both at the same age, 7 years old. Smart's father was shot and killed. Joseph's younger brother, then age 5, drowned in a swimming pool.
This year marks the 10th anniversary of Kevonte's death. Time has healed some of the pain — not all of it.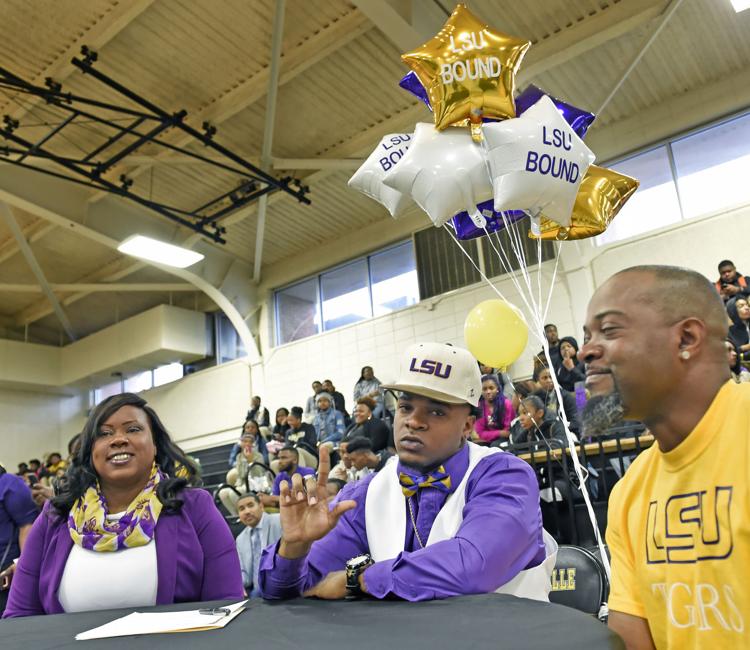 "I'm really still dealing with it," said Latoria, a deputy sheriff for East Baton Rouge Parish. "It's not something that goes away. Around his birthday time and death anniversary … it's tough. Even looking at Kelvin on the field … he could have been out on the field like Kelvin. I get teary-eyed still."
The loss and the memory drive her only living child, fuel him in ways those who have not experienced his loss may not understand.
Smart knows the pain.
"When he plays, it comes out," Smart said. "At first, it's tears. Now, tears turn to confidence."
Joseph took his brother's death "bad," his mother said. The family spoke to grief counselors. Kelvin and Kevonte were close. They played together as brothers do — tossed the football, shot the basketball, all of it.
Kelvin frequents Kevonte's grave and "talks to him," Latoria said. He sometimes visits the grave without telling his mom. She learns of the visits through his social media postings, an outlet for this normally quiet kid.
"I think about him," Kelvin said, his head buried in the hood of a sweatshirt, phone in hand and eyes darting across a tile floor.
"I've just got to grind for him and me. We both had dreams."
Already, Joseph has accomplished more than most. It is why he can't walk anywhere in Baton Rouge — him and his 6-4 friend — without being recognized. That goes especially for the Scotlandville campus as well.
"We try to act like we're regular students," Smart said, "but some kids are like, 'Oh that's him!' "
Who? The No. 1-ranked high school basketball player in the state or the No. 2-ranked football prospect in Louisiana, the guy who recently put up 63 points in a game or the one who had 76 solo tackles as a senior?
The two carry their relationship 15 minutes south, an effort to "put on for the city," as Smart said.
"It's amazing," Latoria said. "It's crazy, both of them going in two different sports to LSU. We can't go nowhere with those two without somebody stopping us. I'm proud of both of them."