HOOVER, Ala. — On LSU's football staff last year, there were two administrative analysts and an administrative coordinator.
There was a player personnel analyst and a player personnel director. There was a coordinator of defensive operations and one for the offense, too.
At Georgia, there are folks in the football office with titles like director of player development, director of player personnel, director of player wellness and director of football performance nutrition.
At Alabama, there are seven people listed on the school's website with the same two-word title: football analyst. There are three more who share the title of assistant director of player personnel.
All of these are support staff positions, and the Southeastern Conference is rife with them. They are the behind-the-scenes members of a football program, much lower paid and more overlooked than the seven full-time position assistants and two coordinators.
Their jobs, though, can be critical — from analyzing opponent film to strategizing game plans, from organizing recruiting travel to monitoring players' class schedules.
None of them can coach on the field or recruit off campus, but schools spend millions to keep their lavish football buildings stocked with these, sometimes, faceless employees with ambiguous titles.
In fact, Georgia spent more than $4.4 million on its football support staff in the 2015-16 academic year, according to documents obtained from The Advocate. The Bulldogs easily led the league in support staff pay, about $1.5 million more than the second-highest program: Alabama.
LSU was ninth in the league in support staff pay at $1.6 million, and Kentucky was last at $1.06 million.
HOOVER, Ala. — Alabama hasn't lost a Southeastern Conference football game in 22 months.
Support staff size has been a hot-button topic over the college football landscape recently. It's an unregulated part of the system, allowing programs to hire as many off-the-field assistants, secretaries, analysts, consultants, directors and volunteers they want.
The issue is serious enough that the NCAA Football Oversight Committee plans to examine staff sizes within the next year. Commissioner Greg Sankey addressed the topic in April, May and then again at SEC media days earlier this week.
"It was a conversation I think back in 2010 (at the SEC meetings)," Sankey said in April. "This is not a new issue or conversation in the Southeastern Conference. In fact, that others are ready to join the conversation is I think something that our leadership would view as well-received. What's never been an acceptable piece is to say, 'well, the smallest staff size in Division I is this, so we're all going to go to that.' That's not appropriate. This is about … 'what's the personnel plan for football?' What should it be at the college level?"
Schools are allowed a maximum of nine on-field coaches, five strength coaches and four graduate assistants.
Support staff sizes, meanwhile, remain a mystery. The Advocate obtained documents from the 13 SEC public schools detailing athletic department spending, including support staff, but the documents do not reveal the number of personnel.
In an NCAA survey obtained by CBSSports.com, Georgia has the largest support staff in the country at 23 members, followed by Clemson (22), Michigan (22), Texas (22) and Alabama (20). The survey, though, is incomplete and inaccurate.
For example, Georgia lists 33 under support staff in one section of its website and listed 51 support staff members in its spring media guide, the Athens-Banner Herald reported in a story earlier this summer.
According to the CBSSports.com story, LSU listed just 11 support staff members but did not include graduate assistants. The program's media guide, however, includes 31 under "support staff," including a strength coach and trainers.
"I'd rather see us determine a number of the guys who can actually go on the field and do the coaching and work with the kids, but I'm old school," said Larry Templeton, the former Mississippi State athletic director and a consultant with the league. "I'd have a concern about the number of administrative assistants or video whatevers, but that's the trend."
Sankey suggested that capping the size of support staffs isn't the "appropriate direction for anyone." The commissioner said the league has an idea of support staff sizes at its 14 schools, but he declined to reveal numbers during an interview session in April.
The SEC does share those numbers, he said, among conference schools.
Georgia coach Kirby Smart — as you'd expect — agreed that capping support staff sizes is not necessarily the route to go. Smart's support staff budget, as mentioned, leads the league and, likely, the nation.
"I think it's hard to pick a number," Smart said, according to the Athens-Banner Herald. "We need the support that we have. Picking a number on that, I think that's tough."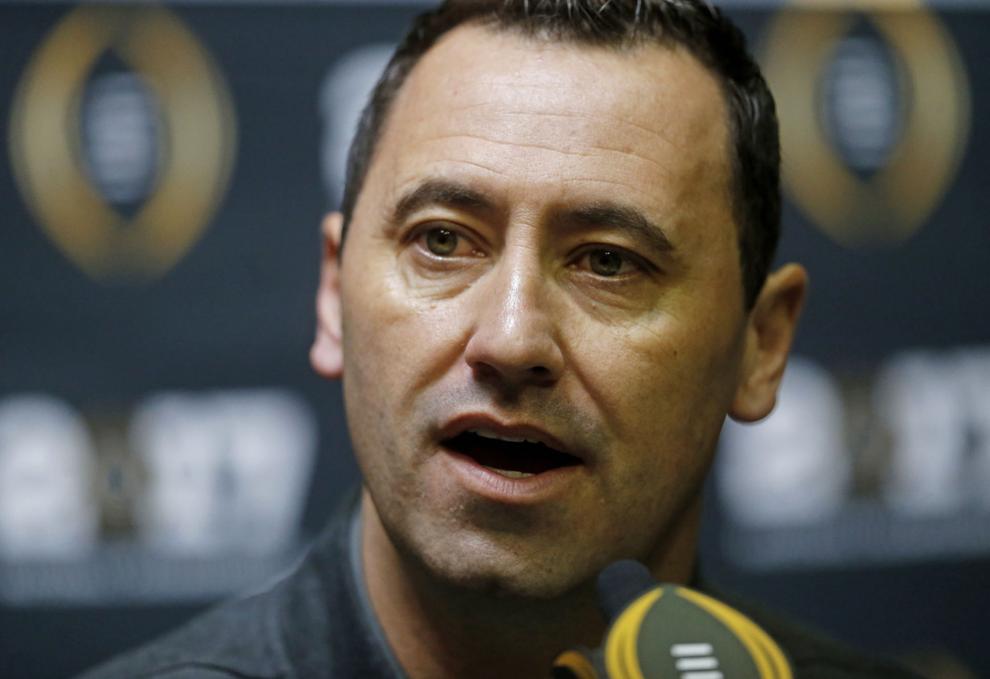 Alabama coach Nick Saban in April spent three minutes blasting those who want to see support staff's regulated or capped.
"We pay interns really, really little money, small amount of money," he said. "You'd be shocked at how cheap the labor really is, almost criminal."
Support staff members aren't always young, underpaid and overworked interns, though.
In the last year, the Crimson Tide has hired a pair of former major college assistants in Steve Sarkisian and Dan Werner. Auburn hired former major college offensive coordinator Al Borges as an analyst. LSU this offseason landed former longtime Saints special teams coordinator Greg McMahon to operate its off-field special teams unit.
Some schools aren't rich enough to hire support staff members with such big names. Kentucky coach Mark Stoops operates with the smallest support staff budget in the league.
"We're doing the very best to get up to par in all areas within the SEC," he said. "Certainly, I think if you look at personnel, yes, I would agree with you that we're far behind the rest of the league with personnel, and we're working on trying to improve and getting as much support staff as we can to help combat the guys that we compete against."
---
| | |
| --- | --- |
|  School |  Support staff pay |
|  1 Georgia |  $4,481,974 |
|  2 Alabama |  $2,949,321 |
|  3 South Carolina |  $2,886,986 |
|  4 Tennessee |  $2,823,177 |
|  5 Auburn |  $2,821,608 |
|  6 Ole Miss |  $2,664,181 |
|  7 Florida |  $2,640,975 |
|  8 Texas A&M |  $2,131,228 |
|  9 LSU |  $1,662,278 |
|  10 Mississippi State |  $1,478,330 |
|  11 Missouri |  $1,254,997 |
|  12 Arkansas |  $1,110,559 |
|  13 Kentucky |  $1,063,822 |
*Vanderbilt is a private institution and does not have to adhere to public record law.