LAROSE — The planning for this party began like so much does here in this Cajun-filled swath of south Louisiana: on a front porch, over some hot local seafood, mosquitoes swarming and spirits flowing.
Andrew Martin, a local organizer, and Mike Hillman, a former LSU quarterback, were there. They agreed to have a bash — a fais do-do, some would say here; a fête, as the French call it — celebrating the hiring of native son Ed Orgeron as LSU's football coach.
Eric Mateos turned his interim role into a full-time job.
Let the Cajuns come, they thought. Let them eat and dance. Let them see the guy who has become the most heralded person from this bayou finger of Louisiana — the one that starts with Larose and Cut Off and ends with Port Fourchon and Grand Isle, dipping into the Gulf of Mexico like a slotted spoon into a pot of jambalaya.
Martin and Hillman settled on 25 tables of about 10 people, to be held indoors at the Larose Civic Center.
"The 25 tables," Martin said while laughing Friday night, "went in a week."
More than 1,400 of Orgeron's people — that's what he calls them — filled the civic center's outdoor pavilion Friday for a soirée in his honor: the "Coach O Day Banquet."
Orgeron's closest friends, cousins, uncles and aunts, former teachers, ex-coaches and past teammates shoved into this place, gobbling up gumbo, jambalaya and bread pudding, downing beers, bourbon and red wine.
They all came for the guy they call Bébé.
Don't call him "O" or "Coach O." He's not "Ed" or "Orgeron."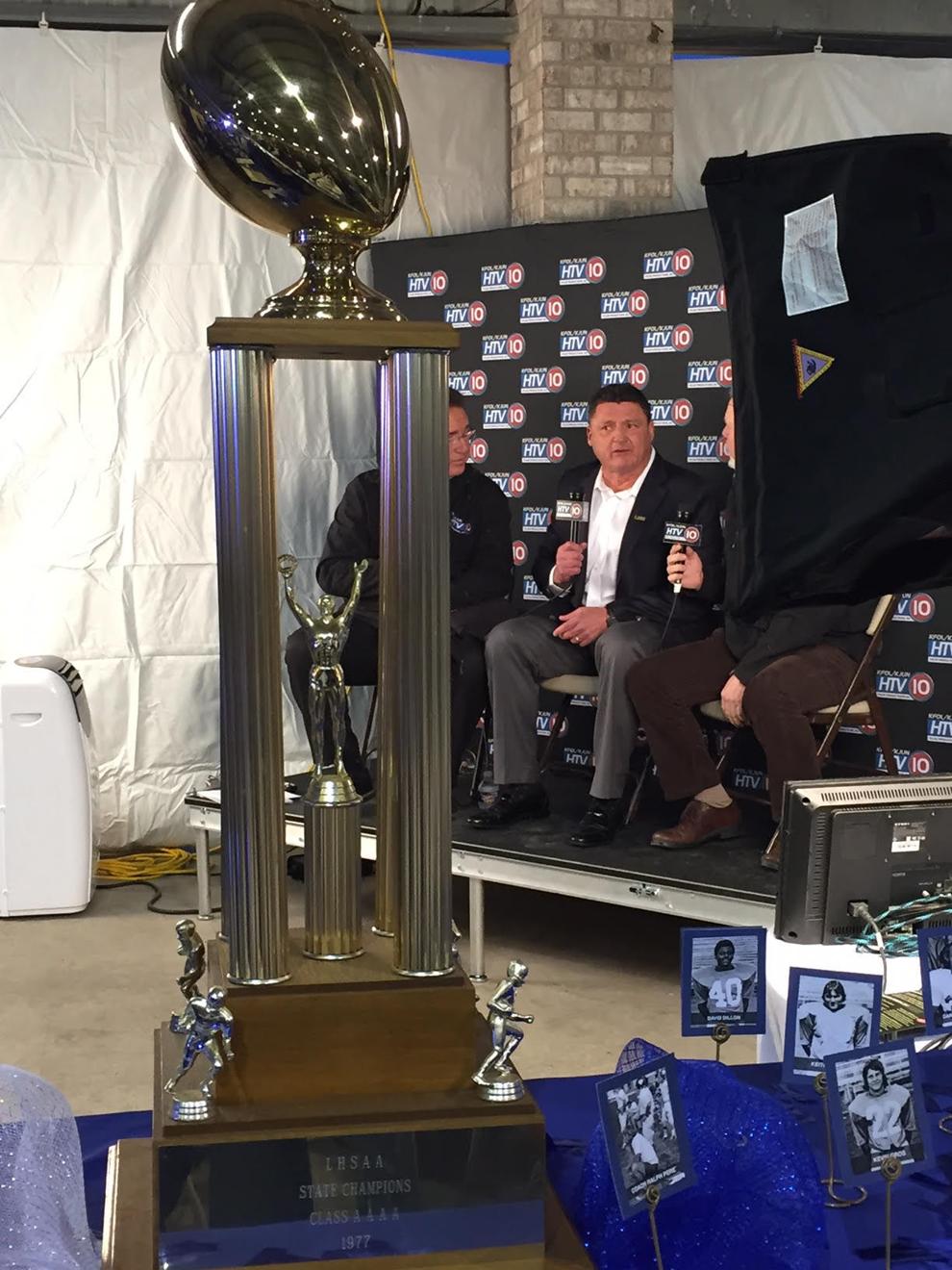 He's Bébé here, and he'll always be Bébé here.
"This is family," Orgeron said just before the event began. "I'm home."
Organizers packed 167 tables in the pavilion for what the locals called the biggest event the facility has ever hosted. The proceeds of more than $150,000 are scheduled to go to Orgeron's choice of charity.
But first you'll have to subtract the cost of food and booze, consumed by a contingent that's one-fifth the size of Larose's population.
Orgeron stood in awe as he entered, stepping into the covered facility as rain pelted the metal roof. He was in disbelief at the turnout.
"I didn't know it was going to be this magnitude," he said. "These people love me. Through all of the situations I've ever been in — good, bad, indifferent — these people always supported me."
On Friday night, they retired his high school jersey — No. 77 — and proclaimed Feb. 17 "Coach O Day."
"I'm Cajun," he said later. "I have a Cajun accent, but you know what? I'm proud of that accent, and I'm proud of these people down here."
One of their own has the big job, the leader of the state's flagship football program. And the guy who hired him sat in the crowd, too.
LSU athletic director Joe Alleva attended the event, and so did tight ends coach Steve Ensminger. WWL's Mike Detillier and Bobby Hebert were here. Former governor Edwin Edwards showed up, and so did several Louisiana lawmakers.
Tyler Taylor knows Dave Aranda is serious about him playing early as a freshman.
This event wasn't only about Orgeron. They celebrated the 40th anniversary of South Lafourche High's 1977 state championship team, a squad that ran through the Louisiana AAAA playoffs, mostly as an underdog. Orgeron was a junior offensive/defensive tackle on that squad, and Hebert quarterbacked it.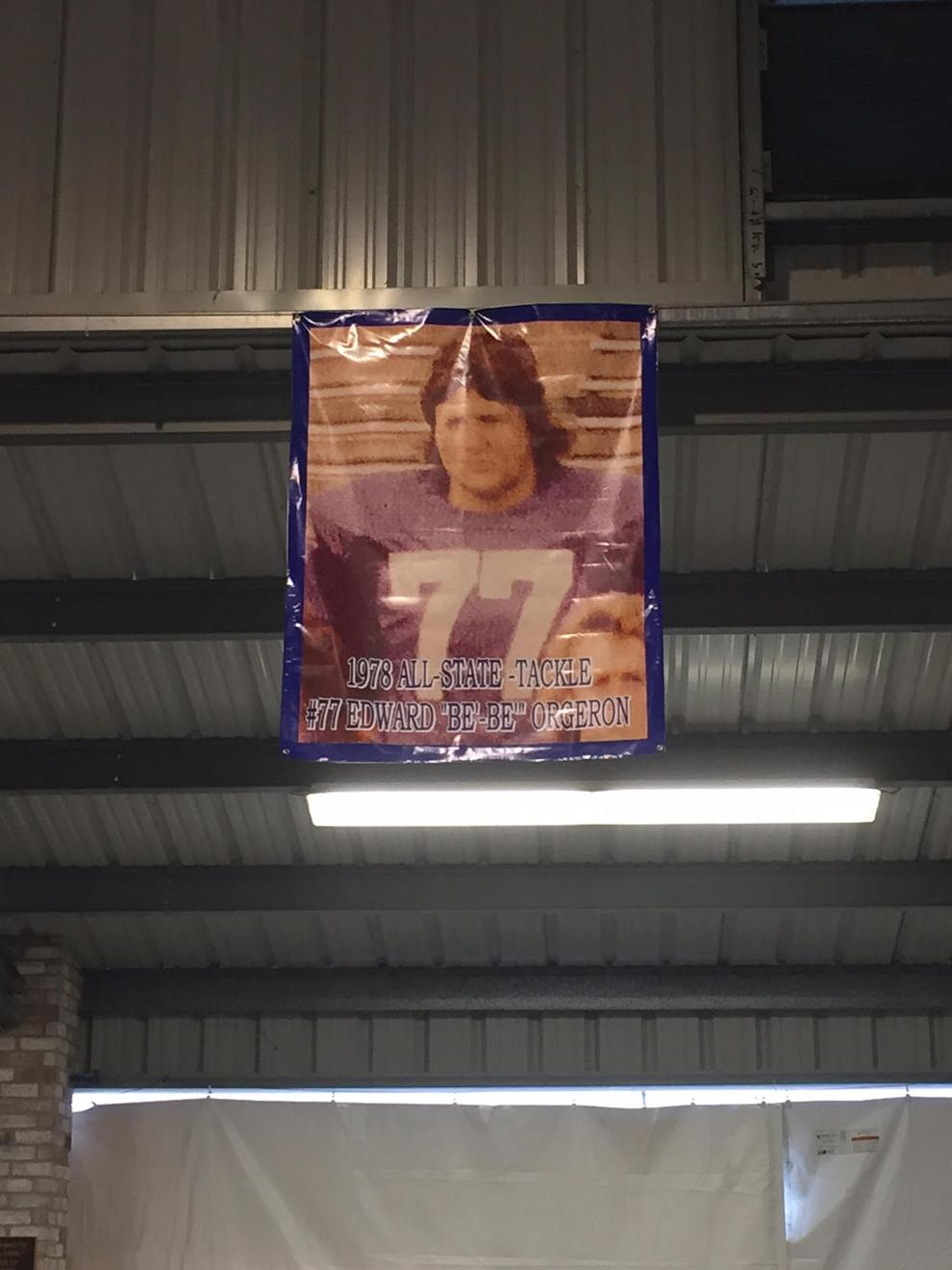 Mainly, though, they were here to see Bébé. Overhead, his face graced banners, hanging from the pavilion's metal beams. Life-sized cutouts of Orgeron greeted guests at the door, and organizers honored his later father with a photo collage.
Edward Orgeron Sr. was the original Bébé. He died about four years ago.
"He knew all of the people. As a Cajun, you get together and cook and drink, have fun and have parties. My dad would go around (doing that)," Orgeron said. "Every person here was tied to my father. We all know him, love him. We praise him."
Orgeron's mother, Coco, sat on an expansive stage with her son Friday night, overlooking those thousands of purple- and gold-clad supporters in the crowd.
They laughed, they ate, they celebrated. And they talked about LSU's archrival, too.
"I'm looking forward to the day," yelled the 89-year-old Edwards, "we beat Alabama!"
Plaquemine High defensive lineman Nelson Jenkins had known for two days that he was invited …
Outside linebacker/defensive end Travez Moore, a 6-foot-6, 250-pound former Bastrop standout…