Dwayne Thomas is fired up with good reason.
The LSU defensive back is one of four players on the team who were a member of the squads in 2012 and 2014 that lost to rival Alabama at the last second at home — a pair of just misses in a five-game losing streak to coach Nick Saban's crew.
Thomas is entering this year's clash against the Crimson Tide with a burning desire to win, and he's confident about it, too.
"I really see us dominating this offense. I really see us dominating this team," Thomas said of the top-ranked and unbeaten Tide, a team that's won seven of its eight games this year by double digits.
"This is the year," he said. "We've been letting them off the hook for the last couple of years. This is my senior year. We're going out with a bang. It's time for us to bring that win back. We're going to be at home. I feel like we have the edge to take it to them, and we're going to take it to them. I feel like we're going to dominate this game."
During this off week, the streak is burning in Baton Rouge. The five-game skid is seared in the minds of a group of players who are now battling for an interim head coach. They're brimming with confidence, too, in the midst of their "new season," as they call it.
The 19th-ranked Tigers (5-2, 3-1 Southeastern Conference) are 3-0 under Ed Orgeron heading into the Nov. 5 game against Alabama (8-0, 5-0). Ten days before the meeting in Tiger Stadium, Thomas, a fifth-year senior safety, handed the Tide motivational material to extend its longest winning streak over LSU since 1981.
"We put stuff up, too. If that helps motivate them, so be it," Thomas said. "We know what motivates us. We want that No. 1 next to their (name)."
It'll be a tough one.
Bama is a 10-point favorite in most betting circles, and the Tide thrashed LSU just a year ago — a 30-16 beatdown in Tuscaloosa and another setback in this nightmarish half-decade.
LSU hasn't beat Bama since a 9-6 overtime win in Tuscaloosa during the 2011 regular season, a game dubbed "The Game of the Century." The Tigers have been outscored 130-63 during those five games, and they averaged just 250 yards an outing against the Tide over the stretch.
LSU interim head coach Ed Orgeron and Alabama offensive coordinator Lane Kiffin normally tal…
Saban's club stormed back to win games in Tiger Stadium in 2012 and 2014. You don't have to remind LSU cornerback Tre'Davious White. He was on the field when Bama drove 55 yards on nine plays in 50 seconds to tie the game with a field goal, and then win in overtime two years ago.
"It was probably the first time I cried after losing a game in a while," White said.
"I remember we gave the game away," said defensive end Lewis Neal, watching from the sideline as the Tide drove down to lock the score at 13.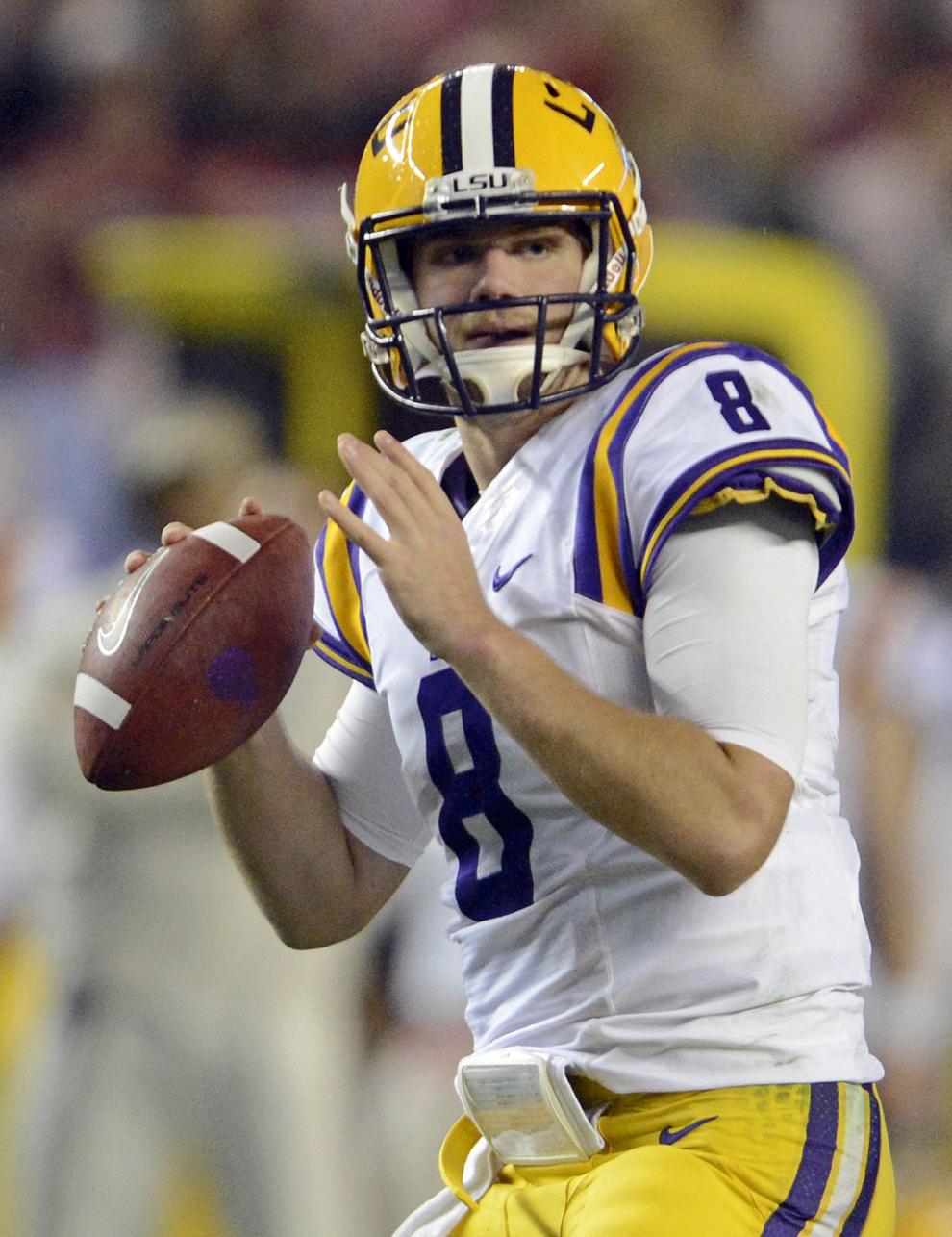 No one on LSU's current team has beaten Alabama. Thomas, outside linebacker Corey Thompson, kicker Colby Delahoussaye and receiver Travin Dural are the only ones left who were on the team in 2012.
Bama stunned another Tiger Stadium crowd that night. AJ McCarron connected on a 28-yard screen pass to running back T.J. Yeldon with 51 seconds left for a touchdown that lifted the Tide over the Tigers. It came 10 months after the berth of the skid, the 21-0 defeat in the BCS national title game in New Orleans.
"I was being recruited then," White said of the 2012 clash in Tiger Stadium. "I was here. They hit the running back out of the backfield."
Thomas was rotating into that game with other defensive backs, trying to slow Bama on that final-minute march.
"They won with a screen at the end," he said. "I remember like the back of my hand. Heartbreaking for us."
In the 2014 game, Delahoussaye made a 39-yard field goal with 50 seconds left. Trent Domingue kicked the ensuing kickoff out of bounds, giving Alabama field position at its own 35-yard line.
"We don't kick that ball out of bounds, we win that game also," Thomas said.
Ed Orgeron stood in front of a couple of hundred eager faces Tuesday at the New Orleans Quar…
Is this the year? Thomas says so. He's far from the only confident one on LSU's team. Maybe it's the Tide's 48-43 win over Ole Miss that has their spirits so high. Or that LSU's defense has allowed eight touchdowns in seven games, the fewest nationally.
On Tuesday while speaking in New Orleans, Orgeron said, "Ole Miss put up 43 on them. They're not invincible."
"I've never beaten Bama," center Ethan Pocic said when asked about the game. "I'm looking forward to it."
Thomas hasn't ever won either. That will change, he said.
"We're not going to be the only senior class not to beat Alabama," Thomas said. "I feel confident in this game. We know we have our shot. We need to get back and put banners on these walls."
THE STREAK
LSU has not beaten Alabama in five years, dating back to the 9-6 overtime win in Tuscaloosa in 2011. The Tide's string of five consecutive victories began with the 21-0 win in the BCS national title game.
| | | |
| --- | --- | --- |
|  Year |  Score |  Location |
|  2011 |  21-0 |  New Orleans (BCS title) |
|  2012 |  21-17 |  Baton Rouge |
|  2013 |  38-17 |  Tuscaloosa |
|  2014 |  20-13 (OT) |  Baton Rouge |
|  2015 |  30-16 |  Tuscaloosa |
The Crimson Tide has dominated in cumulative statistics over those five games.
 Team

 Points

 Total

 YPG

 Rush

 YPG

 Pass

 YPG

 TOs

 3rd down  conversion

 Sacks

 1st downs

 Bama

 130

 367

 173

 194

 4

 43%

 15

 107

 LSU

 63

 250

 91

 158

 6

 40%

 8

 72