SHREVEPORT — It is dark.
Terrace Marshall wants the light that way. He buries himself under his blankets, shielding all light as he settles in for a nap at 6:45 p.m. on a recent evening from within his new LSU dormitory room.
His phone buzzes. His mother — of course, his mother — is on the line. She is requesting a FaceTime session — of course, she is requesting a FaceTime session.
"He was under the covers, and he was wore out," laughs Meoshia Brazzle, Terrace's mother, the FaceTiming queen who misses her first born so much that she's contemplating an eventual move to Baton Rouge from the family's home in Shreveport. "I was asking him questions. He was like, 'Momma, I don't have the time or energy.' "
Not after another one of these days. There is no offseason here, or at any other major college football program. For mid-year enrollees like Terrace, Januarys and Februarys are the rudest of awakenings — from early-morning college classes to muscle-busting weight-room sessions, from tiresome agility drills to late-night study halls.
In just three short weeks, says his father, Terrace Sr., college has been "humbling" for this former high school star, at one point the top-ranked receiver prospect in the nation.
Rankings here, now, they mean little.
Says Brazzle: "It's different from high school."
But in high school, and before high school, that's where Terrace Marshall became Terrace Marshall. That's where he developed into the top player in Louisiana, the No. 1 wideout in the land running circles (currently ranked third nationally by 247Sports.com), in a real way, around defensive backs as Parkway High's 6-foot-3, 205-pound golden boy.
That all happened way before he scribbled his name on a National Letter of Intent in December to join a gaggle of recent LSU five-star signees like JaCoby Stevens (2017), Rashard Lawrence (2016), Kevin Toliver (2015) and Leonard Fournette (2014).
There is much to tell about those days before he secured his trip to Baton Rouge. 
There was the time when he was close to committing to Texas A&M. Like when Aggies coach Jimbo Fisher visited his mother's workplace, reclining in a chair in her office. Or that time when Fisher, decked in a suit, ate fried chicken from the floor of the barber shop Terrace's father owns.
"When Jimbo left, I thought they had him," Terrace Sr. admits.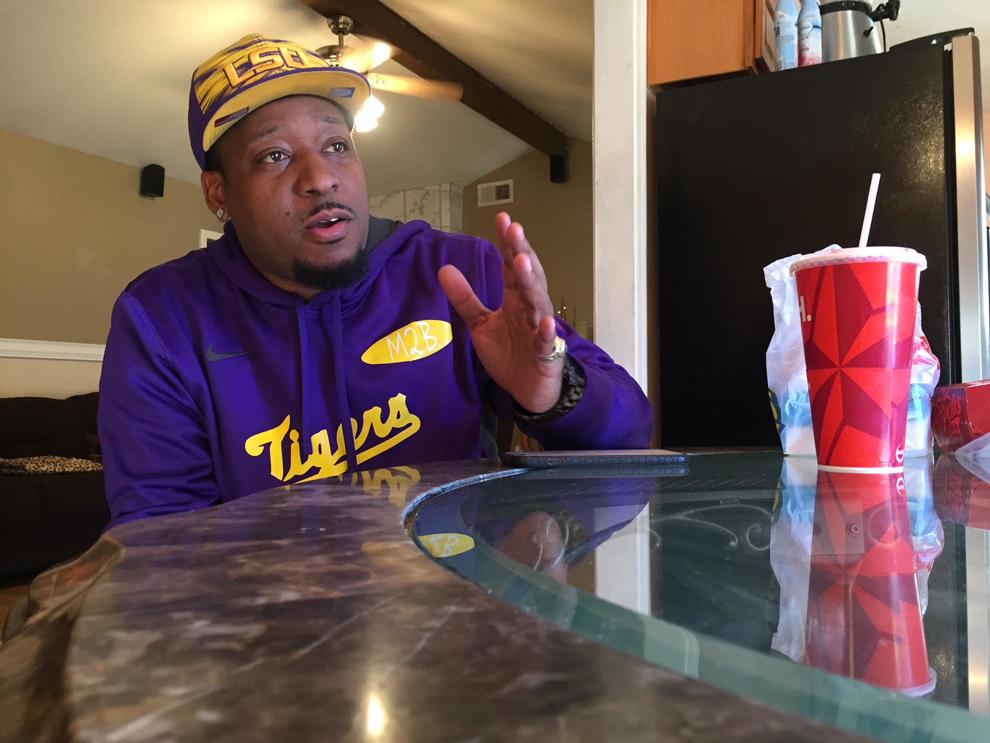 There were the times when Terrace cried. Like when his grandfather died ahead of his sophomore season and when his grandmother died ahead of his junior season.
There was that time when Terrace cried again. Like when he dislocated his ankle and fractured a leg bone six quarters into a highly anticipated senior season, ruining the end of his high school career. And when he broke his shin before his freshman year in 2014, ruining the start of his high school career.
There was the time Terrace trudged on despite exhaustion. Like when his father and he drove from basketball practice to the fields of North Woods High to run routes, flip tires and pull parachutes. Or when he forced himself out of bed at 4:45 a.m. each morning for a workout, before returning home to shower and then attending classes.
There was the time Terrace spoke to God. Like when he and his pastor prayed for hours together about his college choice before, there in a dream, he saw himself playing in the purple and gold, his dad says, two nights before the long-standing date to pick a school.
There is this time now, when LSU's staff has anointed him as an immediate impact player in 2018, a 17-year-old rookie — he turns 18 in June — who believes he's the solution to fix the Tigers' passing problems.
"He believes he's the one to change that, that he'll be the guy to change that," says Lawann Latson, a former college receiver who served as Terrace's personal coach the past two years. "He thinks he's the missing piece of the puzzle."
The rich got richer in the Southeastern Conference again last year … but only by a little bit.
Total package
Little Terrace Marshall could not catch.
"He short-armed everything," sayd Gary Bailey, one of Terrace's little league coaches.
After his first year of tackle football at age 8, the grownups in his life figured out why: He needed prescription eye glasses.
"He had glasses the next season," laughs Paul Little, Terrace's other little league coach.
Gary and Paul coached Terrace from age 8 to 12 on the Evangel Eagles, a juggernaut of a peewee team that played in five club championship games in five years, winning two of those. Also on the team: current Evangel safety and one-time LSU commitment ArDarius Washington and Terrace's passing mate at Parkway, quarterback Justin Rogers, a Texas Christian signee.
The team was "loaded," the coaches say, each reminiscing on this Wednesday evening from the jewelry store they co-own in Bossier City: Bailey's Fine Jewelers.
Six years after his final little league championship and a decade after getting spectacles, Terrace has evolved into a receiver who encompasses the "total package," says Latson, a guy who knows about these sorts of things. Latson, a former Northwestern State receiver who now coaches on the junior college level in Kansas, is Marshall's latest tutor.
Latson provided the "icing on the cake," Terrace Sr. says, for his son. The two focused primarily on improving his release to combat the physical nature of Southeastern Conference cornerbacks. Latson did some of the same work with Louisiana Tech products Troy Edwards and Trent Taylor. Edwards, 5-10, won the 1998 Biletnikoff Award, an honor bestowed on college football's best wideout. Taylor, 5-9, was a 2016 semifinalist.
"What reminds me of them is, Terrace, while a big receiver, has little-guy tendencies," Latson says. "It's rare you find a guy as big to have the shiftiness and acceleration of a 5-9 guy. That's what makes him Terrace Marshall. He's like a gazelle on the field. He's way faster than what people think."
David Feaster sees the same. He coached Terrace at Parkway up until his senior season. He acknowledges to having the regret of not playing Terrace more as a freshman after the receiver exploded for more than 1,300 yards as a sophomore and 1,200 as a junior. He scored a combined 29 touchdowns.
Four of those came in a 69-54 win over Texas-based Lufkin High his junior year. Marshall finished that game with 233 yards receiving and a yards-per-catch of 38.8 yards, a record in the yearly Battle on the Border game
"He's so tall and can catch the ball anywhere and can run away from people," Feaster says. "It's hard to match that. Most guys 6-foot-3 can't run as fast as he can run. It's a deadly combination."
Terrace has the height to make the leaping grab on a jump ball or the back shoulder fade, a birthright of his. His father is the shortest of Linda Marshall's four boys: He's 6-1.
His speed — he was timed at 4.51 in the 40-yard dash last year — gives him the ability to outrun a cornerback on a slant-and-go route, his most effective high school pattern. Finally, coaches say, he's elusive enough that one of his best plays in high school was a bubble or smoke receiver screen.
"The thing that's going to shock people is how shifty he is," Latson says.
College recruiters passing through Parkway, more than anything, raved to Feaster about Terrace's "catch radius," the coach said. Throw it anywhere within his reach, they told Feaster, and he catches it. Terrace is a hands-ball receiver, choosing to use the tips of his fingers and those soft palms — not his body frame — to catch passes.
Those days of dropping passes as a far-sighted 8-year-old are over.
"I've been saying it for two years," Latson says, "he'll be the best college receiver in football this year."
Dave Aranda's spurning of Texas A&M wasn't all about money.
Meant 2 Be
Terrace Marshall Sr. first told his son the story of former NFL running back Joe Delaney when he was 8-years old.
Delaney was Terrace's great uncle — a son to Terrace's grandmother on his mom's side. The Delaney family is from Haughton, a small town just east of Shreveport. Joe Delaney starred at Haughton High, then shined at Northwestern State and was selected in the second round of the 1981 NFL draft. His final year in Natchitoches overlapped with LSU coach Ed Orgeron's first year there.
Delaney burst onto the scene as the AFC's Rookie of the Year in 1981, averaging nearly 5 yards per carry and leading the Kansas City Chiefs to their first winning record in nearly a decade.
Less than two years later, while at a festival in Monroe in June of 1983, the 5-foot-10 man drowned at the bottom of a 6-foot deep pond while trying to save three drowning boys. He never learned how to swim.
One of the boys survived.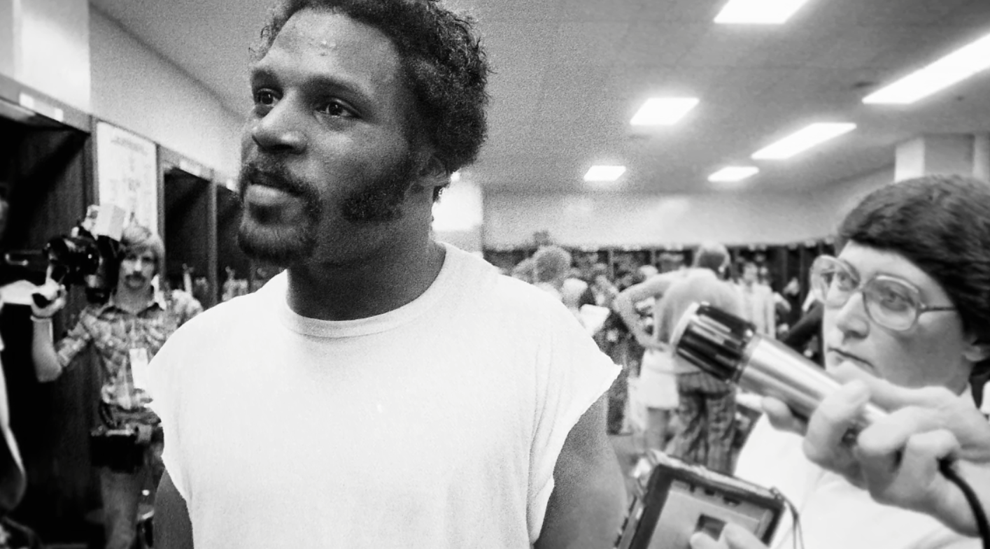 Delaney's heroics, his warm personality and football talents are still remembered around this place — and beyond. While not officially retired, his jersey number (37) in Kansas City has not been worn since his death, and his name is part of the Chiefs' ring of honor at Arrowhead Stadium. He was posthumously awarded the Presidential Citizen's Medal. He is enshrined in both the College Football Hall of Fame and the Louisiana Sports Hall of Fame. The Joe Delaney Memorial Leadership award is given to Northwestern State's permanent team captains, and a memorial of him sits underneath the west grandstand of the program's Harry Turpin Stadium.
Terrace Marshall Sr. has adopted the story as a spiritual flashlight for his son's football and life journey. For instance, Terrace Jr. wore jersey No. 37 while playing in little league in honor of Delaney.
The family created a motto for Terrace Jr.'s football playing career, all of it tied to Delaney: "M2B."
"Meant to be!" Brazzle says, explaining the acronym. "It is meant to be."
To watch Terrace play football, family and friends outfit themselves in custom-made apparel emblazoned with "M2B." In fact, the family is in the process of branding the logo, Brazzle and Terrace Sr. say.
"God gave me the vision that he can follow in the footsteps of Joe," Terrace Sr. says. "God showed me he was going to follow the path. I found out about his uncle and then we saw (Terrace Jr.) run. I knew he could have the same type of talent."
So dad pushed son — when he could. Work at the barber shop often kept him away from some little league events. His coaches, Paul Little and Gary Bailey, drove Terrace Jr. to his dad's shop after games.
"It killed him not to be there sometimes," Bailey said.
"He was working trying to make money," said Little.
Terrace Sr. was tough on his son about football. One day during a game, Terrace Jr. dropped a pass. Father says son still talks about the stare that followed.
"He didn't drop anymore after that," a smiling father says.
"He was so hard on him," says Linda Marshall, Terrace Sr.'s mother. "It used to bother me a lot, but now I'm thankful."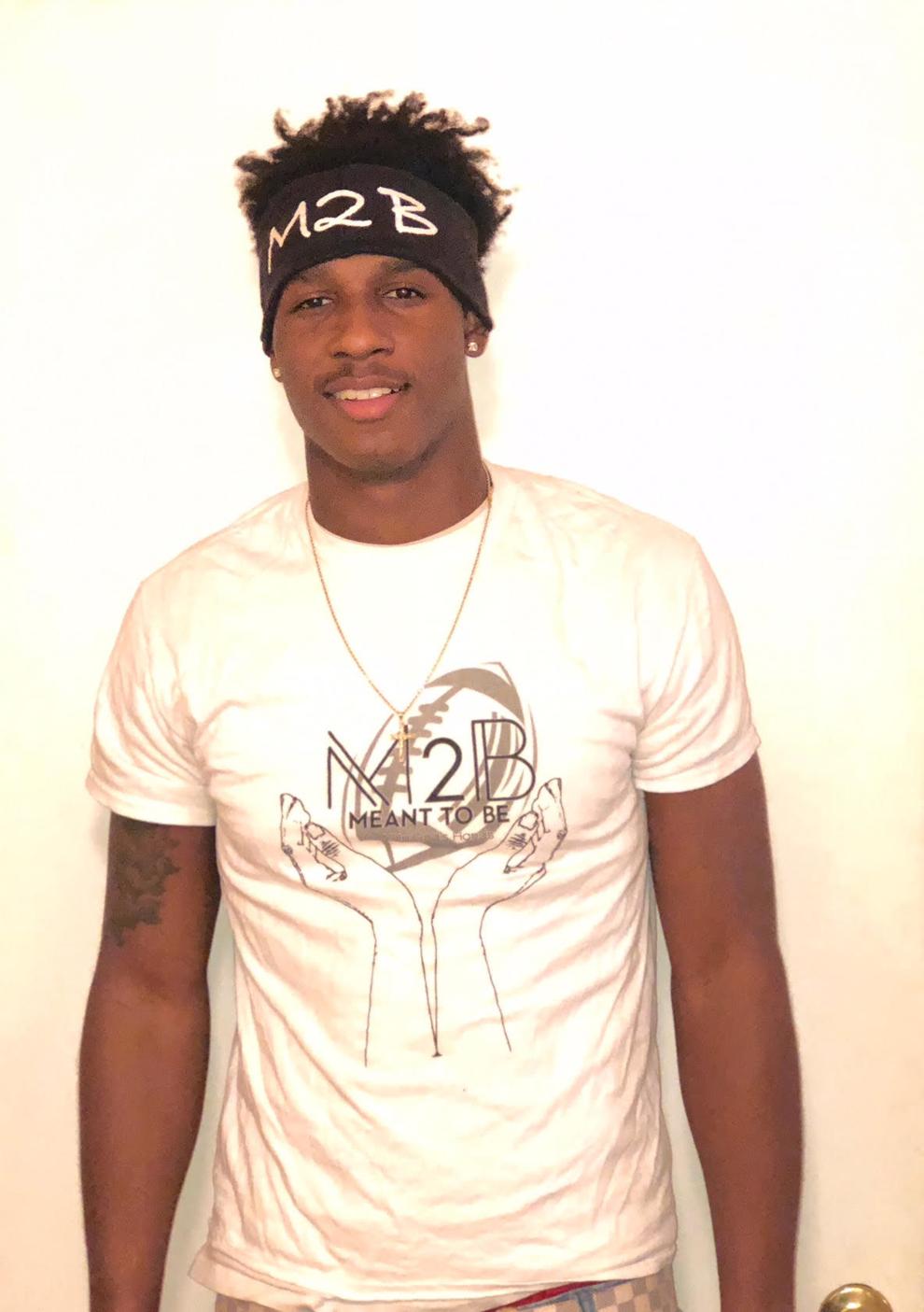 Joe Delaney wasn't the only football-playing member of the family with that last name.
Alja Delaney, a running back and safety out of Haughton and Joe's cousin, signed with LSU in 1994. He did not finish at the school, Terrace Sr. said.
It is his son's chance now.
"Joe gave up his life for those boys," Terrace Sr. said. "Somebody has to be there to grab that rope and take the place of where he would have been."
Déjà vu
Bailey's Fine Jewelry sits on Texas Street, just off I-20 in a bustling part of Bossier City.
A jewelry shop is not often the gathering place for two high school football players. For Terrace Marshall Jr. and Justin Rogers, it was.
"They'd come in and just talk with us," Paul Little says.
The two longtime friends and high school teammates dropped into the store one day before their highly anticipated season began. This was the season for Parkway, Gary Bailey said. It was their time. The Panthers possessed the state's top-ranked quarterback and top-ranked receiver following an 11-win year.
These two guys had a rapport dating back to that Evangel Eagles little league squad. They rose up the ranks trading passes, all of it culminating into this season.
The conversation that day at the jewelry shop evolved into warnings from the two little league coaches to the boys: You've got to protect yourself from injury, they told them.
"Justin even said, 'We're good. Been working on the slide,' " Bailey said.
In the season opener, while running a speed-option play, Rogers tore the anterior cruciate ligament in his knee. In the second quarter of Game 2, Terrace's ankle snapped and became dislocated in a gruesome moment that sideline cameras caught.
Two season-ending injuries a week apart to two of the state's best players had its effect. Parkway finished 5-6.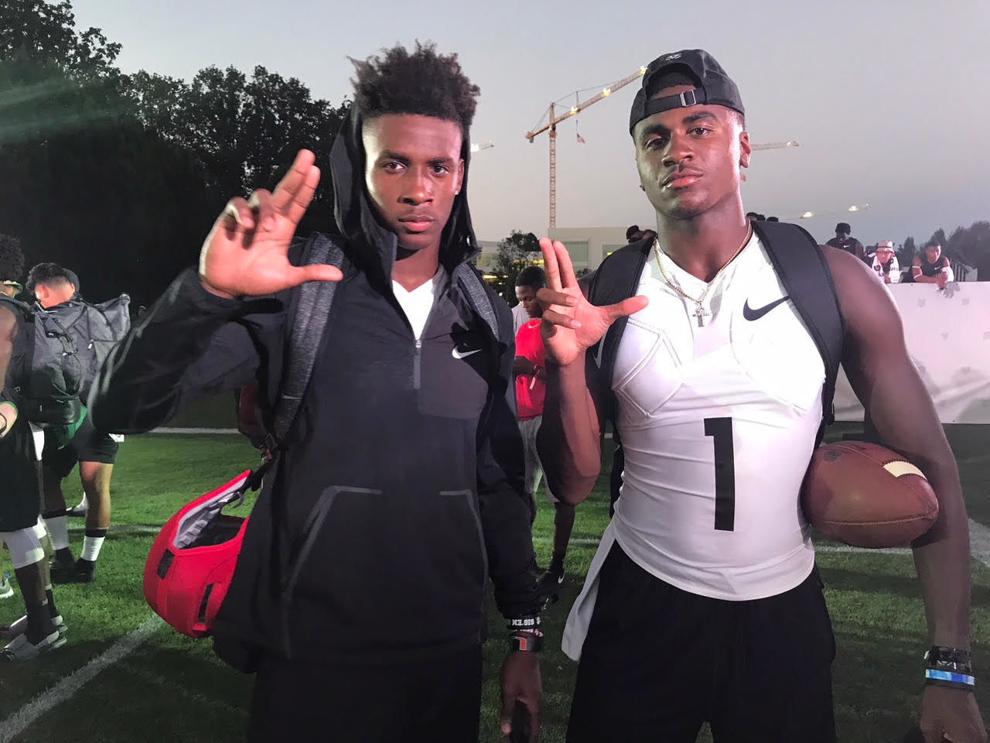 The same doctor that operated on Rogers performed surgery that night on Terrace Jr. Both players shared the same recovery room, a week apart, and Terrace was eventually moved to the same hospital room in which Justin occupied the previous week.
"Déjà vu," Meoshia Brazzle says. "It was crazy."
The situation highlighted just how close the boys are. Ironically, both of them will open their college careers in the metro area of Dallas. TCU opens at home against Southern on Sept. 1, the first full Saturday of the college season. LSU meets Miami in AT&T Stadium in Arlington on Sunday night.
The Marshall family and the boys' little league coaches will attend Rogers' game before watching the Tigers.
"They wanted to stay together in college, but they told each other, 'We have to do what's best for us,'" Brazzle says. "One was needed over here and the other needed over here."
Terrace Jr. is needed at LSU. He was needed everyone, in a way, and other SEC schools made their run — namely the Aggies.
A member of Texas A&M's former staff under Kevin Sumlin, in fact, sent Terrace Sr. a text message after LSU's win over Ole Miss last season. In the message was LSU's offensive stats, one of them highlighted: receptions by receivers.
"Zero," Terrace Sr. said. "No receivers caught a pass in the game."
At LSU, the receiver position, while numerically in good standing, is low on production. There are opportunities. For a second straight season, the team's top two receivers (DJ Chark and Russell Gage) won't return.
The eight returning receivers combine for 38 career catches, excluding Texas Tech transfer Jonathan Giles. The door is very much open in an offense the Marshall family believes will look much different than in years past.
They expect new coordinator Steve Ensminger to play a West Coast-style of attack, one that operates mostly out of a three-receiver, single-back set and leans on the pass, Latson and Terrace Sr. say. Ensminger's promotion to offensive coordinator was the "answer" to his son's "prayers," Terrace Sr. says.
Ensminger was the closest coach to the family, LSU's longest-tenured assistant who has held the responsibility of manning the Shreveport recruiting area since 2010. The family knew of the impending post-bowl parting of former coordinator Matt Canada before Terrace Jr. signed Dec. 22.
"We knew," Terrace Sr. said. "Coach O told me, 'If we don't have Coach Canada, Coach E is the man.' Coach E has seen Terrace more than anybody. He knows exactly what he can do."
Terrace Jr. is at about 90 percent of the way back from his ankle injury, Latson says the receiver told him recently. Strength staff members are limiting Terrace's training to allow the injury to recover fully ahead of the start of spring practice, about six weeks away.
He's itching to get on the field, family and friends say. After all, it's been a while.
"He missed his whole senior season," Brazzle says. "I believe he has a chip on his shoulder, and he's ready to get it off."
The Tigers athletics programs underwent two major coaching changes over the course of the year, but still finished well in the black, accordin…
Jorge Munoz, a longtime college receivers coach who spent the past 10 years at Louisiana-Lafayette, is joining the LSU staff as an analyst, a …