LSU officials are in the final stages of settlement negotiations with outgoing offensive coordinator Matt Canada's representatives, weighing options on the split with the embattled assistant, multiple sources confirmed to The Advocate.
Canada's fate at LSU has been determined: He will not return to the program next season, something expected and widely reported before the Citrus Bowl earlier this week.
The nature of the separation and its legal standing are being reviewed by university leaders, and a final outcome is expected by the end of the weekend. Officials on both sides – the university and Canada's agent, Pete Roussel – are in deliberations regarding the hefty buyout tied to Canada's contract.
Can't see video below? Click here.
The highest paid offensive coordinator in college football last year, Canada signed a three-year deal in December of 2016 paying him $1.5 million in salary. The school owes him about $3.3 million to buy out the final two years of the deal. The program can pay the $3.3 million in monthly installments over the life of the contract, through 2020. The amount is mitigated with any future salary Canada receives from another job.
The 45-year-old Indiana native is actively pursuing other jobs, something the LSU football program insisted he do at some point in mid-December. He is currently a candidate at a handful of schools. 
Canada did not return a call for comment.
Canada's split with LSU stems from his relationship with head coach Ed Orgeron. Details of their differences have not been revealed. Over the season, Orgeron has, at times, expressed a disappointment and frustration in his offense. 
Privately, the two have an icy relationship and seldom speak to one another, those close to the men say. The frustrations boiled over in LSU's 24-21 loss to Troy at home, a game resulting in a meeting that included Orgeron, athletic director Joe Alleva and both coordinators.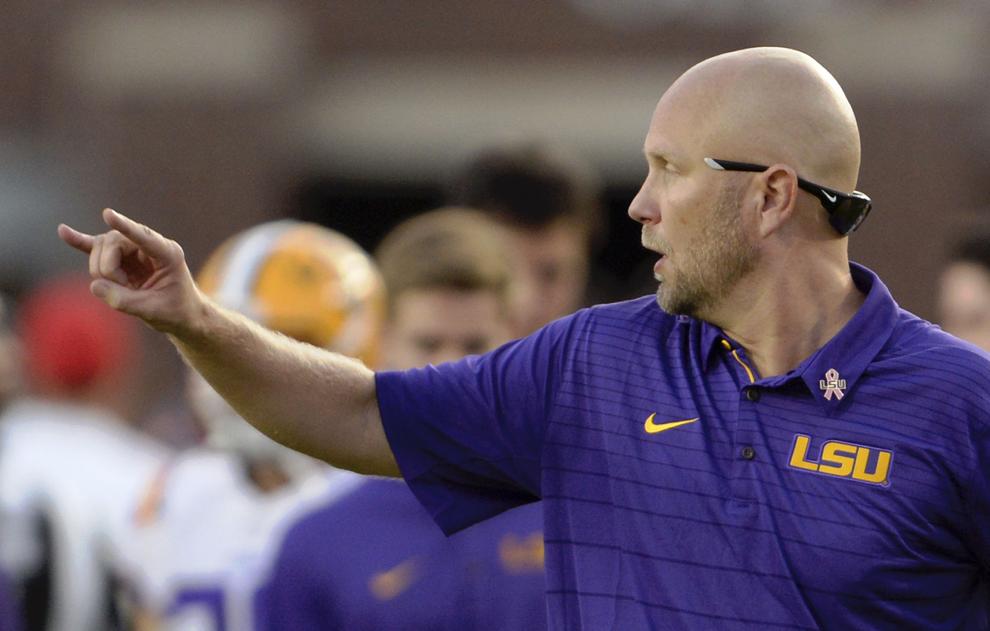 At some point in December, LSU officials informed representatives for Canada that he should search for another job and discussed potential settlements for his hefty contract. Those are now in the last stages.
How the Tigers will replace Canada is not quite clear, and his departure is somewhat of a blow to the early tenure of Orgeron. The Cajun coach plucked Canada from Pittsburgh, his first significant staff hire upon receiving the permanent job last year, bringing in a Midwesterner with a unique offense built around presnap movement and the jet sweep motion.
Orgeron has made clear that he wants an offense like the one Southern Cal ran in the early 2000s, a balanced scheme that spread around the ball but leaned on the run. Thought to be the favorite is longtime assistant Steve Ensminger, something Orgeron revealed himself during a news conference after the regular season finale against Texas A&M.
"I have in mind what we want on offense also. I've been at some pretty good schools, pretty good offenses," Orgeron said when asked if he'd continue running Canada's scheme if he were to leave. "If people leave, we have guys like (tight ends coach) Steve Ensminger who I'd highly consider. Done a great job for us last year."
Ensminger, 59, served as the Tigers interim offensive coordinator when the school parted with coach Les Miles and offensive coordinator Cam Cameron four games into the 2016 season. Ensminger's interest in the permanent job is not clear. After last season, he revealed that Orgeron had to convince him to take the interim coordinator role. 
Ensminger, a Baton Rouge native and former LSU quarterback, has not served as a full-time, permanent offensive coordinator since the late 1990s at Clemson. He's had stops as a coordinator at Texas A&M and Georgia, and he spent his early years at Nicholls State, McNeese State and Louisiana Tech.
Jerry Sullivan, the 73-year-old longtime NFL receivers coach who served as a consultant last season, could have a more significant role in the offense, too. Orgeron greatly respects Sullivan, lauding his work with receivers coach Mickey Joseph in 2017.
Sullivan was an offensive coordinator for one year, in 2003 for the Arizona Cardinals. He's mostly spent time as a receivers coach on the pro level, with stops at the Jaguars, 49ers and Dolphins. He coached receivers at LSU from 1984-90.
The off-the-field battle between Southeastern Conference rivals Texas A&M and LSU over Dave Aranda has ended.
The Tigers would likely hire another offensive assistant no matter what. How the staff will be organized, as far as titles and duties, is not clear. Counting Ensminger's interim role, LSU's new offensive coordinator would be the eighth since coach Nick Saban left in 2004.
This hire is more crucial than most.
LSU's offense has been a long-standing lightning rod for criticism, specifically its passing game. For instance, the program has not ranked in the top 40 in passing offense in the previous 11 seasons and its finish of 84th this season is actually a significant improvement from the past three years.
The hire is so paramount because of the plan in hiring Orgeron, a former defensive line coach who has never been a coordinator.
He was hired full time under the belief that he'd serve as a recruiter and motivator, leaving many of the Xs and Os to two top coordinators. He even took a smaller salary than many Southeastern Conference head coaches to allow for LSU to spend on its top two assistants. No program in the nation paid more for its coordinators ($3.3 million) than the Tigers last year.
On Wednesday, the school agreed to a new four-year, $10 million ($2.5 a year) deal with defensive coordinator Dave Aranda, who was in serious talk with Texas A&M. Other non-monetary agreements with Aranda were not made clear, but the Tigers do have an open assistant coaching position on the defensive side as well — something Aranda will likely have control over.
Taking stock of LSU football is rarely an exercise in simplicity.
As for Canada, he has a track record of short stays and similar riffs.
LSU was his fifth school in the past seven seasons, including Pitt (2016), N.C. State (2013-15), Wisconsin (2012) and Northern Illinois (2011). At Wisconsin, he and then-head coach Bret Bielema were engrossed in a power struggle over control of the offense, according to a story published in the Wisconsin State Journal in 2012.
Canada "put his foot down" to Bielema late in the 2012 season, according to the story. His offense followed with one of its most productive outings, rolling up 640 yards in a 71-30 win over Nebraska in the Big Ten championship game. Bielema did not take Canada with him when leaving for Arkansas after that season.
After his second season at N.C.State in 2014, Canada signed a new three-year contract paying him $560,000 per year. Wolfpack coach Dave Doeren fired Canada a year later, a move that stunned Canada, he's said in the past.
At LSU, a disconnect between Canada and Orgeron appeared to develop about a month into the season, around the time the head coach admitted to removing the presnap movements in the first half of the Troy game. The team returned to Canada's presnap movement in the second half, rallying but falling short in the first home non-conference loss in 17 years.
During his first interview with reporters since August, Canada last week hinted at the internal fight between he and Orgeron. A reporter asked Canada if he felt like he controlled his offense this season.
"Yes," he responded.
Another reported followed asking, "All year?"
Canada sat mum, non-verbally declining to answer. To a question about he and Orgeron's relationship, Canada said, "Coach O and I have the same goal – we just want to win."
Pressed about their relationship, he said, "That's our relationship – we just want to win."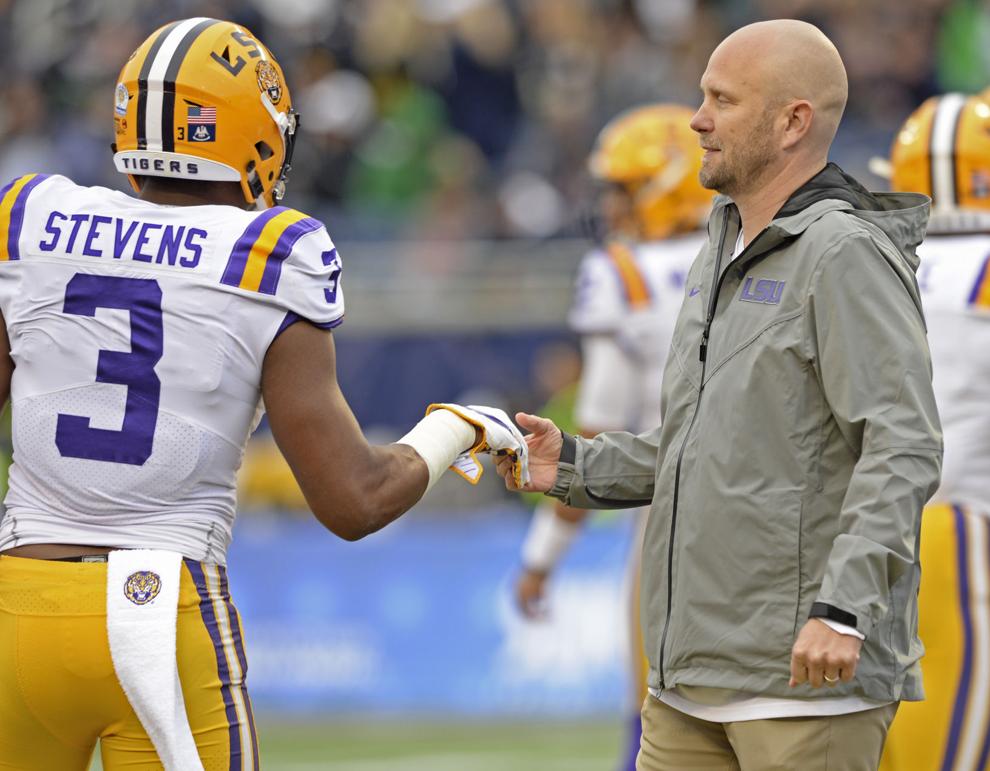 Canada's 2017 offense produced its share of highs and lows.
The Tigers scored at least 27 points in eight of 13 games, and they controlled the ball in a 17-16 win at Florida and were inches away from completing pivotal, long passes in a 24-10 loss at Alabama. 
Red zone problems bit the Tigers, and they cost the team in the loss to the Irish in Orlando. LSU ran 14 plays in the Notre Dame red zone, including six from at or inside the 3-yard line, and scored just two touchdowns.
They were 68th nationally scoring touchdowns on 61.11 percent of their trips in the red zone and 103rd in overall scoring percentage inside the 20 — much of that because of 11 missed field goal attempts.
The Tigers finished 53rd in total offense, 28th in rushing and 76th in scoring in a season in which they consistently played two true freshmen on the offensive line. Along with that, a knee injury suffered in camp hampered star running back Derrius Guice for the first half of the season.
---
OC HISTORY
LSU's next offensive coordinator will be its eighth since the Nick Saban era ended.
Year

Total offense

Pass/run

Offensive coordinator

2005

60th

55th/52nd

Jimbo Fisher

2006

11th

18th/31st

2007

60th

55th/52nd

Gary Crowton

2008

55th

71st/43rd

2009

112th

97th/90th

2010

86th

107th/27th

2011

86th

106th/22nd

Greg Studrawa

2012

87th

94th/52nd

2013

35th

45th/29th

Cam Cameron

2014

80th

116th/25th

2015

39th

106th/7th

2016

59th

101st/21st

Cameron/Ensminger

2017

54th

84th/28th

Matt Canada
---
LSU was determined not to let Dave Aranda get away when Texas A&M came calling.