Lowell Narcisse is getting a workout this week.
Narcisse, according to observations at practice, is serving as LSU's scout team quarterback. The freshman is operating the opponent's offense, and the opponent's offense this week is a fast one – a very, very fast one.
Among teams that have played three games, Syracuse has run more plays (265) than all but three Football Bowl Subdivision squads. The Orange last season ran more plays among those playing 12 games than three teams. Cuse averaged 81 plays a game.
To gauge just how quick-paced that is, take LSU's plays-per-game average from a year ago: 63.
"These guys will run plays at a fast pace," coach Ed Orgeron said, "will be very challenging for our defense."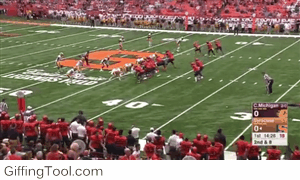 This isn't the first time the Tigers have faced such a no-huddle, up-tempo scheme. Orgeron and defenders compare Syracuse's scheme to the one they met last season in Orgeron's first game as interim coach: Missouri. LSU won that game 42-7, holding Missouri to 265 yards of offense on 60 plays.
What's the secret to stopping this quick-paced system?
"You want to get them in long situations, don't want them to get that momentum and keep going because once they do, they're going to get on a roll," defensive end Christian LaCouture said. "You got to get negative plays, incomplete passes, tackles for loss. It will slow them down, but if they get on a roll, they're going to keep going, going, going and get you tired."
The Mississippis have swapped places on LSU's football schedule - for at least one year.
The Tigers starting defense this week is practicing against two scout team offenses, running in and out of the game simultaneously — an effort to get accustomed to the fast tempo.
Syracuse's scheme isn't all that dissimilar to the one Mississippi State used last week. Sure, the Orange's tempo is faster and SU passes the ball more, but the Bulldogs operated a shotgun-based, spread offense with a dual-threat quarterback. So does Syracuse.
QB Eric Dungey leads the team in passing and rushing, and he uses the same zone-read plays that State QB Nick Fitzgerald did in a 37-7 last Saturday. The Orange, like the Bulldogs, has run-pass option plays as part of its offense, too.
Containing the outside run is imperative for a second straight week. Defensive coordinator Dave Aranda's unit failed in that in Starkville, Mississippi, allowing State to average nearly 9 yards a carry on runs outside of the tackles – many of those off the zone-read, either QB keepers or handoffs to the running back.
"We didn't set the edge strong enough," inside linebacker Devin White said of last week. "We knew to set the edge, but we were getting cut (blocked) a lot. When you get cut, the quarterback bounces it and you give up a big play. You set the edge and make him come back, then one of us makes the tackle. We didn't do a good enough job of that."
There was plenty the LSU defense needed to examine when the team met for the first time sinc…