Lloyd Cushenberry popped Madden 20 into the Xbox One and chose to play with the Arizona Cardinals.
LSU's starting center knows that's one of the few teams in the NFL that use run-pass option plays, the much-anticipated offensive scheme the Tigers will debut against Georgia Southern at 6:30 p.m. Saturday.
Cushenberry averages about 35 points per game with the Cardinals, and he likes to think he's playing as LSU quarterback Joe Burrow, selling the run, fooling the defense and zipping a pass downfield.
"I'm like Joe throwing RPOs when I'm playing Madden," Cushenberry said.
The Advocate's LSU beat team predicts the outcome of the Tigers' opener with Georgia Southern on Saturday night.
LSU is pursuing the same results the run-pass option has produced at Alabama, Ohio State and Penn State — programs that all averaged more than 40 points per game with the tricky scheme built into their playbooks.
Tigers running back Clyde Edwards-Helaire always knew RPOs worked. It just wasn't until first-year passing game coordinator Joe Brady installed the concepts during spring football that Edwards-Helaire understood exactly why.
He saw linebackers rushing toward him to stop the run, and he watched their expressions change when they realized he didn't have the ball and a slant pass had just been completed behind them.
Plus, just before snaps, Burrow was talking — no, holding conversations — with Edwards-Helaire in the backfield, pointing out defenders and telling him exactly where the ball was going to go.
"It doesn't get any better than that," Edwards-Helaire said. "Having a quarterback that can pretty much see what happens before it happens."
---
Can't see video below? Click here.
---
LSU coach Ed Orgeron said there was "no question" that trust in Burrow was one of the major factors the team switched to the complicated scheme. Even within the limited spread concepts the Tigers used last year, Burrow slowly gained responsibilities to call audibles and check plays at the line of scrimmage.
"(Burrow) knows the adjustments as well as any other coach," Orgeron said. "Can call the plays. He's good enough to do that. We have complete confidence in the things he can do."
The LSU offense has been the talk of the offseason.
Those close to Burrow inside and outside LSU's athletic facilities can tell that the quarterback is more than comfortable in the Tigers' new offense. Burrow ran the same concepts in high school and at Ohio State before transferring as a graduate.
Yes, Joe knows the RPO, and LSU is hinging on that knowledge to finish the offensive reconstruction project that's been going on in Baton Rouge for most of the past decade.
"I think we're going to be really explosive," Burrow told reporters Monday. "I think the old narrative is going to go away that you guys like writing about. I think it's going to be really good for us."
Clyde Edwards-Helaire enters the season as LSU's feature running back for the first time in his career.
RPO Joe
Burrow drew out the new plays he'd learned on a whiteboard with his high school coach.
The LSU quarterback was back home in Athens, Ohio, for the first few weeks of summer. It has become an annual tradition for Nathan White to "sort of steal stuff," he says, from whatever offense Burrow ran the previous year.
It's a reunion, too, for the coach-and-quarterback brain trust that set Ohio scoreboards on fire from 2012-14, when the Athens Bulldogs combined for an overall 37-4 record and made a state championship appearance in Burrow's three varsity seasons.
Burrow threw 156 career touchdown passes (third most all-time in Ohio high school history), amassed 11,428 career yards passing (fourth all-time), and his 63 touchdown passes during his senior year (seventh all-time) were nine more than the single-season mark set by Pittsburgh Steelers quarterback Ben Roethlisberger (54).
And as Burrow drew plays on the Athens High whiteboard, White started to recognize some of the concepts as the run-pass option schemes they ran during those record-setting years. When his former quarterback started using LSU's lingo to define the play, White was certain.
White: Oh, that's what we used to call "option."
Burrow: Yeah, that's exactly it.
The Advocate's LSU beat team predicts the outcome of the Tigers' opener with Georgia Southern on Saturday night.
White, now Athens' head coach, became the offensive coordinator at his alma mater when Burrow won the starting varsity job as a sophomore.
White, 38, tailored his offensive philosophy as a quarterback at Division III Marietta College in southeast Ohio in the early 2000s, when his team ran a zone-read offense that former West Virginia coach Rich Rodriguez was just bringing into vogue.
At first, that's all White asked of Burrow to run in his first season: Two zone-read run plays, inside zone and quarterback trap, supplemented by five or six pass routes to balance the playbook.
That handful of concepts was incredibly efficient. Burrow threw for 3,239 yards, 47 touchdowns and eight interceptions. Athens liked to push the ball downfield with vertical routes, and White learned that Burrow could recognize when a deep shot wasn't open.
"I've never had a guy like that who would just not force the ball and only took it when it was there," said White, who said he would call 15 deep shots a game (Orgeron said last season that he likes LSU to attempt two deep shots each quarter). "It's pretty amazing, really, to throw that many shots downfield and score so many touchdowns. He never ever got greedy with it."
The time has finally come for Thaddeus Moss.
White realized what LSU offensive coaches would four years later: Burrow could handle the tough stuff. By Burrow's senior year, White installed 24 more quick-game routes and 15 dropback routes that came out of college-level, run-pass option schemes.
And if you were to watch Athens High's 98-minute offensive game film from Burrow's senior year, you'd see the multiple three-wide-receiver, four-wide-receiver, five-wide-receiver sets that LSU has committed to use this season.
The run-pass option scheme essentially has the same concepts as the classic triple-option attack, except the third option is a pass. White constructed Athens High's version with Burrow at the center, signaling to teammates and calling out the defender who would dictate where the ball was going.
The read key was the outside linebacker most of the time, and on certain RPO plays, Burrow's instructions were simple: You're going to give it if he widens, and you're going to pull it and whip it out to the flat if he commits to the run.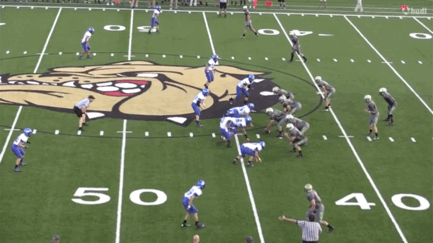 One fact is clear in the Athens game film: Most of the run-pass option plays resulted in runs. White said most of the teams committed more defenders in pass coverage against them, and he estimates that 90 percent of RPOs turned into runs.
That's also reflected at the college level. Alabama running backs Damien Harris, Joshua Jacobs and Najee Harris combined for 2,299 yards  rushing and 24 touchdowns in 2018. Orgeron even said Thursday that "just because we're not in a power set, that doesn't mean we aren't going to have some power plays."
Back at Athens, Trae Williams, now a cornerback at Northwestern, rushed for 2,289 yards and 44 touchdowns at Athens High in 2014. That touchdown count ranks fifth all-time in Ohio high school history.
But when Burrow would pull the football, he had a knack for making the quick and accurate throw.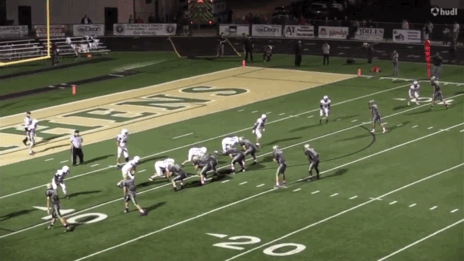 "As long as I did my job decently, the ball would be there in the perfect spot," said former Athens wide receiver Zacciah Saltzman, who is now a running back at Georgetown. "We scored 861 points. We broke the state record because of him."
The efficiency is a credit to Burrow's ability to make the right read and to check out of a run-pass option play when the defense muddied up his reads. White can remember 30 to 40 times when Burrow looked over to the sidelines, shaking his head No, because the defense had caught on and moved their read key in the way of the play.
White would give the offense the thumbs-down signal, and they'd change the play and the read key.
"We were so on the same page, it almost felt like I was kind of getting to re-play some of this through him, because I kind of knew we were thinking the same thing," White said. "It was just (that) I got to play with a more talented body than when I played."
In less than a week, a fleet of Aramark trucks will chug toward Tiger Stadium carrying a payload of more than 80 tons of ice.
'It was true'
Jimmy Burrow always knew his son was a smart quarterback, but as he sat in the LSU athletic facility and watched Joe draw up protections during a 2½-hour official visit with LSU coaches, Jimmy turned to his older son, Dan, and said: "I didn't know he could do that."
LSU was among five SEC schools, Jimmy said, who pursued Joe when he declared in the spring of 2018 that he was transferring from Ohio State after losing a tight position battle with Dwayne Haskins.
The message among the other SEC schools, Jimmy said, was common: Why would Joe want to go over there and hand the ball off 50 times a game?
But the pitch was different during the all-hands-on-deck visit from the LSU coaching staff, which included Orgeron and safeties coach Bill Busch, who coached Dan as an assistant at Nebraska in the early 2000s.
"They didn't show us 40 clips of I-formation," said Jimmy, who retired in February from a 14-year career as Ohio University's defensive coordinator to watch his son's final college season. 
When Chad Lunsford visited his mentor over the summer, the Georgia Southern head football coach didn't talk about his team's juggernaut Week 1…
No, instead, the coaches presented a video of every play that Joe had ever played at Ohio State spliced in with the new plays LSU had installed during spring football.
Here's Joe doing this at Ohio State.
Here's us doing it in the spring.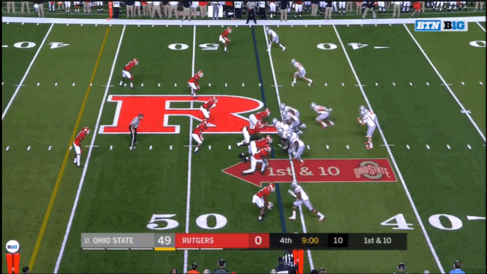 Burrow completed 29 passes for 287 yards and two touchdowns as a Buckeye, and several of the completions happened out of the run-pass option.
LSU's full promise was delayed nearly a year because the Tigers had poor pass protection in 2018, limiting their ability to run such an offense. Heaps of injuries on the offensive line and at tight end didn't help.
But by LSU's 40-32 win over Central Florida in the Fiesta Bowl, offensive coordinator Steve Ensminger installed multiple spread schemes and Burrow threw for 394 yards, four touchdowns and an interception in an Offensive MVP performance.
The commitment deepened when Orgeron hired Brady away from his offensive analyst position with the New Orleans Saints in January to install the run-pass option at LSU.
Jimmy said his son got a call from former Ohio State quarterback J.T. Barrett, a close friend of Joe's who played for Brady in New Orleans: You're gonna love this guy.
"Everything they told us in the whole process happened," Jimmy said. "It was true."
College football is back in Baton Rouge!
Just four years after putting down a tennis racquet and walking away from a potential college career in that sport, Cody Orgeron is ready to b…
So as I settled in Wednesday to cover LSU athletic director Scott Woodward's appearance at the Baton Rouge Rotary Club luncheon, I texted our …
The recovery timeline for LSU's true freshman Kardell Thomas didn't look optimistic when he suffered an ankle injury in preseason camp, and Ti…