THE HEISMAN RACE
Open dates usually aren't good news for Heisman Trophy candidates, but LSU quarterback Joe Burrow has such a big lead he should easily stay well in front until the Tigers' huge showdown Nov. 9 at Alabama. A look at the top contenders and others to watch:
JOE BURROW
LSU SENIOR QB
HIS CASE: Auburn was LSU's toughest test, but Burrow's tough-guy showing only made him a bigger Heisman favorite than before. Bouncing back from a helmet-to-helmet hit to throw his only touchdown pass helped his cause. Now the pressure is to stay on top.
ODDS: 4/5 (-125)
NEXT GAME: Nov. 9 at Alabama (2:30 p.m., CBS)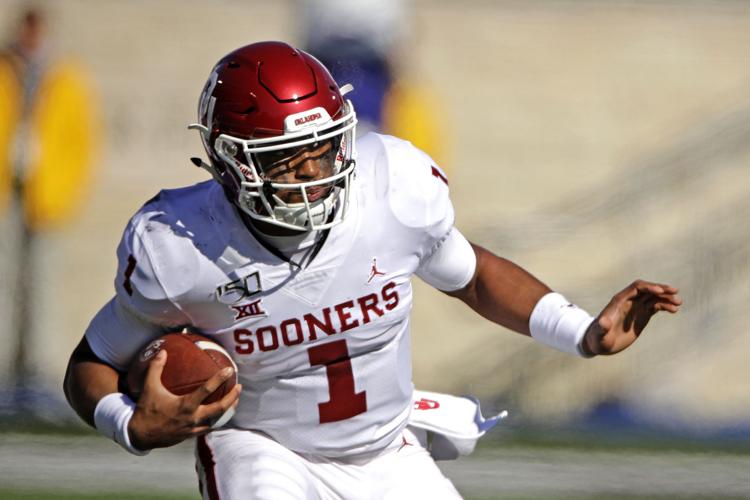 JALEN HURTS
OKLAHOMA SENIOR QB
HIS CASE: The numbers were there again for Hurts: 395 yards passing, 96 rushing, four total TDs. Unfortunately fur Hurts, the most important number is that 48-41 upset loss to Kansas State. Hurts is still second favorite, but his gap with Burrow is widening.
ODDS: 9/4 (+225)
THIS WEEK: Saturday at Kansas State (11 a.m., ABC)
TUA TAGOVAILOA
ALABAMA JUNIOR QB
HIS CASE: The most talked about ankle in America has moved Tagovailoa from a prohibitive Heisman favorite to relative long shot. He can swoop back into the lead if he outduels Burrow on Nov. 9, but how healthy can he possibly be?
ODDS: 5/1 (+500)
NEXT GAME: Nov. 9 vs. LSU (2:30 p.m., CBS)
ON THE RADAR: Ohio State QB Justin Fields, Soph.; Ohio State DE Chase Young, Jr.; Wisconsin RB Jonathan Taylor, Jr.; Oregon QB Justin Hebert, Sr.
Odds: BetOnline.ag