Two scratched helmets and one face mask sit in James Carter's office inside a south Georgia car dealership, relics of his son Tory's football career. Decals on the helmets have chipped away, and cuts run deep across their hard plastic shells. The detached face mask rests below a glass LSU logo.
It looks to be in perfect condition — no exposed metal or missing rubber — until James points out its shape. The bars of steel across the top of the mask are bent.
Two years ago against Arkansas, Tory sprinted downfield on a kickoff. A fullback who also played special teams, he discarded one blocker. Tory barreled toward the returner, much like his father did three decades ago as a fullback and defensive end at Georgia Southern. High school teammates nicknamed James Carter "Wildman." They called his son "Widman 2.0."
With his blonde hair spilling over his shoulders, Tory approached Arkansas' lead blocker, Gary Cross. As a fullback, Tory cleared holes. On kickoffs, he needed to take down the lead blocker for his teammates to finish the tackle.
Cross stepped forward to meet Tory, and Tory ran through him, a violent and ferocious smack that left Cross lying on the grass. Tory leapt up, and he raised both hands in the air.
"I got two bodies on that kickoff," Tory said.
The hit dented Tory's helmet and bent his face mask. He used a different helmet the rest of the game. James wanted the dented plastic as a souvenir, but LSU sent it to the manufacturer for examination. The school, James said, had never seen a helmet dent like that.
"It's supposed to flex," James said.
LSU gave him the face mask instead.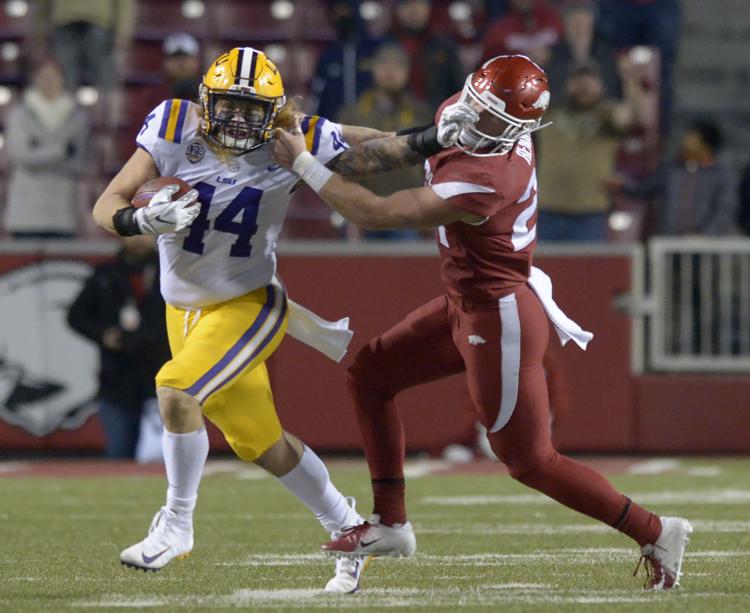 Tory's intense style of play gained attention with that hit — a YouTube video replay has almost 7,000 views — and it reflects a traditional fullback. But as LSU adopts a new offense, Tory represents a dying position.
Fullbacks have disappeared in the college game as schools throughout the country adopted spread schemes based on passing. In 2010, Southeastern Conference rosters included 43 fullbacks. Five years ago, there were 24. This year, there are eight.
Missouri has not listed a fullback on its roster the past 10 years. Ole Miss, Tennessee and Georgia — a longtime Power-I team — dropped the position. They recruited tight ends instead.
While the rest of the game discarded the position, LSU clung to its fullbacks. The Tigers averaged 5.4 fullbacks on their roster per year over the past decade. But after last season, LSU installed a run-pass option scheme. The Tigers adopted the spread, and now, they sometimes line up five wide receivers during practice.
LSU was one of the last holdouts for fullbacks in college football, a school that  used the position frequently in an I-formation. This year, it has one fullback listed on the roster: Tory Carter.
"He could be the last fullback," said Jacob Hester, an LSU fullback from 2004-2005. "Tory's a guy who I can see being the last in his mold, and not only at LSU."
• • •
Fullbacks have existed since the beginning of football. They became an essential piece of running offenses, human battering rams who cleared holes in the defense without regard for glory or health.
Fullbacks have sometimes led their team in rushing, like Hall of Famer Larry Csonka with the Dolphins, or caught passes, but mostly they have crouched between the quarterback and running back. They've run through the middle of the offensive line at the snap of the ball, blocking linemen, linebackers or safeties — whoever fills the hole.
"Nobody notices you," James Carter said, "unless you drive them all the way out and dump them on their back."
Fullbacks once drew fame. As Hester grew up in northeast Louisiana, he idolized NFL fullbacks like Tom Rathman, Daryl "Moose" Johnston, Merril Hoge and Mike Alstott. They made him want to play the position.
"Now," Hester said, "you don't have anything close to that."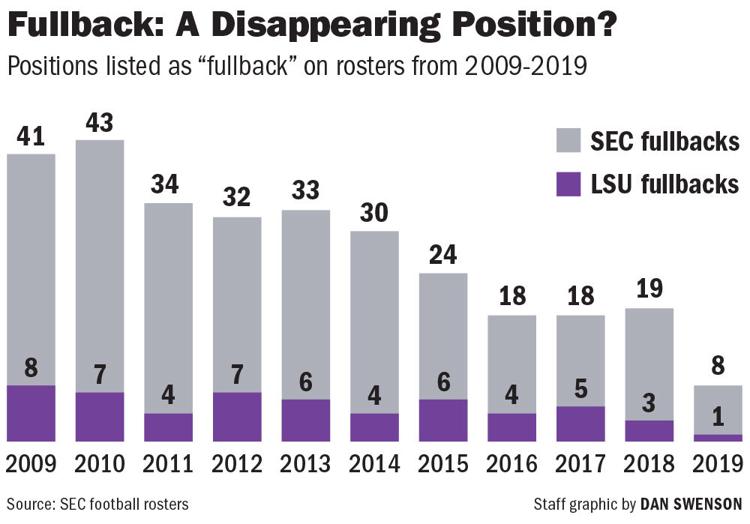 In 2004, Hester joined LSU as a fullback. He played the position for two years, converted to running back, then played fullback again in the NFL, blocking his rookie year for future Hall of Famer LaDainian Tomlinson.
The sport moved toward spread offenses during Hester's career. By 2013, after five years in the league, Hester got released by the Denver Broncos. His agent soon called him.
"We're on the look, but I'll be honest with you," Hester's agent told him. "Right now, currently, there are 17 fullbacks on active rosters in the NFL."
Hester attended minicamp with the Saints in 2014, but he understood the future of offenses. His skill set and size didn't fit in the modern game. He retired to begin a career in sports media, and another fullback left the sport.
Four years later, Hester voted on an award invented by Barstool Sports that recognized the best fullback in college football. Ben Mason from Michigan received the inaugural trophy. Tory Carter was a finalist. 
"I just hope we have enough fullbacks," Hester said, "to be able to have this award in five years."
• • •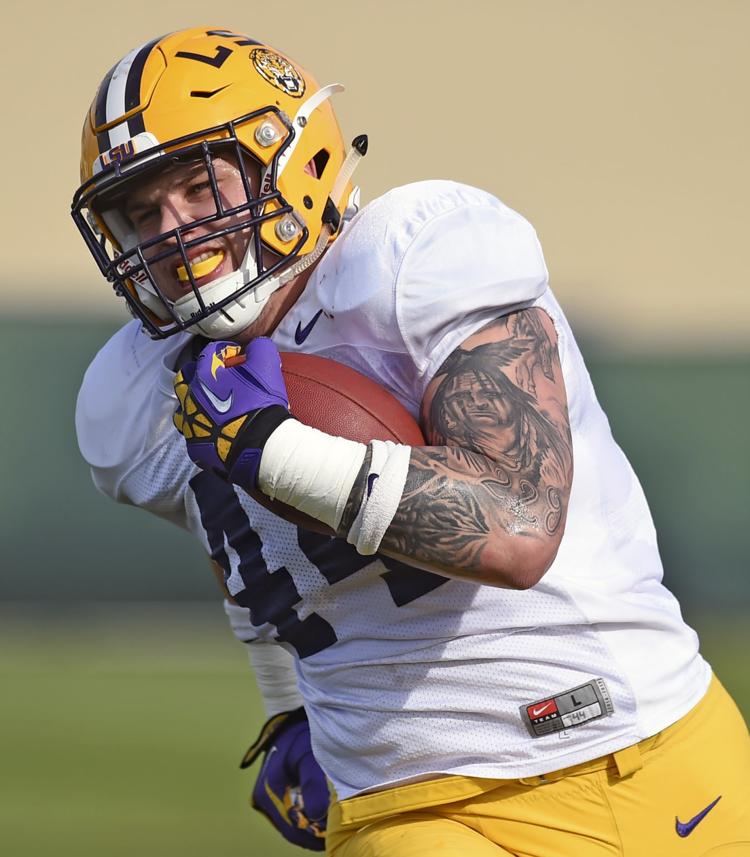 During a game his second year of organized football, Tory Carter lined up in the backfield and waited for a handoff. The opposing safety had inched toward the line of scrimmage, so Tory's team called an inside handoff aimed at the safety, a test of strength and determination.
Tory burst through the line of scrimmage. He lowered his shoulder into the safety, who fell into the grass as Tory ran 40 yards for a touchdown. He was 8 years old.
A 6-foot-1 fullback during his career, James Carter knew what position his son would play. They always practiced fullback. Tory learned about footwork and technique.
Tory watched tape of Csonka, Earl Campbell and John Riggins. He studied their movements and examined his own film. His dad taught him the value of leverage and hand placement, essentials for a stout player who might have to block a 300-pound lineman.
"You can be 6-5, but if you ain't got no leverage, it don't matter," James Carter said. "You can get under him and drive him out of the hole like he's nothing."
Before games, Tory "flipped the switch," a mentality he took from his dad. He turned into a ferocious and menacing presence who threw his body over the field. He wore eye black because it made him feel like a warrior.
Tory played for his dad two years in high school, and James Carter replaced his son's face masks halfway through each season. Tory always bent the steel.
Tory listened to heavy metal, and he later tattooed G.A.TA. — Get After That A** — across his right bicep with an American flag print in the letters. The family motto.
After a high school career that included two all-state selections, Tory came to LSU as the Tigers' next fullback. He grew out his hair, and he spread eye black over his cheeks and around his eyes. He wanted to intimidate opponents.
"I love hitting people in the hole," Carter said. "It's fun. You get to see what the other person has."
During LSU's game against Texas A&M last year, Carter broke a bone in his hand. He doesn't know when or how. But he played the rest of the game and caught an overtime touchdown. Then he played the Fiesta Bowl with a plate in his hand.
LSU still listed Carter as a fullback this fall, but he has caught passes with tight ends throughout preseason camp, the third man in line behind Thaddeus Moss and Stephen Sullivan. Carter lost 12 pounds in the offseason in preparation for more routes. The only time he has lined up in the backfield this month was on the goal line.
"I'm not going to get away from — might not do it as much — but I'm not going to get away from 21 personnel with him in the backfield, running the football," offensive coordinator Steve Ensminger said. "If they want to play one (safety) high, we're going to throw the football deep. We're going to do our play action. It just depends on how the defense wants it."
There's a cyclical nature to football, and fullbacks might surge back into the game. But they're known for physicality, an aspect of the sport that has been blunted by new rules designed to increase player safety. And high schools aren't producing them. In this year's recruiting class, 247Sports listed four high school fullbacks. It ranked 20 a decade ago.
"I think it will always be around in some form or fashion," Tory said, "but it evolves like everything else."
His position may change. It might disappear from the game. But the way Tory Carter approaches football will stay the same. He's a fullback who hits with his face, who loves contact, who wants to meet a man in the hole and flatten him.
"I want to try to dent my face mask every game," Tory said, "but I don't know if that's healthy."