On that November evening two years ago, when Odell Beckham Jr. returned to Tiger Stadium and the band played "Neck," the former LSU wide receiver approached long snapper Blake Ferguson.
In the midst of his fourth professional season, Beckham noticed another Ferguson nameplate above No. 50 on the LSU sideline. At the time, Blake used the same number his older brother, Reid, wore during his LSU career.
"What are you still doing here?" Beckham asked Blake. "Are you like a seventh-year senior?"
Blake reminded Beckham he was not his older brother, who played two years on the same team as Beckham.
Blake, who now wears No. 48, thinks Beckham might have been joking, but he has grown accustomed to the confusion. He and his brother share a similar build. Their helmets shroud their different hair colors — Blake has blonde hair, while Reid's is brown with hints of red — and they spent the past eight years together as LSU's starting long snappers.
The brothers' consistent high level of performance has given LSU comfort at the position. Reid played from 2012-2015, then Blake took over when Reid began a career with the Buffalo Bills. They overlapped one semester, so Blake took a redshirt.
As long as they stayed healthy, the coaching staff didn't worry about the long snapper. Reid's only bad snap happened during his first game. Blake has bounced one punt snap over four seasons, and it happened this year against Alabama.
"I'm getting cookie snaps," junior punter Zach Von Rosenberg said. "Perfect. You don't have to do anything. You're like a zombie. You just go through the motions and you do your job because he's that good."
Throughout the Fergusons' careers, their parents, Tracy and Kevin, have attended every game. They co-chaired the LSU Family Association Council for more than four years, giving feedback to the administration and helping award scholarships. Living in northeast Georgia as Tennessee graduates, they had zero connections to LSU before their children picked a school hundreds of miles from home.
"We're not alumni," their father said, "but we feel as close to LSU, if not closer, than where we both went to school."
But the Ferguson name will soon disappear from LSU's sideline. After 102 straight games with one of the brothers at long snapper, Blake will play his final game in either the Chick-fil-A Peach Bowl on Dec. 28 or the College Football Playoff National Championship. When he walks off the field the last time, it will mark the end of an era within LSU football that lasted almost an entire decade.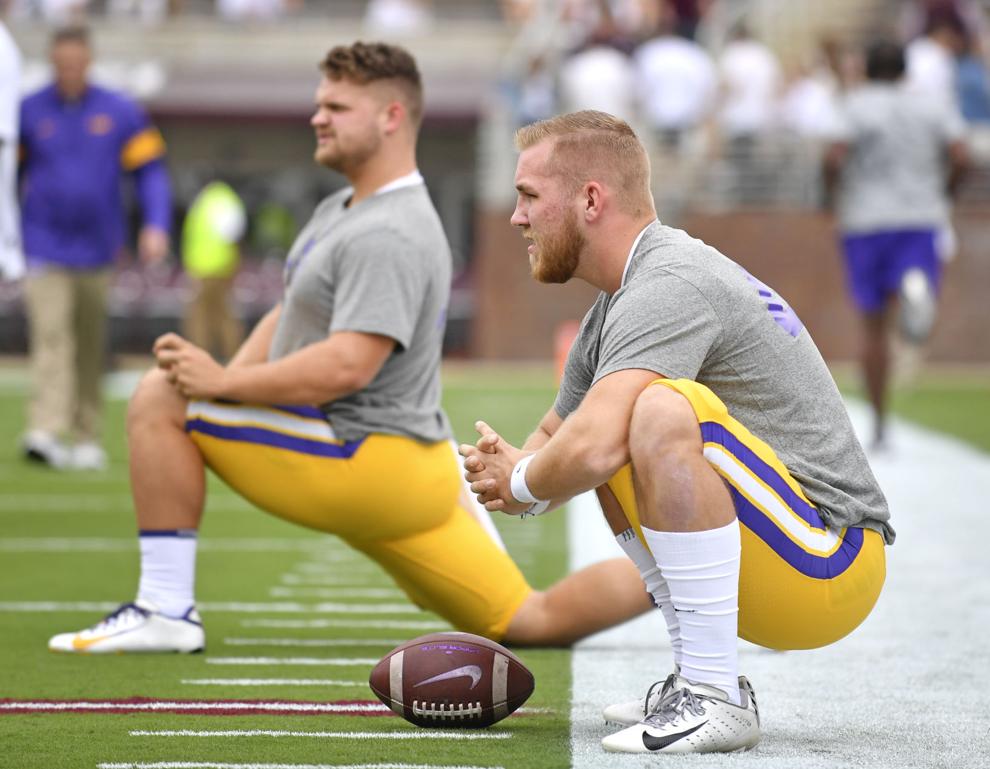 -----
The Ferguson long snapping tradition began in 2007. Reid played offensive line, but his high school team also needed a long snapper. He had watched a senior long snapper at Buford High receive a college scholarship. He also knew the long snapper on the Atlanta Falcons through church. He realized if he mastered a position few others played, the skill might give him a career.
Reid began attending camps held by instructor Chris Rubio. A former UCLA long snapper, Rubio has provided specialized instruction for almost two decades and turned the position into a highly-trained craft. College coaches throughout the country have trusted Rubio's rankings during recruiting.
Reid became one of the highest-rated long snappers in his class, and one time, Rubio used him as an example in a blog about consistency. He thought Reid's snaps looked the same every time. He described him as one of the most dominant long snappers he had ever coached during an evaluation in 2011.
As Reid learned the position, the top long snappers started to receive full scholarships from some of the best teams in the country. Coaches realized if they signed consistent long snappers, they didn't have to think about the position for another four years. Rubio said LSU relied on that approach once Les Miles took over in 2005.
"LSU has always done a great job of recruiting long snappers and making them a priority," Rubio said. "They've always been very adamant of 'yeah, we're not going to waste our time not getting a long snapper.' "
Reid, who long snapped four years at Buford while playing offensive guard, attended a specialists camp at LSU for the first time his freshman year. He visited several other Southeastern Conference schools, but he loved the coaching staff and the program.
In the midst of Reid's junior year of high school, before LSU offered him a scholarship, special teams coordinator Joe Robinson left for South Carolina. Reid and his parents wondered what to do next. Recruiting for a long snapper required personal relationships and trust, almost more so than any other position. They worried the next coach might not want Reid.
Reid and his father soon came to LSU during spring practice. LSU had hired Thomas McGaughey as its next special teams coordinator, and they talked in McGaughey's office.
"When I got here and I asked about the specialists we were recruiting, they gave me one name," McGaughey told them. "I wrote it on my board. There's the name."
Reid and his father looked toward an office wall. One name floated on the board: Reid Ferguson.
"That's the only recruit I'm responsible for on special teams," McGaughey said.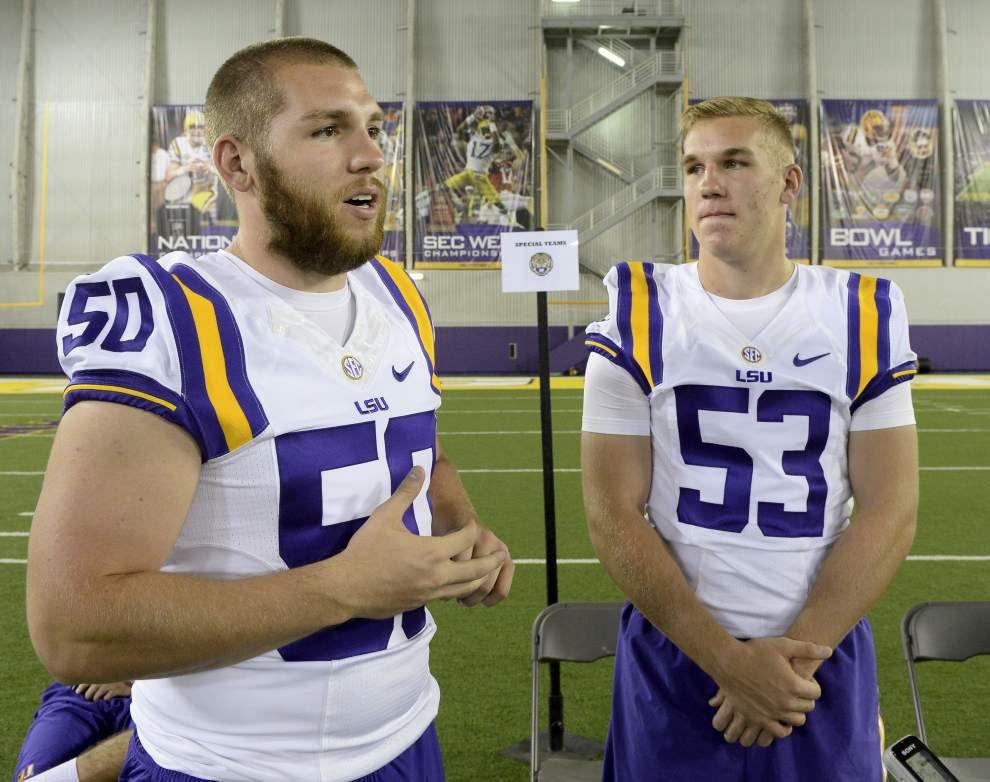 -----
An early enrollee, Reid arrived at LSU a few days after the Tigers lost to Alabama in the 2012 BCS National Championship Game. With starting long snapper Joey Crappell graduating, the Tigers had offered Reid a full scholarship.
Reid and his parents met with Miles and Dr. Sam Nader, assistant athletic director for football operations, inside the Cook Hotel and Conference Center during Reid's first day on campus.
"Now," Miles said, "what's the age difference between you and your brother?"
"Three years," Reid said.
"Make a note," Miles told Nadar. "We'll be recruiting him."
Following his brother, Blake began long snapping in eighth grade, three years after Reid. He attended Rubio camps. He snapped with his brother and his dad in the driveway. He knew he didn't have elite size, strength or speed, but he understood long snapping gave him a role.
Blake impressed Rubio during his first camps, and he gained the top spot in the positional recruiting rankings. But after two less-than-perfect showings, Rubio slid another player above Blake. He wondered how Blake would respond.
"The next time I saw him," Rubio said, "he was absolutely phenomenal."
The summer after Blake's sophomore year, LSU offered him a full scholarship. He immersed himself in the program, meeting players through his older brother. After Blake played on Friday night in Georgia, he flew with his parents on Saturday mornings to LSU games. His parents joked he knew more LSU players than Reid.
As Blake went through recruiting, he didn't want to look at other schools. His parents convinced him to visit about a dozen to make sure he didn't prefer another program. They used every visit as a litmus test, asking whether or not a potential offer from that team changed the way he felt about LSU. It never did. Blake committed the fall of his junior year.
"I don't think," Tracy Ferguson said, "he ever envisioned himself anywhere else."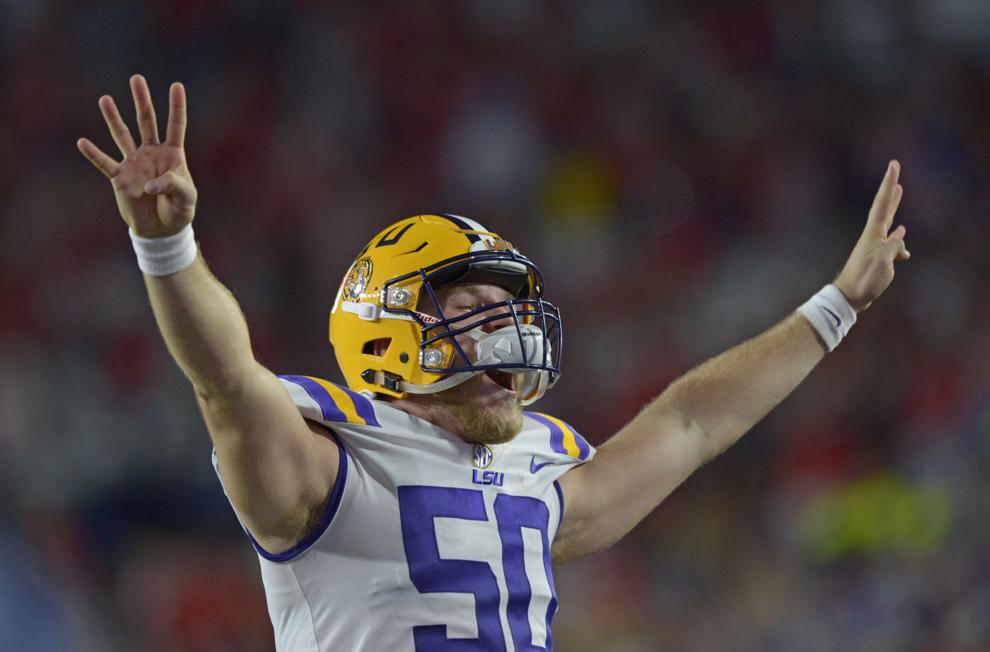 -----
Long snapping exists in football as a niche position. It does not receive glory, and it has few recorded statistics. The position only gets used on field goals and punts. If people noticed the long snapper, the player messed up.
"If people know your name, it's probably for what you do off the field because hopefully," Blake said, laughing, "they won't know your name for what you did on the field."
As well as Blake has snapped, his actions away from football have defined his career. The last two years, he has chaired the SEC Football Leadership Council, earned selection to the SEC Community Service Team and LSU twice named him a permanent team captain. He was the first long snapper in school history to receive the honor.
Diagnosed with Type 1 diabetes since eighth grade — he wears a continuous glucose monitor on his stomach and detaches an insulin pump during games — Blake has spread awareness of the condition, which causes the pancreas to produce little or no insulin. His glucose monitor connects via bluetooth to an app that allows LSU's athletic trainers, nutritionist and Ferguson's mom to track his blood sugar level.
The morning doctors told Blake he had Type 1 diabetes, he wiped his eyes as he processed the diagnosis. Then he searched "famous people with diabetes" on his phone, and almost every day since, he has talked to other people managing the condition, encouraging them to chase their goals.
"You can do anything you want," Blake said. "This is a manageable disease, and I thank God for that. It's not something that'll take my life away. It's something I can live with and play football with."
When Colton Moore, a 9-year-old LSU fan with spina bifida, came to the LSU facility in early October, Blake kneeled beside him during practice. He hung his helmet on the back of Moore's wheelchair. Blake answered Moore's questions about practice. He looked the boy in the eye. The whole team embraced Moore, but Blake got to know him. He has kept in touch through Moore's mother, Jennifer, and Blake talked to him at the team hotel the night before LSU played Alabama.
"You think of football players and kids in general at that age, usually they're busy figuring out life," Moore's mother said. "Blake, he took the time."
LSU beat Utah State the day after Moore visited practice, and Blake crouched beside Moore, along with coach Ed Orgeron and his wife, Kelly, in the end zone. Blake asked Moore if he wanted to come inside the locker room, and when he said yes, Blake pushed him through the tunnel, bringing him to a celebration with the team.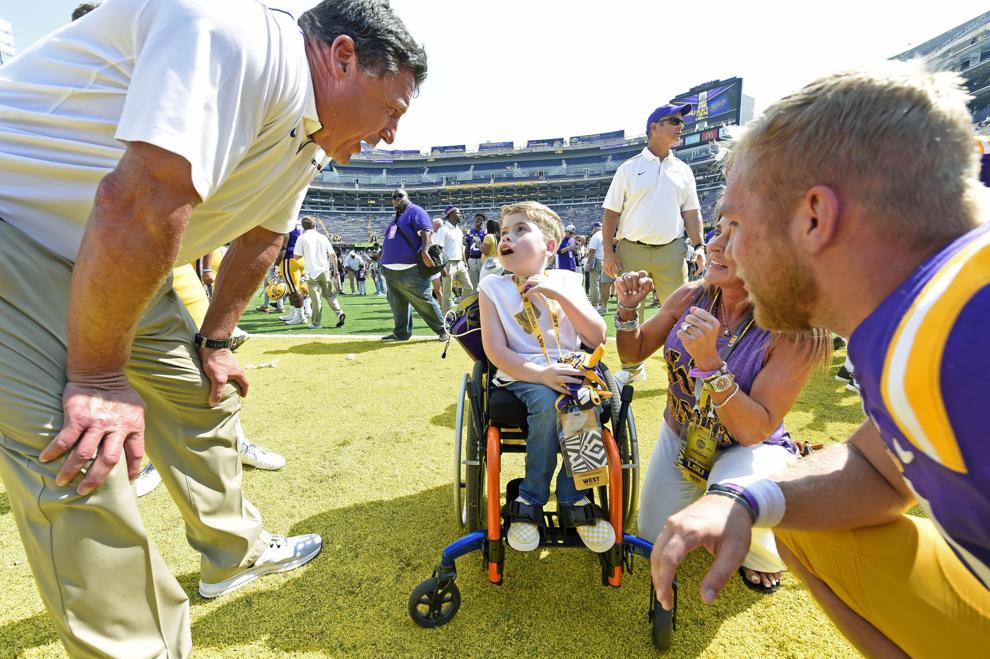 -----
When Blake arrived at LSU in 2015, Miles told him LSU expects players to win championships and graduate. Blake earned his undergraduate degree in marketing in three years. He received his Master's in Business Administration this weekend. He never missed the SEC Academic Honor Roll, and he finished as a semifinalist for the 2019 Campbell Award, which is given to the top student-athlete in college football.
"And we've won a championship," Blake said earlier this week inside LSU's practice facility, "but not the one we want to win."
He looked toward a 2019 SEC Championship banner hanging along the wall, then he pointed at an open space in the rafters where Blake hopes LSU will soon place a national championship pennant.
"That one's going to go there," Blake said. "I'm going to graduate again, which I'm very proud of, and hopefully win a national championship. The same goes for Reid. He graduated and hopefully can win a Super Bowl this year."
When the season ends, Blake hopes to receive an NFL opportunity like his brother.
The last three years, Kevin and Tracy have never missed an LSU or Bills game, flying to NFL stadiums on Sunday mornings. They wanted their sons to see familiar faces in the stands, so they planned travel arrangements a year in advance and developed a strategy — wait until the last minute — for buying affordable tickets close to the field. If Blake lands on a team next season, Reid wants their parents to attend all of Blake's games.
"It hasn't quite hit me yet about what I'm going to do on a Saturday," Ferguson's father said. "We'll probably be traveling. It will be very, very different. I'm going to miss it."
Perhaps, in some ways, the Ferguson lineage will continue at LSU. When Blake attended one of Rubio's camps years ago, he met a 9-year-old boy named Quentin Skinner. Wearing a Brady Quinn Notre Dame jersey, Skinner barely knew how to hold a football. Blake introduced himself. They became friends.
Skinner established himself as Rubio's highest-ranked long snapper throughout high school, making him the only player to never lose the top spot in his class during Rubio's 15 years of ranking the position. Skinner enrolled at Buford after Blake left. Then he picked LSU, where he has four years of eligibility. The Fergusons called him extended family, another brother linked through their shared position.