Welcome to Film Room, our weekly analysis of LSU's last football game.
Have a seat. No talking. No tweeting. No texting. Pay attention.
(Editor's note: Click the images to enlarge)
How They Happened (big-play analysis)
Receiver screen: On third-and-1 at its own 29, the Trojans execute an edge screen pass for a 19-yard gain to help lead to that first half-ending field goal.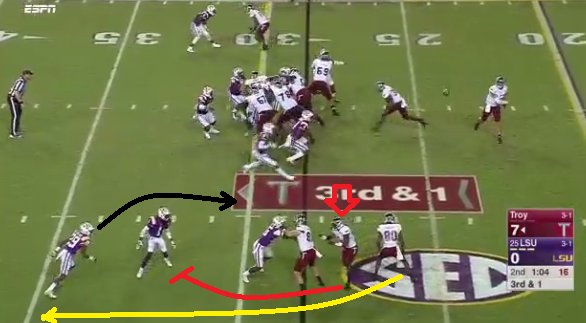 Before we get to the breakdown of the play, let's touch on how big of an issue the receiver screen passes were for the Tigers. In the first half alone, Troy converted three third downs with receiver screens (the one listed above, another edge screen and a center WR screen). In all, the Trojans gained 47 yards on those three third-down screens.
Now, for the breakdown. There are two keys on this play that make it go for such a long gain. First, Troy WR Tevaris McCormick (red arrow) blocks CB Donte Jackson out of the play just enough to spring Deondre Douglas (yellow) down the sideline. Secondly, redshirt freshman Greedy Williams (black arrow) darts inside and, thus, is removed from the play. Safety John Battle is tied up in a block at the line of scrimmage.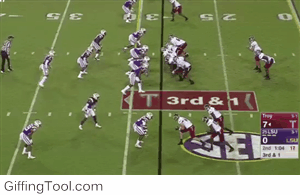 Later on this drive, the Trojans run this exact play but to the other side of the field. It nets 11 yards as Jackson gets tied up again, along with Kevin Toliver. Earlier in the game, Troy gains 17 yards on a middle receiver screen to convert a third-and-11. On that play, OLB Donnie Alexander missed a tackle.
Caught in traffic: On second-and-10 from the Troy 25, Jordan Chunn runs off right tackle for 74 yards to set up the Trojans with a 17-7 lead early in the third quarter.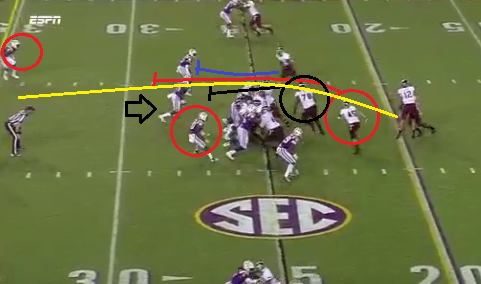 The key on this play is 240-pound fullback Zacc Weldon. You see him here circled in red. He takes care of two LSU defenders: scrapping ILB Devin White and safety Grant Delpit (both circled in red). Several defenders on this play get caught in traffic, including Delpit and fellow safety John Battle, who is not yet in the picture. 
The black circle is Troy LG Kirk Kelley, a pulling guard on this play. Kelley clashes with freshman ILB Tyler Taylor right around the line of scrimmage. Kelley is a third-year player who graduated from John Ehret. He does his job against the rookie, creating a seam for Chunn. 
Coach Ed Orgeron briefly touched on this play during his postgame news conference, mentioning that the long run was the result of a "mistake by a young player. He wasn't in his gap." He may be referring to Taylor. The rookie rushes up from his post and is met head on by Kelley, taken out of the play. 
Tight end TD: On second-and-goal in the third quarter, freshman QB Myles Brennan hits TE Foster Moreau for his first career touchdown.
As seen here, Moreau (red circle) is sitting in what appears to be zone coverage. At this point, he turns to Brennan before sliding toward the sideline, away from his cover man, Zo Bridges (black arrow). This is great timing between Brennan and Moreau. As the tight end makes his jog to the sideline, the QB fires him the ball.
The other thing that makes this play work - outside of that nifty timing - is the defensive backs (plural) that WR DJ Chark occupy. You see the blue arrows? Those are two DBs who go with Chark on the play, leaving the outside open for Moreau. We've seen this already a few times this season - LSU taking advantage of the defenses' attention paid to Chark.
---
POSITION ANALYSIS
Big Ugly Booms (OL analysis) 
Let's start with something the O-line has struggled with for several weeks now: pass blocking. The unit made strides against Troy, potentially because of that more "simplified" offense, as coach Ed Orgeron put it last week (more on that below). We only charted five pressures on the quarterbacks in about 38 dropbacks. That's a much better rate than last week's 56 percent pressure rate (14 on 25 dropbacks).
The glaring issue on Saturday was the Tigers' push in the rush game. Against a team like Troy, it's concerning. In the first half, LSU running backs were first contacted at or behind the line of scrimmage on six of 12 carries. In all, an LSU back was contacted, on average Saturday, 1.5 yards beyond the line of scrimmage. 
The Tigers failed on nine third-down tries, but 10 overall if you count the fourth down. You'll see each of those in a chart below. The O-line may take blame for 2-3 of the failed third downs
| | | | | |
| --- | --- | --- | --- | --- |
|  Yard line |  Down |  Play |  Result |  Why did it fail |
|  Troy 36 |  3rd and 6 |  Run left tackle |  3 yards |  Garrett Brumfield's man contacts Williams near the line of scrimmage |
|  Troy 33 |  4th and 3 |  Pass short (Drake Davis) |  Incomplete |  ESPN analyst Kirk Morrison says Etling "stared down" Davis too long (he may have also had Williams open in flat) |
|  Troy 38 |  3rd and 5 |  Pass short (Russell Gage) |  Incomplete |  Gage dropped the pass |
|  LSU 28 |  3rd and 7 |  Pass short (Derrick Dillon) |  Complete |  Etling threw short despite having Chark fairly open for a potential first down |
|  Troy 18 |  3rd and 4 |  Pass (Stephen Sullivan) |  Incomplete |  Troy blitzed seven against five LSU blockers to pressure Etling into an overthrow |
|  LSU 22 |  3rd and 9 |  Pass (Drake Davis) |  Incomplete |  Brennan overthrows; he felt pressure from a defender originally blocked by LT Saahdiq Charles |
|  Troy 9 |  3rd and 5 |  Pass (Derrick Dillon) |  Complete |  Dillon gains 2 yards before fumbling |
|  Troy 37 |  3rd and 11 |  Pass (DJ Chark) |  Intercepted |  Brennan throws to a covered Chark, while Russell Gage is open for a potential first down |
|  LSU 12 |  3rd and 6* |  Pass (Foster Moreau) |  Incomplete |  Etling fired incomplete and low after being rushed out of the pocket on a pressure near RG Ed Ingram |
|  Troy 45 |  3rd and 9* |  Pass (Jacory Washington) |  Complete |  Route was 3 yards short of the first down marker |
*LSU eventually converted a first down on fourth down
Monday Morning Quarterback (QB analysis)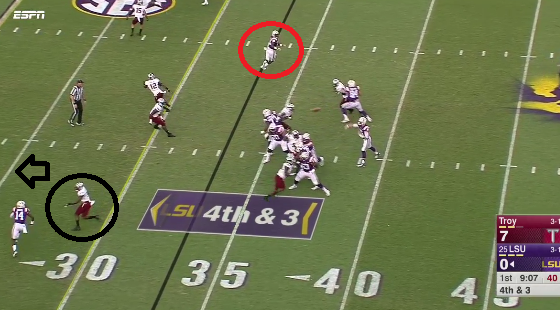 As you noticed above in that chart, the quarterbacks may be at fault for 3-4 of the failed attempts. In fact, we've got screen shots of a couple of those plays. 
First, above and to the right, you'll see that first fourth-down attempt for LSU early in the first quarter. It's a fourth-and-3, and Etling "stares down" his receiver the whole way, says ESPN analyst Kirk Morrison. It's almost like this is a pre-planned target before the snap - it's Drake Davis or bust. Etling forces the pass into Davis, who is double covered (black arrow and circle). RB Darrel Williams (red circle) is open in the flat for what would have likely been a first down.
Etling had another one of these in the second quarter. That screen shot is to the left. On a third-and-7, he throws to Derrick Dillon short of the first down marker (yellow line), when DJ Chark (red arrow) appears open.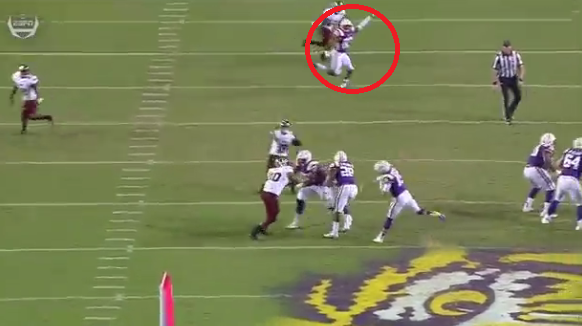 Brennan was in the game for three of those third-down plays listed in our chart. His short pass to Dillon was fumbled, and he felt pressure on another resulting in an overthrown ball. However, on a third-and-11 in the third quarter, Brennan throws that interception (screen shot to the right). He tossed it into double coverage when, it appeared, WR Russell Gage (red circle) was open on a deep crossing pattern. Check out the photo to the right.
Let's touch on that more "simplified" offense the Tigers implemented, especially early in the game and with Danny Etling at quarterback. There were much fewer presnap shifts and motions, but that wasn't all. The Tigers operated out of several formations that the team used in years past. That includes the one below to the left. Many refer to it as the Ace formation, with one running back 1/2 TEs and 2/3 WRs.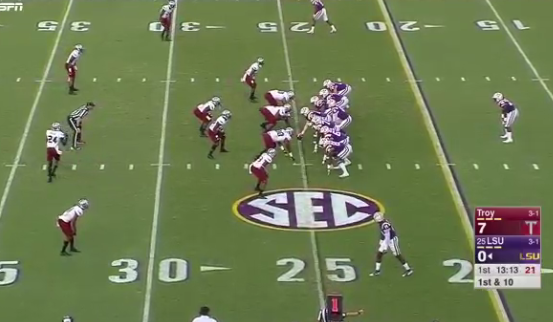 LSU significantly trimmed its presnap shifting and motions Saturday, but the Tigers returned to it in the second half, specifically with Brennan at quarterback. Check out the numbers:
Pre-snap movements in first half: 10 (1 movement in the first six plays)
Pre-snap movements in Brennan's first 2 drives: 12
F Who (F-back/TE analysis)
Without starting F-back JD Moore, the Tigers used a number of players, including freshman Tory Carter, junior David Ducre and tight end Foster Moreau - all of them serving in Moore's capacity. LSU used less F-back, employing that Ace formation with Jamal Pettigrew serving as a No. 2 TE. 
LSU opened the game running four of its first five plays without a player at the typical F-back spot, the wing position behind a tight end. Again, a tweak to the offense or a move triggered by Moore's absence. 
Front 7 (DL/LB analysis)
Coach Ed Orgeron did not beat around the bush after Saturday's game. He said his team was "out-physicaled" and "got beat on fundamentals - blocking and tackling." We drummed up some numbers that speak to that. Troy running backs ran for 49 yards on 14 carries between the tackles in the first half alone. The Trojans ran for at least 3 yards on 11 of those 14 inside carries. Overall for the game, Troy ran for 186 yards between the tackles on 29 carries. That's a 6.4-yard average at the heart of the Tigers' defense.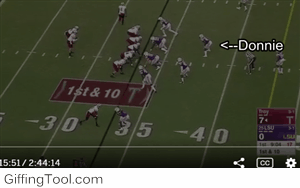 Don't blame it all on a defensive line that's low on depth and missing, arguably, three of its top five players in Frank Herron, Rashard Lawrence and Ed Alexander. ILB Donnie Alexander had his woes. An example of that is to the right. Alexander darts toward the center, leaving his gap open. 
Coaches slowed, at least Saturday, in their rotation at inside linebacker. Devin White and Donnie Alexander played together at ILB in nine of Troy's 12 series. White and freshman Tyler Taylor played in the other three. 
I did not chart Arden Key for a single QB pressure on Saturday. We could have missed one, maybe, but Key is clearly not in game shape and, possibly, far from it. He played about 37 snaps Saturday, giving him 129 snaps in the last three games, since his return at Mississippi State (43, 49, 37).
Finally, those pesky third and fourth down conversions. The Trojans were an incredible 12-for-20 on those plays against DC Dave Aranda's bunch. How? We've got an old-fashioned chart for you below. 
Troy third and fourth down conversions vs. LSU defense
| | | | |
| --- | --- | --- | --- |
|  Down |  Play |  Yards gained |  Why did they convert? |
|  3rd and 4 |  Sweep left |  7 yards |  Arden Key and Donnie Alexander get blocked out of the play leaving outside open |
|  3rd and 2 |  Center run |  2 yards |  O-line created just enough push |
|  3rd and 6 |  Intermediate pass |  12 yards |  Donte Jackson had fairly tight coverage; it was a great throw and great catch |
|  3rd and 11 |  WR screen |  17 yards |  Donnie Alexander missed a tackle |
|  3rd and 2 |  Center run |  4 yards |  O-line created just enough push |
|  3rd and 1 |  WR screen |  19 yards |  Donte Jackson and John Battle are partially blocked out of the play; Greedy Williams takes poor angle |
|  3rd and 11 |  WR screen |  11 yards |  Donte Jackson and Kevin Toliver are partially blocked out of the play |
|  4th and 9 |  Long pass |  20 yards |  Toliver had decent coverage; it was a nice catch and throw |
|  4th and 1 |  Center run |  1 yard |  Shouldered into the end zone |
|  3rd and 2 |  Center run  |  3 yards |  RB Jordan Chunn gets just enough as Donnie Alexander comes in late |
|  3rd and 3 |  Short pass |  20 yards |  Busted coverage as no LSU defender picks up the receiver in motion. Grant Delpit, Kevin Toliver and John Battle were all on that side of the field |
|  3rd and 2 |  Option right |  11 yards |  LSU does not cover the pitch man, who gets the ball; Michael Divinity is blocked and Grant Delpit races up from his spot too late |
Photos courtesy of ESPN