The old timers in California's Central Valley still refer to it as la mosca.
"That means 'the fly' in Spanish," said Jesse Ortega.
Gene Beck's creation — the fly offense — lives here still, preserved in plastic storage bins inside Ortega's classroom at Cesar Chavez High School in Delano, California. The bins are full of 8- and 16-millimeter reels, some of them dating to 1945, and each proof that this place is home to something other than grape farms.
This is the home of the fly.
You might know it as the jet, or the jet sweep.
Here, at its roots in these dry lands, it is the fly — la mosca, to some in an area that's home to a thriving Spanish-speaking immigrant community.
"It originated here with coach Beck," said Albino Duran, the athletic director at Delano High, where Beck spent nearly three decades confounding defensive coordinators with his creation.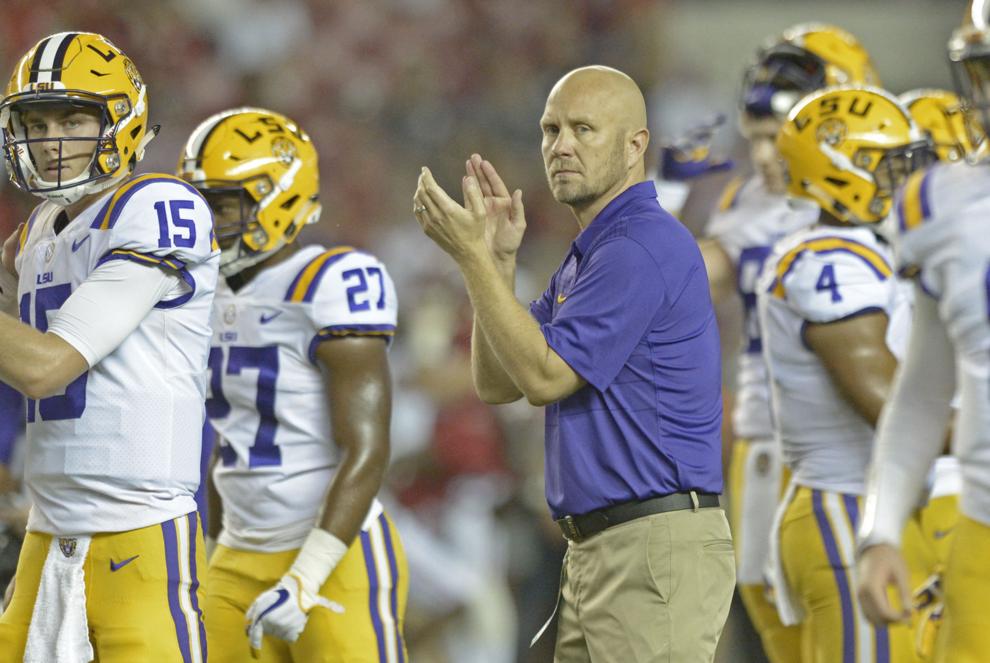 "He started it off in the late 50s. He went to a couple of (high school) championships. Now, the NFL use that play. They call it the jet sweep."
There's a brief pause. "It's supposed to be called the fly sweep."
How the fly made it from California's Central Valley to Louisiana's Death Valley is a winding tale — one that features unfamiliar names like Mark Speckman and Phil Maas and others you may recognize, like Dan Hawkins and Dirk Koetter.
The fly was passed from one coach to another, from one region to the next, making its way from the dry heat of one valley to the cool breezes of Monterey. The fly moved north along Interstate 5 to the Redwood Forest, climbed farther up the coast to Salem, Oregon, and then, eventually, arrived at the bright lights of Boise State, the Fly's first real national spotlight.
Finally, the fly landed here, a much different valley — a humidity-filled swamp that registers on seismographs.
You'll see the fly on Saturday in Tiger Stadium, when LSU hosts Arkansas in their yearly SEC West showdown. You've seen the fly all year — it is the central component to LSU offensive coordinator Matt Canada's offense.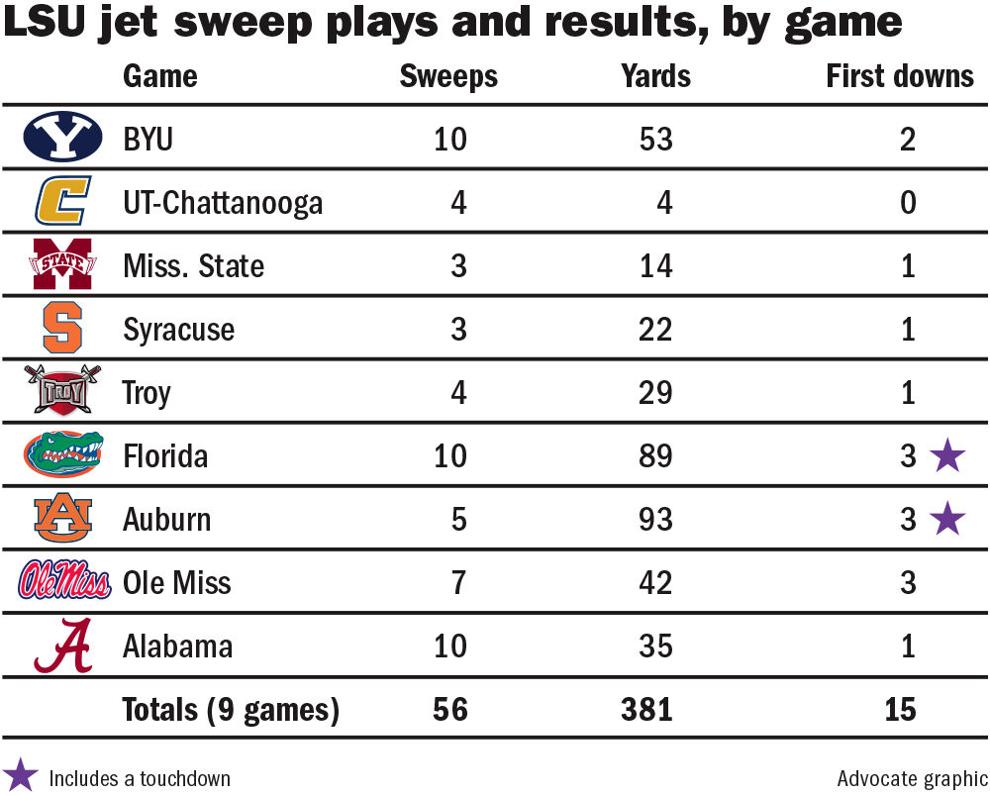 The fly, as Canada uses it, was revealed to football lovers everywhere in front of a nationally televised primetime audience last week in a loss at top-ranked Alabama. At one point, the Tigers ran three jet sweeps in a five-play span. They ran 10 during the game.
For the whole season, LSU has run 56 jet sweeps for 381 yards, a 6.8-yard average. They've scored touchdowns on two of those and picked up first downs on 13 more.
They were critical in wins over Florida (10 for 89 yards) and Auburn (5-93) and commendable in games against BYU (10-53) and Ole Miss (7-42). They also helped the Tigers hog the ball (34 minutes) at Alabama, running 10 sweeps for 35 yards.
An offensive scheme predicated and built around the fly is, for the most part, thriving in the bullish Southeastern Conference, holding its own with some doubters still in tow. After all, LSU (6-3, 3-2 SEC) is 62nd in total offense and 86th in scoring as it enters the 11 a.m. kickoff against Arkansas (4-5, 1-4).
Don't necessarily blame the fly. An old wound in this program reopened last week: the connection between the quarterback and his receivers.
The offense's outing against Bama builds "confidence" in the fly scheme, coach Ed Orgeron said before pointing the finger at the real problem — an 89th-ranked passing offense.
The fly, meanwhile, is chugging along in a conference that prides itself as a vertical-running league with fast, rangy defensive players. In fact, LSU is averaging 7.8 yards on its 35 jet sweeps in five SEC games — a full yard more than its season sweep average.
Its creator would be proud. Beck passed away at his home in Delano in 2002, nearly a decade before Canada stumbled upon the system and around the time Hawkins made a national splash with it at Boise State.
That's where the fly really got its wings, though the offensive scheme took a few more stops before landing in Boise, Idaho, in the late 1990s. First, someone needed to find the fly in Delano. That was Phil Maas, a 72-year-old who has coached linebackers at College of the Siskiyous for the past 36 years.
In 1974, Maas was a young up-and-comer searching for an offensive identity while head coach at Coachella Valley High, near Palm Springs and about a four-hour drive south from Delano. Through a mutual friend, he stumbled upon Beck's scheme and spent a day with him learning the offense.
"I know the origin of it," Maas said this week. "I was the second guy to run it."
Within two years of running the fly, Coachella was riding a 25-game winning streak and eventually claimed three straight league titles.
"It was like anything," Maas said. "People hadn't seen it."
So what was so great about it and what was (and still is) so hard to defend?
In the simplest form, the fly is based around stretching the field horizontally. The offense uses a man — normally a fast one, such as a receiver — to run behind the line of scrimmage before the snap, usually passing just behind a quarterback under center or in front of a shotgun-based QB at the snap. The motion man is a threat as a rusher or receiver.
Ed Orgeron reaffirmed his stance on LSU's quarterback situation on Wednesday, shooting down any talk of freshman Myles Brennan replacing senio…
Defending it is not easy.
CBS color analyst Gary Danielson, during the broadcast of LSU's loss to Alabama, described Canada's fly offense as an "inverted" triple option.
"In the option, you have the assignment inside-out, with the fullback, (quarterback), and pitch is the last phase," Danielson said. "In this offense, the jet sweep is the first phase. If it's there, they're going to kick the ball. Everything flows off of that."
The next phases are decoys if the sweep is carried out: the running back dive, a tight end shovel pass, a quarterback keeper and speed option.
A key in defending the sweep is to "set the edge," said Derek Mason, Vanderbilt's coach and a longtime defensive guru. A safety, defensive end, cornerback or linebacker is assigned to get wider than the motion man, forcing him back inside to the heart of the defense.
Alabama and Auburn defended the sweep in similar fashion. They rotated their secondary, dropping a safety into a wide position to the side of LSU's motion. Both teams defended the fly well, with one exception — a 70-yard sweep LSU ripped off in a comeback over Auburn.
Danielson chided the Auburn safety on air for not getting wide enough.
"It's sort of like cattle," Mason said. "You want to make sure you have a fence so that the cattle don't just run wild. The cattle are herded into the space and area you want to them to go in to."
Maas knows all of this. He's run the fly at three schools. He brought the offense out of the California Central Valley and to a new high school in Monterey in 1979. There on the staff when he arrived was an assistant born without hands.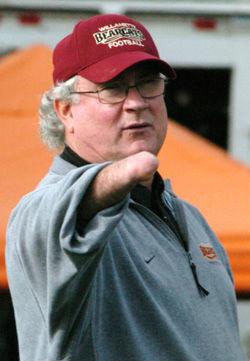 At the end of Mark Speckman's nearly full-length arms are nubs. That didn't stop him from becoming a coach many believe is one of the more overshadowed offensive innovators in football. Maas called him the "modern father" of the fly. He expanded on the offense like none other before him and used high school clinics to spread the system far and wide.
He taught Canada the fly, for instance, but that came years after it migrated from California. Hawkins led that move, acquiring the fly from Maas at College of the Siskiyous in the late 1980s.
Years later, Hawkins became head coach at Willamette, an NCAA Division III program in Oregon that then played in the NAIA. Hawkins teamed up there with Speckman.
Their offense — and an appearance in the NAIA championship game — helped propel Hawkins to the offensive coordinator job at Boise under Koetter. Three years later, when Koetter left to take over at Arizona State, Hawkins became the head coach.
"When Dirk left for Arizona State, he asked me for two favors," Hawkins said this week. "One of them was, 'Don't give away anything on the fly.'"
Hawkins and Speckman have been reunited this year — Hawkins is head coach at UC-Davis and Speckman is running backs coach. 
And, yes, they run some fly.
Canada is just the latest pioneer of the offense. He's expanded  it even more than Speckman. Kansas City Chiefs coach Andy Reid, for instance, took concepts from the offense Canada ran at Pittsburgh last year and incorporated them into KC's scheme.
Each offense seems to have at least one or two jet sweep plays. Not all of them build their offense around the fly like Canada.
Arkansas coach Bret Bielema knows Canada's system better than most. Canada served as Bielema's offensive coordinator in 2012 at Wisconsin.
"He uses (the fly) in a variety of different ways," Bielema said. "Not only traditional east to west, but he'll bring (the sweep man) back around, run inside zones and run plays off of them. He does a really nice job, creates a lot of things you have to defend."
LSU entered this summer with what looked like a sturdy, deep and talented defensive line.
Canada heard about the fly from an Indiana high school coach during a football clinic, somewhere between 2007 and 2010. The coach connected him with Speckman. The two met for hours, each exchanging concepts.
"He's taken it to another level," Speckman said. "He does a good job of running the sweep. Every offense has a play you run and you got to stop it. People are nervous about the fly sweep. Where he goes above and beyond is he sticks with it and has several clever plays off of it. You've got to have more than a fast guy running around the corner."
But LSU does have fast guys.
Senior receiver Russell Gage is Canada's go-to sweep man (24 carries, 182 yards), averaging 7.5 yards a pop. Sophomore Derrick Dillon (11-97) averages more than 8 yards a sweep, and DJ Chark has averaged 5.71 on seven sweeps.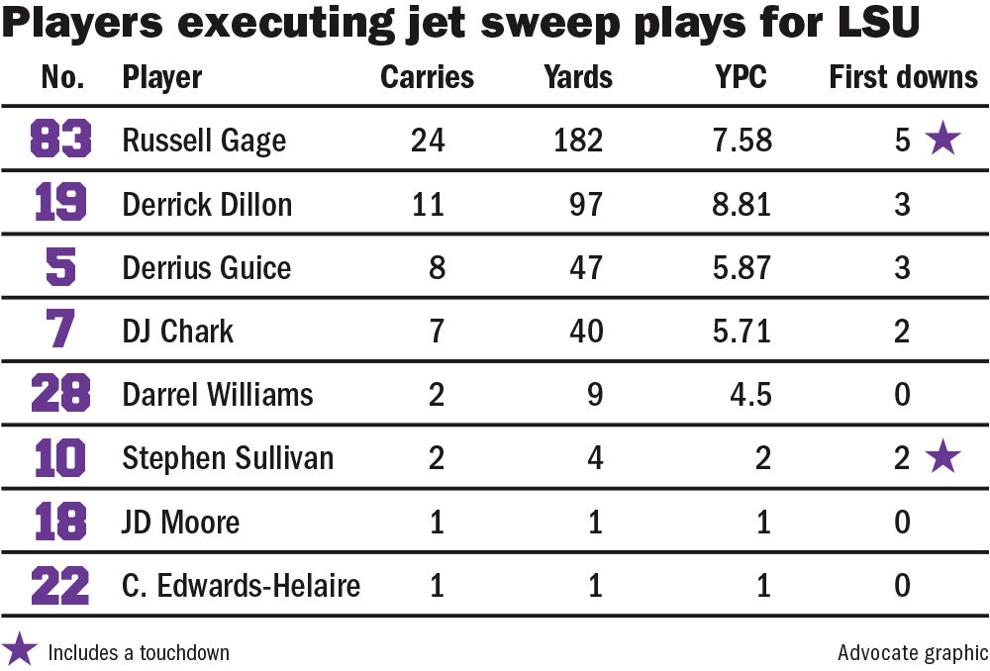 Stephen Sullivan has gained just 4 yards on two sweeps — but one scored a touchdown on fourth-and-goal against Auburn and the other picked up a key third down against the Tide. Running back Derrius Guice has 47 yards on eight sweeps, many of them a shortened version of the normal fly. On Guice's sweeps, he often originates from Canada's F-back position, a wing-back spot tucked off the line behind the tight end or tackle.
Guice's sweeps are most similar to the 1950s and 60s plays on those old reels of film stacked in bins in Ortega's office. A former Delano player and assistant coach, Ortego is now head football coach at Cesar Chavez High, about a mile and a half from Delano High.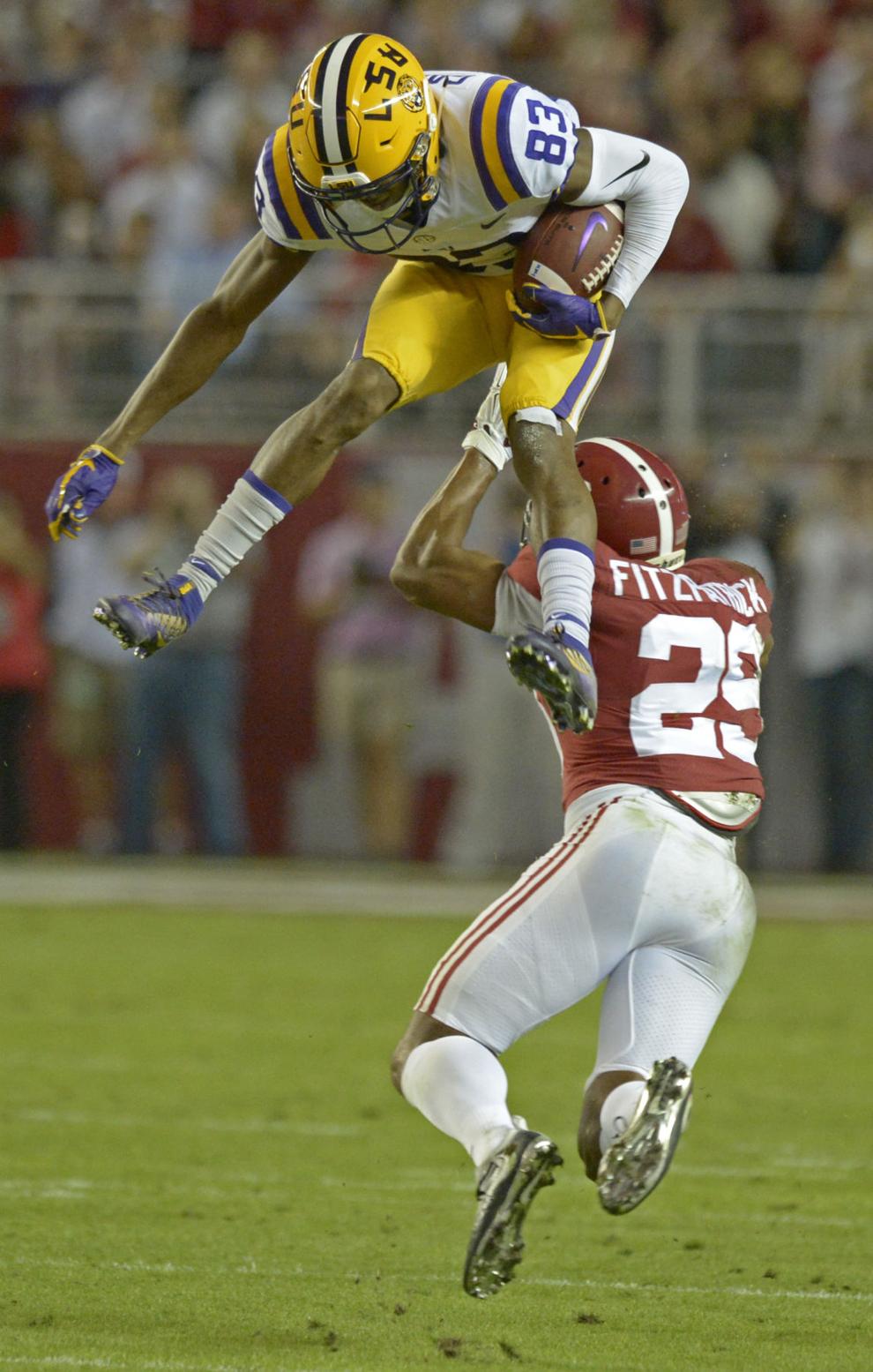 The reels of film are grainy and dark, but there's no mistaking what's on them — it's the fly. Ortega has uploaded some of them onto YouTube and plans to upload more in the coming months.
Beck is a legendary figure around the desert town and in the Valley, as they call it. The Valley stretches from Bakersfield to Chowchilla, Ortega said — basically inland California between Los Angeles and Sacramento. Delano named its football stadium for Beck, and a bust of him is on display in the school's library. 
"He was respected as a football coach," Ortega said. "As a person, he was a class gentleman."
Over the past four decades, the fly has morphed from a small system of plays used by Central Valley high schools to one adopted and expanded by West Coast and mountain colleges and then eventually encompassed in some NFL franchises (Jim Harbaugh ran some in 2011 for the San Francisco 49ers and Reid is toying with it for the Chiefs).
"When we first started seeing it on TV, we were pretty excited," Ortega said. "We see more and more. It's so common now. It doesn't seem that big of a deal anymore."
How Beck created the fly is somewhat a mystery. Some say he based the offense on former Texas coach Darrell Royal's wishbone scheme, and others claim Beck, who was a center at Southern Cal, derived the fly from UCLA's single-wing series.
What is known: How exactly Maas stumbled upon the offense, bringing it out of that valley and eventually into this one.
Maas and his staff were fishing for the right offense during their first season at Coachella in 1974. An equipment manager at the time had an idea.
The manager, a Delano native, suggested they adopt a wild, wacky offense that a man named Gene Beck was running some four hours north.
"What's it called?" asked Maas.
Answered the manager: "La mosca."
---
INSIDE THE NUMBERS: LSU's FLY
LSU has run the jet sweep — or fly — 56 times for 381 yards this season. Here's a breakdown:
By game
| | | | |
| --- | --- | --- | --- |
| Game | Sweeps | Yards | First downs |
| BYU | 10 | 53 | 2 |
| UT-Chattanooga | 4 | 4 | 0 |
| Miss.State | 3 | 14 | 1 |
| Syracuse | 3 | 22 | 1 |
| Tory | 4 | 29 | 1 |
| Florida | 10 | 89 | 3* |
| Auburn | 5 | 93 | 3* |
| Ole Miss | 7 | 42 | 3 |
| Alabama | 10 | 35 | 1 |
| Totals | 56 | 381 | 15 |
*includes a touchdown
By player
| | | | | |
| --- | --- | --- | --- | --- |
| Sweeper | Carries | Yards | YPC | First downs |
| Russell Gage | 24 | 182 | 7.58 | 5* |
| Derrick Dillon | 11 | 97 | 8.81 | 3 |
| Derrius Guice | 8 | 47 | 5.87 | 3 |
| DJ Chark | 7 | 40 | 5.71 | 2 |
| Darrel Williams | 2 | 9 | 4.5 | 0 |
| Stephen Sullivan | 2 | 4 | 2 | 2* |
| JD Moore | 1 | 1 | 1 | 0 |
| C. Edwards-Helaire | 1 | 1 | 1 | 0 |
*includes a touchdown
By yard
| | |
| --- | --- |
| Yards | Sweeps |
| <0 | 6 |
| 0-3 | 18 |
| 4-7 | 16 |
| 8-12 | 9 |
| 13-20 | 4 |
| >20 | 3 |
 By down
| | |
| --- | --- |
| Down | Sweeps |
| First | 38 |
| Second | 14 |
| Third | 3 |
| Fourth | 1 |
By originating position
| | |
| --- | --- |
| Position | Sweeps |
| Receiver | 38 |
| F-back | 11 |
| Slot receiver | 7 |