STARKVILLE, Miss. — Jake Mangum isn't in the business of breaking news.
He's not a journalist. He's no sports reporter or news correspondent. He's a baseball player for Mississippi State.
But on the afternoon of Nov. 3, he and his teammates broke news — to the LSU baseball team.
LSU players learned of Cannizaro's stunning transition last November — from the Tigers' hitting coach and recruiting coordinator to State's head coach — from Cannizaro's new players. The wheels were set in motion that Thursday afternoon, when word seeped that then-coach John Cohen was to become athletic director.
Mangum fired a message to his friends, the Jordan brothers — Beau and Bryce, who play for LSU.
"I had texted them when coach Cohen took the AD job,'" said Mangum, State's sophomore outfielder. "I was like, 'Hey, I really think we're going to get coach Canny.' They were like, 'Man, if you do, he's one of the best to work with. Awesome guy.' "
This weekend's super regional is, yes, one that pits two of baseball's historic powers, LSU and Mississippi State, in what's expected to be one of the most intense crowds ever at Alex Box Stadium. And, yes, it's a meeting of two head coaches and former co-workers who haven't spoken to one another since Cannizaro's abrupt departure.
But dig a little deeper and you'll find many more connections between the guys playing on the field.
The link between LSU and State players goes beyond Cannizaro — most of them played summer ball together, developing friendships that came in handy in early November when the Cannizaro buzz filtered out of Starkville and into Baton Rouge.
Sensing his team already knew about Cannizaro leaving, LSU coach Paul Mainieri gathered his players that Thursday night and told them.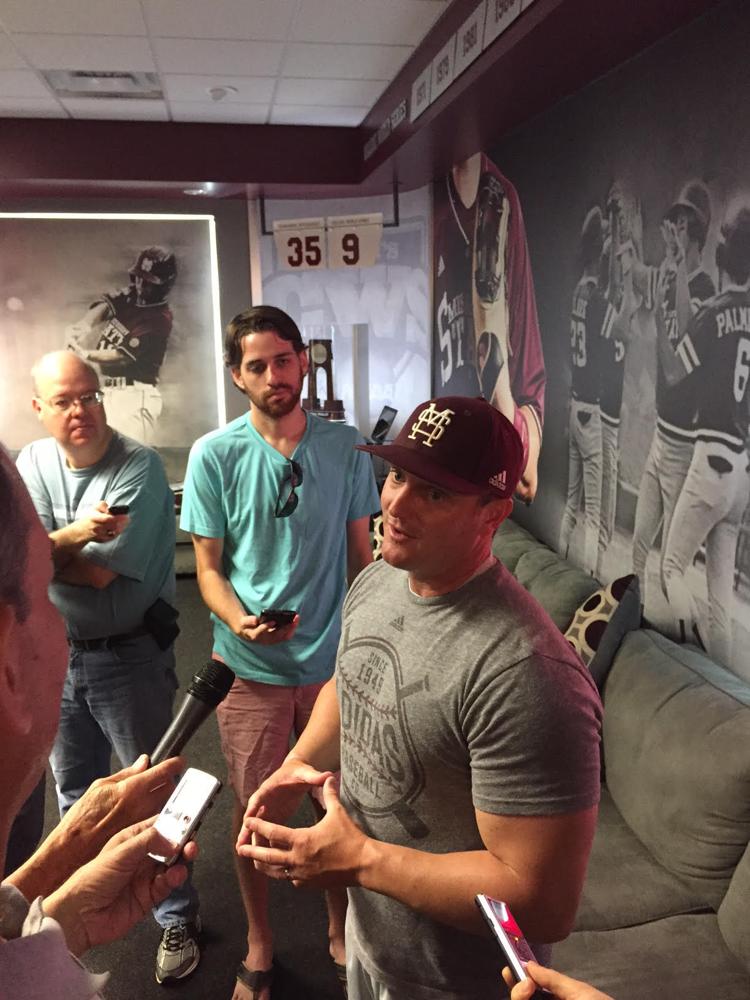 Seven months later, one set of players is approaching this showdown as the scrappy underdogs on a magical and unexpected ride. No one saw this coming, State players say, and that's exactly why the Bulldogs (40-25) are here, locked in a best-of-three duel with the national No. 4 seed Tigers (46-17).
"Got to take it personally every single day," said Konnor Pilkington, a sophomore left-hander whom Cannizaro named the starter for Saturday night's first game. "I tweeted out the BPI after we won the regional. It gave us 6.8 percent chance to win that regional. Everybody took it to heart, took it personally."
These guys say they thrive on the "doubters," those who predicted their downfall since mid-March. All of this is fueled by their first-year coach, the beefy former Tulane star and New York Yankees scout.
Cannizaro doesn't hide from that fact. During an interview Wednesday from his office, he flicked on his iPhone and flashed a reporter a screenshot — the percentage odds of each of the 16 super regional teams on advancing to the College World Series.
In the 15th spot, only above regional No. 4 seed upstart Davidson, was Mississippi State at 17 percent.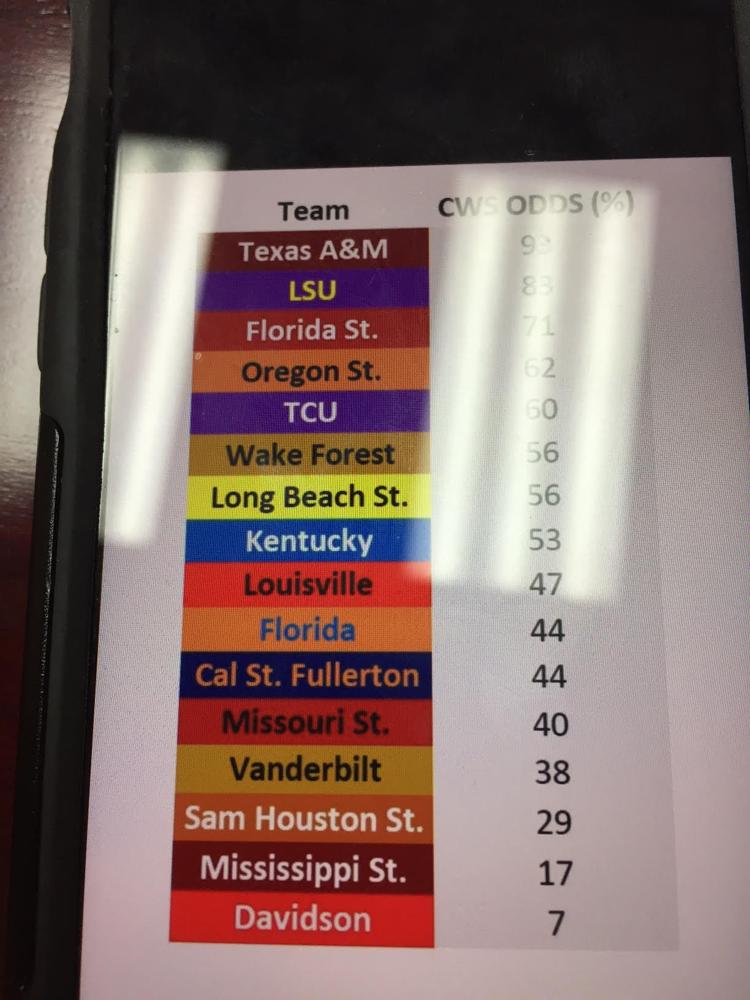 "Our guys are extremely driven by that," Cannizaro said. "They've felt disrespected all season long."
There are reasons behind the projections and predictions, of course.
State lost 10 players who signed pro deals from last season's SEC championship team. The Bulldogs started the season well out of the top 25. Eight pitchers are out for the season with injury, and at least three position players have won SEC starts on the mound. In addition to that, Cannizaro's team does not rank in the top 60 in batting average (.228) or the top 125 in ERA (4.82).
"I think our team plays with an unbelievable amount of heart and unbelievable amount of drive each and every day to prove doubters wrong," Cannizaro said. "Everywhere we go, nobody ever gives us an opportunity to win this year. Got off to a good start in the SEC and everybody said, 'It's not going to last. They're going to run out of pitching.'
"Everybody's waiting for the clock to strike midnight."
It's still ticking — at least until Sunday night.
"This is a team that's not supposed to be here," Mangum said, "and it's here."
STARKVILLE, Miss. — Andy Cannizaro lifts himself out of his chair and walks to what appears …
The Bulldogs do have talent.
They've got the SEC Player of the Year, big-hitting first baseman Brent Rooker, a guy on pace to become the Southeastern Conference's first triple-crown winner since Rafael Palmeiro in 1984. He's got 23 home runs, hits .395 and has driven in 83 runs.
They've got Pilkington, too, their sophomore ace with a 3.26 ERA and 107 strikeouts over 102 innings. And they're eighth nationally in fielding percentage.
They've also been fortunate, Cannizaro admits.
In the regional final against Southern Miss on Monday, the Golden Eagles dropped three fly balls. Mississippi State scored the go-ahead and eventual winning runs on the last dropped fly in the eighth inning.
"We've had so many things go our way over the last couple of weeks and over the course of the season, but you don't get breaks by mistake," he said. "You get breaks because you put yourself in a position for something good to happen on the field."
The Bulldogs take their motivation — those doubters — serious. The left shoulder of their longsleeve warmup jerseys is emblazoned with a Bulldog logo. Underneath it in capital letters is one word: "CHIP."
They've got something else to use at motivation this week.
LSU players celebrated an SEC championship at Dudy Noble Field on May 20, dousing head coach Paul Mainieri in a water bath after completing a three-game sweep of the Bulldogs in Cannizaro's first series against his old team. 
"We've got a lot going for us, a lot of vengeance coming from LSU coming in here and sweeping us at home," Pilkington said. "If we can go down there with enough heart and pride and overcome the crowd, I feel like we can pull two out."
Cannizaro thinks so, too.
"It's going to be a heavyweight title fight, you know what I mean. If you got to get to Omaha, why not try to go through LSU? They're a program that's accustomed to going there. So is Mississippi State," he said.
"Let's go play. Let's go get it on. I like our chances."