This is a 12-part daily series counting down the days until LSU football begins spring practice on Sunday. 
Days until spring: 4
TE Foster Moreau's touchdowns: 4
There may not be a more underrated player on LSU's football team. Last offseason - around this time - Moreau emerged as a vocal and physical leader, and he displayed those characteristics during his junior season in 2017.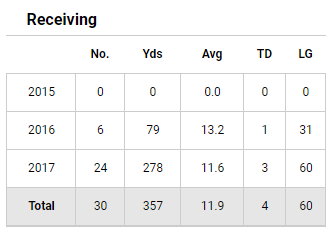 He caught three touchdowns to add to his career of four TD catches. That might not seem like a ton, but for a tight end at LSU, it's on the high side. Thing is, that total is almost certain to rise significantly this season for a number of reasons.
First off, Moreau proved last season he's capable of being a big, sure-handed target for any quarterback. He caught 24 passes, averaging 11.6 a catch as more of a possession-type receiver. No one will call Moreau nimble in the open field, but he'll deliver a blow with the ball in his hands.
Secondly, his former position coach, Steve Ensminger, is now the offensive coordinator. That will surely help in his involvement in LSU's offense, a scheme that is expected to lean on the pass. Ensminger showed his penchant for tossing to the tight end during his eight-game stint as LSU's interim offensive coordinator in 2016. We don't expect that to change, especially having a veteran at the position. 
Moreau is the clear-cut starter at this position, having proven to be a versatile player in the passing game and run game (he's known for delivering vicious blocks on the edge). But expect heavy involvement from NC State transfer Thaddeus Moss, the son of Randy Moss and a guy who sat out last season per NCAA transfer rules.
Moss is more of a pass-catching tight end. In fact, receiver DJ Chark in January described Moss like this: "He's one of the first tight ends I've seen in a long time that can really just go snatch the ball."
LSU has spent the past two decades catching up to its Southeastern Conference brethren in a facilities arms race that has swept through colleg…
Countdown to LSU spring practice 
4: TE Foster Moreau's touchdowns
Notes on a golf scorecard while eagerly waiting for March to go mad …