Welcome to Film Room, our weekly analysis of LSU's last football game.
Have a seat. No talking. No tweeting. No texting. Pay attention.
(Editor's note: Click the images to enlarge)
How They Happened (big-play analysis)
Skinny post: On second-and-6 just before halftime, QB Danny Etling connects with WR Stephen Sullivan for a 43-yard touchdown pass.
The defenders aside, this play works well because of the precise timing from Etling. He hits Sullivan in stride on what many refer to as a "skinny post" route, cutting between the safeties (black and yellow circles).
Sullivan beats his man, CB Christopher Fredrick (blue), down the field. Fredrick is playing off man coverage, giving Sullivan 5-7 yards during the route. That leaves him in trouble once Sullivan cuts inside quicker than, maybe, the cornerback expected (the "skinny" part of the skinny post).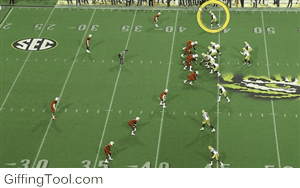 The real key on the play - outside of that timing - are the two safeties, Jordan Martin (black circle) and Evan Foster (yellow). Martin over-pursues the play, and Foster, as seen in the screen shot, has dropped down to help in coverage against LSU's leading receiver, DJ Chark, running a crossing route. 
---
Tricky Orange: On third-and-4 in the third quarter, Syracuse runs a receiver pass, scoring a 30-yard touchdown to pull within 21-10.
In the backfield, QB Eric Dungey hands to WR Devin Butler on what first appears as a jet sweep. Butler then throws to Ervin Phillips. This trickeration from the Orange seems to affect the Tigers' secondary, as Phillips (black arrow) is left wide open for the score. 
This play works, in part, because both Donte Jackson and Kary Vincent (red circles) cover the quarterback, Dungey, out of the backfield, leaving Phillips to run free down the middle of the field (black line). There is no safety, as Eric Monroe is playing tight on the line of scrimmage and Grant Delpit picks up the motion man on the opposite side of the field.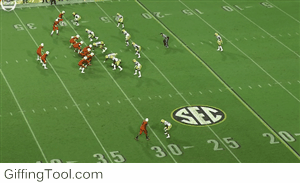 You can see in this screenshot that Jackson is, at first, running with Phillips in man coverage, but he stops once he sees Dungey emerge from the backfield. Jackson begins covering Dungey and so does Vincent. Because we do not know the defensive playcall and assignments, it's tough to attribute the bust to one player. In the end, Syracuse executed a nice trick play.
---
Safety valve: On third-and-4 on his first series in the game, QB Myles Brennan dumps a short pass to RB Darrel Williams for a 43-yard gain. 
This play really works because Brennan notices, before the snap, that Syracuse is bringing a safety blitz. In fact, the Orange overload the right side of LSU's line, rushing three players to LSU's two linemen. It's a safety, lineman and outside linebacker against RG Adrian Magee and RT Toby Weathersby.
Weathersby is occupied by Syracuse safety Evan Foster, leaving outside linebacker Troy Henderson (black circle) free. He's unimpeded and heading directly for the rookie QB. With that big body in his face, Brennan lofts the ball over Henderson for the completion to Williams (red circle), his safety valve on the play.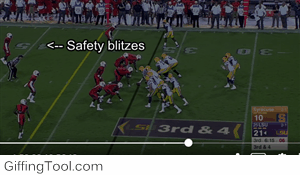 This is a great example of a few things by the young quarterback. First, his presnap read of the blitz. Second, his quick release. Third, his accuracy on a touch pass that he needed to float over a defender. Fourth, the courage to stand in the pocket in the face of pressure. Lots of positives here.
---
POSITION ANALYSIS
Big Ugly Blips And Booms (OL analysis) 
First off, before we dive into the pass-blocking issues, you're probably first wondering how the Tigers struggled at something they usually do so well: run and run block. Coach Ed Orgeron said after the game that the Orange was leaking a safety into the box and loading it up. Syracuse was, indeed, loading up the box, the imaginary 7-yard square area out from the football. We charted the number of defenders in the box on LSU's rushes (kneel downs and goal-line snaps not included):
6< defenders: 1 time
7 defenders: 7 times
8 defenders: 18 times
9> defenders: 2 times
Running against a loaded box is never easy, and it's probably a good reason why the Tigers averaged 4 yards a carry against an Orange defense not really known for being stingy. 
Now, for the pass blocking. For a second straight game, the Tigers O-line struggled in this category, but it wasn't solely on the line. At times, Etling didn't fire quick enough. On other occasions, the running backs missed protection assignments. 
In all, LSU allowed 14 quarterback pressures in 25 dropbacks - a startling number. That's a 56 percent pressure rate. That is not good. Below are the 14 pressures and play results. Please keep in mind that we do not know the playcalls or blocking assignments.
| | | | | | |
| --- | --- | --- | --- | --- | --- |
|  Down |  LSU blockers |  Syracuse rushers |  Closest LSU blocker |  Pressure from |  Play result |
|   1st-10 |  7 |  6 |  RT Weathersby |  Left |  Sack |
|  3rd-14 |  6 |  6 |  LT Malone |  Left |  Incompletion |
|  3rd-5 |  5 |  4 |  LG Brumfield |  Left |  Incompletion (PI flag) |
|  3rd-10 |  6 |  3 |  RG Ingram |  Right/Center |  +6 pass |
|  2nd-8 |  7 |  6 |  RB Williams |  Left |  Incompletion |
|  2nd-4 |  5 |  6 |  LG Brumfield (out-numbered) |  Left |  +5 run (QB scramble) |
|  3rd-7 |  6 |  6 |  ? |  Left |  +13 pass |
|  3rd-6 |  6 |  6 |  RB Guice |  Right |  Incompletion |
|  1st-10 |  7 |  6 |  RB Williams/TE Moreau |  Left |  Sack |
|  2nd-7 |  5 |  5 |  RT Weathersby |  Right |  +3 pass* |
|  3rd-3 |  5 |  6 |  RT Weathersby (out-numbered) |  Right |  +43 pass* |
|  1st-10 |  7 |  6 |  RG Magee |  Right/Center |  Incompletion* |
|  1st-10 |  5 |  6 |  C Clapp (out-numbered) |  Center |  +7 yards* |
|  2nd-10 |  5 |  6 |  RT Weathersby/RB Williams (out-numbered) |  Right |  +8 run (QB scamper) |
 *Myles Brennan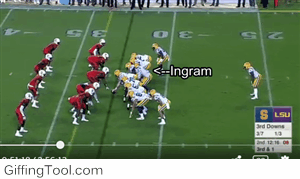 Notice something? On four of those 14 pressures, Syracuse out-numbered LSU blockers. That is somewhat rare. The Orange was really bringing the heat, but notice it never brought more than six guys. It brought six, though, a whopping 11 times on LSU dropbacks. 
After three series, LSU OL coach Jeff Grimes saw enough from RG Ed Ingram to make a change, inserting Adrian Magee. Ingram had his struggles early on. You'll see one above, in which Ingram thinks he's supposed to pull on the play. Guice is mobbed on a third and short.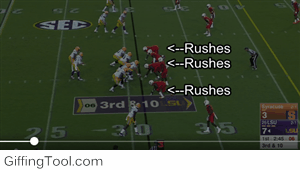 The most unsettling pass-blocking issue came in the first half when Syracuse rushed just three defenders to LSU's six blockers. A clip of that is to the left. 
---
Monday Morning Quarterback (QB analysis)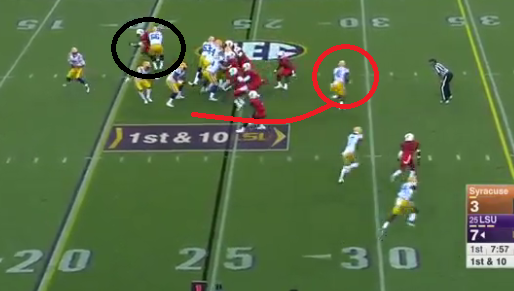 Let's start with Danny Etling. First, you should know, he was under duress for much of the night, as Orgeron clearly said in his postgame news conference. In fact, Etling was pressured on 10 of his 19 dropbacks. Again, an unsettling number. 
There were two plays in particular that we picked out to illustrate how Etling might have made the throw despite pressure.
The very first pass from scrimmage is above. F-back David Ducre (red) is wide open, but Etling can't set his feet and fire in time because, yes, he's pressured. Toby Weathersby (black circle), LSU's right tackle playing on the left side in this unbalanced set, can't keep the pocket clean. Could a QB with a quicker trigger make the play? Maybe.
The second play is above and to the left. Here, Etling is on a designed rollout to the right. He fires incomplete to a covered Foster Moreau, while Drake Davis (red) is running completely open. This would not be an easy throw for any quarterback. It's across his body.
Let's talk Myles Brennan. He got 16 snap on three drives. We already analyzed one of his successful plays - that 43-yard completion to Darrel Williams. Let's hit on one more that shows the rookie's poise, accuracy and touch. 
This, below, is a first-and-10 early in the fourth quarter. Brennan corrals a low snap, evades an unimpeded blitzer up the middle and then throws complete to Moreau while off balance. This is impressive for an 18-year old just out of high school.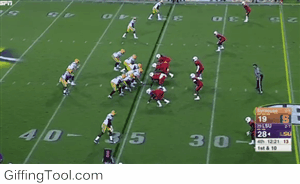 Five-yard Out (WR analysis) 
We never really have interesting receiver analysis. If you're wondering why, it's because it's tough to analyze a positions that you don't see - on a TV camera angle - for an entire play. For this week, we charted something different to provide what we hope are interesting numbers.
LSU uses several different receiver combinations among, mainly, five receivers: DJ Chark, Russell Gage, Derrick Dillon, Drake Davis and Stephen Sullivan. But what grouping is Matt Canada's favorite? Find out below, where we break down the receiver groupings by plays
Gage, Chark, Sullivan: 8 plays
Chark, Davis: 6
Chark, Sullivan: 6
Davis, Chark, Gage: 6
Gage, Davis, Dillon: 5
Gage, Sullivan: 5
Gage, Davis: 4
Sullivan, Dillon, Chark: 4
Dillon, Davis: 4
The first thing that stands out here: Davis and Sullivan, LSU's two long ball guys, are never on the field at the same time, as they play the same position, the X. They are relegated to that position, as they do not know the others, both players said during camp.
Also, LSU ran a play with four true receivers on the field once. That grouping was Dillon, Davis, Chark and Gage. The Tigers lined up with four men wide several more times, but the fourth guy was TE Foster Moreau. 
We've got some overall snap counts for each of the five receivers, too.
DJ Chark: 33
Russell Gage: 29
Drake Davis: 28
Stephen Sullivan: 26
Derrick Dillon: 16
F Who (F-back/TE analysis)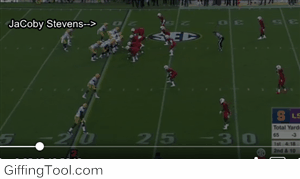 It's no secret the Tigers want to get the ball to freshman JaCoby Stevens any way they can. They're moving him positions to do it - from safety to receiver and from receiver to F-back. We saw Stevens play roughly 5-10 snaps at the F-back position Saturday. He caught a shovel pass from that spot for a 5-yard gain. That play is to the right.
David Ducre is slowly becoming a bigger part of LSU's offense. It seems like with each game his role grows. He played 18 snaps at the F-back position on Saturday, spending several of those plays running routes and getting open. He was targeted twice, both incompletions, and he was open a handful of other times (the one above, for instance, on the first passing play of the game).
Freshman Tory Carter got about 7 snaps Saturday in the F-back role. That's about 25 snaps between Carter and Ducre. The other 25-30 went to JD Moore, who may not be completely healthy. Remember that he missed a day of practice last week and then donned a gold-injury jersey for at least one day.
Front 7 (DL/LB analysis)
What would the Film Room be without a new pass-rushing defense from DC Dave Aranda, right? The Cheetah, Aranda's new pass-rushing formation that debuted against BYU, is not alone any longer. The coordinator used another even lighter version of the defense on Saturday against fast-paced Syracuse.
The Cheetah, you'll remember, includes includes two defensive linemen, four linebackers and five defensive backs. This new pass-rushing D (we don't know what to call it) incorporates just one defensive lineman (usually, on Saturday, Christian LaCouture). The formation is: 1 DL, 5 OLBs and 5 DBs.
Take a look at the defense above and to the right. You'll notice Arden Key and K'Lavon Chaisson on the field at the same time. This is another great example of how LSU's defense is changing this year, relying on more rangy outside linebacker types than linemen. 
The Tigers only used this Cheetah Express, if you will, five times - all of them coming in the first half. Four of the five included a QB pressure, but the five plays did not always produce great results. 
| | | |
| --- | --- | --- |
|  Down |  Playcall |  Yards Gained |
|  3rd-11 |  Pass |  +8 yards (QB pressured, scrambled) |
|  3rd-17 |  Pass |  Incompletion (QB pressure) |
|  3rd-11 |  Pass |  Incompletion (QB pressure) |
|  3rd-11 |  Run |  +13 yards |
|  3rd-8 |  Pass |  +3 yards (QB pressure) |
The Tigers employed the original Cheetah (2 DL, 4 OL, 5 DB) for much of the game against Syracuse's pass-heavy, hurry-up offense. LSU played more Cheetah than it played its base front with three D-linemen - something that speaks to the depth issues at D-line, along with the opponent's scheme.
Arden Key's weight (~265 pounds) continues to be a topic of discussion. It's clear that he's not in game shape, something Orgeron has said over the past month. He played in about 49 of the 82 snaps Saturday. He got a breather after the first six plays of the game during a long drive from the Orange - again, a sign of his condition. He was not in the game during Syracuse's lengthy fourth-quarter touchdown march. 
Orgeron called DE Rashard Lawrence his "bell cow" on Saturday night and that his team is "different" with the sophomore in the game. A hobbled ankle did not stop Lawrence from making plays. Check out the two below - a one-handed tackle and bull-rush sack.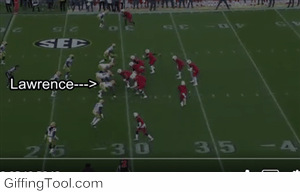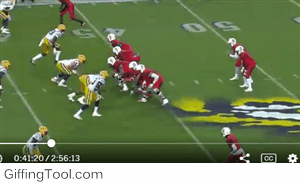 The Tigers continue to rotate their inside linebackers at a pretty regular pace. Syracuse had 12 drives in the game, and here's who the Tigers started at ILB on each
Taylor-White
Taylor-White
Phillips-White
Taylor-Rucker
Phillips-White
Taylor-White
Alexander-White
Alexander-White
Taylor-White
Alexander-Rucker
Alexander-White
Taylor-White
Break It Up (DB analysis) 
Syracuse passed for more than 300 yards. How and on who? Well, those are both tough to answer, but we did chart what LSU DBs the Orange targeted most and how many yards and completions they allowed. We only charted passes of 5 yards or more and we did not chart screen passes or a pass to a backfield player covered by a linebacker. Again, we do not know the defensive playcalls, nor do we know the assignments. Please keep that in mind. Some of these passes might not have been targeted against that defensive back, but that defensive back was the closest to the play and appeared to be in coverage.
| | | | | | |
| --- | --- | --- | --- | --- | --- |
|  Defensive back |  Targets |  Catches |  Catches of 10+ yards |  Yards a catch |  Other |
|  Greedy Williams |  12 |  7 |  3 |  7 |  1 INT |
|  Kary Vincent |  7 |  2 |  1 |  7 |  1 PBU |
|  John Battle |  4 |  3 |  1 |  10 |  -- |
|  Xavier Lewis |  2 |  2 |  1 |  10 |  -- |
|  Grant Delpit |  4 |  2 |  1 |  9 |  -- |
Wondering why you don't see cornerbacks on this list like Donte Jackson and Kevin Toliver? They were each only targeted once, by our count, and Jackson's "target" is debatable (it's that receiver-pass touchdown from Big Play Breakdowns). Jackson, by the way, has now been targeted six times in four games. He told reporters last week that he had been targeted just five times in the first three games. 
Photos courtesy of ESPN