Welcome to Highlights, where we'll break down significant portions from LSU's last football game.
(Click to enlarge photos)
LSU 65, Northwestern State 14
How It Happened
Trouble with the zone/pass rush: All right, let's start with the caveat: LSU was playing without four starters on defense in inside linebacker Michael Divinity (coach's decision), defensive ends Rashard Lawrence and Glen Logan (injuries) and pass rusher K'Lavon Chaisson (injury). And by halftime, the Tigers were playing without starting safety Todd Harris, who left with an apparent knee injury.
That being said, the Tigers defense was still certainly talented enough to handle a winless FCS team from start to finish.
This did not happen.
The Demons were leading 7-3 after the first quarter, and with LSU leading 24-14, quarterback Shelton Eppler was trading touchdown passes with Joe Burrow. And if it weren't for a drop on a tough play before the end of the first half, the score could've been 24-21 at the half (more on that later).
LSU coach Ed Orgeron said the Tiger secondary was struggling playing zone coverage in the first half, and when the defense switched to man coverage, they shut the Demons down. Northwestern State had 200 total yards of offense in the first half, and they recorded just 78 yards in the second half and did not score.
"The zones weren't working," Orgeron said. "We played more man. We tightened up our guys in man coverage. You saw us breaking on the ball a little faster, almost got some picks. I think that was the biggest adjustment."
Another main issue was Eppler had plenty of time to throw. Without Chaisson, Lawrence and Logan, LSU could not establish a pass rush, even when using Dave Aranda's creative "Green Team" package that puts the team's top four pass rushers on the defensive front.
Let's tackle the zone coverage first:
Burrow said he gained respect from Eppler by the way he played in this game. Just some history on the Demons QB: he once set the all-time Texas high school football record for touchdown passes in a single season (72) at Navasota High.
Eppler slashed the LSU zone with slants, screens and sideline passes to record 172 yards and two touchdowns by halftime. But the biggest plays came on busted coverages.
On first-and-10 at the LSU 17, Eppler threw a 17-yard touchdown pass to Quan Shorts to lead 7-3 at the end of the first quarter. Shorts was the inside receiver on a trips bunch to the left. He hesitated on his route and ran past both safety Grant Delpit and inside linebacker Damone Clark on his way to the end zone.
This was the first of #LSU's major zone coverage lapses.NSU's Shelton Eppler throws a 17-yard score (the first Demons TD vs LSU all-time), and Vincent and Stingley close late.Orgeron said the No. 2 receiver can't get off the ball so easy and the safeties need to play on top. pic.twitter.com/YZlLsxnngl

— Brooks Kubena (@BKubena) September 15, 2019
It's unclear just who was responsible for Shorts, but nickel safety Kary Vincent and cornerback Derek Stingley both close late. Orgeron said that the defense can't let such a receiver off the ball so easy. "It's re-routing (the) No. 2 (receiver)," Orgeron said. "Not letting No. 2 off the ball. Re-routing them. Safeties play on top of them like they should."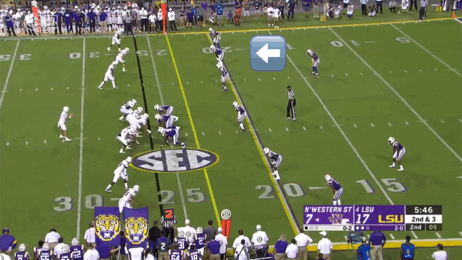 The second busted coverage came in the second quarter. On second-and-3 at the LSU 26, Demons receiver Davi Fitzwater found himself without a defender within five yards of him on a 26-yard touchdown catch that diminished the LSU lead to 17-14 (Pictured right). Eppler is an empty set with five Demons wide receiver spread across the field, three to the left. The spread formation forces outside linebacker Travez Moore into covering the middle receiver, Fitzwater. Moore makes contact with Fitzwater, but ultimately lets him past assuming there is help behind him. Orgeron said later that Moore was supposed to cover the wheel route. "There was a bust, no question," Orgeron said.
The zone issues seem solvable with LSU working on communication in practice and with Chaisson's return. Moore likely wouldn't have been out there on that busted play, and the 6-foot-4, 246-pound redshirt junior only played in three games last season when he arrived on campus as a junior college transfer.
Perhaps more concerning is LSU's lack of a pass rush against Northwestern State. The Tigers were unable to force a sack until safety Cameron Lewis and Moore took down Demons backup Bryce Rivers near the end of the fourth quarter. 
Again, these struggles occurred with the absences of Chaisson, Divinity, Lawrence and Logan; but with the way the defensive line is expected to rotate this season, the LSU coaching staff would have certainly wanted more reassurance from its depth than what happened Saturday.
The Green Team was deployed 16 times against Northwestern State (14 times on third down, twice on fourth). The Demons converted on five of those third down attempts — a 35.7 percent clip that was higher than the 33 percent number LSU held its previous two opponents.
Green Team plays charted
| | | | | | |
| --- | --- | --- | --- | --- | --- |
| Quarter | Drive | Spot | Down/Distance | Result | Drive result |
| 1 | 1 | NSU 41 | 3rd-and-6 | 10-yd pass, first down | TOD |
| 1 | 1 | LSU 35 | 3rd-and-7 | incomplete pass | TOD |
| 1 | 1 | LSU 35 | 4th-and-7 | incomplete pass | TOD |
| 1 | 2 | NSU 25 | 3rd-and-10 | 28-yd pass, first down | touchdown |
| 1 | 2 | LSU 45 | 3rd-and-8 | 11-yd pass, first down | touchdown |
| 2 | 3 | NSU 28 | 3rd-and-7 | thrown away, QB pressure | Punt |
| 2 | 4 | NSU 46 | 3rd-and-4 | 4-yd pass, first down | touchdown |
| 2 | 5 | LSU 17 | 3rd-and-10 | dropped pass | missed FG |
| 3 | 7 | NSU 21 | 3rd-and-5 | nearly intercepted | punt |
| 3 | 8 | NSU 25 | 3rd-and-10 | QB scramble 4 yards | Punt |
| 3 | 9 | NSU 31 | 3rd-and-4 | incomplete pass | Punt |
| 4 | 10 | LSU 28 | 3rd-and-4 | 5-yd rush, first down | TOD |
| 4 | 10 | LSU 20 | 3rd-and-7 | incomplete pass | TOD |
| 4 | 10 | LSU 20 | 4th-and-7 | incomplete pass | TOD |
| 4 | 11 | NSU 8 | 3rd-and-16 | 8-yd swing pass | Punt |
| 4 | 12 | NSU 26 | 3rd-and-9 | 1-yd on inside screen | punt |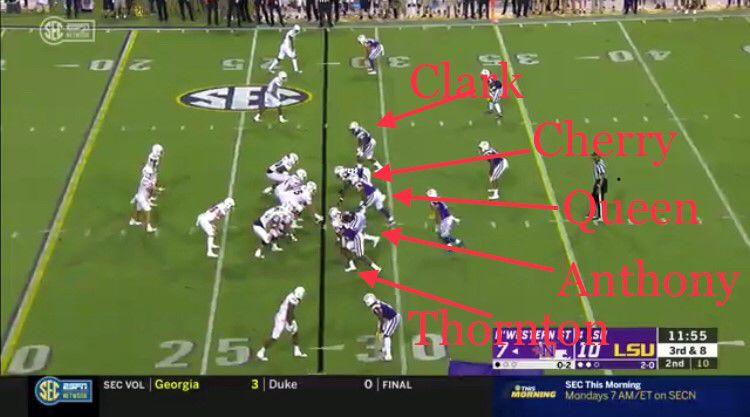 The Green Team look was consistent throughout the game (pictured right): Andre Anthony and Jarell Cherry were the two down linemen, and Damone Clark and Ray Thornton lined up as standing rushers on the outside. Inside linebacker Patrick Queen often lined up directly over the center and blitzed from that position. It's a similar look to what LSU used to produce its first sack against Texas. This time, the unit didn't produce a sack at all. "We didn't get a whole lot of pressure on the quarterback," Orgeron said.
The unit was deployed three times on Northwestern State's first drive of the game. Eppler completed a 10-yard pass to Shorts on a third-and-6, then threw two consecutive incomplete passes to turn the ball over on downs. On the conversion, Thornton hit Eppler on a stunt to the middle. That was the same stunt that Chaisson used to sack Texas quarterback Sam Ehlinger. Eppler made the quick throw on the slant to Shorts to avoid the sack.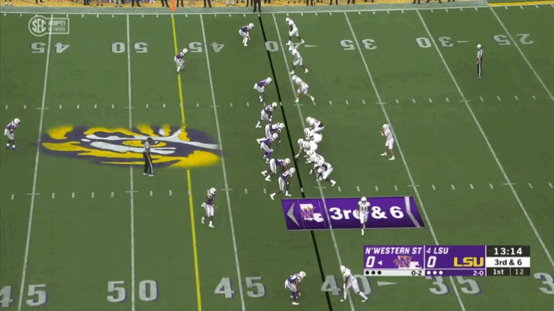 Aranda used the exact same stunt on the fourth down stop on that drive, except he just flipped the play. Anthony stunted inside from the left side of the field, hitting Eppler and forcing him into a quick throw that resulted into an incomplete pass.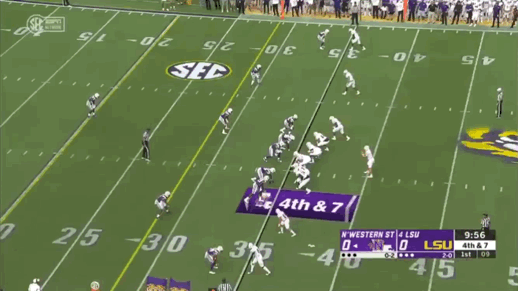 While the Green Team made hits on the quarterback, the lack of sacks is concerning with LSU going into SEC play with teams that will capitalize on more time in ways that the Demons didn't. Such a play was on third-and-10 at the LSU 17 just before halftime. Northwestern State had just intercepted Burrow and were down 24-14. Eppler had a clean pocket and delivered a strike to Shorts on a slant in the end zone. Shorts dropped the pass, which led to a missed Demons field goal.
The Green Team was deployed 16 times against Northwestern State.Sometimes it was successful. Sometimes it wasn't.Sometimes, the Demons should have converted, like here, when a touchdown pass is dropped before halftime.Without key players, #LSU struggled to create a rush. pic.twitter.com/1b1owbMs7f

— Brooks Kubena (@BKubena) September 15, 2019
"They have not been able to get home rushing four," SEC Network analyst Cole Cubelic said during the broadcast. "That is going to be a problem when you're going to face maybe (Florida's) Kyle Trask, when you're gonna face an Auburn team that needs to put the ball in the air, because their offensive line is not opening it up for the run game, and you're going to face (Texas A&M's) Kellen Mond, and you're gonna face (Alabama's) Tua (Tagovailoa). They're going to have to get home with four or at least five. They haven't shown tonight that they can consistently do that."
Explosive punt returns: We spoke about this after LSU's 55-3 win over Georgia Southern. LSU is substantially more dynamic in the punt return game in 2019 than it was in 2018 — there just wasn't enough punting against Texas to really test it out against a ranked opponent. 
The true freshmen have completely blown open this section of special teams for the Tigers. Starting cornerback Derek Stingley returned two punts for 54 yards, and he juked three Demon defenders using the same move on a 26-yard return.
Stingley now has eight punt returns for 117 yards through three games, which is already more than LSU had all 13 games in 2018 (99 yards).
But who had wide receiver Trey Palmer returning the first touchdown?
The 6-foot-1, 180-pound Kentwood High grad, who won the state championship in both the 100-meter and 200-meter dash, had a 54-yard return for a touchdown in the fourth quarter to make the score 58-14.
The true freshmen have blown this portion of the game open.Trey Palmer returned this one 54 yards for a touchdown.#LSU did not return a punt for a touchdown in 2018. DJ Chark returned two in 2017. pic.twitter.com/xptT6UJxX9

— Brooks Kubena (@BKubena) September 15, 2019
Orgeron said special teams coach Greg McMahon approached him before the punt and said, "Should we put Trey Palmer in?" Orgeron said, "Will he catch it?" McMahon said, "Yeah, he'll catch it."
"Boy, did he," Orgeron said after the game. 
Lagniappe: Joe Burrow averaged 3.07 seconds from snap to throw on his 24 pass attempts against the Demons (per an Advocate sportswriter's stopwatch). He took more time on his throws than he did against Texas (2.37 seconds on average). Running backs were targeted significantly less in the Northwestern State game: Burrow threw it twice to Ty Davis-Price for 20 yards; against Texas, Burrow targeted running backs nine times, mostly on check downs and quick swing passes.