HOOVER, Ala. — Seven hours before he slid head-first across home plate Thursday afternoon to beat Auburn 4-3 in the ninth inning, Drew Bianco woke up to the sound of an alarm. He hit snooze.
LSU had returned to its hotel at about 4 a.m. after losing to Mississippi State in 17 innings, the longest game in the history of the Southeastern Conference tournament. The players had about five hours before their pregame breakfast. Coach Paul Mainieri never slept.
First pitch of an elimination game against Auburn loomed at 12:45 p.m. as Mainieri stepped onto the hotel elevator. Pitcher Landon Marceaux, the starter against Auburn, walked on with him.
"If I had known we were going to go 17 innings and play until 3 o'clock in the morning," Mainieri told Marceaux, "I would have sent you back to the hotel at midnight to get a full night's sleep."
LSU had blown through its bullpen over the first two games of the tournament, leaving some of its best relievers unavailable. It had lost a game that lasted six hours and 43 minutes. The Tigers were exhausted. Marceaux responded with a story of once starting a game at 2 a.m.
"I've pitched under weird circumstances before," the freshman told Mainieri.
Can't see video below? Click here.
WHATEVER IT TAKES pic.twitter.com/mlKxPwqfQM

— LSU Baseball (@LSUbaseball) May 23, 2019
Bianco forced himself out of bed when his alarm buzzed a second time. The players chatted as the team gathered for breakfast. Mainieri thought they had put the loss behind them. He told them it seemed cruel to play again so soon, but if they found the energy to beat Auburn, it would be one of the most special wins of his tenure. The players focused on his words.
"It wasn't like we were sitting there like it was a morgue," Mainieri said, "They're resilient. They're not going to be down too long."
When LSU returned to Hoover Metropolitan Stadium and stepped off the bus, Bianco said it felt like each player had downed seven Monster Energy drinks. They jumped around during pregame warmups, showing no signs of fatigue.
Nine hours after LSU had left the park, Marceaux tugged the brim of his hat as he stepped onto the rubber. He thought he needed to carry the team.
After a rocky first inning — Marceaux threw 30 pitches and stranded the bases loaded — he protected a 1-0 lead until LSU botched two ground balls in the seventh inning.
LSU baseball lost to Mississippi State, 6-5, in a game that lasted more than six hours and ended in the 17th inning.
Marceaux forced first baseman Rankin Woley to roll a ball toward shortstop Josh Smith, but Smith's throw sailed high, letting Woley reach base.
After a single put Woley in scoring position, Marceaux induced a double play. Woley advanced to third base. Marceaux seemed to strand Woley there as he forced a weak ground ball toward the right side of LSU's infield.
Marceaux peeled off as the ball rolled past him. Second baseman Brandt Broussard didn't field it clean, and no one covered first base. Woley scored, tying the game.
On the next pitch, Marceaux gave up a double down the left-field line. Auburn took a 2-1 lead, both runs unearned. Marceaux had thrown 101 pitches when Mainieri took him out of the game.
"I don't know what we would have done if he hadn't pitched deep into the game," Mainieri said.
LSU defeats Auburn in an elimination game at the Southeastern Conference Tournament, Thursday, May 23, 2019, in Hoover, Ala.
LSU tied the game in the bottom of the seventh, but Auburn held a 3-2 lead as LSU began its final at-bat. Mainieri planned to either win or lose in the ninth. He didn't want another extra-innings marathon.
Giovanni DiGiacomo, who had entered as the designated hitter in the middle of the game, smacked a leadoff single. He moved to third base when catcher Saul Garza singled. Garza reached second on the throw.
Mainieri used Chris Reid as a pinch hitter with one out. Auburn brought in left-hander Brooks Fuller, and Mainieri inserted Bianco as a pinch runner for Garza.
Fuller's second pitch bounced in front of catcher Matt Scheffler, who stood up to look for the ball. He kicked it past Reid.
"Go!" Reid yelled, waving toward DiGiacomo.
One of the fastest players on the team, DiGiacomo had stopped midway down the third-base line. Third-base coach Nolan Cain told him to run. He broke toward home plate when he saw the ball stop in the grass near LSU's dugout.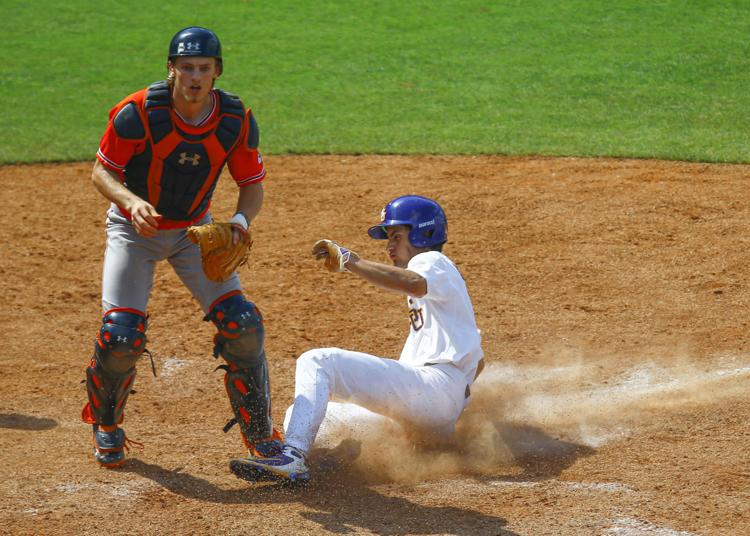 As DiGiacomo slid over home plate, tying the game, Woley grabbed the ball and, sliding across the grass, threw toward Scheffler. The wild throw bounced to the edge of Auburn's dugout. Reid and DiGiacomo waved at Bianco, who was already sprinting around third base.
Bianco had retreated back to second when DiGiacomo froze. In a high school playoff game one year ago, Bianco scored on a similar play.
"I can score on this," Bianco said he thought, "because I've done it before."
Bianco leapt forward about 12 feet from home plate. His slide won the game without a throw. Bianco and DiGiacomo hugged as LSU's players surrounded them. Smith and Bianco shook each other's faces. The players clumped into a mob, jumping back down the third-base line.
"They started ripping off my clothes," Bianco said.
LSU had lost almost 13 hours earlier, walking off the field while "3 AM" by Matchbox Twenty played over the loudspeakers. The Tigers had shuffled out of the dugout as Mississippi State celebrated, returned to the hotel and slept maybe four hours before getting ready to play Auburn.
In the moments after LSU's win, Mainieri didn't care about Friday's lineup or the next starting pitcher. He had watched LSU waste Marceaux's gem, then win on a wild pitch and a throwing error.
The Tigers had avoided elimination for another day, improving their chances of hosting an NCAA regional. They'll play Friday night against the loser of Thursday night's late game between Vanderbilt and Mississippi State.
But for now, Mainieri wanted to rest.
"I don't know if we're going to come back to win the tournament," Mainieri said. "Just seeing the way the kids wanted to win today and put everything into it, leaving it all out there on the field, it made me feel good to be their coach."