The Tigers' Top Five
Jacoby Stevens Oakland High/Murfreesboro, Tenn., S, 6-1, 200: He's ranked as the No. 1 safety prospect in the class. Stevens enrolled in January and will participate in spring practice. He chose the Tigers despite a late, hard push from Alabama.
Jacob Phillips E. Nashville Magnet/Nashville, Tenn., ILB, 6-3, 228: Maybe the biggest get of the class. The Tigers flipped the Oklahoma commit, and he plays a position of need for LSU. He's the top-ranked inside linebacker in the class.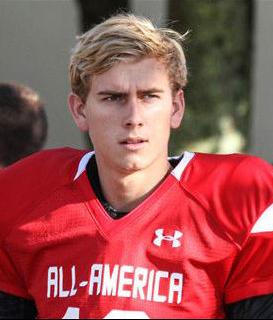 Myles Brennan St. Stanislaus/Bay St. Louis, Miss., QB, 6-3, 180: The 6th-ranked pro-style QB in the class, Brennan's family is from New Orleans. He set a host of high school records and is thought by many to be the future for the Tigers at an unstable spot.
K'Lavon Chaisson North Shore/Houston, Texas, OLB/DE. 6-4, 220: Orgeron and staff plucked the five-star product out of the Longhorns' grasps. He might be the Tigers' biggest get on signing day, an Arden-Key like specimen with major potential.
Tyler Taylor Lanier/Buford, Ga., ILB, 6-2, 230: The Tigers swooped in late for Taylor, out-pacing early favorites like Georgia and Auburn to land, again, a player who fills a dire need. Taylor is the 11th-best ILB in the class, giving LSU two in the top 11.
Filling The Holes
Remember those depth problems at linebacker for LSU? They may be long gone. The Tigers filled key holes in the program with the signing of Taylor and Phillips, two of the nation's best inside linebackers. Throw in Chaisson, and LSU's linebacker woes could be solved soon enough. It wasn't all perfect, though. LSU got three of their eight uncommitted targets on signing day, missing on the No. 1 player in the country, DT Marvin Wilson, Amire WR Devonta Smith, Mississippi LB Willie Gay, Georgia DE Markaviest Bryant and Alabama WR Nico Collins. 
What's Next?
Next year's Louisiana class of recruits is heavy on receivers. There are four wideouts among the state's top 9 players, according to 247Sports' composite rankings. But LSU's need isn't at receiver — it's at running back and, possibly even, tight end. The Tigers will lose Derrius Guice (NFL draft) and senior Darrel Williams after next season, leaving them with a few unproven backs in Nick Brossette and signee Clyde Edwards-Helaire. There are no running backs ranked among the state's top 25 prospects for 2018. Meanwhile, LSU already has offers out to seven tight ends for the 2018 class.
Coachspeak
"We have work to do," said LSU coach Ed Orgeron. "I said we're going to get the best players in the state of LSU to come here. We missed out on some guys and obviously we have work to do and that's in our primary area. Those are some of the things we need to get fixed."