LSU junior safety JaCoby Stevens said the Tigers have learned a lesson after giving up the most passing yards in nearly a decade.
At first it will sound cliché. Glib, even.
"I feel like we need to respect our opponents," Stevens said Monday.
Told you.
Hold on — don't close the web browser yet  — there's more truth in the answer than at first glance, and it goes down to the root of the failed game plan that led to Texas quarterback Sam Ehlinger throwing for 401 yards and four touchdowns in LSU's 45-38 win in Austin, Texas.
Remember those comments before that top 10 showdown even began? How outside linebacker K'Lavon Chaisson said Ehlinger uses his legs more than his arms?
LSU coach Ed Orgeron said Ehlinger reminded him of Florida's former Heisman winner Tim Tebow — a dynamic dual-threat quarterback who was often criticized for his throwing mechanics — but added that Ehlinger is "a better thrower."
Orgeron made it clear he believed Ehlinger "can throw the football." He was just more concerned about the Longhorn's threat as a runner and built a game plan focused on that danger.
Orgeron had his defensive linemen execute what he called a "cage rush," in which the linemen bull rush their blockers to box in the opposing quarterback. Chaisson was also sent off the edge to jam another blocker into the pocket, creating pressure on the quarterback.
That kind of scheme won't produce many sacks, since the majority of the rushers aren't truly attempting to get into the backfield. But it still followed a long-held theory by New England Patriots coach Bill Belichick that pressure on the quarterback can lead to more bad plays than sacks do.
In other words, if Ehlinger was going to beat LSU, he was going to have do it with his arm, going against a Tigers secondary that Orgeron said is the best he's ever coached.
Ehlinger did beat the LSU defense as a passer, and if LSU quarterback Joe Burrow hadn't matched Ehlinger with the second-best passing performance in school history, it may have been the Longhorns who'd have the inside track to the College Football Playoff.
The defensive game plan didn't show anything definitive through Texas' second drive of the game. There was both success and struggle.
On first-and-10 at the LSU 36, Tigers defensive end Glen Logan shoved the left guard nearly into Ehlinger, and the quarterback was still able to complete a 28-yard pass to Brennan Eagles down the left sideline.
The very next play, defensive end Rashard Lawrence overpowered the Texas right guard and was able to swat Ehlinger's pass attempt incomplete. It was the first play in what would be LSU's first of two goal line stands.
The plan began to unravel in the second quarter, when Ehlinger went 6 of 13 passing for 89 yards and a touchdown.
Ehlinger converted a third-and-4 by completing a six-yard pass despite LSU nose tackle Tyler Shelvin driving the left guard into the pocket, and Ehlinger threw a 55-yard touchdown to Eagles on a third-and-10 to give Texas a 7-3 lead.
These were the kind of game situations in which Orgeron had said in the preseason he wanted to unchain the defensive line and let them be as aggressive as the ones he'd coached at Miami and Southern Cal.
He tabled the attacking scheme against Georgia Southern's gun option in Week 1, and Orgeron said Monday if he could go back and plan the Texas game again "I would go ahead and rush them the whole time."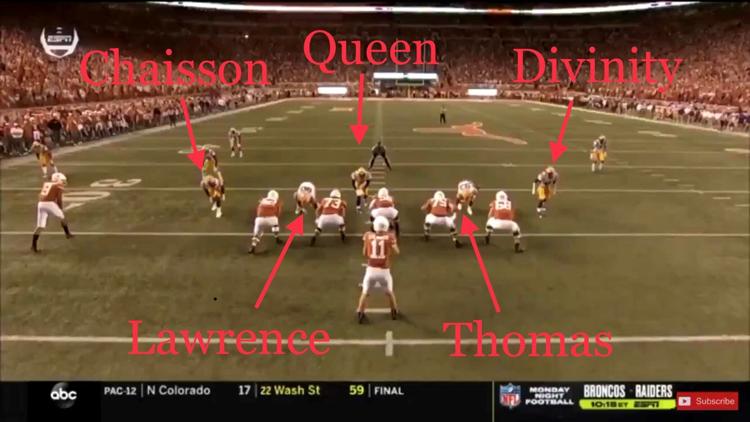 Instead, LSU defensive coordinator Dave Aranda came up with another formation within the same game plan to create a pass rush (pictured right). It used two defensive linemen — Lawrence and Justin Thomas — who drew double teams from both guards and tackles. Inside linebacker Patrick Queen blitzed inside to draw the Texas center toward the left side of the field, which left open a free lane for Chaisson to stunt inside and sack Ehlinger.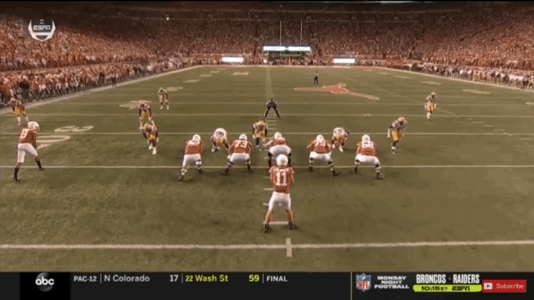 "It was a good job by Dave," Orgeron said. "Dave kept working throughout the game, scheming to get a pass rush, and he finally got a couple of little breaks there at the end."
But LSU returned to its original game plan in the second half, and the Longhorns scored on every possession.
On a third-and-6 during Texas' first drive of the second half, Ehlinger completed an eight-yard slant to the LSU 30 with Lawrence jamming the left tackle into the pocket.
Three plays later, Lawrence looped wide to contain Ehlinger from running on a third-and-9, and the quarterback completed a 12-yard pass down the sideline to the LSU 17.
Ehlinger rushed for a two-yard touchdown that drive to pull the Longhorns within 20-14.
Texas was 4-for-4 on third downs in the third quarter, including a 20-yard touchdown pass that Ehlinger snuck under the reaching LSU safety Todd Harris to pull within 23-21.
The Tigers had the same "cage" rush on that play.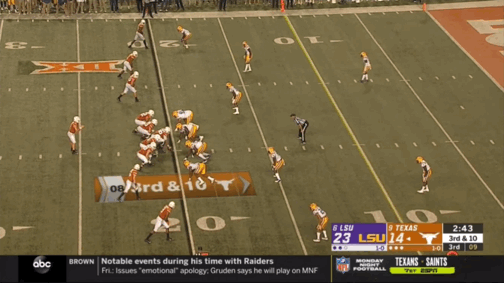 "(Ehlinger) did a hell of a job adapting to that and still made plays," Chaisson said.
Orgeron said he was "disappointed" with the way LSU "let them score the way we did," but history might be on his side.
The last time LSU gave up more than 400 yards passing in a single game? A 47-21 win over West Virginia in 2011 when LSU gave up 463 yards. That defense eventually ranked No. 2 nationally with 11.3 points allowed per game.
A solution must come, since LSU has plenty of dual-threat quarterbacks remaining on the schedule, from Florida's Feleipe Franks to the Alabama's Heisman frontrunner Tua Tagovailoa.
And if the Tigers stay ranked within the nation's top 4 teams and make the College Football Playoff, it's possible they could face Oklahoma's Jalen Hurts, who leads the nation's quarterbacks in rushing with 223 yards and three touchdowns.
But that's getting a little ahead of things.
For now, that solution can remain simply said.
"If you don't respect your opponent, things like this are going to happen," Stevens said. "You're going to give up 400 yards passing if you don't respect the pass. Sam is a good quarterback. He's definitely going to be playing on Sundays."