Southeastern Louisiana's kick returners watched like helpless center fielders as the football landed beyond the metal fence in Tiger Stadium's north end zone.
A front-row patron in a white visor caught the ball and ran back and forth with his unexpected souvenir.
Avery Atkins smiled wide as he jogged off the field against Southeastern — a freshman kickoff specialist who was making a habit of creating did-he-just-do-that? moments.
Atkins approached the sideline like a slugger does a dugout, and LSU punter Zach Von Rosenberg mimicked a baseball swing to aptly celebrate his teammate's football homer.
"It was absurd," Rosenberg said later. "I've been to a lot of games at Tiger Stadium as a fan and a football player, but I've never seen a guy hit a ball in the stands."
Atkins' past is full of athletic absurdities. He scored a 31 on his ACT at Auburn High, drawing offers from Harvard to be a kicker and from Yale to be a safety. He was a highly recruited soccer player who made fully anchored goals rock, his coach said, with a school-record 27 goals during his senior year.
Atkins has given LSU its most productive kickoff team in more than a decade, and the Auburn, Alabama, native will return home Saturday to play the university that has already honored his last name.
Atkins' grandfather, George, was an offensive line coach at Auburn from 1956-71, and his grandmother, Leah, was once a world champion water skier who became the first woman to be inducted into the Alabama Sports Hall of Fame.
Auburn annually presents its top senior women's athlete the Leah Rawls Atkins Award.
Leah, 83, will wear an LSU jersey with her grandson's name Saturday, and she'll sit in the same seats she's had since the mid-1950s.
"They can't say anything to her," laughed Jack Atkins, Avery's father, whose brother, Brian, was a wide receiver at Auburn from 1977-80. "She fully supports Avery and knows he went to the place that was best for him."
Auburn recruited Atkins late during his senior year, Jack said — but by then, Atkins had already established a relationship with LSU.
Former LSU offensive line coach Jeff Grimes had lived a few doors down from the Atkins family when he was an assistant at Auburn from 2009-12, Jack said, and Grimes told the LSU coaching staff about Atkins before he left for BYU after last season.
Late recruitment for kickers isn't unusual. Atkins is a walk-on at LSU, although coach Ed Orgeron said Monday that "Avery is going to earn himself a scholarship here at LSU as soon as I can get him one."
It's a promise that Orgeron has already kept with Von Rosenberg, a sophomore who was awarded a scholarship the Tuesday before the season opener against Miami.
Von Rosenberg, a 27-year-old former minor league pitcher and Zachary High graduate, welcomed Atkins into the specialist group, which includes graduate transfer kicker Cole Tracy, deep snapper Blake Ferguson and short-range punter Josh Growden.
Cole Tracy stared ahead at some of the most brutal kicking conditions imaginable.
Together, they challenge Atkins to hit the cooling tent on the opposite length of the field during practices — Saturday's kick would have hit the tent, Von Rosenberg said — and the newcomer has an ongoing bench-press competition with sophomore kicker Connor Culp.
"They're neck-and-neck," said Von Rosenberg, who said they both can press 330 pounds. "Maybe Connor right now. Just by a hair."
When Ferguson joked Wednesday that his number change from No. 50 to No. 48 was so he could become an eligible receiver, he added that Atkins "claims that he has the best hands" on the team.
"Avery Atkins is opening a lot of eyes," Ferguson said, seriously.
Atkins' power comes from an uncommon form.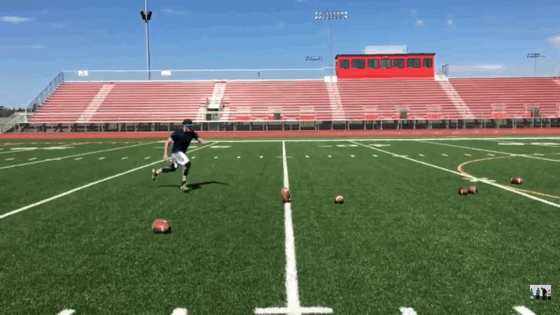 Normally, Van Rosenberg said, when someone kicks the ball, he wants his leg to follow through — kind of like a sprinting hurdler.
"He doesn't do that at all," Van Rosenberg said. "He just plants his foot immediately in the ground. It's more of a soccer kick. But when you hurdle, you're really getting that full extension through the ball, and he doesn't hurdle at all. It's real bizarre."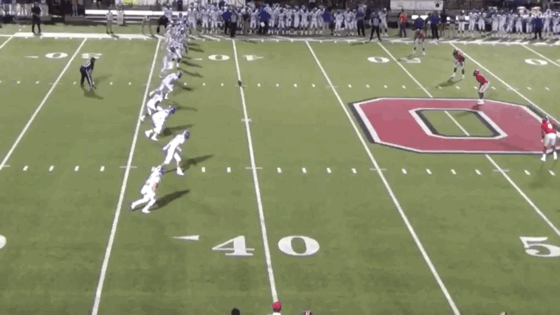 The form has produced convincing results. Atkins' touchback percentage (84.6) pins opponents at an average starting field position of their own 27 (LSU's lowest average since at least 2005). That supports a Tigers defense that ranks No. 7 nationally at 8.5 points allowed per game.
Said Ferguson: "That's another one or two first downs the other team has to get."
Those are the types of kicks that made Atkins a highly recruited center-forward at Auburn High — back when Atkins led the Tigers to a Class 7A state soccer championship in May.
"(College) coaches were very heartbroken when he committed to football," said Bill Ferguson, Auburn High's soccer coach. "It was, 'Man, if that kid changes his mind, please let me know.' "
Atkins chose football, Ferguson said, because he "saw himself playing on big stages and wanted to continue to be successful."
"That's something that appealed to him," Ferguson added. "Not from an attention standpoint. He kind of just set out to do something, and he's started to accomplish some of that already."
Atkins will kick off Saturday on one of the biggest stages yet, when No. 12 LSU plays at No. 7 Auburn in the Tigers' Southeastern Conference season opener.
The kickoffs stir questions about what else the true freshman can do in his career at LSU.
Von Rosenberg said that Atkins probably won't take on any responsibilities other than kickoff this season.
"But with his leg strength, he can be a field-goal kicker. He can punt. He's so explosive and quick to the ball when he strikes it, it just makes a different sound," Von Rosenberg said. "He's killing it right now. He's doing a great job."