With the announcement that LSU redshirt freshman Lindsey Scott of Zachary is transferring, here's a look at LSU's recent, checkered quarterback history.
LSU has signed 18 quarterbacks in the previous 12 signing classes, excluding the most recent class. (The 2017 signing class included quarterbacks Myles Brennan of Mississippi and Lowell Narcisse of St. James.)
Of the 18, just three completed their careers at LSU at the quarterback position. Two remain on the team: Danny Etling and Justin McMillan. Others were dismissed, transferred or switched positions. Eight never played a single down at LSU.
Redshirt freshman quarterback Lindsey Scott, a former Zachary High School star, is leaving t…
2005
| | | | | |
| --- | --- | --- | --- | --- |
| QB | Stars | Pos. rank | Prototype | Career |
| Ryan Perrilloux | 5 | 1st | Dual | MVP of 2007 SEC title game; dismissed following sophomore season and transferred to Jacksonville State. |
---
2006
No QB signed
Miss: Alex Cate (signed with Oklahoma State)
---
2007
| | | | | |
| --- | --- | --- | --- | --- |
| QB | Stars | Pos. rank | Prototype | Career |
| Jarrett Lee | 4 | 8th | Pro | Started 18 games over 4 years, throwing 21 INTs, 32 TDs and completing 56 percent of passes. |
| | | | | |
| --- | --- | --- | --- | --- |
| Andrew Hatch | N/A | N/A | Pro | Originally a walk-on; started 3 games in 08 before season-ending injury; transferred back to original school, Harvard |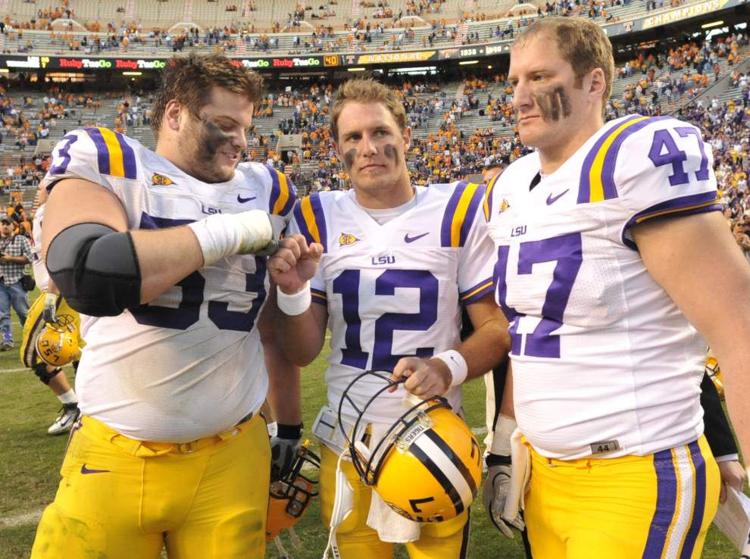 ---
2008
QB

Stars

Pos. rank

Prototype

Career

Jordan Jefferson

3

13th

Dual

Started 32 games in 4 years (24-8 record), throwing for 20 INTs, 34 TDs and completing 58 percent of passes.

Miss: Darron Thomas (signed with Oregon)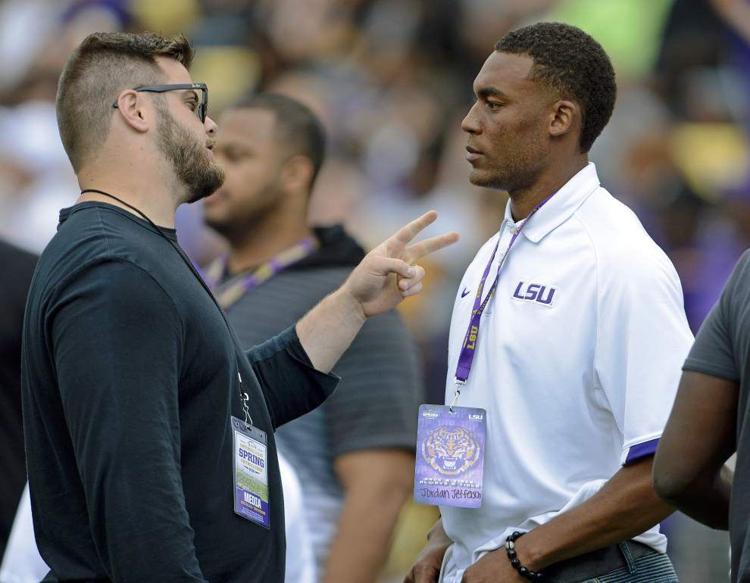 ---
2009
| | | | | |
| --- | --- | --- | --- | --- |
| QB | Stars | Pos. rank | Prototype | Career |
| Russell Shepard | 5 | 1st | Dual | Converted to WR and RB, finishing with 565 receiving yards and 733 rushing yards. He never threw pass at LSU. |
| Chris Garrett | 3 | 19th | Pro | Transferred from LSU to NorthwesternState after his freshman season; he never played a down at LSU. |
---
2010
QB

Stars

Pos. rank

Prototype

Career

Zach Lee

3

19th

Pro

Signed a pro baseball contract after reporting to fall camp; he never played a down.

Miss: Jesse Scroggins (signed with Southern Cal)
---
2011
QB

Stars

Pos. rank

Prototype

Career

Zach Mettenberger

4

1st

Pro

Started 25 games in 3 years finishing with 35 TDs, 15 INTs, and 5,783 yards, 6th most in LSU history.

Jerrard Randall

4

8th

Dual

Transferred after his redshirt freshman season; he never played a down at LSU.

Stephen Rivers

3

19th

Pro

Transferred after his redshirt sophomore season; he attempted two passes in his LSU career.

Misses: Teddy Bridgewater (signed with Louisville), Dak Prescott (signed with MSU), Marquise Williams (signed with North Carolina), Jacoby Brissett (signed with Florida)
---
2012
QB

Stars

Pos. rank

Prototype

Career

Jeremy Liggins

4

19th

Dual

Liggins never made it to campus (academics) and is now an offensive lineman at Ole Miss.

Rob Bolden

4

3rd

Dual

Transferred from PennState, then transferred from LSU to Eastern Michigan before playing a single down.

Misses: Gunner Kiehl (signed with Notre Dame), Anthony Alford (signed with Southern Miss)
---
2013
QB

Stars

Pos. rank

Prototype

Career

Anthony Jennings

4

14th

Pro

Started 13 games in 3 years, completing 48.4 percent of his passes; he transferred to UL-Lafayette.

Hayden Rettig

4

9th

Pro

Transferred after his freshman season. He never played a down at LSU.

Miss: Jeremy Johnson (signed with Auburn)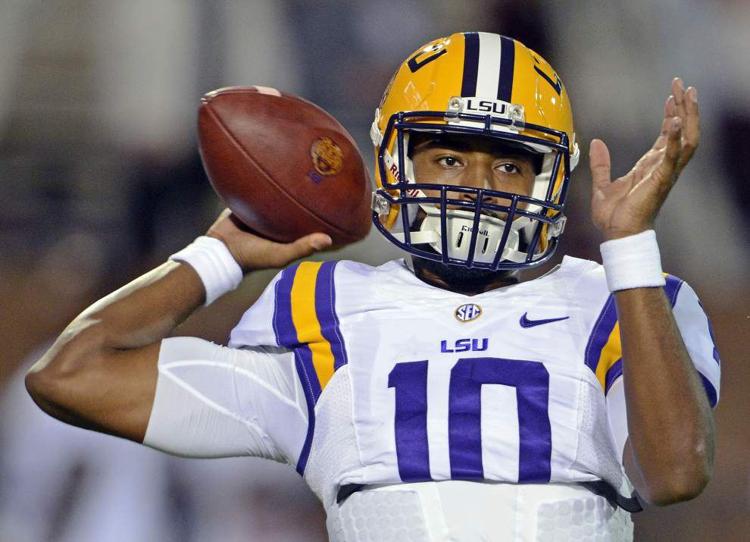 ---
2014
QB

Stars

Pos. rank

Prototype

Career

Brandon Harris

4

3rd

Dual

Started 14 games completing 53.8 percent of his passes with 10 INTs and 20 TDs. Transferred to North Carolina after three seasons at LSU.

Miss: DeShone Kizer (signed with Notre Dame)
---
2015
| | | | | |
| --- | --- | --- | --- | --- |
| QB | Stars | Pos. rank | Prototype | Career |
| Justin McMillan | 3 | 36th | Dual | Redshirted as a true freshman last year and is expected to be the No. 2-3 on the QB depth chart this season. |
| Danny Etling | 4 | 17th | Pro | Transferred from Purdue and replaced Brandon Harris as a 10-game starter in 2016. Expected to start in 2017. |
---
2016
| | | | | |
| --- | --- | --- | --- | --- |
| QB | Stars | Pos. rank | Prototype | Career |
| Lindsey Scott | 3 | 25th | Dual | Red-shirted his first season. Announced on Monday, Aug. 14, that he was transferring from LSU. |
---
2017
Myles Brennan, 4 stars, 6th position rank
Lowell Narcisse, 4 stars, 9th position rank
Several first-year players are in line to get starting snaps for LSU, and one continues batt…
It started with a 44-yard wheel route to, of all people, a 260-pound fullback split out as a…