Foster Moreau recalls the time he first heard of the man named Johnny Manziel.
His favorite team, the LSU Tigers, was playing Texas A&M and its up-and-coming star of a quarterback. Manziel attempted 56 passes that October day in 2012, was sacked three times and tossed three interceptions.
LSU won 24-19, rudely welcoming the Aggies and their future Heisman Trophy winner to the Southeastern Conference.
Five years later, the Aggies still don't have a victory over the Tigers. They are 0-5.
In fact, LSU remains the only SEC West team the Aggies haven't beaten since joining the league. The skid is six if you want to include LSU's Cotton Bowl win to cap the 2010 season.
"The streak only means something to you if you make it mean something," said Moreau, now a starting tight end for LSU. "We're just trying to win the next game."
Don't let Moreau fool you. The streak does mean something.
This string of wins not only comes against a division rival with a giant athletic budget — it comes against a heavy recruiting competitor in a state that shares a border with Louisiana.
In the past four recruiting classes, no other school has signed more of Texas' top-10 prospects than LSU (six). The Tigers are tied with Texas and Texas A&M, and they out-pace the next non-Texas team by three, according to 247Sports' composite rankings.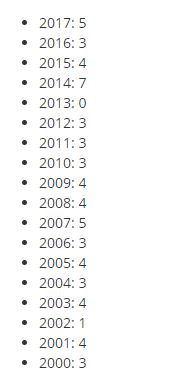 LSU's roster includes more players from Texas (14) than any other state outside Louisiana, and the Tigers have signed a whopping 19 Texans since 2014 — the most Texas signees in a four-class stretch in at least two decades.
During all of this, Texas A&M has signed one prospect tanked in the top 10 in Louisiana in the past seven signing classes (wide receiver Speedy Noil).
"Our guys get fired up to play against them, obviously," coach Ed Orgeron said. "Houston is a big area for us in recruiting. We have a lot of guys on our team from Houston. A lot of our guys are from Texas."
Saturday night's game in Tiger Stadium is another opportunity for Orgeron and his No. 19 Tigers to tighten their grip in this SEC West rivalry.
To extend the streak to seven carries with it consequences for Texas A&M that go well beyond singular recruiting battles. Many believe the Aggies plan to fire head coach Kevin Sumlin and his staff, including defensive coordinator John Chavis, a man who admittedly left Baton Rouge in 2014 for better job stability and guarantees in his contract.
The circumstances are all too ironic.
Two years ago, LSU players carried Les Miles off the field after beating the Aggies, a win that some believe saved his job as the school pursued Florida State coach Jimbo Fisher. According to multiple reports, A&M's primary target in potentially replacing Sumlin is none other than Fisher.
And, so, here they are — the Aggies (7-4, 4-3 SEC) and Tigers (8-3, 5-2) meeting under coaching turmoil. Last year, reports of LSU's negotiations with Tom Herman dropped just before kickoff. Talks with Herman ended the next night, when the then-Houston coach began negotiating with his current school, Texas.
"Last year, the coaching stuff came out during the game but none of us knew that," center Will Clapp said. "We were still trying to play for Coach O and help him get the job. That's what happened."
LSU's 54-39 win over Texas A&M last year perhaps secured Orgeron as athletic director Joe Alleva's No. 2 candidate behind Herman.
The consequences for a seventh straight victory in this series are much different now.
The Tigers will have finished the season winning six of seven games after a 3-2 start and a home loss to Troy. They will have won six SEC games for the first time since 2012, hit the nine-win mark in the regular season for the first time since 2013 and launch into an unusually early recruiting cycle on a high note.
This is the inaugural year of the early signing period. Prospects can sign over a 72-hour period starting Dec. 20, and Orgeron is "hoping" all of LSU's 18 commitments do just that. Two of those are four-star prospects from — you guessed it — the state of Texas, a highly populated and fertile ground for this program.
LSU signed at least three Texas players in 16 of the past 18 classes, ramping up their recruitment of the Lone Star State most recently, with those 19 signees in four years.
"Ed Orgeron wants to treat east Texas, and most notably Houston, like Louisiana," said Shea Dixon, recruiting reporter for Geaux247, the 247Sports affiliate covering LSU. "The LSU roster is littered with east Texas players, and they will only try to keep that number climbing. Winning on the recruiting trail in Texas is on Orgeron's list of things he wants to do each cycle."
Seven Texans are on the two-deep depth chart, including five from the Houston area: edge rusher K'Lavon Chaisson, safeties Eric Monroe and Grant Delpit, tackle Toby Weathersby and outside linebacker Corey Thompson.
Houston is home to LSU's largest non-Louisiana alumni base, and the Dallas area is full of top-flight talent. The school caters to both.
Since 2011, four of LSU's six neutral-site games already played or scheduled to be played originated in Texas: 2011 (Oregon in Arlington), 2013 (TCU in Arlington), 2014 (Wisconsin in Houston), 2017 (BYU in Houston, but moved to New Orleans because of Hurricane Harvey) and 2018 (Miami in Arlington).
KJ Malone missed the cookies most of all.
Verge Ausberry, the school's deputy director of athletics overseeing football scheduling, admits the reason behind this: "It's all about recruiting," he said in an interview earlier this fall.
And how does the win streak help that?
"Never losing to the Aggies has been huge for LSU, because Texas A&M recruits many of the same kids," Dixon said. "Even when the Aggies had Johnny Manziel, they couldn't beat LSU. And LSU has then won the battles off the field with very few recruiting losses to the Aggies."
A seventh straight victory in this series matches Alabama's win streak over LSU. The two skids aren't so dissimilar.
The gap, statistically, is wide in each. LSU averages 93 yards more per game in its six wins over the Aggies. Bama averaged 130 yards more than LSU in the teams' previous six meetings — and that number dropped slightly with the latest game.
The Tigers have rolled up 15 sacks to A&M's six. Bama had posted 20 sacks to LSU's nine before this year's game. Even the average margin of victory of the two streaks is nearly the same: 12.8 for Bama-LSU to 13.2 for LSU-A&M.
In both, the streak holder, LSU and Alabama, plucks the best talent in the loser's home state, Texas and Louisiana. The Tide signed eight top-10 players from Louisiana in the past four cycles.
For Texas A&M, is LSU its Alabama? Maybe.
"We haven't beaten LSU yet, so this will be a chippy game," defensive lineman Kingsley Keke told reporters in College Station on Tuesday. "It's a rivalry, and it's important."
LSU plans to honor 20 seniors before Saturday's game against Texas A&M, but one of them is expected to return for another year.
---
THE STREAK TO RECRUITING: An in-depth look at Texas A&M vs. LSU
The stat averages per game over the last six meetings between LSU and Texas A&M
| | | | | | | | | |
| --- | --- | --- | --- | --- | --- | --- | --- | --- |
|  Team |  Total yards |  Rushing |  Passing |  Yards a carry |  3rd downs | First downs | Sacks* | Points |
|  LSU |  435.1 |  292.8 |  160.3 |  5.7 |  43.9 | 22.5 | 15 | 32.5 |
|  TAMU |  338.6 |  120.8 |  217.8 |  4.2 |  35.8 | 18.6 | 6 | 19.3 |
---
LSU's winning streaks of three games or more vs. SEC teams
| | | |
| --- | --- | --- |
|  Opponent |  Consecutive wins |  Last LSU loss/tie |
|  Vanderbilt |  7 |  1990: 24-21 in Nashville |
|  Texas A&M |  6 |  1995: 33-17 in College Station |
|  South Carolina |  6 |  1995: 20-20 tie in Columbia, S.C. |
|  Tennessee |  5 |  2005: 30-27 (OT) in Baton Rouge |
---
A comparison of where top-10 Texas players signed since 2014
| | | | |
| --- | --- | --- | --- |
|  Year |  LSU |  Texas A&M |  Other top 10s signed |
|  2017 |  2 |  1 |  Ohio State (3); FSU, Stanford, Notre Dame, Texas Tech (1) |
|  2016 |  1 |  1 |  Texas (3), Ole Miss (2); Stanford, Houston, Florida (1) |
|  2015 |  1 |  2 |  Alabama (2); Texas, Baylor, Ole Miss, UCLA, USC (1) |
|  2014 |  2 |  2 |  Baylor, Texas (2); Alabama, Stanford (1) |
|  Totals |  6 |  6 |  Texas (6), Stanford, Baylor, Ole Miss, Alabama (3) |
---
LSU's top-10 Texas signees the past four years
| | |
| --- | --- |
|  Year |  Signees |
|  2017 |  DL K'Lavon Chaisson, OL Austin Deculus |
|  2016 |  S Eric Monroe |
|  2015 |  OL Maea Teuhema |
|  2014 |  S Jamal Adams, S Ed Paris |