Seated in his wheelchair inside a home gym, Devon Gales grabs a rope in each hand. He tightens his grip around black rubber handles covering the thick, twisted fabric. Gales swings the rope, which connects to the base of a bench. Gales grimaces. A cross dangling from his neck bounces side to side as the rope thumps against the floor.
Rain falls heavily outside on this Thursday morning in late September. Paintings Gales made during the coronavirus pandemic with his sister, Teah, line nearby windows. One depicts SpongeBob SquarePants. Another shows an abstract cartoon face in colorful graffiti. Gales says he painted the ugliest one. 
Gales pushes himself through the middle of his daily workout. His favorite song, "Anniversary" by Tony! Toni! Toné!, cycles through a playlist on his phone. At one point, his caregiver tightens the braces helping him hold onto the rope. Gales shakes it for another 30 seconds, his arms moving up and down like a runner. Gales finishes the exercise. He exhales and smiles.
Almost five years have passed since Gales suffered a paralyzing injury in a football game 27 miles from this house. Gales, a wide receiver at Southern, collided with Georgia kicker Marshall Morgan. The moment transformed Gales' life, paralyzing his body from the waist down.
The injury required extensive surgery and rehabilitation. Gales spent five months living at a spinal center. His step-mother, Tish, cared for him full-time. Treatment split their family between Atlanta and Baton Rouge. They moved four times, and yet, Gales' radiant smile rarely left his face.
"I look where I'm at now," Gales says, "and I'm just appreciative."
This Saturday marks five years since Gales' injury. He plans to celebrate while watching Georgia's season-opening football game, rooting for a school that has supported him throughout his recovery. Gales believes he will walk again, and as time creates distance from the day that changed his life, Gales pushes forward, undeterred by limitations.
"I feel like I was placed on this Earth for something else," Gales says. "This injury was a steppingstone to show how good God is. He's using me for something."
Gales smiles, and the edges of his lips curl. He begins to chuckle. 
"I don't know what," Gales says, "but it's going to be cool."
• • •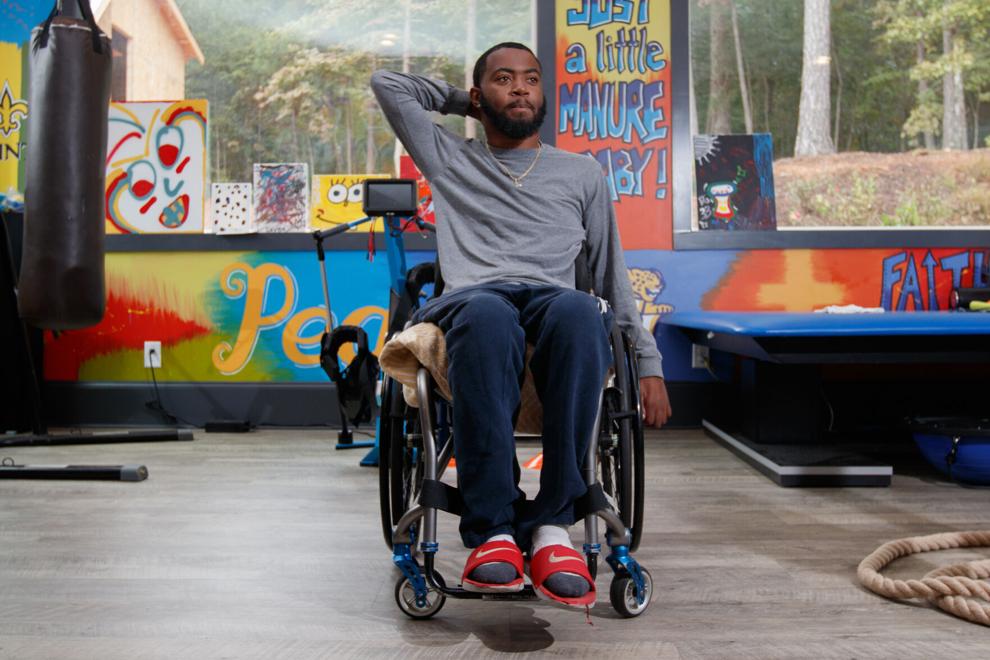 Gales planned to get his driver's license earlier this year, one of the first steps in regaining independence. Having increased mobility in his arms, he needed to pass a test at the Shepherd Center, an Atlanta hospital specializing in spinal cord injuries and other neuromuscular conditions. The center closed because of the coronavirus pandemic. It hasn't re-opened, leaving Gales to workout at home until he can return.
The pandemic affected Gales more than most people. His immune system weakened after the injury, making him more vulnerable to COVID-19, so he rarely leaves the house. He filled his time the past six months by working out and coaching at Jefferson High football practices. He made occasional trips to Walmart and Home Depot. He watched Vampire Diaries.
"We're in a pandemic and we can't go nowhere," Gales texted Southern coach Dawson Odums one day, "but coach, I've been through it."
Charles McClelland's emotions were all over the place three weeks ago when he looked at his TV and saw some college football teams kicking off…
In some ways, Gales' family said his life prepared them for the pandemic. Gales was born with gastroschisis, a condition that opens an unborn baby's abdominal wall. Gales' intestines rested outside his body at birth, so doctors performed four operations to repair his bowels. He stayed at the hospital for nine months.
"He's been fighting all his life," said Tish, who met Gales when he was 2 years old.
Gales' family moved to Georgia in stages after the paralyzing injury, away from their friends and support groups. They had no choice. Gales needed the spinal rehabilitation center. He attended rehab five days a week in the beginning. The only visitor was Gales' father, Donny. He moved last year once he received a work transfer.
After three years of searching for a permanent home, the family finally settled in Hoschton, a city about 40 minutes from Athens, moving into a house designed for Gales' needs.
Located in a suburban development, the family had plenty of space. Gales received his own wing, a roll-in shower and low sinks. The house helped the family regain some fragments of independence. Tish returned to work. Gales aimed to go back to school. His brother started playing football. Then the pandemic arrived.
Forced to stay inside with his plans on hold, Gales came to a realization after a few months: Enjoy every moment because life is fragile. He reminded himself to make the best out of his situation, no matter the circumstances. He knew how quickly life could change.
• • •
Gales still remembers lying in the grass at Sanford Stadium unable to move his body. As he lowered his head into Morgan's shoulder, shattering the C6 vertebrae, Gales remained conscious. He heard the band playing from the stands. He sensed athletic trainers kneeling beside him. But he felt nothing below his chest.
The next day, Gales underwent a four-hour surgery. Doctors inserted 20 screws, a box holding together bone fragments and two steel rods, leaving scars underneath Gales' jaw and along his neck.
A man in his early 20s suddenly needed help washing his face and brushing his teeth. Gales' mother had to lift him out of his wheelchair and carry him into the bathroom. She placed Gales in the tub when he needed a bath. His life tethered to others, Gales sometimes wished he had never hit Morgan.
Most of the time, Gales smiled as he attended rehab. Doubt and fear occasionally crept into his mind. One day, Gales became frustrated. He thought everyone had forgotten about him. The phone calls had stopped. He lived 500 miles from extended family and friends. He had made progress, walking with robotic legs, but he wondered why it mattered if no one cared.
"God makes no mistakes," Gales' mother told him. "This was not a mistake, and there is a purpose for you going through all this."
Gales had to discover that purpose on his own, so he leaned into his Christian faith at his mother's encouragement. Gales grew up going to church every Sunday morning. He attended services because his parents made him. His faith grew after the injury, giving him something to hold onto and the hope God may grant him a miracle.
Inside the home gym earlier this summer, Gales forced himself to shake his leg. He told himself to kick. It swayed slightly above the ground, his leg moving on its own for the first time since the injury.
"That means my time is coming," Gales said. "I just don't know when."
• • •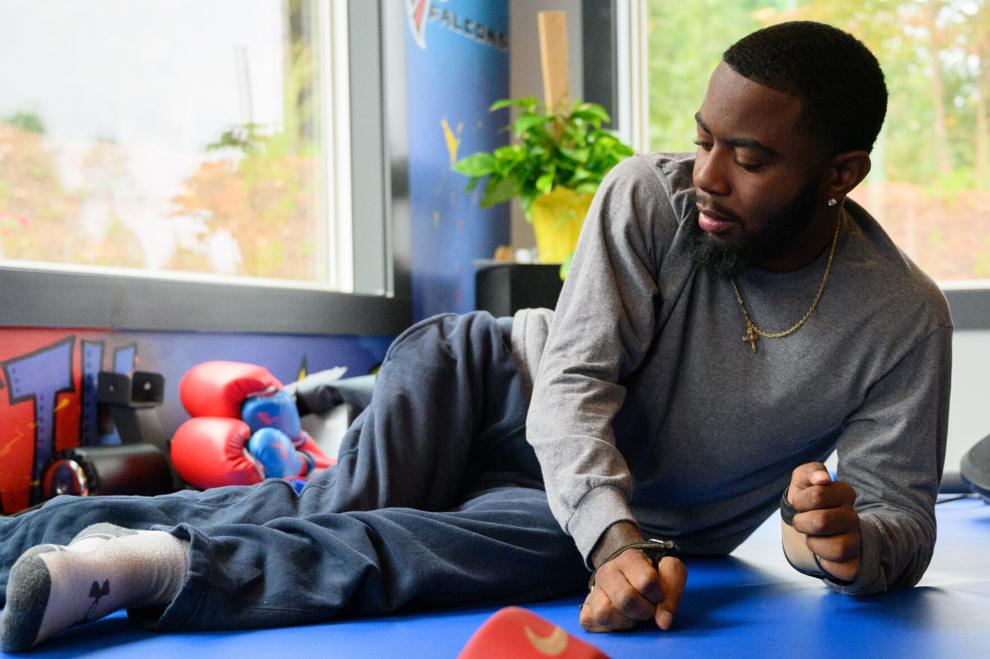 Despite what football took from him, Gales missed the sport. Decorators painted a mural with athletic logos, inspirational quotes and former linebacker Ray Lewis in the home gym. So when Gene Cathcart, the head football coach at Jefferson High, offered Gales a job, he accepted immediately.
Cathcart had listened to Gales speak on a podcast, and after meeting him at the groundbreaking ceremony for Gales' house, a project funded through donations, Cathcart believed Gales exemplified his program's definition of leadership — "a powerful positive presence when most people don't have the courage to be one." 
Gales refused to accept compensation. He attended almost every practice and game last season, soon becoming "Coach Gales." He spent time with the wide receivers and special teams units, but he mostly acted as a mentor, shouting encouragement and asking about math tests. The football field provided him solace. He wanted to tackle the players. 
"He's got a great gift for knowing what kids need," Cathcart said.
During the 2019 season, Gales occasionally gave speeches and pep talks. When Jefferson trailed by 19 points at halftime on the road in its quarterfinal playoff game, Gales asked Cathcart if he could talk to the team.
Pulling on his own experiences, Gales told the players they had come too far to concede the game at halftime. If the team strung together positive plays, it could erase their deficit by the fourth quarter. Jefferson lost the game by two points. It had a chance to win as time expired. 
"A lot of credit for that goes to him because when he talks," Cathcart said, "they listen." 
Gales returned to the team this year. Jefferson began summer workouts in June, and Gales observed from his wheelchair. He spent more time at practice as the season approached, and now that Jefferson has played two games, he's a fixture once again on the sideline. Gales' mother reminds him to wear a mask.
Cathcart hopes Gales will remain at Jefferson for a long time. He inspires the players while speaking honestly about his life. Gales exudes positivity, and nothing about him feels fake. His words resonate. But as much as Cathcart wants Gales to stay with the program, he knows Gales won't spend the rest of his life at Jefferson.
"I love him," Cathcart says. "And, um." 
He pauses, holding back tears.
"He uhh...," Cathcart trails off. He stops again. "I didn't mean to get choked up. He's been a much greater gift to me and our coaches than I think we could've ever dreamed. He's one of the best young men I've ever been around in my life."
• • •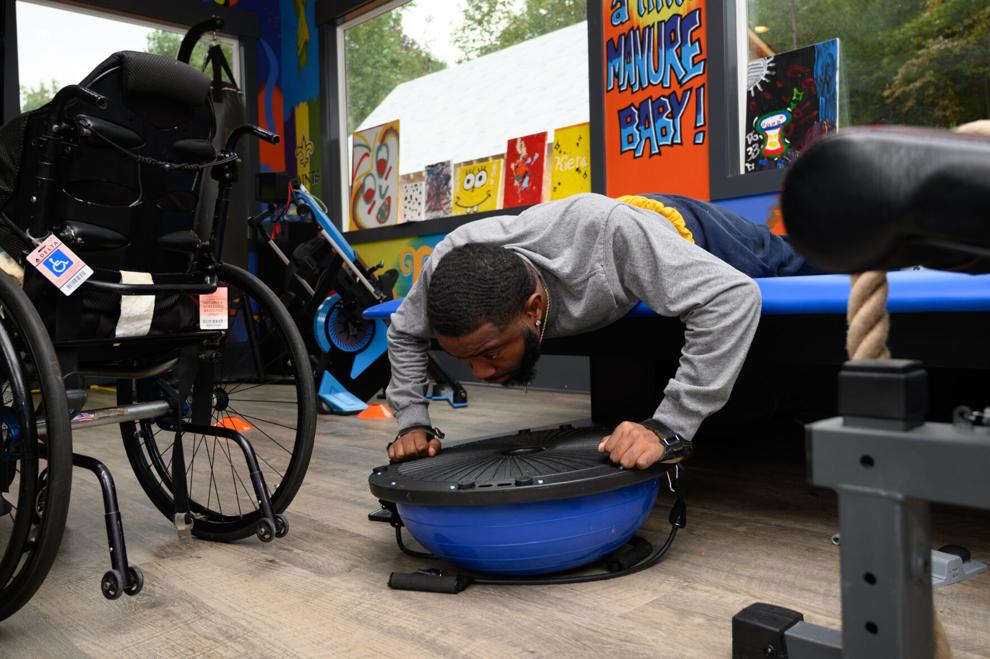 After Gales' paralysis, he got a tattoo on his right shoulder of a man standing on a wheelchair. Gales had tattoos before the injury, but this one reminded him of the life he envisioned for himself, a permanent display of his ultimate goal: to walk again.
Over the past five years, Gales has spent the majority of his time devoted to rehab. He can now sit without assistance, lift himself into a car and raise his arms above his head. He cares for himself in many ways, allowing his mother to work this year for the first time since his injury. She doesn't have to worry as much.
"Before, I couldn't lift them this high," Gales says, raising his right arm halfway up his body. "If I tried, it would fall on top of my head." 
Gales' workouts focus on core and upper body strength. He pulls ropes. He uses a standing frame to put pressure on his legs. He does push ups and crawls through the backyard. He tips his wheelchair backward for crunches. He often bikes with a stationary machine, strapping his legs to large braces that look like boots and anchoring his wheelchair with dumbbells so it doesn't roll backward.
Next semester, Gales plans to enroll in classes at Georgia. He wants to major in communications and one day become a motivational speaker, using his life as an example of perseverance. His mother thinks he can travel the world sharing his experiences. He hopes to live on campus and enjoy life as a college student as he recaptures the freedom he lost five years ago.
"I need to take control of my life again," Gales says. 
Gales' family has done something every year on Sept. 26. They toured the CNN building in Atlanta and visited the 'NBA on TNT' studio. They went to New York City for a Bleacher Report story. They ate dinner at Pappadeaux Seafood Kitchen, and family members told Gales how he improved their lives. 
"Every year that passes," Tish said, pausing as she gathered herself, "it's still fresh on my memory like it happened yesterday. I guess it could be, because it was such a traumatic moment for us. But every year it gets better. I'm grateful that it does."
Gales doesn't think much about the injury that changed his life. He quickly moves past the memories when they enter his mind, choosing instead to focus on the future. Gales appreciates his progress. But he hasn't reached his goals. 
This Saturday, Gales plans to watch football games on television and cook something on the grill. He wants to stay at home with his family. He might invite some friends.
For a moment, he can acknowledge how far he has come. Gales believes he will walk again on his own one day, even if it takes the rest of his life. His best days lay ahead of him, he thinks, not somewhere in the past. 
"I feel like it's a celebration," Gales said. "I'm still living."