Southern coach Dawson Odums said he has finally found the missing ingredient to his offense in junior college transfer quarterback Ladarius Skelton.
Though the Jaguars have consistently ranked among the Southwestern Athletic Conference's best offenses throughout Odums' tenure, he said it has been unable to reach its true potential because the threat of a quarterback run has never truly been there unless Southern subbed in its backup.
Skelton is the latest — and most dynamic — addition to a quarterback position group that now includes three players in the classic dual-threat mold.
"Hopefully we can be as explosive or even more explosive than we've ever been," Odums said. "With Dray Joseph and Austin Howard, we didn't really have great runners back there. Now we've got great runners.
"If they can have the decision-making of Dray Joseph or Austin Howard, look out. The sky's the limit for how good we can be offensively."
Having an elusive running threat at the quarterback position, Odums said, will not allow opposing defenses to load up the line of scrimmage with defenders, and will give Southern an advantage in terms of numbers.
He said Skelton could be the most athletic quarterback in the SWAC this upcoming season, comparing his running ability to former Alcorn State quarterback Lenorris Footman.
"He's as good a runner as any quarterback in our league," Odums said. "He's special."
And, Odums said, he's won at every level.
Skelton led his Pine Bluff (Arkansas) High School team to back-to-back 6A state championships. He did the same at Fullerton College, helping put together an undefeated championship season while splitting first-team quarterback reps.
Skelton comes to Southern with three years of eligibility remaining — the same amount as current Southern quarterbacks John Lampley, Darquez Lee and Bubba McDaniel.
And he will compete with them right away for playing time.
"The good thing is he's here on campus this spring, so that gives him a chance to get him acclimated to our offense and get him adjusted to what we're doing," Odums said.
"The sky is the limit. He's a special talent, and we're grateful to have him."
For the first time in more than a decade, the Southern football team will play fewer than 11 regular-season games.
Staff shakeup
Former Southern wide receivers coach Mark Frederick left after one season on the Bluff to join Eric Dooley's staff at Prairie View. Dooley was an assistant coach at Southern during Frederick's playing days.
Odums said he has been interviewing candidates for the lone opening on his staff, and hopes to name Frederick's replacement by the end of next week.
There is no rush to get the new coach in before national signing day, however, since Southern already signed a handful of receivers during the early signing period.
The official start date for the new offensive coach likely won't be until February, Odums said.
As far as Roman Banks and Trayvean Scott are concerned, Southern's student-athletes — as a collective group — earned a championship in the fal…
Welcome, Register
Shortly after the new year, Southern picked up a big-time talent when former Minnesota wide receiver Hunter Register announced his intention to transfer to Southern.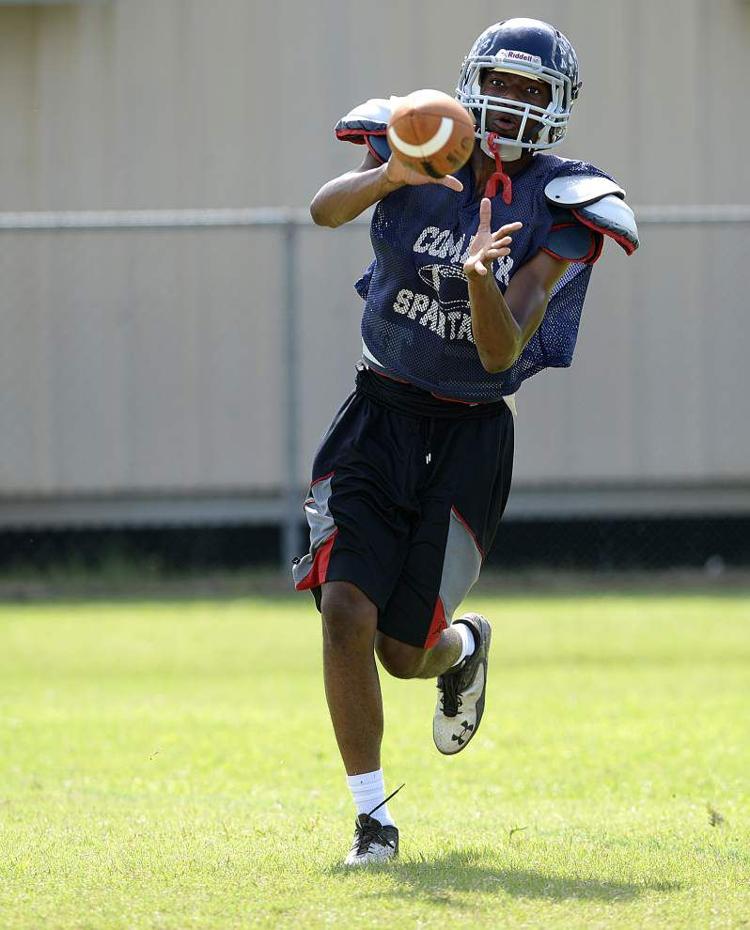 Odums was unable to officially comment on Register until he had enrolled in school.
In Register, Southern picked up a big-bodied and athletic receiver — something it sorely lacked last season.
"He's going to be an outside presence," Odums said. "… Shoot, he might be 6-5. He's a big dude."
Register is a Lafayette native who was rated a three-star prospect coming out of Comeaux High School, according to 247Sports composite rankings.
In two seasons at Minnesota, Register played in one game, catching one pass for six yards.
Menard update
Southern is seeking a sixth year of eligibility for wide receiver Randall Menard, who suffered a broken leg in Southern's SWAC opener against Alcorn State this past season.
Odums said Southern likely will not hear official word back on Menard's status until April.
Williams returns
Former Southern Lab standout Curtlan Williams — who left the Southern football program after his freshman season — has returned.
Odums said Williams, a slot receiver, has re-enrolled in school and will be added to the school's spring football roster.