YOUR ENTIRE FAMILY IS COMING TO NEW ORLEANS to visit during the holidays and you're delighted but want to spruce up the house for the occasion. There's only about three weeks left before company arrives, so what are your options?
"You have to look at it in terms of small items," especially those that can have a big impact, says Doug Matthews, owner of Matthews Construction and Renovation.
A good cleaning always brightens a space — and washing the exterior of your house presents a glowing first impression. "The obvious things are just doing some basic cleaning on the outside of the house," he says. "A lot of people want to paint, but you can actually get some trisodium phosphate and a garden hose, and in half a day or less you can wash the front of your house and it looks like a completely different home. Everybody's got road grime, dirt and everything else that generally washes off very nicely."
Another small task that makes a big impact is painting your front door an accent color, he says.
Kathleen Allain, design assistant at Perch, an interior design studio and home decor store, says small additions can make a big difference in a room. "Instead of changing everything, just accessorize," she says. That can include decorative pillows and throws to add color, patterns and texture, a new piece of art, lamps and plants. For live plants, she suggests paperwhites, a bulb narcissus plant with fragrant clusters of flowers, which at Perch are planted in vintage tableware. "They're really low-maintenance," she says. "They require an ice cube once a week. They're very versatile. They can make a lovely table setting or a hostess gift."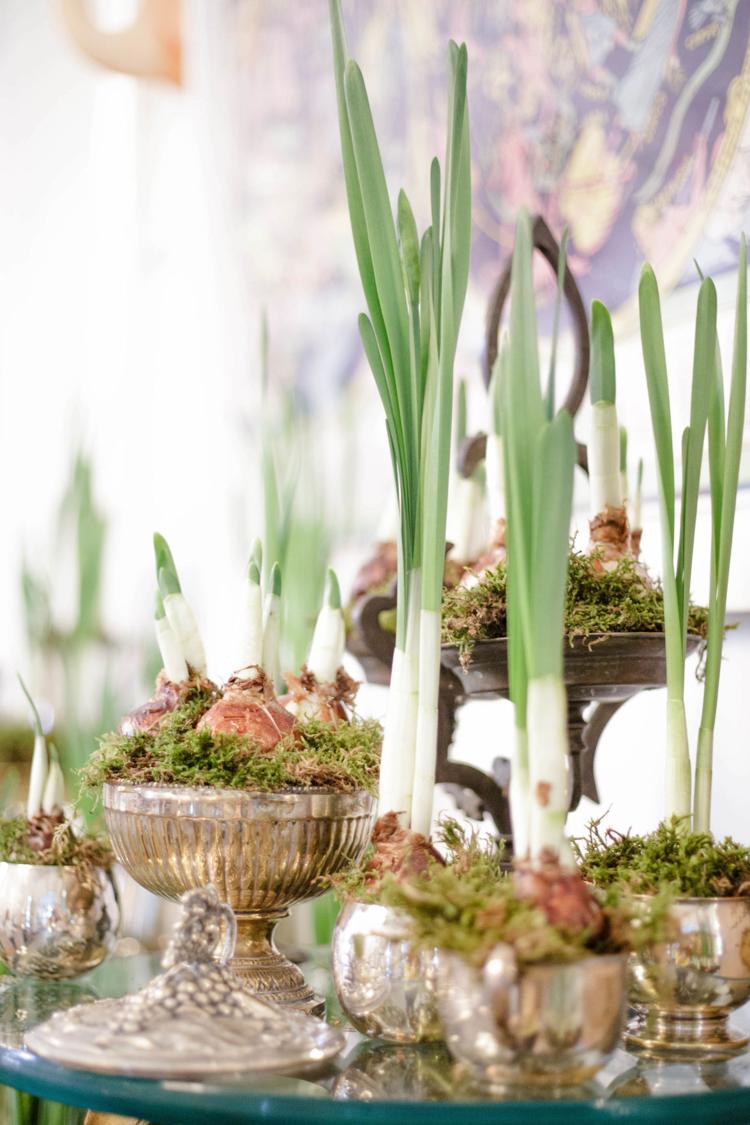 Wallpaper can transform a room, but homeowners could run into issues getting it installed in a short timeframe, Allain says. New curtains and valances, however, are more realistic.
"Curtains are something we make pretty quickly," she says, adding "the possibilities are endless" when it comes to what they can do for a room. "They can dramatize the height of the ceiling. They also make a home feel cozier. They can soften things up or create drama if you go with a bold pattern, or it can create elegance if you go with silk."
Valances come in different shapes and can complete the space. "It adds a finishing tailored look to the room and an architectural feel," Allain says. "That can dramatically change the look of a room."
Christmas Decor by Terminix decorates your house, takes down the lights and stores them till the next holiday.
You don't have to spend thousands of dollars to get a fresh look in the kitchen and bath. Instead, Matthews recommends installing new drawer pulls and handles on cabinets and new towel bars in the bathroom. For a little more effort, homeowners can put up a backsplash in the kitchen, which can add color or patterns to the room.
"Backsplashes are great because they really can pick up other finishes in the home and they're very useful," Matthews says. "You can paint or do details on your cabinets." Refrigerators and dishwashers sometimes have interchangeable panels on the front, and homeowners can change out scratched or worn panels with more pristine versions.
Replacing cabinets may be a major ordeal in a kitchen but could be manageable in a short time in a bathroom, Matthews says. "Oftentimes the countertops (in bathrooms) are a lot smaller and the (design) is based on one piece of furniture or a small vanity, so … you can replace them in a modular fashion where the sink and the top are all molded into one."
Instead of totally redesigning a room, paint an accent wall or add an architectural element, Matthews suggests. "(It can) do an awful lot for the [whole room] just by doing one wall that's contrasting to the other walls," he says. "It's very quick and it really makes a big difference."
Or, use a wall to display colorful sculptures of flowers.
"We have wall mounts, which are ceramic flowers you just stick on the wall with a nail, so it's more a sculptural element," Allain says. "Just a nail and a hammer are all you need for that."
Applying crown molding around the ceiling of a room is an easy way to give the space a dramatic facelift, Matthews says. "It's very, very simple to run in rooms. With a little bit of help and a little bit of guidance, somebody can do those kinds of things very quickly and embellish a room quite a bit."
Updating light fixtures in one room or throughout the house is a relatively simple task that can significantly change the way a space looks. "You're talking about two screws, three wires and a couple of wire nuts," Matthews says.
Those less mechanically inclined could just add a set of lamps, which come in a range of sizes colors and shapes, Allain says. "That's a simple fix and can really freshen up a home but requires no installation," she says.
Working on a short timeline during the holiday season doesn't mean you can't find professionals to help. "A lot of contractors get a little slow this time of year," Matthews says. His best advice for DIYers as well as those who hire professionals to help: "Be realistic about what people can and will do."
I TOOK THIS SELFIE on the way to a New Orleans Saints home game a few Decembers ago. I was excited-yet-terrified because there were 11 of us i…