In Louisiana, there's always a reason to party. In August, there are plenty of fairs, festivals and more on the calendar. Here's a rundown of events. Start making your plans now!
1-3 — Empire South Pass Tarpon Rodeo (Empire Boat Harbor, 33373 Highway 23, Empire; www.facebook.com/empiresouthpass) — The fishing competition runs from 12:01 a.m. Aug. 1 to 6 p.m. Aug. 3, with prizes in a range of categories. There also is a children's fishing competition, live music, food vendors and more. 3 p.m.-8 p.m. Thursday, 2 p.m.-10 p.m. Friday, 11 a.m.-11 p.m. Saturday. Fishing fee $40, $20 for anglers 12 and younger.
1-3 — Iberia Film Festival (Various locations, New Iberia; www.iberiafilmfestival.com) — The festival screens short independent films from local and international directors in narrative, documentary, animation and experimental categories. Directors and actors hold Q&As. Showtimes and admissions TBA.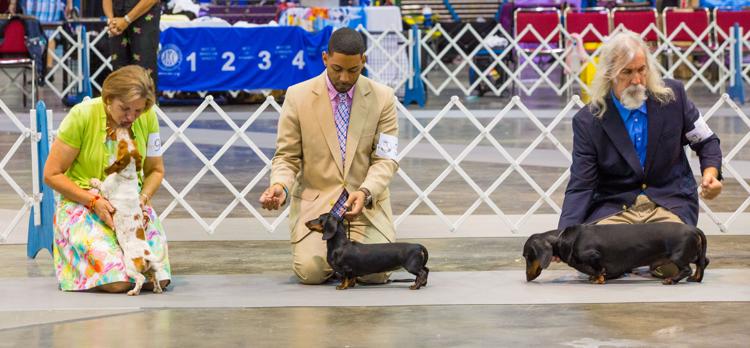 1-4 — Lagniappe Classic Dog Show (Pontchartrain Center, 4545 Williams Blvd., Kenner; www.akc.org) — More than 1,000 dogs representing 190 breeds compete for prizes, including Best in Show. There also are workshops and other activities. 8:30 a.m.-5 p.m. Free.
2-4 — Satchmo SummerFest (New Orleans Jazz Museum, Old U.S. Mint, 400 Esplanade Ave.; www.satchmosummerfest.org) — Three dozen bands perform during the three-day event, and there are discussions by Louis Armstrong scholars, Zulu coconut and second-line umbrella decorating stations, a jazz Mass and food and drink vendors. 11 a.m.-9 p.m. Friday-Saturday, 11 a.m.-8 p.m. Sunday. $5.
3 — White Linen Night (300-700 blocks of Julia Street and at various locations in the Warehouse District) — The block party extends for four blocks on Julia Street, with food and drink vendors and live music. Galleries extend their hours and showcase new artworks. There's an after-party at the Contemporary Art Center (900 Camp St.) with live music, cash bars and food. Block party 5:30 p.m.-9:30 p.m. Free. After-party 9 p.m.-midnight. $10, free for CAC members.
10 — Dirty Linen Night (200-1000 blocks of Royal Street and some side streets in the French Quarter; www.dirtylinen.org) — The French Quarter version of White Linen Night includes a street party with live music, clowns, mimes and other performances and extended hours at dozens of galleries and shops. Some galleries offer snacks and drinks. 6 p.m.-9 p.m. Free. VIP tickets $20-$50.
10 — New Orleans Red Dress Run (Crescent Park, 1008 N. Peters St.; www.neworleanshash.com) — Men and women put on red dresses and take to the streets of the French Quarter in this annual fun run. There's food before the race and an after-party with live entertainment. 9:30 a.m.-5 p.m. $45 and up.
14-18 — Delcambre Shrimp Festival (409 E. Main St., Delcambre, 337-685-2653; www.shrimpfestival.net) — There are shrimp cook-offs, shrimp dishes by local cooks, live music, a queen pageant, amusement rides and a blessing of the shrimp fleet on Sunday. 6:30 p.m.-until Wednesday-Friday, 10 a.m.-until Saturday and Sunday. Free Wednesday, Thursday and Sunday, $10 Friday and Saturday.
16 — Westwego Farmers Market Friday Night Concert Series (484 Sala Ave., Westwego) — The concert series offers live music by Faith Becnel & The Music Krewe, food, crafts and more. 7 p.m.-10 p.m. Free.
17 — Arts & Crabs (The Burton Complex, 7001 Gulf Highway, Lake Charles; www.artscouncilswla.org/events/whats-coming-up/arts-crabs) — Local chefs prepare crab and seafood dishes, there are Louisiana craft beer samples, a "Best Crab Dish" competition, demonstrations, live music and an arts market. 5 p.m.-8 p.m. $40.
22-25 — Gueydan Duck Festival (404 Dallas Guidry Road, Gueydan; www.duckfestival.org) — There's a skeet-shooting competition, a duck/goose-calling contest, a duck cook-off, dog trial competition, amusement rides, a parade and pageants. 6 p.m.-8:30 p.m. Thursday, 4 p.m.-midnight Friday, 9 a.m.-midnight Saturday, 9 a.m.-4 p.m. Sunday. $10 Friday-Saturday, free for children 12 and younger; free Thursday and Sunday.
23-25 — San Fermin in Nueva Orleans (Various locations in New Orleans; www.nolabulls.com) — This festival originally was scheduled in July, but was postponed due to Hurricane Barry. Roller derby women wielding plastic bats are the "bulls" in New Orleans' version of the running of the bulls on Saturday. The three-day event includes a kickoff party Friday, music, DJs, food, drinks, an Ernest Hemingway lookalike contest and more. Hours and admissions vary.
23-24 — NOLA Downtown Music and Arts Festival (Duncan Plaza, 343-349 Loyola Ave.; www.cuttingedgenola.com/nola-downtown-festival) — There's live music from local, national and international acts at the festival grounds and at various downtown venues as part of the Cutting Edge music conference. There's also a Cruisin' New Orleans Car Show, a second-line walk/run, a film festival, entertainment industry expo, lifestyle products demonstrations and more. Hours TBA. Free.
29-Sept. 2 — Louisiana Shrimp & Petroleum Festival (Festival grounds, 715 Second St., Morgan City; www.shrimpandpetroleum.org) — There is a blessing of the fleet, a water parade, live music, a car show, a 5k walk/run, amusement rides, children's activities and lots of shrimp dishes. 5 p.m.-midnight Friday, 9 a.m.-midnight Saturday, 8:30 a.m.-midnight Sunday. 9 a.m.-midnight Monday. Free.
29-Sept. 2 — Southern Decadence Festival (Various locations in the French Quarter; www.southerndecadence.net) — The annual gay festival draws more than 200,000 people from across the country and includes a walking parade in the French Quarter, street parties, club parties, concerts and more. Hours and admissions vary.
30-Sept. 1 — Grand Isle Redfish Rodeo (Bridge Side Arena, 1618 Highway 1, Grand Isle) — It's the 59th year for the fishing tournament, which awards prizes in a range of categories and also has food vendors, art booths and more. Times and registrations vary.
31 — Southwest Louisiana Zydeco Music Festival (Yambilee Building, 1939 W. Landry St., Opelousas; www.zydeco.org) — A bloody mary zydeco breakfast (8:30 a.m.) kicks off a day of music from Louisiana's top zydeco performers. 10:30 a.m.-midnight. $15, $5 for children 12 and younger.
Check out more months below:
Louisiana Fair, Festivals Guide, September 2019: Fried Chicken Fest, NOLA On Tap, more
Louisiana Fair, Festivals Guide, October 2019: Oktoberfest, Beignet Fest, Voodoo, more
Louisiana Fair, Festivals Guide, November 2019: Louisiana Book Festival, Pecan Festival, more
Louisiana Fair, Festivals Guide, December 2019: Celebration in the Oaks, Noel Acadien, more