In Louisiana, there's always a reason to party. In December, there are plenty of fairs, festivals and more on the calendar. Here's a rundown of events. Start making your plans now!
Daily-Jan. 1, 2020 — Celebration in the Oaks (New Orleans City Park, 5 Victory Ave.; www.neworleanscitypark.com/celebration-in-the-oaks) — The holiday light display is scattered throughout 25 acres of New Orleans City Park, including the Botanical Garden, Storyland and the Carousel Gardens Amusement Park. Visitors can ride a train around the park to view displays. 6 p.m.-10 p.m. Sunday-Thursday, 5 p.m.-11 p.m. Friday-Saturday. (Closed Christmas Eve and New Year's Eve.) Admission TBA.
Weekends through Dec. 8 — Louisiana Renaissance Festival (46468 River Road, Hammond; www.larf.org) — See Nov. 2 listing for event details.
1-23 — Noel Acadien au Village (800 W. Broussard Road, Lafayette; www.acadianvillage.org) — More than half a million lights are incorporated into displays across 10 acres of land. There are carnival rides, food vendors, live entertainment, a shopping area and photos with Santa. 5:30 p.m.-9 p.m. daily. $10, free for children 4 and younger.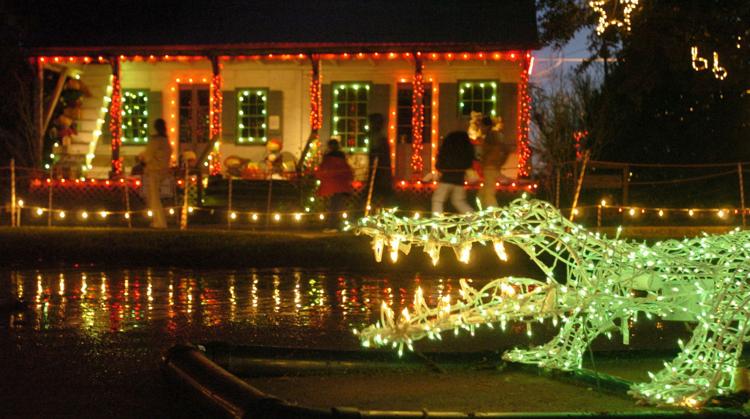 2 — A New Roads Christmas (211 W. Main St., New Roads; www.newroads.net/a-new-roads-christmas) — Amusement rides, arts and crafts, food vendors and photos with Santa are part of the celebration. There's a parade at 5:30 p.m., followed by a tree lighting at City Hall. Noon-7 p.m. Free.
6-8 — Christmas Extravaganza Arts & Crafts Expo (St. Tammany Parish Fairgrounds, 1304 N. Columbia St., Covington) — The event includes 500 booths of vendors offering arts, crafts and other merchandise. There also are 20 food vendors. 9 a.m.-5 p.m. $5, free for children 12 and younger.
6-8 — Holiday Art Market (Central School Arts & Humanities Center, 809 Kirby St., Lake Charles; www.artscouncilswla.org) — Louisiana artists exhibit and sell their handmade creations, and there are music performances, bakery items and more. 3 p.m.-7 p.m. Friday, 10 a.m.-5 p.m. Saturday, noon-5 p.m. Sunday. Free.
13-15 — Festival of the Bonfires (Lutcher Recreational Park, 2601 Lutcher Ave., Lutcher; www.festivalofthebonfires.org) — A prelude to traditional bonfire lightings alone the Mississippi River levee on Christmas Eve, the festival includes live music, carnival rides, cook-offs, an art show, a car show, children's entertainment and a bonfire lighting nightly. Event schedule varies by day. 2 p.m.-midnight Friday, 8 a.m.-midnight Saturday, 9 p.m.-6 p.m. Sunday. $5, free for children 9 and younger and adults 62 and older.
14 — Christmas in the Village (Drouet Park, Turkey Creek) — Roy Chaffin and Todd Knight's Knight Train are among the musical guests, which perform swamp pop, country and other genres. There's also a parade, shopping, educational exhibits and a queen contest. 11 a.m.-2 p.m. $3.