Still salty? Us too. But we all need closure. Here are some places you can gather with the Black and Gold and do anything but watch Super Bowl LIIIE.
• The Boycott Bowl may be the closest thing we get to a municipal parade. Come gather Feb. 3 at Fulton Street (between Girod and Lafayette) from noon to 10 p.m. and join Choppa, Shamarr Allen and the Underdogs, Partners N Crime and the Big EZ Band, Rockin' Dopsie, Jr., Flow Tribe, the Vettes and others. Don't be surprised if city officials show up — and maybe a Saint or two? Tickets are $10 (or more if you feel like it) and revenues benefit the New Orleans Recreation Department Foundation.
New Orleans Saints fans avoiding Super Bowl LIII won't find a trace of football's main event at a same-day festival that celebrates the team.
• The Anti-LIE Bowl Party (which bills itself as "petty af") gets underway at Dat Dog on Magazine Street at 11 a.m. on Super Bowl Sunday, with games and drink specials. The 2010 Super Bowl will be replayed at 11:30 a.m., and a Choppa-style dance-off will be held at 1 p.m. King Cake Hub will be selling king cake by the slice. Organizers ask everyone to bring nonperishables for Second Harvest Food Bank.
• Mid-City Lanes Rock 'n' Bowl will host "The Anti-Goodell Protest Bowl" starting at 3 p.m., and John Blancher and company will be showing — you guessed it — the 2010 Super Bowl. Bag Of Donuts, The Mixed Nuts, Dr. Rock, Tin Star and Abdul D. Tentmaker will provide music. $10 admission.
• Sports hub Tracey's Original Irish Channel Bar will show the 2010 Super Bowl, as well as ... the Puppy Bowl. (Oh, the shade.) "Working on crawfish, too," says the bar.
The debacle in the Dome has already spurred calls for changes in NFL officiating. It is also radically changed the plans for many Saints fans …
• Vaughan's Lounge in Bywater, normally a hub for Saints games, has announced it will not show what the bar calls the "Stupid Bowl." There's more delicious, delicious salt on the event's Facebook page.
• The Crown & Anchor Pub in Algiers also will be showing the good Super Bowl (2010) and not this year's fake one. It's a potluck.
• La Casita Taqueria will not show the 2019 Super Bowl, but will "celebrate the Saints with happy hour prices all day."
• Cane & Table will offer $5 Sazeracs for all Saints fans wearing black and gold.
• Blue Oak BBQ will be whipping up "king cake daiquiris" in honor of the Saints — and showing the 2010 Super Bowl all day long.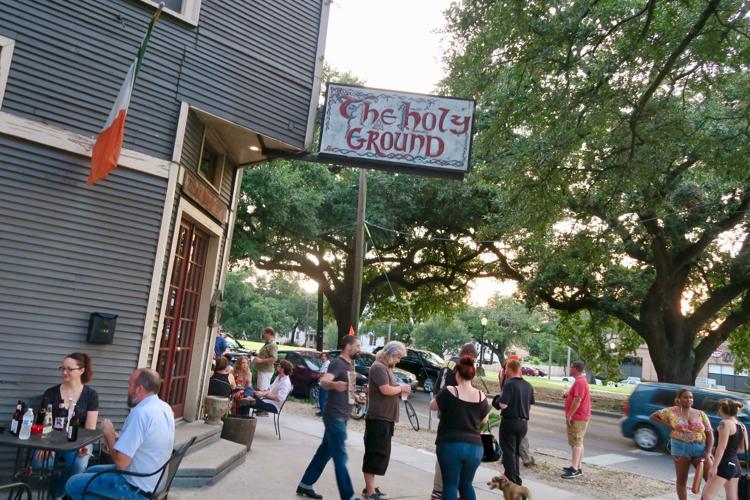 • Let loose your inner Kamara at The Holy Ground Irish Pub's touch football game in the neutral ground at Jefferson Davis Parkway and Canal Street at 2 p.m. Afterward there'll be a Madden game of Saints vs. Chiefs on the big screen, and complimentary hot dogs for all.
• Puppy Bowl fans and pet lovers will want to leash up and be at Port Orleans Brewing Company for the "PUP-er Bowl." It's a benefit for Animal Rescue New Orleans (ARNO), and ARNO will be in the house from 1 p.m. to 5 p.m. with adoptables, a silent auction and a photo booth. Animal Planet's Puppy Bowl will be on with sound starting at 2 p.m., and at 5:30 p.m. the boycott will be on, with big screens showing Super Bowl XLIV.
Mourning Saints fan can commemorate the untimely end of the season with a second line around the French Quarter ahead of the Super Bowl kick o…
• The Kingpin will be gathering to bury the 2018 season with a second line led by the Big Fun Brass Band at 4 p.m. Attendees are asked to wear black (and gold, of course). Then it'll be time to watch the Saints Super Bowl. ("Free shots if we win!")
• Bayou Bistro in Mid-City won't be showing the game, but will have specials including steak, crawfish and oysters. Wear Saints gear and get a free dessert (or free mimosa with breakfast).
• Cafe Degas is boycotting, "with no talk of, or radios/televisions playing, of the Sunday game." So keep your lip zipped.
• KJ's Place in Kenner will have a "No Super Bowl" party at 5:30 p.m., with live music, food and drink specials and the "good" Super Bowl on four of its seven TVs. (The Puppy Bowl will be on the other three.) Free Jell-O shots every time the Saints score.
• Pal's Lounge and Martine's Lounge both will air the 2010 Super Bowl.
• Theo's Neighborhood Pizza won't show either Super Bowl, but will be giving away pint glasses all day with $1 beer purchases.
• The Rusty Nail will show both Super Bowls — as well as setting up a "Boycott Lounge" where fans can take out their frustrations on pinatas of referees and NFL Commissioner Roger Goodell.
• Rosedale will be hosting a "Bowl? What Bowl?" happy hour with drink specials from 3 p.m. to 9 p.m., along with food specials from 3 p.m. to 6 p.m.
• Tavolino will not be showing The Game Which Shall Not Be Named, but notes, "Odds of showing the Puppy Bowl are good."
• Lakeview sports hotbed Parlay's Bar will be showing the Saints championship Super Bowl only, along with Puppy Bowl, and serving a free buffet and drinks specials.
• Drink Bar in Metairie is hosting an "Anti-Super Bowl Party" with drink specials and an appearance by Adam Pearce, a contestant from NBC's "The Voice."
• Johnny White's and Johnny White's Hole in the Wall let us know they will be showing "anything but" the Super Bowl.
• "Cheated Not Defeated" is the theme of the party at Colby's Cocktails in Metairie. They'll be playing beer pong, golf, cornhole, ring toss, tire throw and "Choppa Dance."
• 504 Craft Beer Reserve says, "Due to that aberration of refereeing we are all still wrapping our heads around, let's gather for food, fun, BEER, and the only Super Bowl that really matters...XLIV!" Abita Brewing will be onsite handing out samples and swag while the bar shows the three best games from the 2009 season.
• Tsunami Sushi will eschew the Super Bowl "and offering our Black & Gold Roll for $11 (discounted from $18) in honor of Tommylee Lewis' jersey number and the player in the center of this debacle."
• Rivershack Gretna conducted a Facebook poll to see if patrons wanted to watch this year's SB or, you know, the good one. The results were 96-4 percent, so ...
No doubt there will be many other places not to watch the not-so-big game. Alternatively, you could curl up at home with the Puppy Bowl on your own, or a book, or just Netflix and chill. There are plenty of ways to be salty.
This will be a fraught week for Saints fans, and tuning out the Super Bowl on Sunday will not be enough.
— Know of other places to not watch the Super Bowl? Email response@gambitweekly.com. We'll be adding to this list all week.