Before he puts his white Panama hat on the coffee table in front of him, Walter "Wolfman" Washington collapses into a maroon corduroy recliner inside his home near Bayou St. John. He faces the front screen door with his back to the kitchen, where a stereo plays Isaac Hayes' "Shaft" soundtrack, and his eyes begin to well up with tears that dissolve with his unmistakable wide smile.
After a summer tour with Trombone Shorty and the Preservation Hall Jazz Band, the singer and guitarist took a well-deserved vacation, a breath before a monthlong celebration in honor of his 75th birthday and all the press, planning and attention that comes with it, capping a humbling year in the spotlight after decades playing adjacent to it. His acclaimed 2018 album "My Future Is My Past" is a career breakthrough from an artist with many of them.
Those decades have shaped Washington into the quintessential New Orleans guitarist, fluent in blues, funk, R&B and rock 'n' roll, as a sideman to Irma Thomas, Lee Dorsey, Johnny Adams and David Lastie Sr. and as a bandleader with his 30-years-running Roadmasters and a trio with Joe Krown and Russell Batiste. He's rarely dressed down, sporting bright, monochromatic suits, topped with a flat cap, taking performance notes from his flamboyant star cousin Ernie K-Doe and Adams, a longtime mentor and road partner.
His vocal range extends from a low, sandy howl to a near-tears cry. On guitar, his fluid movements from ecstatic, treble-rich blues riffs, sometimes picked with his teeth, bend to rich, emotional jazz broadcast on stages around the world and into the smallest corner bars in New Orleans.
That time and the stories within it revolve within an infinite loop, spinning so fast it appears completely still, where the people and events that shaped Washington live in the present with him as they did 40 or 50 years ago. A doll his mother gave him as a child reminds him of his last words to her, spoken decades later while performing abroad. A nervous breakdown in his 20s informs his relationship with God today, shaping his understanding of "self" and exposing an honesty and vulnerability that seeps from his fingers and voice when he steps onstage or behind the mic.
"I've lived a beautiful life with some of these cats," he says. "They had the heart and soul of explaining to you what it means to be a musician. A lot of cats don't understand how important it is to want to be a musician. It's a language, man, that's so beautiful, but universal. But learning how to speak it?"
He reaches his hands out and mimes an angel singing.
"That is a gift."
___
It's Sunday, and the New Orleans Saints are playing in the afternoon. Washington's already wearing a Reggie Bush jersey, matching his ubiquitous gold guitar earring hanging from his left ear, paired with a half-smoked cigarette tucked behind his right. His small clear plastic cup with whiskey and ice has been replaced with a tall thermos with a straw.
A framed proclamation honoring Washington from former Mayor Ray Nagin leans against the wall above the couch to his left.
"I lived the simple life," Washington says. "I didn't live a life where cats had all the privileges cats have these days. ... I had to accept some of the things that was handed down."
Born Dec. 21, 1943, Washington was raised Uptown on Derbigny Street between Jackson and Washington avenues. He attended Edgar P. Harney and Booker T. Washington schools during a time when legislative discrimination and racism fueled citywide backlash to integration in schools and neighborhoods. Washington was among kids in the neighborhood who integrated his local playground, which despite being in a predominantly black neighborhood had remained whites-only until 1958.
He had a knack for trouble — as a child, he'd follow his uncles Lightnin' Slim and Guitar Slim to Baton Rouge where he could get away with drinking Falstaff. Later, he ran turf between Roman Street and Claiborne Avenue and Jackson to Washington avenues for the Round Tables gang; if they ever landed in jail, they could call a "Mr. Fields" to bail them out.
But Washington grew up "in the church, where you had to obey God's rules," he says. "My parents explained to me what it means to understand why the spirit of God lives inside all of us."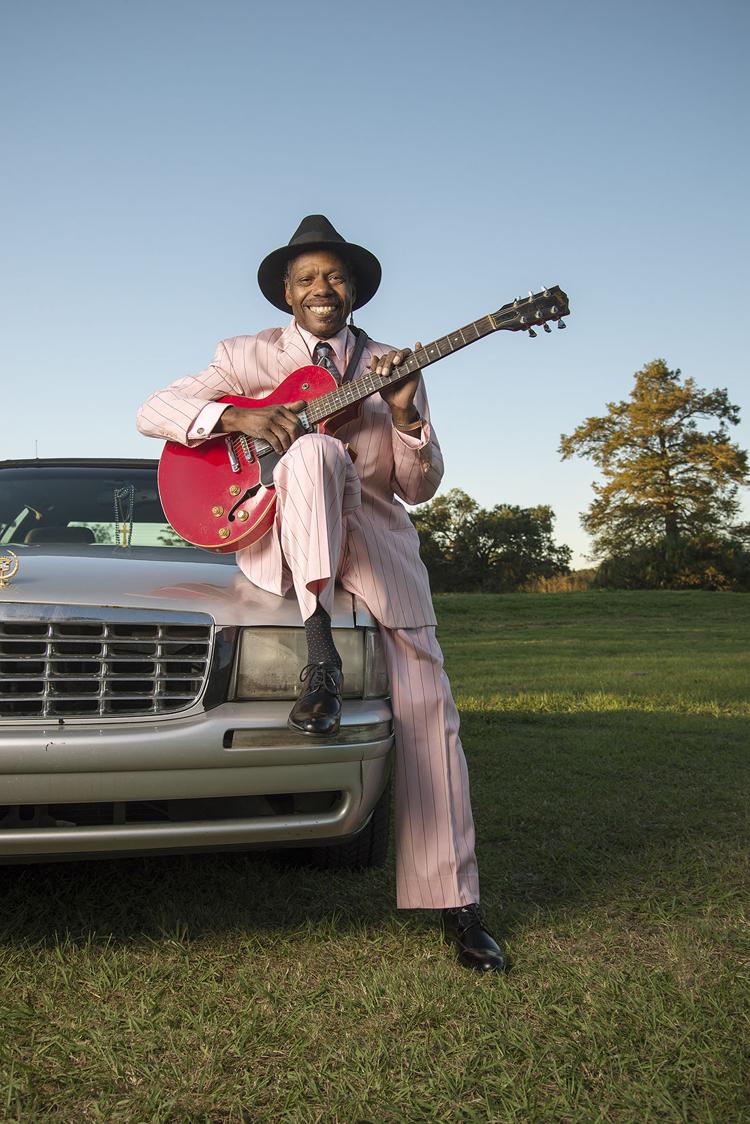 His attention drifted to music, learning guitar on a crude homemade instrument and from watching other players move their fingers across the frets, then matching up the notes to what he'd hear on the radio.
He joined a spiritual group that was invited to perform at the WBOK radio studio's gospel show. "They had this cat playing with all his fingers," Washington says. "I sat there and watched it. Come to find out, I had my guitar tuned wrong. … Then when I played that first chord that I saw that dude play, I was so tickled. I was thrilled to death."
Washington found day jobs pouring concrete and digging ditches before stocking groceries at a corner market at Poydras and Galvez streets. He was tired of playing spirituals and wanted to play rock 'n' roll.
"I was practicing one day and a cat caught me in the yard [and said] 'I'm not paying you to play guitar. I'm paying you to stack shelves.' I said, 'You can take this job and do whatever you want to it. I don't wanna work here anymore,'" he says. "From that day on I have just been playing guitar."
He was 16.
K-Doe, who led the New Hope Missionary Baptist Church choir, inspired Washington to sing, though Washington grew frustrated trying to find the right notes. He later replaced K-Doe in the front of the choir as the singer spent more time on the road and in the studio. K-Doe later told him, "Junior, you have a different soul than I have. You hear different stuff. You just don't hear what I hear. You hear something totally different, and that's you."
___
Washington made himself a regular at clubs around town, from his neighborhood spot The Topaz to the Dew Drop Inn, the longtime staple for black artists in New Orleans and around the South, to the Off Limits, famously hosting loose late-night and early-morning gigs and jams for musicians after they finished other shows around town, a sort of informal showcase for artists to see what else they had up their sleeves when the paying crowds left the room.
Johnny Adams became a hometown hero following a string of local hits in the late 1950s and early '60s, produced by Mac Rebennack, aka Dr. John, and Eddie Bo. Adams heard Washington was looking for a regular gig and told his mother, "I can get him a job playing at the Dew Drop." Several years later, Adams hired Washington as his sideman — a gig that lasted more than 20 years.
Washington supported countless artists as part of the Dew Drop's house band. But in 1962, Lee Dorsey picked Washington to tour with him with the hits "Ride Your Pony" and "Working in the Coal Mine." The group played dozens of showcases — Washington says he played those two songs hundreds of times over two and half years on the road.
When he returned to New Orleans, Allen Toussaint and K-Doe helped Washington arrange a group for Irma Thomas, her first band after recording landmark singles for Minit ("It's Raining," "Ruler of My Heart") and Imperial ("Wish Someone Would Care," "Time Is On My Side"), studio creations that Washington says Thomas was reluctant to hand over to a rock 'n' roll guitarist.
"She didn't want no band," Washington says. "She had recorded behind all these cats who were professional. She didn't think she could have a band that could play behind her."
The Tornados — guitar, bass, drums, two trumpets, two tenor saxophones and a baritone sax — played behind Thomas for two years.
"When Irma came out there all she had to do was walk across the bandstand," Washington says. "We done tore it up. … We loved being together. We loved having fun. We loved her."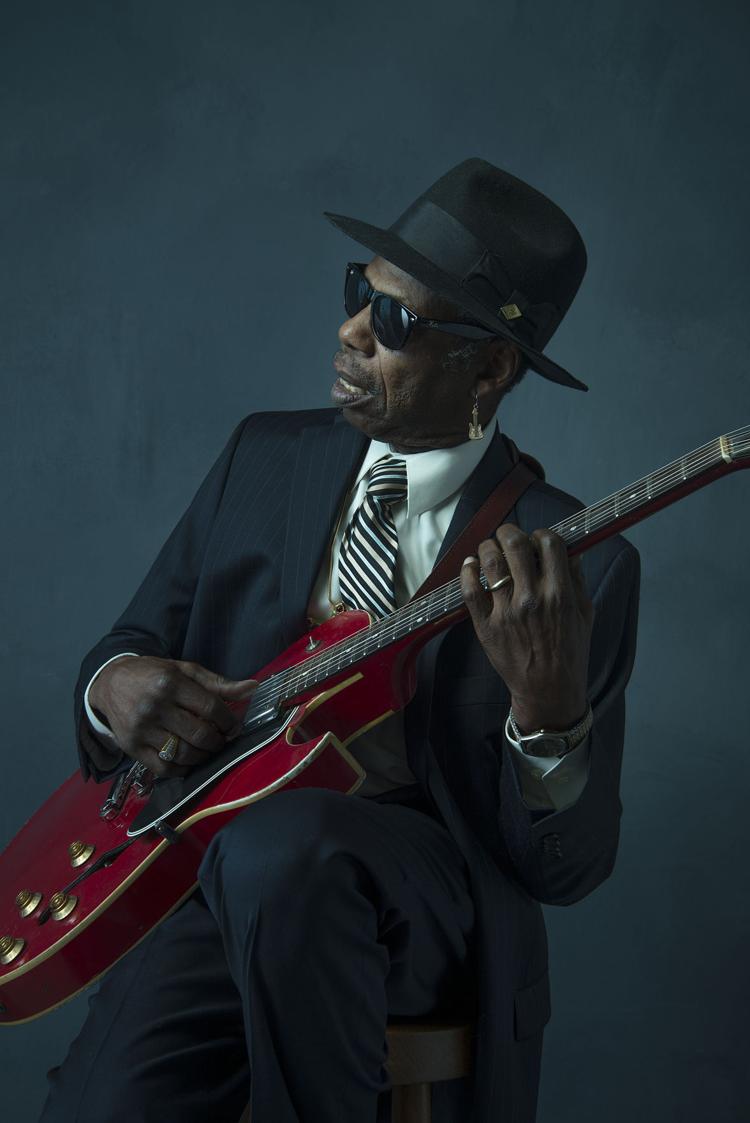 At age 23, Washington already had been on the road for more than four years with Dorsey and Thomas, when he checked himself into Charity Hospital. "I had a nervous breakdown," he says. "I was in my early stage of trying to figure out who I am … to really dig deeper into understanding who I was, and why I was, and what purpose I'm supposed to have, and what reason I'm even supposed to be."
A preacher instructed him to repeat "Our Father" prayers and Psalm 23: "The Lord is my shepherd … Surely goodness and mercy shall follow me all the days of my life: and I will dwell in the house of the Lord forever."
"They sit me in a room with a chair with a guitar in my hands and I closed my eyes," he says. "Next thing I know there was people all over my shoulder, sitting on the floor, listening to me play."
He entered the hospital on a Monday. On Sunday, he walked home with his guitar.
___
Washington likes to tell a story about his first trip to Europe. More details and jokes emerge each time he tells it (this was my third hearing it). With Lastie and A Taste of New Orleans, the group was set to perform at the North Sea Jazz Festival in Holland, where Washington discovered a "coffee shop."
"I had never smoked that kind of weed before," he says. He had three days before the show, so, "for three days, all I did was smoke weed and drink wine."
Three songs into the set — with Washington taking the lead on "Everyday I Have the Blues," skipping across the stage and shredding on guitar — he gets sick. He hands the solo over to Lastie while he runs to the bathroom, throws up, splashes water on his face and prepares to go back onstage.
"Something told me, 'Crawl,'" Washington says. "I'm on my hands and knees, crawling to my guitar. Tore the house down. All I could hear was David saying, 'Get 'em, Wolf! Get 'em, Wolf!'"
The name stuck — Lastie teased him with "Wolfman" for Washington's unpolished "wolfing around" on guitar. The next morning, an embarrassed Washington walked to breakfast in the hotel lobby, where "Lou Rawls and all these bad motherfuckers are sitting there. 'Hey, Wolfman, come over here!' I'll never forget that."
It was Lastie who introduced Washington to music as a language, a concept Washington has baked fully into his style and philosophy, one that syncs with his relationship to God and to the people he respects. "You can say 'in,' 'and,' 'if,' 'fuck you,' all this stuff, with chords," he says. "But it's the way you phrase the chord."
Washington was back home, off the road, for the first time in several years. Lastie's band placed an ad in the newspaper seeking a guitarist who could sing like Ray Charles on "Drown In My Own Tears."
"I learned that song," he says. "My mom knew I learned that song. ... She said, 'Junior, this is a good gig for you.' I said, 'Mom, I dunno.' She said, 'You need to work. Get up off your ass and work. You've been laying around the house and shit.'"
Washington arrived at the Off Limits at 3 a.m., where Lastie, drummer Buddy Williams and guitarist Alvin Robinson tried out guitarists, each one failing to nail the woozy tempo.
"I got to the second verse and [Robinson] told them cats, 'That's the singer, that's the guitar player,'" Washington says. "I stayed with them cats for five years."
With Lastie, Washington says he learned to hear chords as words, with music as the language and the way each chord is phrased as an expression of how those words are understood.
"When I'm sitting down at home and trying to create a song, I listen how different chords blend and add to the next chord, understanding where it wants to go," Washington says. "Then I also sing to myself a melody that helps me understand what chords need to fit certain places, and that took a while to develop, too. Sometimes I'd be singing shit and didn't know what chord I was supposed to play."
___
Washington's longest relationship is with his Roadmasters, the evolving, road-tested funk, soul and R&B outfit that Washington has led for more three decades. The band is his platform for his holistic vision of music as both a universal language and a form of worship — a howling, scratching prayer he speaks to crowds and with his bandmates.
After several solo albums through the 1980s and '90s, Washington and the Roadmasters have remained fixtures at festivals, the Maple Leaf Bar, on Frenchmen Street and around New Orleans, but Washington has been reluctant to embrace the spotlight. He has seen himself as an outsider among his New Orleans peers, neither part of an influential generation of blues artists nor the studied jazz players and funk icons that forged the city's music scenes through the 20th century.
With 2018's "My Future Is My Past," Washington entered a "new area" of solo artistry, he says, one that reveals the powerful, tender soul that has propelled his vision all along.
Manager Adam Shipley and producer Ben Ellman convinced Washington to record the album, a suite of intimately recorded, stripped-down arrangements backed by Jon Cleary, Stanton Moore, Ivan Neville, James Singleton and David Torkanowsky.
"These cats, man, it was a thrill to hear. It was like they put their arms around me," he says. "That was an area that I really was skeptical about going into. Believe me, I really feel sorry about not trusting my instincts about knowing the cats that was on this. I know they're good cats. But I never thought they'd want to record a song behind me. I always thought they thought I wasn't worthy of their talent. I'm serious."
Irma Thomas reunites with Washington for the duet "Even Now," their first-ever recording together.
"Irma had followed my career, and I'd followed hers," he says. "She's always told me, 'Walter, you talk with mush in your mouth. You sing with mush in your mouth. Sing clear!' I know I had to sound clear. I couldn't be singing with no mush. I had to do it right."
He plans to release a similar album in 2020 and has more tour dates planned for 2019. For now, he's often performing in Mid-City, typically at DMac's. It reminds him of Topaz, an informal neighborhood spot to play in front of a handful of people, late at night, with some other guitarists, on a corner stage just big enough to share.
"I hang out with the cats. I'm like a regular," he say. "But they know they can't fuck with me. I just be me. They know better."