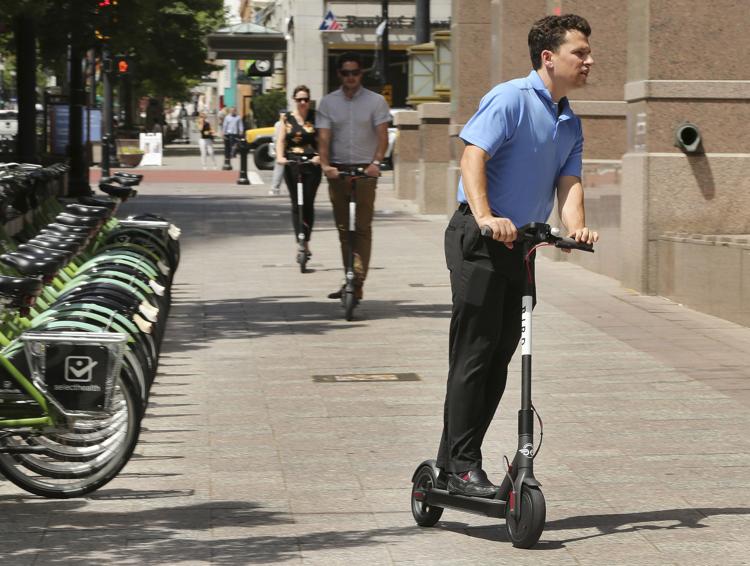 A man in board shorts rolls his motorized scooter into the camera as the words fly across the screen: "The smart mobility revolution is here."
The new wave of two-wheeled transit rentals is advertised among anonymous urban settings, the kind of homogeneous-hip and aspirationally 21st-century-looking cities that don't appear entirely unlike some new retail and condo buildings in downtown New Orleans.
The company in the ad is Lime — recently valued at more than $1 billion by its new partner, Uber — and its "revolution" is getting thousands of people to rent electric scooters in cities across the U.S. Anyone familiar with Razor scooters from their mid-2000s heyday would recognize the electric scooters swarming East and West Coast metro areas and, increasingly, cities in the South.
In May, scooter company Bird began offering its fleet in Atlanta. And a few weeks later, Muving — a moped rental company previously available only in Europe — also opened its first U.S. outpost in the Georgia capital. Lime and Bird are expected to roll out their fleets in New Orleans later this year.
Those companies promote their scooters as a transit option for the so-called "first" and "last" miles of a commute — those short journeys to an office door after taking a train or bus or car into an urban center, then hopping on a mode of transportation people didn't necessarily know they wanted or needed until companies started offering them.
The scooter revolution advertises low emissions, fewer cars on the road and less congested streets, at a relatively low price. The scooters also stream data and GPS back to the company, which offers that data at no cost to cities hosting them: peak ride times, popular routes and demographics — information companies say can be used to influence traffic planning and infrastructure.
They're pretty fast, quiet, and can be parked just about anywhere. They also make for a pretty effective protest instrument against tech-era gentrification; in San Francisco, protesters piled up scooters to block Google buses. There also are many reports of scooters riding on sidewalks and buzzing around bicyclists and pedestrians, who fear being mowed down by Silicon Valley characters now dominating urban spaces.
It's the most recent leg in a race to replace or compete with the entire concept of mass transit, "disrupted" by companies with billion-dollar valuations. Companies now have inserted themselves into the public part of public transit with an ad hoc network of "shared" bikes, scooters and cars. And those companies are moving quickly to shape the future of transit — "public" in nature but private in its terms. A $2 bus or streetcar fare is replaced with a $10 Uber ride. Bike rentals (or "bikeshare") kiosks dot popular urban centers, adding more options for transit in areas already dense with them.
Ride-hailing app Lyft owns New York's Citi Bike parent company. Uber is invested in Lime. And Bird's CEO Travis VanderZanden is a former Lyft and Uber executive. That company is valued at more than $1 billion.
These "dockless" scooters take up public space, securing prime real estate in cities across the country with more branding opportunity for the companies that own them.
What happens when private transit occupies so much space that it starts to look public?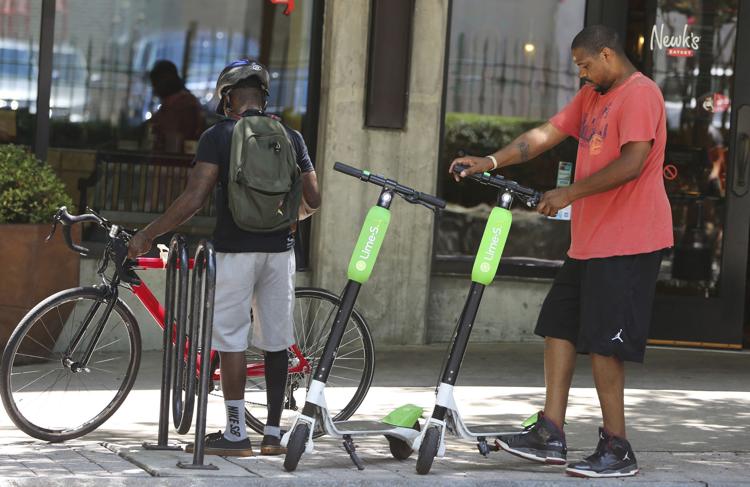 Sometime later this year, New Orleans will debut a pilot program to perform a test run under a new ordinance that opens the door for scooter rental companies to operate in the city. Lime is working with City Hall officials to come up with the terms of the pilot ordinance.
Andrew Sullivan, chief of staff for District C Councilwoman Kristin Gisleson Palmer, who chairs the council's Transportation Committee, told Gambit a pilot likely will be put in place next month, pending a City Council vote. After six months or a year, "it will give us an idea of, 'OK, everything is great, this ordinance nailed it, we'll keep going forward,'" he says, "or, 'It's a huge public safety hazard and it's not going to work.'"
To take an RTA bus from Hollygrove to her old restaurant job in the Warehouse District, Amanda Soprano used to leave home an hour and a half b…
Like most things in the year 2018, scooter riders first must download an app, which directs the user to a nearby scooter. The rider uses the app's QR code reader to scan a code on the scooter, unlock it and charge a credit card attached to the account. It's $1 to unlock the scooter and 15 cents a minute to ride. Riders must have a driver's license and be at least 18 years old.
Lime Development Director Todd O'Boyle told the council's Transportation Committee last month that 100 New Orleans businesses — in Gentilly, Lakeview, Bywater, parts of City Park and near Loyola University — have signed on to offer Lime on their properties.
Laura Bryan, director of the city's new Department of Transportation, says Mayor LaToya Cantrell's administration is "playing an active role in encouraging this new industry." The scooters occupy a "unique space that we have not seen before," she told the committee, though current city laws don't permit their commercial use under an outdated "novelty" vehicle ordinance.
The administration's draft proposal amends that ordinance and creates a permit process, mandating that companies have liability insurance of at least $1 million. Each company must pay for an annual permit of $250 with a $30 fee per scooter. Early Lime pitches indicate a fleet of roughly 300 scooters. The draft ordinance also gives scooters a curfew — scooters must be picked up at dusk every day, or the city can fine companies $250 for each scooter.
The scooters use electric power, which means they need a charge every night. At dusk around the U.S., Lime "juicers" and Bird "hunters" gather as many scooters as they can to charge them in their homes — creating a new and extremely competitive labor force in the gig economy, without a set wage and earning $5 to $15 per scooter charge, depending on fleet scarcity and availability.
Chargers can see the battery life of nearby scooters on the app, then scoop them up — often carrying several on each arm — and plug them into their home outlets.
The Seattle Times recently illustrated the "cutthroat" world of scooter-based independent contracting, in which chargers game the system by collecting scooters and waiting for them to die, only to collect a "bounty" for a higher return rate when fewer scooters are available. The Atlantic quoted one charger as saying it's "like Pokemon Go, but when you get paid for finding Pokemon."
New Orleans officials warn that enforcement — including dusk-to-dawn pickup watch and keeping riders from scooting on sidewalks — would require $200,000 for additional staff.
Absent fines, however, the city is expected to generate only $10,000 for one company operating a fleet of around 300 scooters. Palmer says that's "not enough" revenue. 
O'Boyle said Lime has "no problem paying for the recovery during the time it takes to regulate us."
"It's labor-intensive for us but less labor-intensive for the city," he said.
City Hall officials likely will introduce a compromise draft of a scooter plan later this month. In an email to Gambit, Lime Communications Manager Mary Caroline Pruitt said the company is "eager to provide the community of New Orleans with more innovative, affordable transportation options like Lime, but will continue to be patient and work with the City as they craft regulations."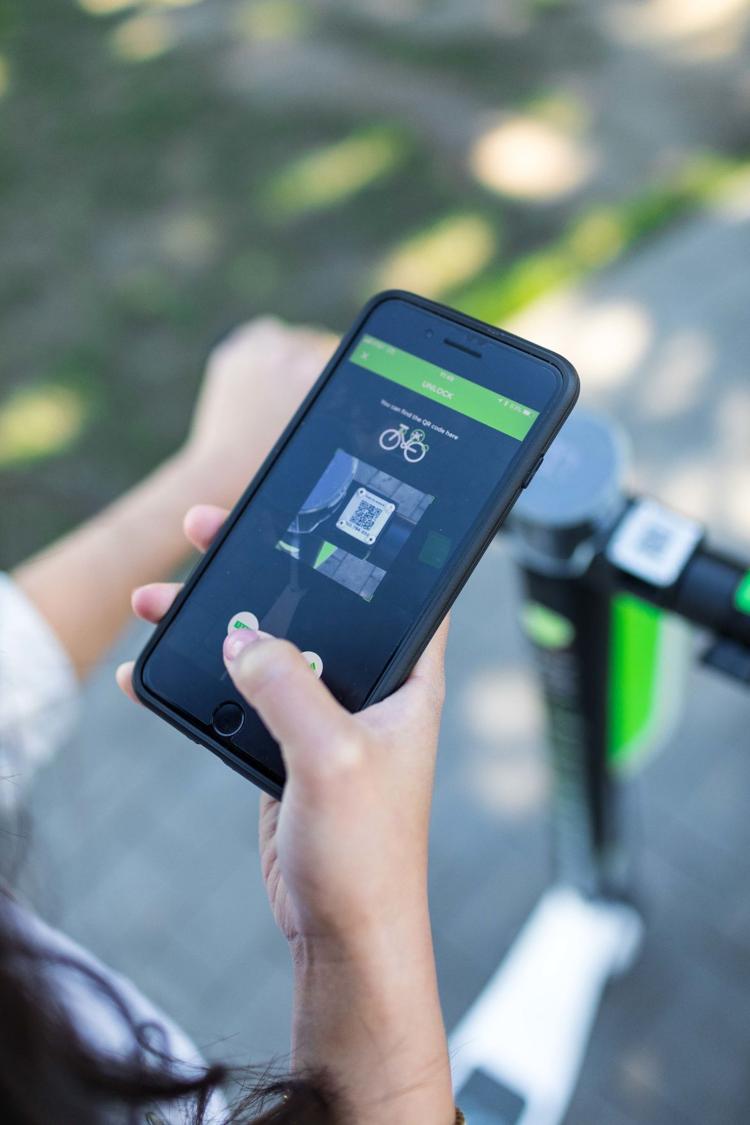 Perhaps the most crucial tool transit companies have that public transit riders do not: a partnership with their elected officials.
Companies can move quickly through City Hall with demands or requests, relative to the sluggish pace — often months- and years-long efforts from transit advocacy groups, buoyed by rider support — of negotiations within public transit bodies. Even following a recent lawsuit, completing ADA-accessible renovations to the New Orleans RTA's bus shelters will take more than a decade. It took only a few years for Uber, Lyft and now Lime to come up with plans to operate in New Orleans.
Lime received its license to do business in Louisiana in April.
"The local government has to have jurisdiction over anything that's happening at all on public space, especially when it comes to transportation," says Alex Posorske, executive director of the transit advocacy and oversight organization Ride New Orleans. "There's certainly an interest in mobility and making sure mobility is improving [the lives of] all people. … At the same point, you can go overboard with that. Government is not always going to have the expertise, especially with a fairly newer technology like this, nor should it be expected to."
Lime, which also runs a bike rental program similar to New Orleans' Blue Bikes that launched last year, won't bring its bikes to the city. O'Boyle said Lime aims to "build on Blue Bike's success by complementing the existing transportation fleet with a new option." Lime has "no interest in displacing the bike program here," he said.
Unlike Lime, Blue Bikes are the result of a cooperative endeavor agreement, a public-private contract involving City Hall, operator Social Bicycles and Blue Cross Blue Shield, which has the naming rights. The parameters set by that agreement allow people who earn lower incomes or who qualify for the Supplemental Nutrition Assistance Program (SNAP, or food stamps) to receive a discounted rate.
O'Boyle says its scooters have increased bike usage — in Charlotte, North Carolina, bike ridership increased 11 percent after scooters were introduced. "We get people on two wheels," he said. "We get people thinking about, 'How can I get there other than taking a private automobile?' We find that when you give people options, they take them. If you give people a choice, they're happy to have a choice."
Lime scooters average 1,000 daily trips in Charlotte, O'Boyle said.
"There is not a typical scooter rider," he said. "There was an initial presumption that maybe this is just for young people. We've found, certainly, a strong ridership of people below 35, who I think grew up with Razor scooters, but we've seen very strong ridership among professional adults, businessmen and businesswomen."
But transit advocates and City Hall officials fear ridership could skew toward tourists and people who already have ample transit access when it launches in New Orleans, where it won't be subject to the same kind of parameters set by the Blue Bikes program. Lime appears to share those concerns.
Because the scooters are dockless, riders can park and lock them anywhere without having to rack them at a kiosk. But the Cantrell administration wants scooters to adhere to strict parking restrictions — not be anchored in the middle of sidewalks or against buildings — or the companies could face a $50 fine or impoundment for up to 30 days.
Forcing riders to park on racks or designated parking areas is "not a viable solution for our business model or for public rights of way," O'Boyle said.
And that's the sticking point. Their "dockless" model fills that "last mile" gap by letting riders pull up in front of their destination, not at the closest parking spot. City Hall now is negotiating where the scooters must go if their riders can't park them anywhere.
O'Boyle says Lime is concerned that the number of bike racks in the city are concentrated in high-traffic neighborhoods and near tourist destinations, meaning a lock requirement "may unintentionally reinforce existing disparities."
City officials also are cautious about adding more strain on traffic enforcement with scooters sharing bike lanes and city streets, especially if those riders aren't familiar with New Orleans traffic or the scooters themselves.
Among the most common scooter accidents are crashes with other scooters and pedestrians, cars hitting scooters, cars swerving to avoid them and scooters crashing into potholes.
According to a New Orleans City Hall report, in the first few months of 2018 alone, Bird scooters in Santa Monica, California were involved in 575 traffic stops, received 273 traffic tickets and had nine accidents. In May, that ticked up to 1,400 stops and 600 citations.
As for potential scooter theft, O'Doyle says that's Lime's problem, not the city's. "We're not going to occupy the City of New Orleans Police Department with the case of the missing scooter," he said.
Unlawful company operation in some cities that haven't finished putting together legal framework has led to the issuance of cease-and-desist letters and scooter impoundments, with scooters left on sidewalks hauled off by city crews. Palmer warned Lime to "work with us and not put scooters out until this process is pretty much refined."
O'Boyle agreed Lime wouldn't do that but warned that more hearings that might delay the company's operation in New Orleans only "opens the window for rogue operators."
"This council would be very aggressive if someone came in and started dumping scooters on the ground without warning," Palmer said.
In a note attached to the city report, Posorske said Ride New Orleans supports the idea of more mobility options in principle but doesn't support a "culture where all new private sector mobility options are started by companies that flood the streets with their product outside of conversation with local government, trying to achieve an ex post facto legalization/regulation of their model."
"So we recommend working with the electric scooter companies to try and achieve a pilot program to see what works best," according to Posorske's note.
"A pilot program makes the most sense here," he told Gambit. "Let the private companies take the risk, let the private companies use the knowledge they acquired, and our city should lay out what this might look like and make sure they don't take us for a ride. … We might be like, 'Yeah, this is a real dumb idea. It's not going to work for us.' At that point if you can make an educated decision like that, then certainly the government needs to step up and say if it's not going to work.
"Maybe we'll all be riding scooters, who knows."