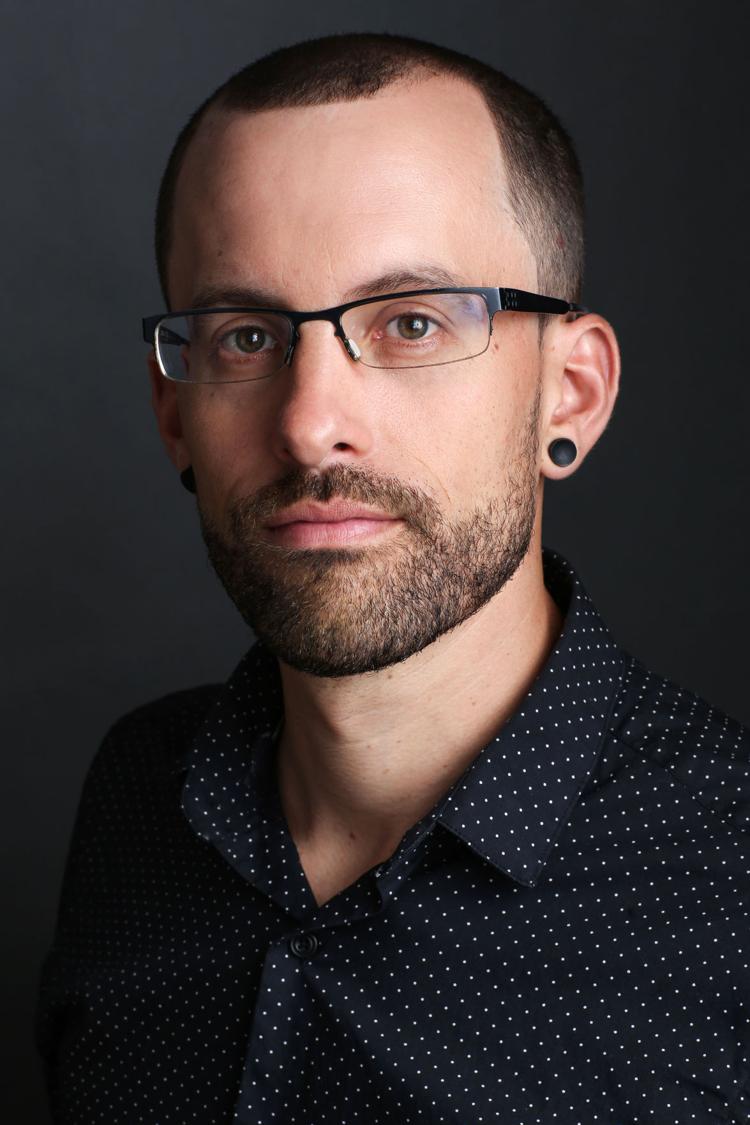 As investigative journalist Shane Bauer tells it, his employment as a corrections officer in a private Louisiana prison happened "somewhat randomly."
Winn Correctional Center, which opened in 1990 within the Kisatchie National Forest in north-central Louisiana, is the oldest privately operated medium-security prison in the country. Bauer never had heard of the prison before or seen anything about it in the news. Rather, he came across the prison via the online job portal of the Corrections Corporation of America (CCA), a Nashville, Tennessee-based company founded in 1983, specializing in private prisons and detention centers. After filling out a web form — using his real name and information — Bauer was presented with a list of prisons in need of staffing, and shortly thereafter, he began receiving requests for job interviews.
For Bauer, Louisiana presented a few key advantages. At the time (2014), the state had the country's highest rate of incarceration (Oklahoma eked out the title earlier this year, making Louisiana a close runner-up). Furthermore, Louisiana recording laws allow for  "one-party consent," meaning Bauer could go undercover and record inside the prison without legal repercussions, using an audio device disguised as a ballpoint pen and hidden cameras installed inside a wristwatch and a thermos.
"The whole place felt chaotic and lawless," Bauer says. "Inside of the prison it was just very bare bones. There'd be like 25 guards and 1,500 prisoners, and we'd all be just trying to figure out how to get through the day." His time at Winn was marked by fear and apprehension. "I felt like I often didn't have any recourse for dealing with any of the problems I had in the prison," he says. "And I had no idea what would happen if they found out I was a reporter."
The clandestine reporting, painstakingly conducted over four months beginning in late 2014, was turned into a major Mother Jones expose that was published in summer 2016. The article ("My Four Months as a Private Prison Guard") provided an unprecedented look into America's private prison system. It earned Bauer a National Magazine Award for Best Reporting, among other accolades. Bauer also drew the attention of the Department of Justice, receiving an invitation to speak with policymakers in Washington, D.C. Not long after the meeting, then-President Barack Obama's administration announced its decision to no longer allow the the federal government to work with private prisons, which made stock prices for private prison companies plummet by more than 35 percent.
"It seemed like it was the beginning of the end for these huge private prison companies," Bauer recounts. By late October of that same year, CCA's stock price hit a seven-and-a-half-year low of $13.18 per share. "Then [Donald] Trump won the [presidential] election," Bauer says. "The day he won, CCA stock prices rose more than any other company on the stock market."
Shortly after Trump's inauguration, now-former Attorney General Jeff Sessions reversed Obama's decision, resetting the course in favor of corporations running private prisons and detention centers. The day after the announcement, CCA's stock price hit $35.03 per share.
"I felt like we were going backwards," Bauer says. "It's not like we're always progressing and moving forward. Things go in different directions, so I thought it was important to look at the historical lessons from previous eras."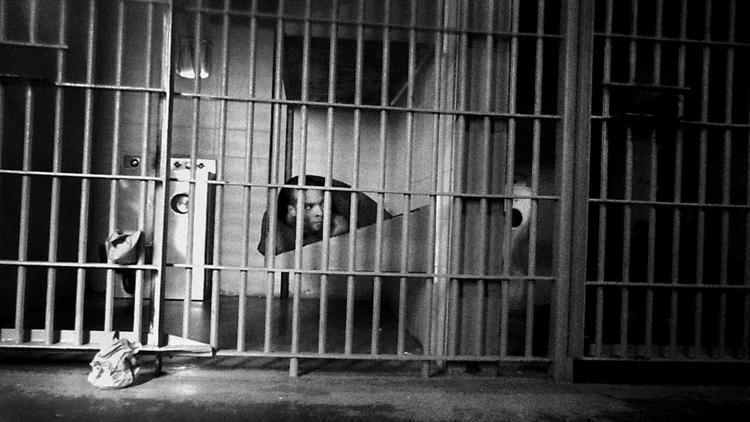 Bauer's story is the subject of a new book, "American Prison: A Reporter's Undercover Journey into the Business of Punishment" (Penguin Press, $28). The book alternates between Bauer's personal experiences as a prison guard and his extensive research into the country's history of for-profit incarceration. With descriptions of tortured inmates, callous businessmen, and modern-day prison stabbings, "American Prison" is a harrowing appraisal of a system Bauer says was formed "directly out of slavery."
"Part of the reason I wrote about the history of prisons was because I think that we need to ask as a society: What are these institutions? What's the purpose of them?" he says.
The history of American prisons is shaped by the profit motive, Bauer says. And Louisiana is an object lesson in for-profit punishment.
In 1844, the state began leasing prisoners to private businesses for labor in mines and factories, on railways and plantations. While this arrangement proved profitable, those forced into labor earned nothing. For prisoners, working and living conditions were such that the practice of convict leasing earned the disreputable moniker "slavery by another name."
During Reconstruction, a former Confederate major and aide-de-camp to General P.G.T. Beauregard became Louisiana's pre-eminent convict lessee. Samuel Lawrence James, a New Orleans transplant via Clarksville, Tennessee and a civil engineer credited with helping to construct the United States Customs House and New Orleans' first streetcar lines, became one of the most powerful men in the state, his success buoyed by inexpensive prison labor.
In 1880, James purchased an 8,000-acre plantation in West Feliciana Parish called Angola, named for the country of the African slaves forced to labor there. It was Angola where James brought prisoners and housed them in old slave quarters. Under the watchful eye of armed guards, the men, nearly all black, picked cotton in the fields.
"He basically created his own little corner, sowing a space that had existed before the Civil War," Bauer says.
James died in 1894. In 1901, Louisiana decided not to renew the convict leasing system, opting instead to purchase the plantation and turn it into what is now known as Louisiana State Penitentiary.
"The prisoners who were there stayed there," Bauer says. "Instead of laboring for a private businessman, they labored for the state, and very little changed. In order to save money, the state gave guns to particular prisoners to act as guards. Prisoners would whip other prisoners for not meeting quotas, and inmate guards who shot prisoners trying to escape would be granted automatic parole.
"Today, prisoners are not forced into labor in the same way. They're not laboring from dawn to dusk. The state does not make money out of Angola. It loses money. But they still incarcerate people there," Bauer says of the country's largest maximum-security prison. "They're still on a plantation."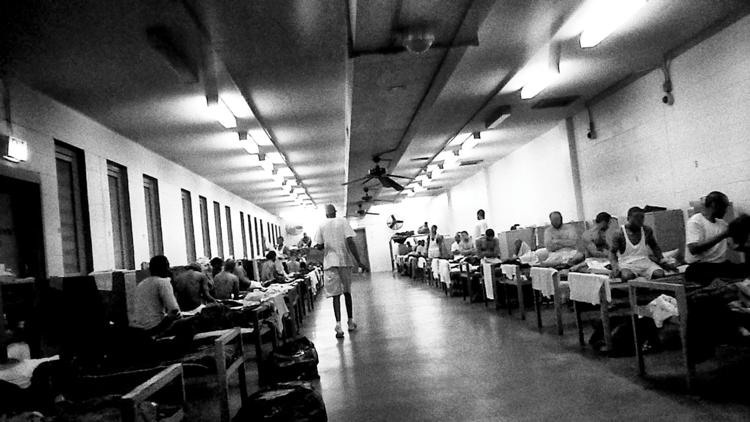 During Bauer's time at Winn, a fellow guard, Dave Bacle, told Bauer he wishes an investigative reporter would look into the prison. More than 200 weapons were confiscated from prisoners during the first four months of 2015. "It's pretty bad in here," Bauer told a new cadet after a string of violence. "People get stabbed here all the time." By Bauer's seventh week at Winn, stabbings became so frequent that the prison went on an 11-day lockdown.
While prisoner-on-prisoner assaults were common, guards also perpetrated violence. As Bauer recounts in his book, one inmate insulted a member of the prison's Special Operations Response Team, Winn's SWAT-like tactical unit. As Bauer writes, "The officer cuffed him, stood him in his underwear out of view of the cameras, and covered his whole body with pepper spray for 'about eight seconds or so.'"
"If I were not working at Winn and were reporting on the prison through more traditional means, I would never know how violent it is," Bauer explains in "American Prison."
Despite his role as an undercover reporter, acting as a guard began to change him. The dichotomy between prisoners and guards is one with which Bauer was familiar prior to his time at Winn. In 2009, Bauer was arrested — along with two other Americans, his friend Josh Fattal and his now-wife Sarah Shourd — while hiking near the border between Iraqi Kurdistan and Iran. He spent two years in an Iranian prison. He says the experience inspired him to report on prisons and gave him a "really different perspective and a greater degree of sympathy with other prisoners," allowing him to better understand the degree to which his job as a prison guard affected him.
"I still went through the same psychological process that everyone else went through that worked there. I became hardened and authoritarian," he says. "If I hadn't had the kind of inner struggle between my former prisoner-self and my guard-self, I probably wouldn't have been aware of it. I don't think most guards realized how the job was affecting them."
His sympathy only went so far, though. "It was about time I threw someone in the hold," he writes of a particularly acrimonious encounter with an inmate. "They need to know I am not weak."
With a starting hourly wage of $9, Bauer's first paycheck for two weeks of work amounted to $587. Along with low pay, guards at Winn contended with minimal training, dangerous work conditions and 12-hour shifts.
"CCA wants that fucking dollar!" Bauer's co-worker, Bacle, said while the two were together at Winn. "That's the reason why we play hell on getting a damn raise, because all they want is that dollar in their pocket."
"I think that most employees that ended up working there didn't feel like they had other options," Bauer says.
In 2015, the year Bauer left the prison, Winn Parish had an unemployment rate of 8.5 percent, more than 3 points above the country's average that same year. In the town of Winn, the parish's seat, the median household income is around $25,000.
"I met a guy who put in an application at Walmart and McDonald's and didn't get a job. So he put in an application at Winn and got hired," Bauer recalls.
"There was one guy who worked at a juvenile detention facility in Texas and uppercutted a 16-year-old boy, shattering his jaw. People like that, it would be hard for them to be hired somewhere else. CCA, however, was willing to hire them, because the company doesn't have a ton of options, either."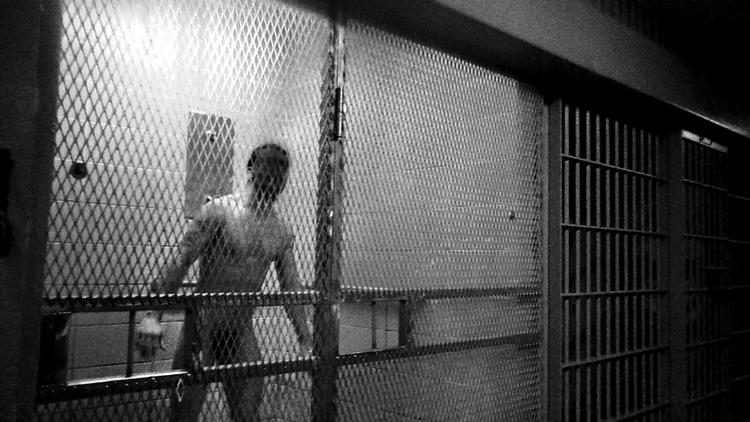 During the past fiscal year, Louisiana spent $625 million on its prison system. 
In 2017, Gov. John Bel Edwards signed into law a package of bills — supported by both progressives and conservatives — intended to overhaul the state's criminal justice system. It restricted the use of the habitual offender statute and allowed drug offenders returning home from prison to apply for government assistance. Prison-time reductions for first-time and nonviolent offenders, as well as the recent passing of a voter-approved amendment requiring unanimous juries to convict in felony trials, point to a state looking to change course.
By reducing its prison population between 2017-2018, the Louisiana Department of Corrections saved $12.2 million. $3.4 million of this money has been earmarked for curtailing prison populations in Orleans, Jefferson and St. Tammany parishes.
Still, America's prison system is "not working," Bauer says. "Historically, the idea behind the penitentiary was that prisoners were meant to be rehabilitated through labor. There was never any evidence that that worked, but it didn't matter, because so much money was being made from the prisons that it wasn't really worth it to rethink this model."
In "American Prison," Bauer writes that the conditions at Winn were "beyond anything I've ever imagined." As a profit-driven institution earning $31.52 a day per prisoner — a number which has since been reduced to $24.39 due to state budget cuts in 2016 — adequate medical care was regarded as an inordinate expense. One man Bauer met contracted gangrene while inside the prison. After multiple pleas for care were ignored, his legs and fingers required amputation.
There was only one part-time psychologist, one part-time psychiatrist and one full-time social worker for 1,500 prisoners. One inmate, Damien Coestly, was left on suicide watch in a solitary cell for much of his time in prison. Denied adequate food and mental health services, he committed suicide inside his cell at the age of 33. He weighed 71 pounds at the time of his death.
"It's hard to understand how an institution could just let someone psychologically waste away until they weigh 71 pounds," Bauer says. "He was begging for mental health services, going on hunger strikes for mental health services, and was self-aware enough that he was being eaten up by the guilt of his crime. He killed someone and he wanted help. It wasn't given to him. ... When we were in training, the company tells you that their suicide rate is lower than in public prisons. What I learned from the lawyer of Damien's mom was that when Damien hanged himself, he was sent out of prison in a coma. … During that time, the warden was able to grant him a compassionate release, so when he died he did not die in prison, so they didn't count it."
Bauer cites a lack of rehabilitative services and high rates of recidivism as evidence of the system's failings. He also points to the fact that in a country with the largest prison population in the world — 25 percent of the world's prisoners — the expense of incarceration is enormous.
"A thing I heard at Winn a lot that kind of surprised me was prisoners complaining of the labor programs being cut," Bauer says. "The prisoners used to have activities and the chance to build skills, which cost the company money, so they just cut the programs and now they're just warehoused. They're just kind of living out their days in their dorms. … It is important to have justice for victims, but the question is what does that mean? Ideally, people aren't just put in cells, but there's genuine attempts to achieve change. I don't think that's happening right now."
Regarding mass incarceration, Bauer adds, "It's very clear we need to have way, way less people in prison. And until we have way less people in prison, we aren't going to have a genuine rehabilitative system. And we're not going to be able to afford it when we have over 2 million people locked up."
Despite the national incarceration rate being at its lowest point in 20 years, America still locks up people at a rate higher than any other country.
According to a 2017 study by the Urban Institute, long-term incarceration is at a peak. Analyzing inmate data from 43 states and the District of Columbia provided by the Bureau of Justice Statistics, a division of the U.S. Department of Justice, the study found the average time served has risen in every state and the District of Columbia. Prison terms are getting longer, and a growing number of people are spending more time behind bars. The study also found that around 40 percent of those serving the longest terms were incarcerated before age 25; one in five of those serving at least 10 years is a black man incarcerated before age 25.
In another 2017 report, produced by The Sentencing Project, an advocacy group seeking to reduce incarceration, it was found that one in seven people in prison is serving a life or virtual life sentence. In Louisiana, 30 percent of the prison population is serving a sentence tantamount to life imprisonment; roughly three-quarters of these prisoners are black.
"At Winn, I met old people who went in when they were 20," says Bauer. "It's really hard to see what the point is in keeping someone locked up for so much time, especially when they're clearly repentant and moved way beyond that period of their life."
In October 2016 — four months after Bauer's expose and two months after the federal government's decision to stop working with private prisons — CCA officially changed its name to CoreCivic. It no longer manages Winn Correctional Center, and the company has rebranded "from largely corrections and detention services to a wider range of government solutions," according to Damon Hininger, CoreCivic's president and chief executive officer.
As the largest private prison and detention center operator in the country, the company currently operates 44 correctional and detention facilities and 26 residential re-entry centers "with an aggregate design capacity of approximately 69,000 beds and 13.6 million square feet of real estate," according to a release published by the company last August.
In 2017, CoreCivic's revenue was $1.77 billion and its net income was $178.04 million. For the third quarter of 2018, CoreCivic's revenue was $462.7 million, its net income $41 million.
"We continue to transform our portfolio through the diversification and expansion of our industry-leading government-leased real estate portfolio," the company states in its 2018 third quarter earnings release.
"About two-thirds of immigrant detention centers are privately operated. I think that is why CoreCivic's stock price did so well when Trump was elected," Bauer says. "I think investors assumed that Trump was going to crack down even harder on immigration than Obama had, and they knew that private companies were going to be taking up a lot of the market."
Last year, Bauer attended a shareholder meeting at CoreCivic's corporate headquarters. "They were all very happy and excited about what was happening in the company," Bauer says. "The big area of growth for them now is immigrant detention, which represents about a quarter of CoreCivic's income."
Nine of the 10 largest immigrant detention centers today are privately operated. Average daily population rates are at a record high: 39,322 people. In September, The New York Times reported the U.S. was holding 12,800 immigrant children in detention.
Like private prisons, U.S. detention centers often are criticized for poor conditions and a lack of quality medical care. Earlier this year, Yazmin Juarez and her 18-month-old daughter, Marie Juarez, were held at a CoreCivic-managed facility, the South Texas Family Residential Center in Dilley, Texas. While detained, the toddler developed a cold, which quickly turned into a high-grade fever with acute symptoms.
Six weeks after her release, most of which were spent hospitalized, the toddler died of a treatable respiratory infection on May 10. The mother says her child failed to receive adequate medical care while detained, leading to her fatal illness.
"Those responsible for providing safe, sanitary conditions and proper medical care failed this little girl, and it caused her to die a painful death," says R. Stanton Jones, the mother's attorney.
The 2,400-bed detention center used to detain immigrant mothers and children — the largest of its kind in the country — was opened in 2014. That year, CoreCivic was awarded a four-year, $1 billion contract to manage the facility.
In September, U.S. Immigration and Customs Enforcement signed a contract to keep the detention center open. The operator continues to be CoreCivic.