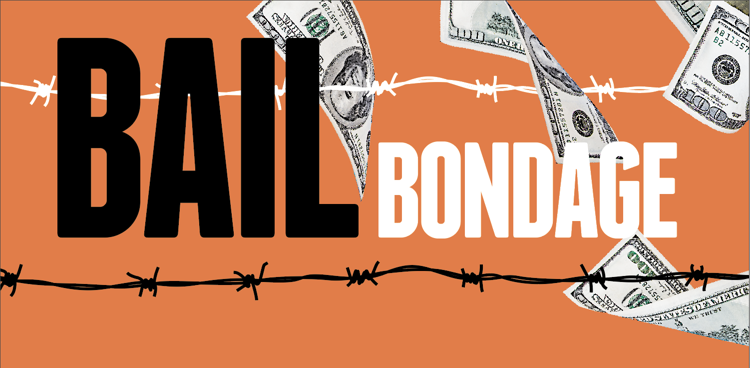 All he needed was $500. Instead, he sat in jail for nearly two months. He got in a fight at his friend's house, the cops arrived, he was booked on a $500 bond, but his friends and family didn't have the cash to get him out. By the time he was released, his case was dismissed.
  But the damage already was done: He was separated from his family, his job, his life outside Orleans Parish Prison, without any criminal prosecution, for 53 days, "only to have this whole thing dismissed," says Orleans Public Defender Chief of Trials Danny Engelberg. "No one would think this guy was a threat to anyone. The tears coming down his face as his case was dismissed — the whole thing had been so traumatic."
  Engelberg admits his client's situation is rare, but it highlights a larger issue at the New Orleans jail, where nearly 600 people on any given day in 2015 were locked up only because they couldn't afford bail of $12,000 or less, according to a May report from the Vera Institute of Justice. That year, more than 1,100 people facing misdemeanor charges were in jail an average of 29 days until their cases were resolved. The 1,275 people facing felony charges spent an average of 114 days in jail.
  "Bail should mean a way to release, where the presumption is release, which is the definition of bail in common law and constitutionally," Engelberg says. "And they've flipped it to, 'OK, now you've got to give us a justification why we should let you out.'"
  People continue to enter the city jail only to have their cases effectively end without any jail sentence, other than the "pre-punishment" they face for not having cash for bail, Engelberg says. Last year, roughly 64 percent of 5,308 people with cases in the city's Criminal District Court were found not guilty, had their cases dismissed or received probation, according to the Vera Institute.
  That burden largely falls on the city's black working class — the jail population is 87 percent black and from low-income households, but the city and court collect roughly $6 million annually from bail fees, which represents an "enormous extraction of wealth" from a population that's disparately impacted by the criminal justice system while also effectively funding its operation, says Vera Institute Director Jon Wool.
  "The system is funded by people who are arrested, detained and convicted, largely, and that should stop," Wool says. "It's irrational from an economic perspective. ... The structures are bizarre in that they require the courts and others to collect these revenues for their livelihoods, frankly. But the real loser is the city. It's an imbalance of power with mostly state agencies ... and yet the city bears the economic burden."
  That could change — the fresh New Orleans City Council and New Orleans mayoral administration are examining the costs of "money bail," and criminal court judges now have a tool in place to prevent people from entering the city jail before they have to, if at all. But trimming down a multi-million dollar revenue stream — on which several agencies and an entire commercial industry rely — won't happen overnight.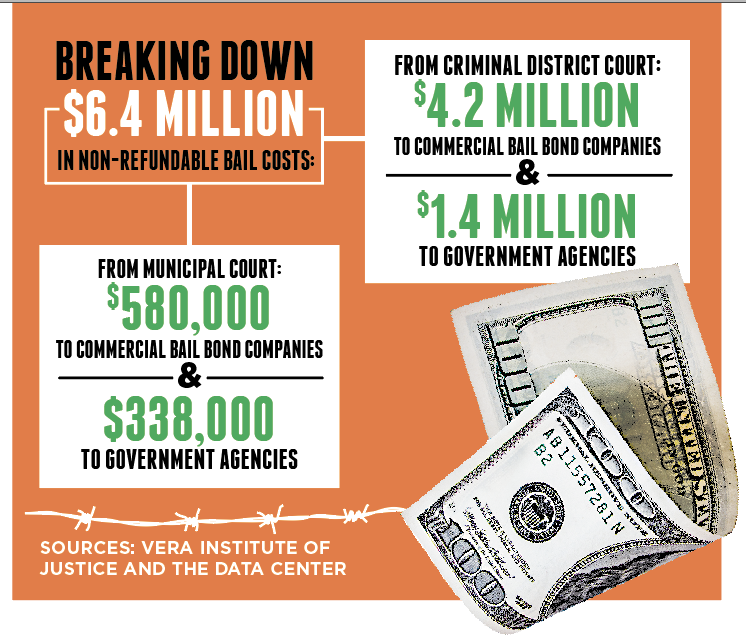 Between 20 and 30 people a month have their cases dismissed or are released on probation or with credit for time served, according to the Vera Institute, which works alongside the Public Defender's Office to track cases. "What that tells us is those people should never have been, in any remote sense [of the word], incarcerated," Engelberg says.
  "It's one of those archaic things that doesn't make any sense, and we see it every day. And we see from our perspective, the cases go worse — they plead to get out, whether they're guilty or not guilty, whether they get a better deal down the line," he adds. "The whole deal is to get them out of jail. And if we can get them out of jail, a lot of those cases get dismissed, because they're misdemeanors. ... But if they're sitting there for misdemeanors and can't make the bond, they're pleading to the charge."
  A recent report from court watchdog group Court Watch NOLA also found that in nearly half of all municipal court sessions observed by the group's volunteers in 2017, defendants pleaded guilty without a defense attorney present.
  Nearly one-quarter of New Orleans residents live below the poverty line. The median income among black residents is $26,819 — more than 50 percent lower than the median income among white residents. The cost of bail for many residents represents rent, utilities, groceries and family care.
  "Those are people who can't pay the bail," Wool says, "but there's just as stark consequences for people whose families manage to scrape together the money to put up bail to get them out."
  Every year, groups across the U.S. hold fundraisers as part of the National Bail Out campaign, an effort to raise bail money for incarcerated people in local jails. In May, groups converge for the National Black Mamas Bail Out, timed around Mother's Day, in an effort to reunite incarcerated women with their families while highlighting the disparate impacts women face in local jails, from the the costs of separating mothers from children, families and jobs to their heightened risk of trauma and abuse behind bars.
  Last summer, more than 14,000 people donated to the Nation Bail Out fund to help nearly 200 people across the U.S. get released on bond.
  According to the Vera Institute, the number of women in local jails in the U.S. rocketed from fewer than 8,000 in 1970 to nearly 110,000 in 2016. Almost 80 percent of those women are mothers, and nearly 60 percent are women of color. More than 18,500 people are in local jails around Louisiana; 7.6 percent are women, according to the Louisiana Department of Corrections.
  "When you take that mother out of the house, it's a bigger burden on children and families in the state," says Dolfinette Martin, statewide organizer for Voice of the Experienced (VOTE), a New Orleans-based nonprofit founded by formerly incarcerated people. Martin explains that children in single-parent households whose parent is incarcerated may end up in state custody or with relatives who then rely on state assistance to raise them, which, Martin says, "adds a bigger burden in the process."
  "There's no other savings when you take the mother out of the household," Martin says.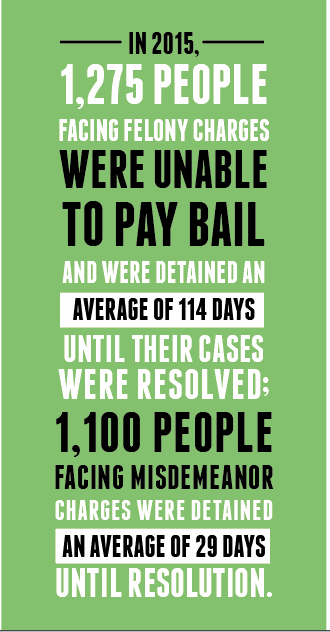 State law requires a judge to set a monetary bail for each charge. A defendant can pay the court or purchase a commercial bond, set at 12 percent of the bail amount. So if bail is set at $100,000, for example, a bail bondsman would collect $12,000. Commercial bondsmen keep a 9 percent, nonrefundable premium of that. About 97 percent of people facing felony charges in New Orleans purchase a commercial bond; 59 percent of people facing misdemeanor charges purchase one.
  Bond fees are split among several agencies — 1.8 percent goes to Criminal District Court and the rest is split among the Orleans Parish Sheriff's Office, which operates the jail, and the New Orleans District Attorney and Public Defender offices.
  "It's unusual what we do in Louisiana," Wool says. "Most striking, the court, which itself is empowered to determine release and detention, sets and secures money bail. ... The courts gets more than $1 million in commercial bail bonds fees under state law."
  According to the Vera Institute's analysis, more than $1 million in bail fees were sent to criminal court, with $227,000 each for the sheriff, district attorney and public defender offices, and $4.7 million went to commercial bail bond companies.
  In 2017, the Southern Poverty Law Center (SPLC) delivered a complaint to the Louisiana Department of Insurance arguing that New Orleans bail bond companies have charged defendants illegally high bond rates, resulting in roughly $5 million in excessive fees collected from nearly 50,000 people over 12 years.
  "The SPLC believes most bail companies and their insurers operating in New Orleans are charging premiums in excess of what is permitted under law," the complaint says. The organization claimed that bond companies were passing on to defendants the cost of a 1 percent bond license fee hike. That complaint is pending court action, though bail bondsmen have defended the practice or dismissed its intent.
  A recent Data Center report ("From Bondage to Bail Bonds: Putting a Price on Freedom in New Orleans"), in collaboration with the Vera Institute and statewide nonprofit group Foundation for Louisiana, traces a disturbing history of Louisiana's bail system to its roots in slavery and its subsequent manipulation under post-Reconstruction efforts, to the following decades of civil rights struggles against a lucrative prison system disproportionately impacting people of color.
  "There's racial bias, and systems [are] built that way, particularly the criminal justice system, and we wanted a fact-based platform to have that discussion," says Foundation for Louisiana President Flozell Daniels, who co-authored the report. "This invention of bail, the way it's currently and has been happening for generations in New Orleans and across Louisiana, is undermining opportunities in a way that's racially disparate and goes against every data point that tells us, 'If you want New Orleans to be as amazing as it should be, we should be helping families, particularly of color, get ahead economically, participating in the economy, participating in democracy and participating in building communities.'"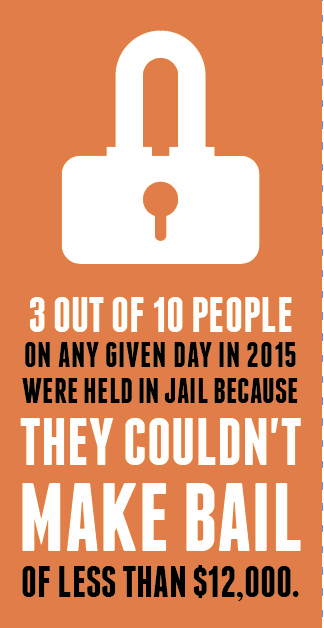 A partnership between the MacArthur Foundation and the Public Defender's Office named New Orleans one of its 19 Safety and Justice Challenge sites to help reduce the city jail population by strengthening pretrial services — the jail population decreased from 3,400 people in 2010 to 1,400 people in 2018. But the jail remains one of the largest local jails per capita in the U.S.
  That shrinking population largely was due to bail reforms at Magistrate Court, where the MacArthur grant helped place attorneys to negotiate lower bail, and commissioners agreed to work to release lower-risk defendants on their own recognizance and reduce the length of their time in jail pretrial. An April 2018 progress report from the MacArthur Foundation found 41 percent of eligible defendants in 2017 were released on their own recognizance without a cash bail. Nearly 90 percent of people return to court for their hearings after being released on their own recognizance without conditions before trial, Engelberg says.
  In January 2017, the City Council unanimously passed an ordinance allowing some people charged with municipal offenses to be released without having to pay bail, then given a date to return to court.
  And this summer, Criminal Court will implement a Public Safety Assessment (PSA) tool, a screening program and set of recommendations that effectively help judges and prosecutors gauge a person's public safety risk before sending them to jail before trial. The tool will assess the risk a felony defendant poses for failing to appear in court, or the likelihood of the defendant getting arrested while awaiting trial. It's an effort to reduce jail size, but its net effect likely will reduce the number of people who are jailed because they can't make bail.
  "Following the Rule of Law and applying fairness at all times is the right thing to do," Louisiana Supreme Court Chief Justice Bernette Johnson said in a statement. "The implementation of the PSA tool will offer evidence-based data to assist judges and commissioners in determining whether release or detention is appropriate considering the charges faced by a defendant."
  Whether judges and prosecutors begin following those recommendations is crucial in determining the success of keeping people out of jail, criminal justice advocates say.
  "What judges should be doing is making a careful decision about whether that person presents a degree of dangerousness, whether that can be mitigated by support and supervision if released, and then and only then if that person must be detained," Wool says. "Otherwise that person should be released with the appropriate support and supervision based on the person's needs and circumstances. That's a system that's not pie in the sky."
  With more than 1,400 people in the city's jail, "you're talking about tens of millions of dollars in savings," Engelberg says.
  Former Mayor Mitch Landrieu set a goal of reducing the jail's population to 1,277 by mid-2019. And in a lengthy report from Mayor LaToya Cantrell's transition team, more than a dozen recommendations outline alternatives to holding people in jail who can't make bail.
  Those recommendations include making more crimes eligible for a summons rather than arrest; advocating for changes at the state legislative level that eliminate restrictions preventing people charged with certain crimes from release without bail; expanding community service eligibility; and a number of communication and payment tools to help people return to court to ensure defendants also aren't facing charges for failing to appear for their court dates.
  Daniels says ending the practice of money bail is the first step in addressing the irony of budgeting practices that aim to benefit the same communities hit hardest by the so-called "user-funded" criminal justice system. Though its human costs are significant, cash bail's massive economic toll likely will be the motivating factor among state lawmakers to begin undoing the rules for setting bail.
  "We don't connect the dots," Daniels says. "You have entire [city] departments investing in other things that are family-building opportunities. ... What you end up having ... is a system that is in a rotation, a constant loss. ... There's nothing keeping us from doing it other than making choices about how we spend millions of dollars in tax revenue so we can move those people ostensibly from the jail into more loving and caring environments."