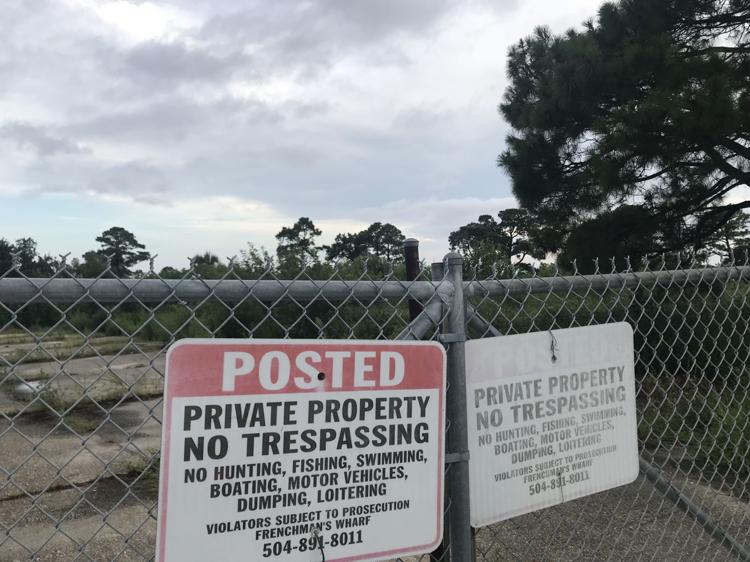 Follow the I-10 Service Road off Crowder Boulevard in New Orleans East and you'll see a massive "Wall of Peace" mural on the still-blighted Grand movie theater, painted over with Brandan Odums' massive "The Creation of Adam"-inspired mural. Further along is a megachurch's construction-in-progress, newly constructed Laguna Creek apartments, rows of homes behind well-manicured lawns along a charming curved brick wall — and a narrow canal that separates it all from nearly 50 acres of overgrown grass and empty slabs.
On the other side are more homes, facing 47 acres of what's left of the Frenchman's Wharf apartment complex that's remained out of commission since Hurricane Katrina and the levee failures.
The lot currently is owned by Joseph Bruno — attorney and managing partner with Bruno & Bruno law firm — who bought the property before the 2005 floods. It took on eight feet of water, and after unsuccessful attempts to put the lot back on the market, he's now looking to sell it for $3.5 million.
Before he sells it, he wants to get it rezoned. To do that, he needs the thumbs up from District E Councilmember Cyndi Nguyen, who campaigned hard on economic development in New Orleans East and is starting a series of community conversations and meetings to collect ideas for blighted or abandoned larger-scale projects in District E.
On July 11, Nguyen, who took office in May, held her first community-wide public meeting as councilmember inside KIPP Morial Primary school, only a few blocks from the former Frenchman's Wharf apartments.
The city's amended Comprehensive Zoning Ordinance — the citywide governing document for land use matters — moved the property from a multi-family zoning designation to single family, which several residents at the meeting reminded Bruno that they had requested during the Master Plan drafting process. That zoning puts it more in line with the surrounding neighborhoods.
After her first months in office, New Orleans District E Councilmember Cyndi Nguyen hopes to start a "series of conversations" among residents…
The meeting kickstarted development ideas long before a design process is even in place.
But the meeting gave residents frustrated with the slow, and rarely seen, progress on redevelopment in the East a sounding board for their exhaustion with poorly built housing and property managers' high turnover throughout the East, the persistence of crime, the lack of retail, and being both looked over in the city's post-Katrina construction boom and seen as a dumping ground for dead-end projects without the city's longer-term stake in a neighborhood that's as much a part of the city as their neighbors down I-10.
But Bruno was there to collect ideas for how to pitch plans to would-be developers to secure that zoning change by asking residents what they'd ideally like to see in its place.
With the lake limiting square footage on which to build, Bruno says the zoning has to return to a multi-family use. "Even if built enough single family homes, it wouldn't generate the best use of that lake," he said.
Bruno and Nguyen suggested a "live, work and play" model to replace Frenchman's Wharf, with commercial lots on the Crowder-facing side of the property and a housing mix for long-term affordable units and rent-to-own condos or apartments with recreation amenities focused around the 12-acre man-made lake at the property's center.
Residents also suggested a balance of affordable and market-rate units. But many people also expressed skepticism about adding more housing developments in the area, which residents say are improperly managed and have led to poor conditions on the properties, impacting residents' quality of life and nearby property values.
Bruno suggested many of those apartment buildings "turn to garbage" because of their location. But several residents added that proximity to the interstate hasn't negatively impacted the kinds of projects in neighboring Jefferson and St. Tammany Parishes, where upper-scale housing and commercial developments sit alongside off-ramps and busy highways.
With the property vacant for more than a decade, residents also were frustrated with the property itself, and asked why it took so long to begin conversations about putting it back into use. Bruno said he hires larger mowing operations four times a year, but it's not enough to combat overgrowth, which has opened the site up to people ripping down fences and using it as a dumping ground and marijuana grow site.
Residents also fear that once Bruno gets his zoning change and his sale and walks away, it gives developers carte blanche to redesign the project as they see fit. But Bruno assured that once the parameters are set for a conditional use with the zoning change, the developers will be bound to them — it's up to the residents, he said, to help set them.
"What we need to do is we need to find a way to make this a community-friendly development," Bruno said. "The bottom line is there's a set of plans that will be approved, and you can't deviate from that set of plans … There is a process by which there are protections in place. The question is, What do you want?"
"In practical terms this is an opportunity to use our community leverage, our power, to place conditions on the zoning change," said one resident. "Once those are set, they have to be met, by whatever development comes next. … Focus on solutions, not problems."
Bruno also said he aims to attract that development with New Market Tax Credits, which deliver a considerable break for putting money into "economically distressed" areas to help spur further private development.
Inspired by worksheets from her children, Nguyen handed meeting residents a form to fill out — with boxes for "what I like to see" and "what I don't like to see," from "places for kids to play" to "beautiful landscape property."
Nguyen told Gambit she plans more meetings around larger developments in District E but declined to name what's on her wish list.
"I'm listening. I'm not rushing to do anything," Nguyen told the crowd. "I know we're 13 years behind but I'm not rushing. Let's think of solutions."
Nguyen and Mayor LaToya Cantrell's administration host three economic development meetings with architects in the Lower 9th Ward this week: 6 p.m. Friday, July 13 at Dr. King Charter School, 6 p.m. Saturday, July 14 at Bethel AME Church, and 8 p.m. Monday, July 16 at Dr. King Charter School.