As of Sunday morning, Oct. 20, the Regional Transit Authority (RTA)'s central transit hub will temporarily relocate to Duncan Plaza (343 Loyola Ave.) as officials continue to monitor the area surrounding the partially collapsed Hard Rock hotel. The change will remain in effect until further notice.
The lines affected are: 15-Freret, 28-Martin Luther King, 32-Leonidas-Treme, 39-Tulane, 51-St. Bernard-St. Anthony, 52- St.Bernard-Paris Ave., 57-Franklin, 62-Morrison Express, 63-New Orleans East Owl, 64-Lake Forest Express, 65-Read-Crowder Express, 80-Desire-Louisa, 84-Galvez, 88-St. Claude, 91-Jackson-Esplanade, 100-Algiers Owl, 101-Algiers Point, 102- General Meyer, 106-Aurora, 114-General DeGaulle-Sullen, 115-General DeGaulle-Tullis and 202-Airport Express.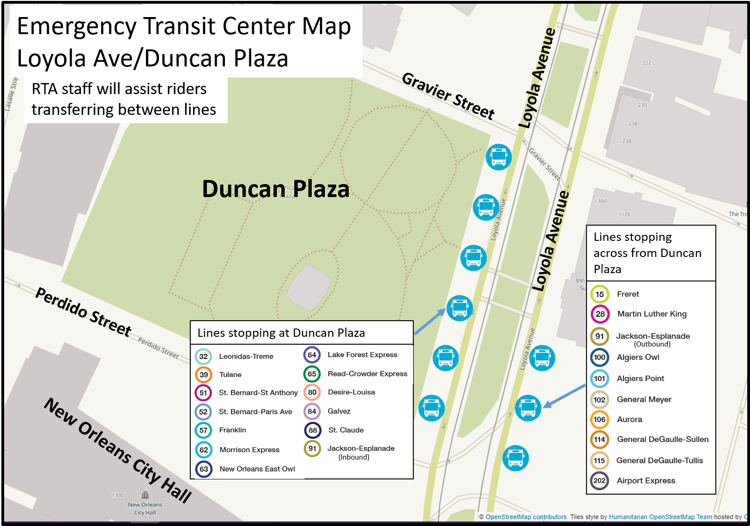 Authorities say that passengers at the new, impermanent spot at Duncan Plaza will be able to make transfers to buses as they normally would have from the RTA's hub at Elk and Canal streets, which are part of the evacuation zone of the Hard Rock hotel construction collapse.
This is the first time an evacuation zone reduction has been announced by New Orleans officials. 
The move is part of the RTA's strategy to monitor safety and alleviate inconveniences that transit users have faced in the aftermath of the downtown disaster.
Streetcar service also remains suspended along the Riverfront and St. Claude-Rampart streetcar lines and the Canal Street streetcar lines terminate at Liberty Street, with buses carrying riders from that point to the river.
Check the RTA's website for details on specific transit lines and keep up with its updates on Twitter.