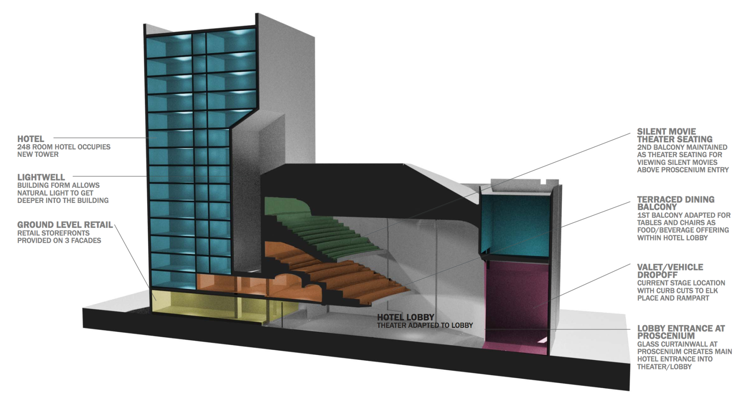 Developers planning to turn the long-vacant Loew's State Palace Theatre on Canal Street into a hotel are requesting an appeal of the CBD's Historic District Landmarks Commission's denial of two critical proposals — one calling for partial demolition of the theater and another to construct a multi-story hotel tower.
The 3,000-seat theater — first constructed in 1926 with a two-story Spanish Colonial Revival-inspired facade — housed an ornate opera-like interior from plans drawn up by renowned theater designer Thomas W. Lamb (of San Francisco's Fox Theater and Times Square's Rialto Theater). In the theater's later years, it housed rock concerts and other events, most notably as the infamous ground zero for a burgeoning rave and dance music culture. It's largely been closed down following Hurricane Katrina and the levee failures.
The stench of smoke and must rises to the State Palace Theatre's massive balcony. It's a few minutes until the start of the first local screen…
In the mid-1990s, rave promoters convinced then-State Palace owners Robert and Brian Brunet and their father Rene Brunet (of the Prytania and Joy theaters, among others) to use the space for what became legendary dance parties.
"I said to [promoters Disco Donnie and Dan Millstein], 'Hey, I don't know shit about the music you promote, and y'all don't know shit about putting on a show,'" Robert told Gambit for a 2004 story. "So, I proposed that we partner up. Donnie and Dan were peeing in their pants they were so excited. Donnie's not a dumb guy."
With James Estopinal, promoters built an internationally recognized scene from 1996 through the early 2000s, later becoming a "public whipping boy in a witch-hunt that targeted U.S. rave promoters and venue owners" amid drug scandals and crackdowns shortly before the venue's closure.
Aiming to fill what promoters consider a "gap" in small and large venue capacity in New Orleans, a new 2,000-seat music venue will open inside…
For months after the 2005 floods, the marquee still displayed, in red letters, "Lil Wayne."
Gregor Fox bought the building in 2014 with plans to restore it, but mounting costs for necessary and extensive renovations forced him to sell.
New developer LC Hospitality Group with Trapolin-Peer Architects proposed in its designs a 15-story, 248-room hotel, turning the theater space into a "silent movie theater" for the lobby and using the theater and its lobby as the hotel's entrance. There also would be a retail space on the bottom floor, and meeting and ballroom space would occupy the balcony areas.
The CBD's HDLC denied the project's latest drafts at its June 13 meeting, and its Architectural Review Committee also opposed plans at hearings earlier this year. Developers submitted their appeal to the New Orleans City Council July 12, hoping to now work with the Council to find ways to maintain the historic facade and put the building back into commerce.
Developers also expressed skepticism about returning the theater to use as a venue rather than the "silent movie theater" planned within the hotel lobby, but the HDLC noted that in addition to the corridor of music and events venues that reopened along Canal (including the Saenger, Joy and Orpheum theaters), the new Fillmore is expected to open at Harrah's Casino in 2019, adding to a competitive and growing market for more middle- and large-sized entertainment venues.
In its objection, the Preservation Resource Center said "this historic site has so much potential" and "hopes the developers will continue to consider creative alternatives for this landmark on Canal Street."
The Louisiana Landmarks Society also put the property on its 2018 list of "endangered" New Orleans sites, adding that the "stately and dignified theater remains intact and awaits a proper restoration to return it to full functionality and service for years to come."