It's been almost a week since someone with access to WWL Radio's official Twitter account referred to one of the station's hosts, Seth Dunlap, as a "fag," and other than one tweet stating that the station is "investigating," WWL brass and parent company Entercom have had no comment on the matter.
It's a stark difference from two other recent social media dust-ups at Entercom stations, where inappropriate use of Twitter has resulted in swift firings.
Last year, veteran broadcaster Kevin Klein moved from a San Francisco Entercom station to KEGY-FM, a San Diego radio station that at the time was the new home of the San Diego Padres.
Klein's show never even made it on the air, however, after he tweeted an image of San Diego's Coronado Bridge, the site of more than 400 suicide attempts, with the words "JUMP* ... *to a new morning show":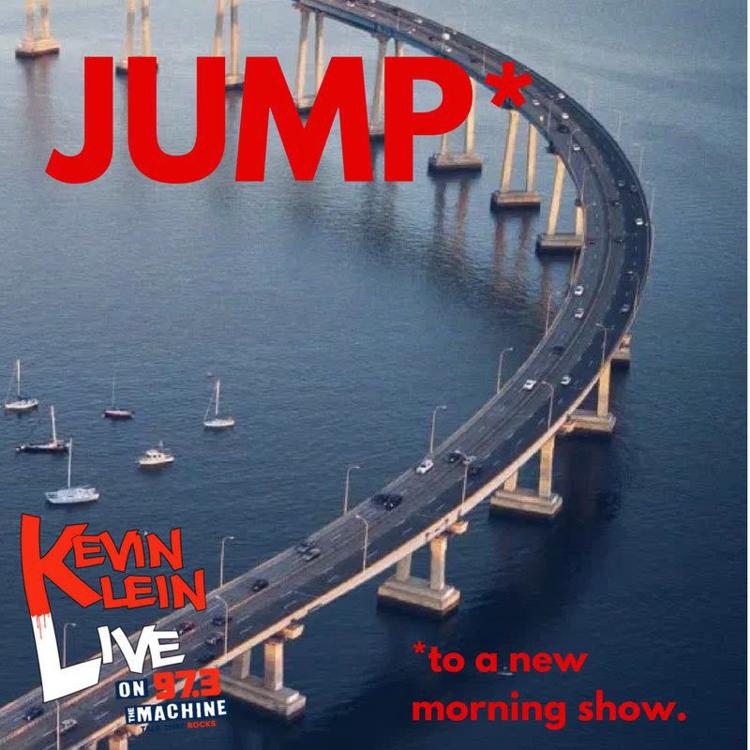 The attempt at a joke was seen as serious enough that the Padres issued an unequivocal statement condemning it.
"We find the comments made last night by ENTERCOM's employee offensive, insensitive and completely unacceptable," Padres management wrote. "Mental illness and suicide are not joking matters. Additionally, we've expressed our concerns to ENTERCOM around the tone and direction of the station they have chosen to create. It's important for our fans to know that our agreement with ENTERCOM to move to 97.3 was an opportunity to expand our pre and postgame coverage and it was done well before we knew the format, the tone or the talent lineup."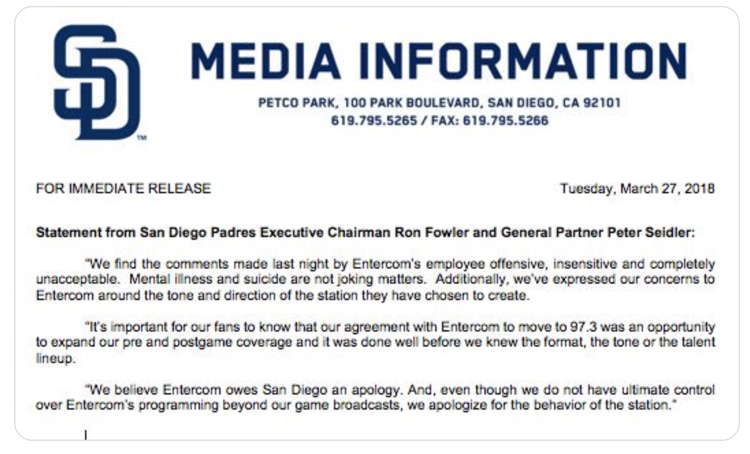 In contrast, the New Orleans Saints — whose games are broadcast on WWL — have issued no statement about either Dunlap or the station.
Klein never even made it on the air in San Diego; his show was canceled before it began. His single tweet, however, seems to have set off a chain of events that scrapped a longtime strategy of switching WEGY to a planned "Hot Talk" station that also carried Padres games to one that covered sports — and only sports. 
"We have had numerous discussions over the last two weeks with Entercom's local and national management about our expectations for the radio home of the San Diego Padres," Padres Executive Chairman Ron Fowler said in a statement. "They have assured us that the challenges we faced with 97.3 FM at the beginning of this season have been addressed and that steps have been taken to make sure they are not repeated. We believe that their new format better reflects the values of the Padres and the San Diego community as a whole."
Being fired for an offensive tweet didn't seem to affect Entercom's relationship with Klein, however. The DJ's next stop was at another Entercom property, "Channel Q," a syndicated format aimed at LGBT audiences that is both streamed online and broadcast over the air in San Francisco, Palm Springs, California and other cities with large LGBT audiences. 
Klein's new show, "Drop the Subject," describes itself as "tackled from the perspective of loudmouthed lesbian Ally Johnson and longtime radio curmudgeon Kevin Klein, who as the straight man on Channel Q we like to call our 'diversity hire.'"
This May, Entercom gave Klein an even bigger position: afternoon DJ at the Los Angeles alt-rock powerhouse KROQ-FM, where he remains at one of the most prominent stations in the nation's No. 2 radio market.
He announced his departure from Channel Q:
My official statement per @DTSShow & my office romance with @Yourallyjohnson. pic.twitter.com/nmahdq0elP

— Kevin M. Klein (@TheKevinKlein) May 20, 2019
But there's another current example of an Entercom employee embarrassing the company on Twitter, and a single tweet in that case set off a chain of events that ended in a lawsuit.
Jamie Allman (no relation to this reporter) was a host on St. Louis station KFTK-FM in March 2018, when he used his personal Twitter account to threaten 17-year-old David Hogg, the Parkland, Florida, high school shooting survivor turned gun control activist.
"I've been hanging out getting ready to ram a hot poker up David Hogg's ass tomorrow," Allman wrote.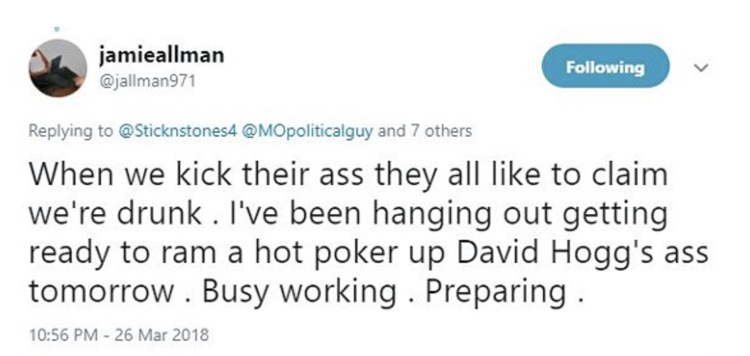 KFTK at the time was owned by Emmis Communications but was being sold to Entercom, and Entercom was operating it under a "local marketing agreement." The station promptly fired Allman.
That wasn't the end of it. According to Inside Radio, Allman sued both Emmis and Entercom for breach of contract.
Last month, the site reported, "Judge Jean Hamilton in the U.S. District Court of Missouri ... has ordered that the case enter mediation in an effort to resolve the five-month old dispute."
In a court filing, Entercom was clear about the reason the company moved so quickly to fire Allman:
"He posted a crass, offensive tweet in the wake of the tragic school shooting in Florida, making himself and the radio station where he worked a subject of universal derision and contempt. It is beyond dispute that he posted the tweet, a firestorm of media and public scrutiny followed, and Entercom Missouri exercised its contractual right to terminate his employment."
"The parties do not need extensive discovery or a trial to explore the motivation behind the offensive tweet," Entercom concluded.